These 25 Family Friendly Instant Pot Dinner Recipes are the perfect thing for when time is tight and you have a hungry family to feed.  These quick and easy one pot pressure cooker meals will be sure to keep everyone happy and healthy.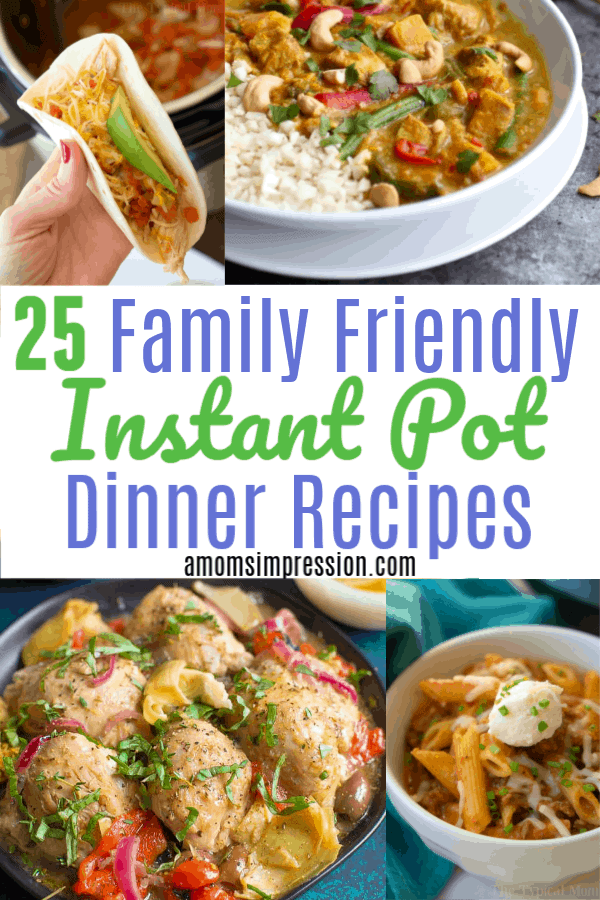 LOOKING FOR MORE INSTANT POT RECIPES?  CHECK OUT MY 15 INSTANT POT RECIPES FOR BEGINNERS OR MY 27 KID FRIENDLY INSTANT POT RECIPES!
Instant Pot Dinners
When the kids are screaming and your husband keeps nagging you to make dinner, the last thing you want to think about is trying to find something to unthaw. For those nights when family dinner sounds a little more overwhelming than you can handle, we turn to our favorite appliance in the kitchen: the Instant Pot!  On are most busy nights, I find it helpful to have some go-to recipes that I can make in our pressure cooker.  I've included some of my favorite family friendly Instant Pot dinner recipes below.
What Is An Instant Pot?
If you haven't caught on to the Instant Pot craze, now is the time.  An Instant Pot is a small electric kitchen appliance that cooks your food using hot, pressurized air.  They are incredibly versatile.  If you have an Instant Pot, you can get rid of your rice cookers and slow cookers.  You will be able to cook appetizers, desserts, soups and even yogurt! The advantage of an Instant Pot Pressure Cooker is that, by using pressurized steam, it is able to cook your food faster and seals in all of the yummy flavors.  You can cook a full roast in under an hour!
25 Family Friendly Instant Pot Dinner Recipes
So, whether you are looking for Asian inspired cuisine, a Mexican fiesta for taco Tuesdays or some some pulled BBQ Chicken, these 25 Family Friendly Instant Pot Dinner Recipes will keep you and your family well fed and happy on even the busiest of nights.  Enjoy!