Recently Updated! This Instant Pot Mississippi Pot Roast recipe is made with au jus, ranch and beef stock for a fall off the bone tender recipe that you are going to love. The best part? Using your pressure cooker, you get it on the table in less time than in the oven or Crock Pot.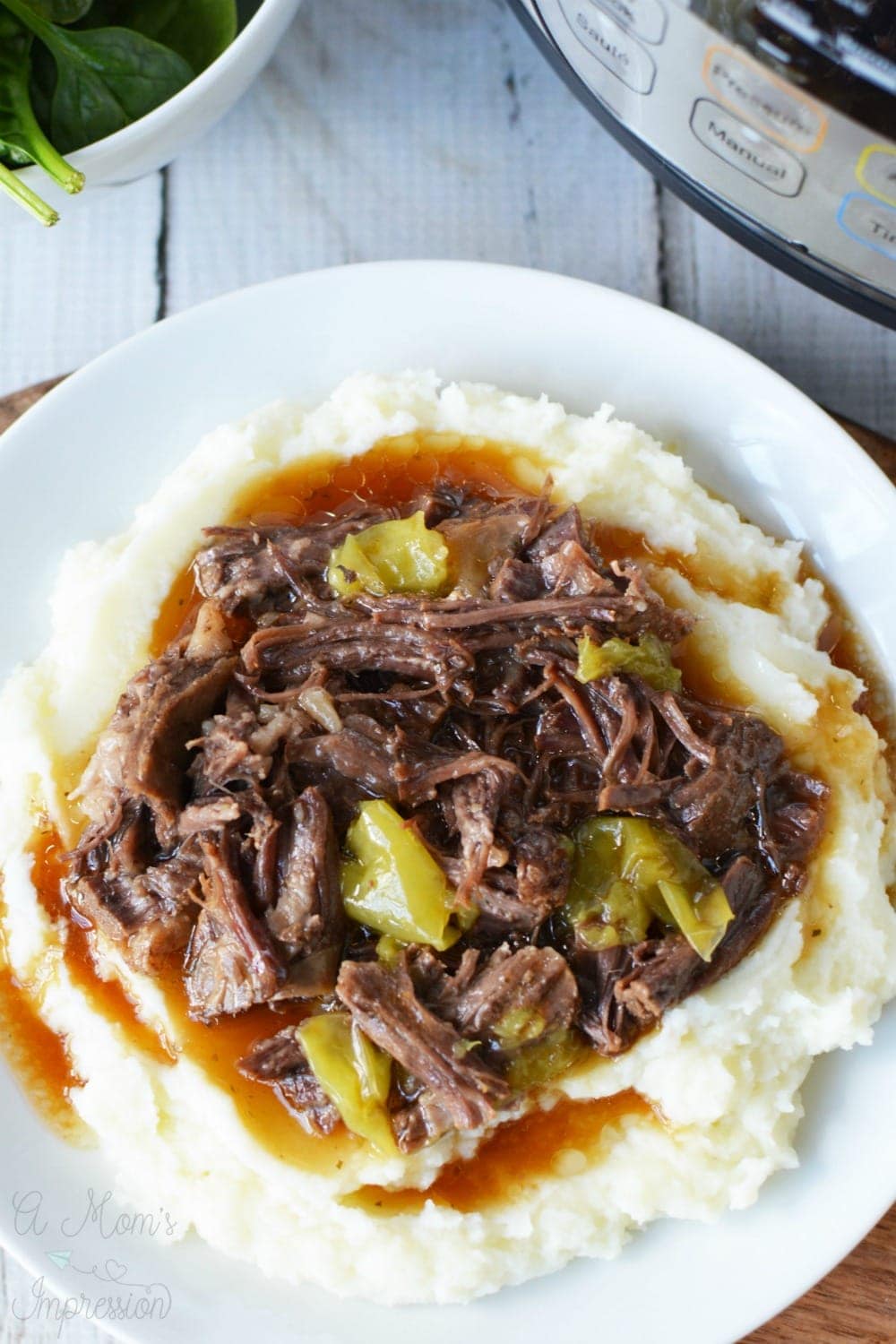 Why You Will Love Instant Pot Mississippi Pot Roast
EASY – When you Pressure Cook a Pot Roast, not only does it take a fraction of the time it would take in a Slow Cooker, but the meat also comes out tender, juicy and flavorful everytime! This is a great beginner Instant Pot Recipe!
GREAT TO FEED A CROWD – This recipe is great for entertaining. Your guests can just serve themselves. It makes a lot of food! Or you can just make this on Sunday night and have leftovers for lunch tomorrow!
REAL COMFORT FOOD – There is just something about a pot roast that takes me back to when I was younger. It's the sort of dish that warms you up from the inside and is great to eat with friends and family.
What Is A Mississippi Pot Roast?
Quite simply, Mississippi Pot Roast is the best roast you will ever eat! It is a cut of beef combined with broth, ranch dressing mix, au jus mix, and pepperoncinis. Traditionally this beef roast is made with butter, but I omitted it and I don't think it needs it.
So, why is it called a Mississippi Pot Roast? Surprisingly it's pretty easy to find that out. The origin of many recipes can be faded over time, but this recipe is actually not that old! Back in the 1990s, a cook made this recipe for her family and it was a hit. She eventually shared it with a friend who put it in a cookbook. From there, it slowly spread until the internet came along and this Pot Roast started getting pinned to Pinterest!

How To Make Mississippi Pot Roast In An Instant Pot
For step-by-step instructions, check out the printable recipe card below. But here are the ingredient you'll need to get started.
Instant Pot Mississippi Pot Roast Ingredients
OIL – To saute the pot roast. We used vegetable oil but you can use another oil if you'd like.
CHUCK ROAST – Read below for more on selecting a roast for this dish. But you want to find one with good marbling.
RANCH SEASONING PACKET – We are just using the powder from this Ranch Seasoning Mix. Do not follow the direction on packaging.
AU JUS GRAVY MIX – Again, you'll just need the contents of the packet to make the sauce.
BEEF BROTH – If needed you can substitute with vegetable broth.
PEPPERONCINI PEPPERS – You can use whole peppers or the slices that come in a jar. If you use the jarred kind, keep the juice as you can add it later for a boost of flavor.
Using your pressure cooker, this roast is done is half the time it would take in the oven and far faster than a slow cooker method. (I did include slow cooker instructions after the printable recipe at the bottom of the post) I love using the Instant Pot for recipes that traditionally are slow cooked like this Instant Pot Chicken Gnocchi Soup and this Instant Pot Corned Beef recipe. The flavor that a pressure cooker can bring is amazing!
For tips on how to use an electric pressure cooker check out our pressure cooker guide.
What cuts of beef are the best for Mississippi Pot Roast?
Just another reason to love Mississippi Pot Roast is that you can use all kinds of cuts of meat. I see chuck roast for sale all the time at my local grocery store which is why I am using this particular beef. I stock up when I see it on sale so I can make this recipe.
These are the best cuts for making Instant Pot Mississippi Pot Roast
Chuck Roasts
Rump Roasts
Bottom Rounds
How To Serve Mississippi Pot Roast
This pot roast would taste great served any number of ways. We love to simply serve it on a pile of Mashed Potatoes. You can also serve it with Rice, Mashed Cauliflower, Cauliflower Rice, Egg Noodles, Spaghetti Squash or simply with a side of roasted vegetables.
Mississippi Pot Roast Crock Pot Method
Making Mississippi Pot Roast in the slow cooker is simple. It is an easy dump and go method. Place everything in your slow cooker and turn on low for 8 hours. For a deeper flavor, brown your roast in a skillet before placing in your slow cooker.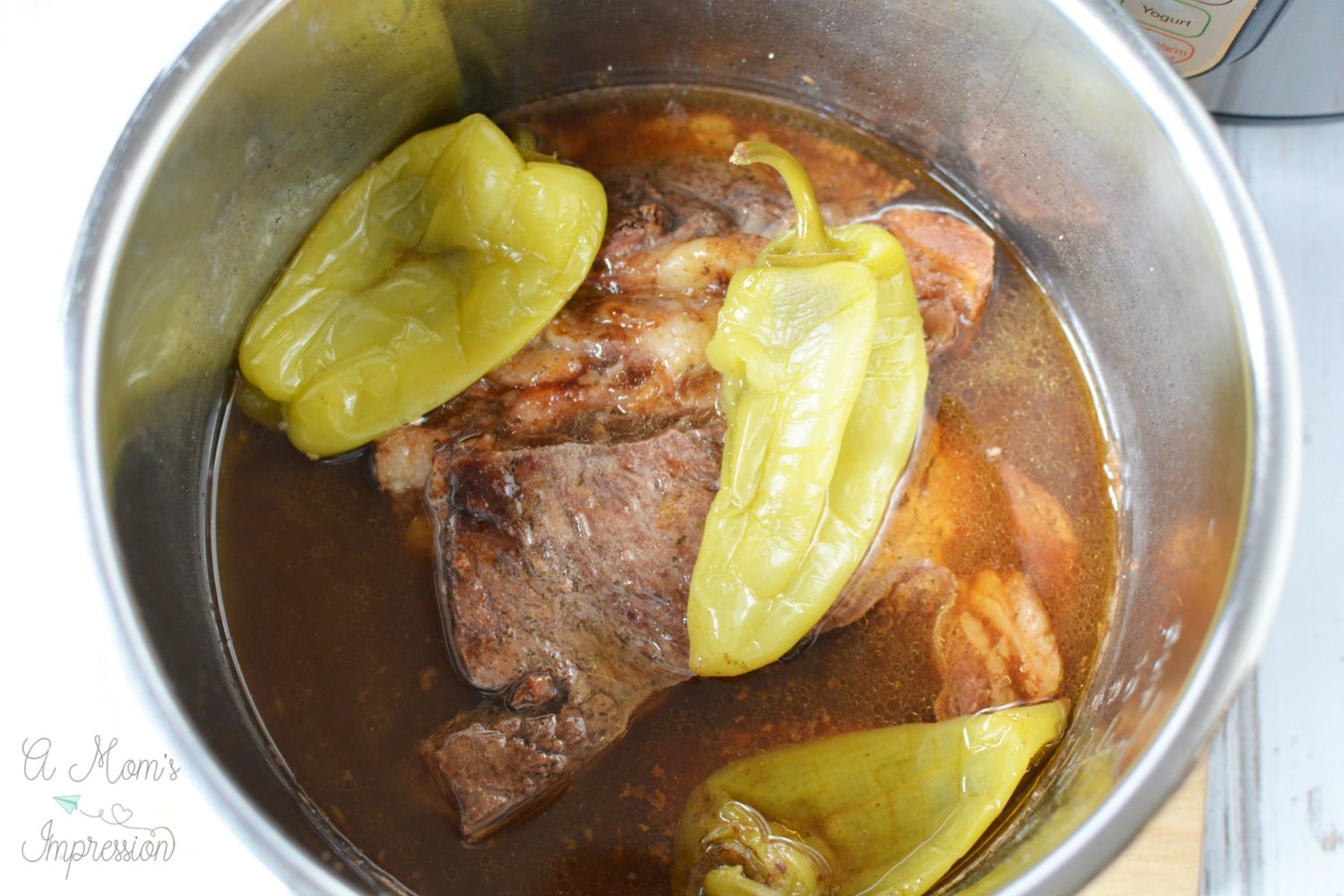 Leftovers, Storage and Freezing
Store leftovers in an airtight container in your refrigerator. You Pot Roast should be good in the fridge for 5 days. Reheat in the microwave.
You can freeze Mississippi Pot Roast. Let it come to room temperature and store in a freezer safe container or freezer bag. It will be good in your freezer for about 4 months. Thaw overnight in the refrigerator.
Notes, Tips and FAQs
What if my broth is too runny? – Make a cornstarch slurry that is equal parts water and cornstarch. Add to your liquid until you achieve the desired consistency.
Do The Pepperoncini Peppers Make This Pot Roast Too Hot? – Nope! Most of the heat cooks out of the peppers. And they aren't too hot to begin with.
What If My Roast Is Too Big For The Instant Pot? – We love searing our roast in the Instant Pot because that makes this a one pot meal (and less dishes). But, if needed, you can cut your roast up into equal sized pieces and sear them on a hot skillet with some oil. Once seared, you should be able to fit both individual pieces in your Pressure Cooker.
Do You Need To Sear Your Beef For A Pot Roast? – The key to getting a rich, delicious flavor is to brown each side of your beef roast. If you need to you can always cut up your roast into large chunks to get it browned easier. I love that you can do all of this right in the Instant Pot using the saute mode!
Be Patient – another tip is to let pressure naturally release for 20 minutes once to cooking cycle completes. If you quick release the pressure at this point you run the risk of the meat toughening up. Resist the urge to make it go faster and wait the full 20 minutes.
Can You Cook A Frozen Roast In An Instant Pot? – Yes you can! A pressure cooker comes to temperature fast enough that you can safely cook frozen meat in it. Unfortunately, you can't sear frozen meat, so you'll have to skip that step.
I hope you enjoy this Recipe for Instant Pot Mississippi Pot Roast. We'd love to hear how it turned out in the comment section below. Thanks for reading.
If you haven't joined the Instant Pot/Pressure Cooker craze yet, you need to. This handy device has been a huge help in the kitchen. I can get meals on the table quicker and with only one pot to cleanup. It has been a lifesaver. You can pick up one for yourself on Amazon, just click here!
LOOKING FOR MORE GREAT INSTANT POT DINNER? CHECK OUT: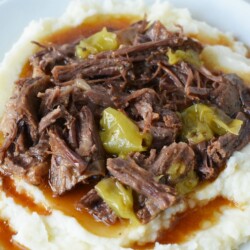 Instant Pot Mississippi Pot Roast Recipe
Here is the Instant Pot Pot Roast recipe you have been waiting for! Instant Pot Mississippi Pot Roast is unbelievably packed with flavor. This classic beef roast is made with au jus, ranch and beef stock for a fall off the bone tender recipe that you are going to love.
Ingredients
2

tablespoons

oil

3-4

pound

beef chuck roast

1

package

1.25 oz, ranch dressing seasoning packet

1

package

1 oz, au jus gravy seasoning packet

1

cup

beef broth

3-4

pepperoncini peppers

mashed potatoes for serving if desired
Instructions
Place oil into the Instant Pot and place roast in pot. Sautee on each side until browned.

Add broth and sprinkle seasoning packets on top of roast and in the pot. Place peppers on top of roast.

Place the lid on the Instant Pot and seal shut. Close the pressure release valve. Set the Instant Pot to manual, high pressure for 45 minutes.

When the cooking cycle is complete, let pressure naturally release for 20 minutes. Open the lid and use two forks to shred the beef and remove bones, or remove roast from pot and slice and shred on a plate. Remove peppers from pan and cut with a knife, discarding seed bunch and stem, and mix in with the beef.

Return beef to pan and mix with juice. Serve over a bed of mashed potatoes if desired.
Nutritional information is an estimate and provided to you as a courtesy. You should calculate the nutritional information with the actual ingredients used in your recipe using your preferred nutrition calculator.
Sharing of this recipe is encouraged and appreciated. Copying of full recipe to any social media is prohibited.