Get your family together and embark on an adventure like never before with Waffles + Mochi as they take kids on adventures learning about all different kinds of foods now on Netflix.  Last week I  was able to attend a round table with both Waffles and Mochi as well as co-star Michelle Obama! We talked about encouraging children to try new foods, traveling to new parts of the world, and the universal language of food.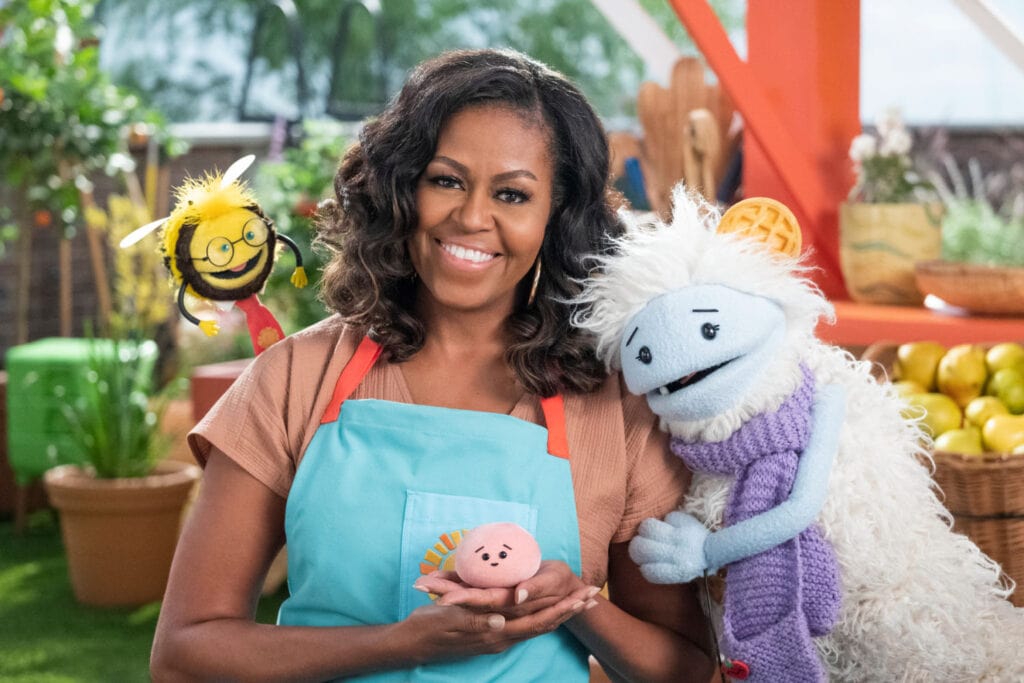 It is not very often that one gets asked to join a round table interview with a former First Lady. I learned that Michelle Obama has a new project that has been released on Netflix called Waffles + Mochi. It is a children's program that investigates all kinds of foods that kids could be curious about. I immediately fell in love with this idea and watched several episodes.
I am here to tell you that I wish this programing was around when my kids were younger. It is an amazing resource for parents with kids who are scared to try new foods, or to teach kids about new foods from around the world. As some of you might remember from past blog posts, my son really struggled with food as a young child and we took him to food therapy.  The food therapist taught us the importance of talking about the food that our son was about to eat. We talked about what it looks like, where it came from, and what it might taste like. This is exactly what Waffles + Mochi brings to the table. Waffles and Mochi are the perfect characters for kids, they talk about their feelings, but they also make you laugh and smile.
Waffles + Mochi Synopsis
Here is a little synopsis about the new series.
Once upon a thyme, deep in The Land of Frozen Food, lived two best friends named Waffles and Mochi with one shared dream: to become chefs! The only problem? Everything they cooked was made of ice. When these two taste-buddies are suddenly hired as the freshest employees of a whimsical supermarket, they're ready for the culinary adventure of a lifetime. With the help of friendly new faces like Mrs. Obama, the supermarket owner, and a magical flying shopping cart as their guide, Waffles and Mochi blast off on global ingredient missions, traveling to kitchens, restaurants, farms and homes all over the world, cooking up recipes with everyday ingredients alongside renowned chefs, home cooks, kids and celebrities. Whether they're picking potatoes in the Andes of Peru, sampling spices in Italy, or making Miso in Japan, these curious explorers uncover the wonder of food and discover every meal is a chance to make new friends. Waffles + Mochi is an exciting invitation to get kids and grown-ups cooking together in the kitchen and connecting to cultures around the globe.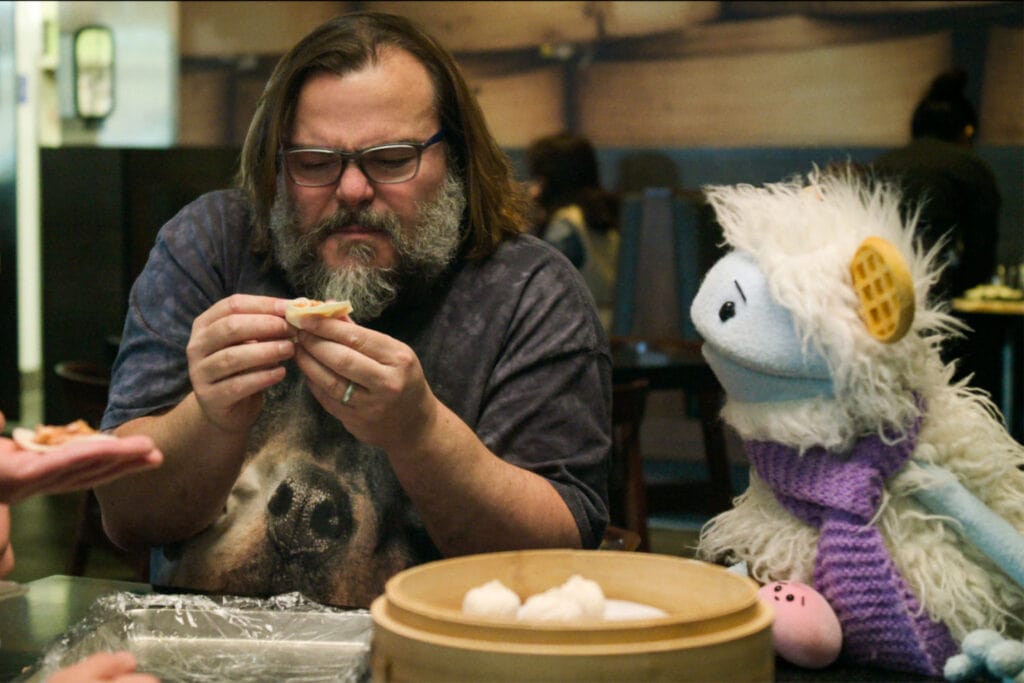 There are so many guest chefs, actors, comedians and other interesting people that meet up with Waffles + Mochi on their adventures. Check out the trailer!
Waffles + Mochi Trailer
Interview with Michelle Obama, Waffles +Mochi
Waffles and Mochi travel the world becoming experts on foods and earning badges from Mrs. O. They have the ability to travel anywhere thanks to their MagiCart 3000. When I sat down with them, I had to ask them what has been some of their favorite places to travel and what was their favorite foods when they were there.
Mochi:  Manama.
Waffles:  You know what my favorite place was?  Japan.  You know why, because Mochi is super big in Japan.
Mochi:  Mm-hmm.
Waffles:  Yeah.  I think they're making little mochis now.  He's pretty famous.
Mochi:  Mm-hmm.
Michelle Obama:  And for me, it's really hard to choose.  We were blessed with the opportunity to see so much of the world in the White House and to do it with our girls in tow.  There was really something unique and fascinating with every country and every type of cuisine we tried.  Not everyone was a hit, for sure.  That was one of the toughest parts of trying to do international ambassador work with children.
Waffles:  They don't have chefs.
Michelle Obama:  They don't really–new places, and you're trying to get them to be polite and try new things.  So world travel has brought us so much joy.  On every trip, I would always think of the children who would never have the opportunity to see the world in that way, to know what a mountain range in Peru looks like or to walk down a busy street full of neon lights in Tokyo.
Waffles: Yeah, or a mushroom place in a forest in Osaka.
Michelle Obama:  Yeah, yeah.  I mean, every time I travel and see so many wonderful parts of the world, I think about the kids who will never even know that this part of the world exists.  And so, Waffles and Mochi hopefully will open up those doors of possibility.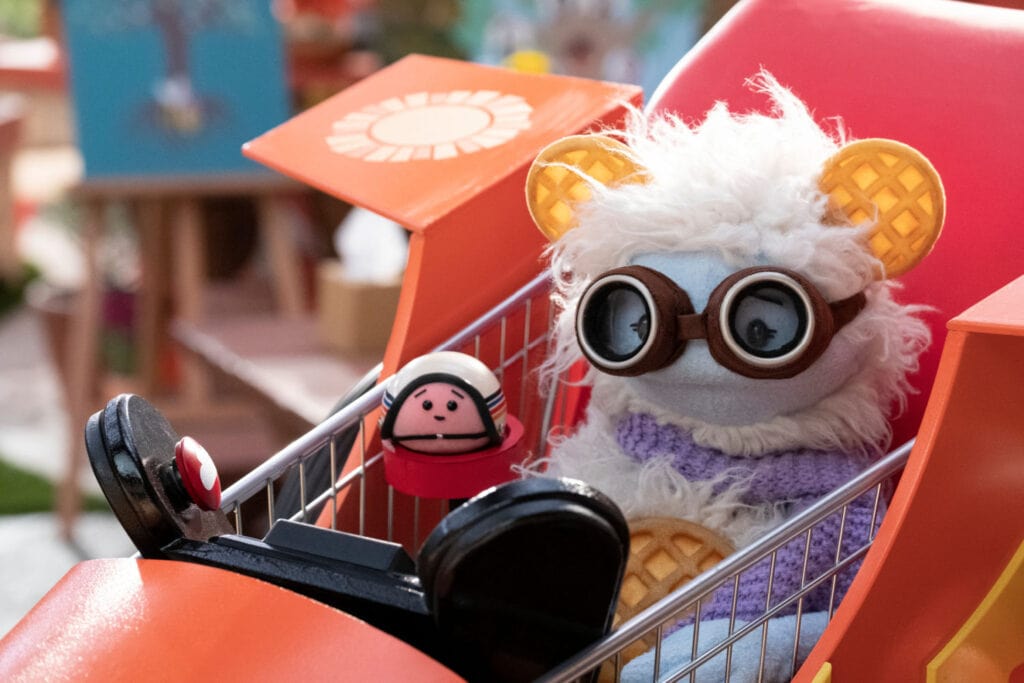 We asked Mrs. Obama if any of her experiences raising her own girls, especially around foods that they were maybe hesitant to try or refused to try as young kids, come into play when the episodes were being created.
  Michelle Obama:  Oh, gosh, absolutely.  I mean, the trauma of dinner time is a universal challenge for every parent.  So, that's why the core concept of this series which–is to explore, try new things.  I mean, those were some of the conversations that I remember having, beginning when my kids were sitting in highchairs with a little tray.  And you'd put food on the tray instead of the plate.  You'd scatter it around and try to make it look interesting and colorful.
    Waffles:  And did it get messy?
    Michelle Obama:  And let it get messy.
    Waffles:  Yeah.
    Michelle Obama:  But the goal would be to just have them give it a try.  Just try it.  And Waffles and Mochi, they make trying new things fun.  And the goal is to have kids connect with the experiences that Waffles and Mochi had.  That's why their origin story, the fact that they live in the land of frozen food, where they never had real food before.
    Waffles:  –Oh, no, we had ice, and we had snow,
    Michelle Obama:  And watching their reaction when they try their first tomato?  What did you think about that?
    Waffles:  I mean, wouldn't your mind be blown if you'd never had fresh food before, and then you popped in a cherry tomato from some garden?  Yeah.  My mind was blown, blown.  I think my mind is getting blown almost all the time, every single day, huh, Mochi?
    Mochi:  Brrrr.
    Michelle Obama:  So by making it fun, we hope that that fun is contagious and that maybe a child walks away from the program asking for a tomato or being curious about a mushroom.  Even if they're not ready yet to put it in their mouths, they're familiar with it.  And it's beginning with the familiarity and understanding the story behind the food that will hopefully help bring out that curiosity in kids and help parents at home do their job a little bit more.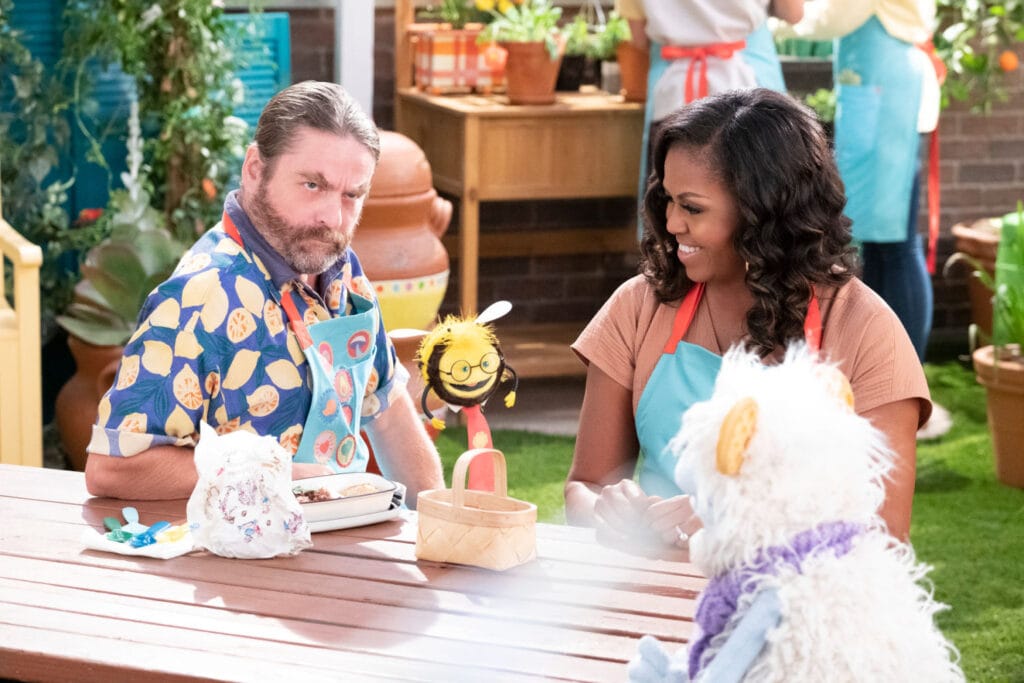 In America Latinos, immigrants, and minorities  have shaped the history of our food in big ways. We asked Mrs. Oblama about if highlighting those contributions was an important motivator for her in doing the show and how that connects to her mission of raising healthier kids.
Michelle Obama:  The international component of this show was definitely intentional.  As food is a universal language, we all speak it.  All of our cultures have helped shape how we eat around the world.  I think it opens up the world to kids, again, especially in a time of pandemic where people are sort of stuck in their homes, and they've been stuck there for a good year now.  They can get on a magic cart with Waffles and Mochi and see the world and learn where food comes from and appreciate the cultures that they come from and get excited about what the world has to offer.  Waffles and Mochi, you guys had some fun on your adventures, didn't you?
Waffles:  Yeah.
Mochi:  Whoa, whoa.
Waffles:  The adventure of my life.  I mean, we traveled literally all around the world and back.
Mochi:  Uh-huh.
Waffles:  It was so cool.
Michelle Obama:  You even went to Mars.
Waffles:  We did.  We totally went to Mars.  A magic cart took us all the way to Mars.  We are intergalactic.  Food really does bring people together, huh, Mrs. O?
Michelle Obama:  Absolutely.  And this is a show that parents and kids can watch together, which is one of the other things that attracted me about this show.  I don't have little kids anymore.  My young women are off to college.  They are more cooks than they are being cooked for, but I know that if I had a show like this when they were young, this would be something we'd all enjoy together.
And that's a rare thing these days, to be able to sit down actually with your kid and watch a show that you both enjoy, can find the humor in.  That's why I love the creators, Jeremy Konner and Erika Thormahlen, because Erika brings the knowledge, and Jeremy brings the funny, not to diminish Jeremy.  He does know something, too.  But, it's that classic pairing of the funny and the exciting with the serious and the informative.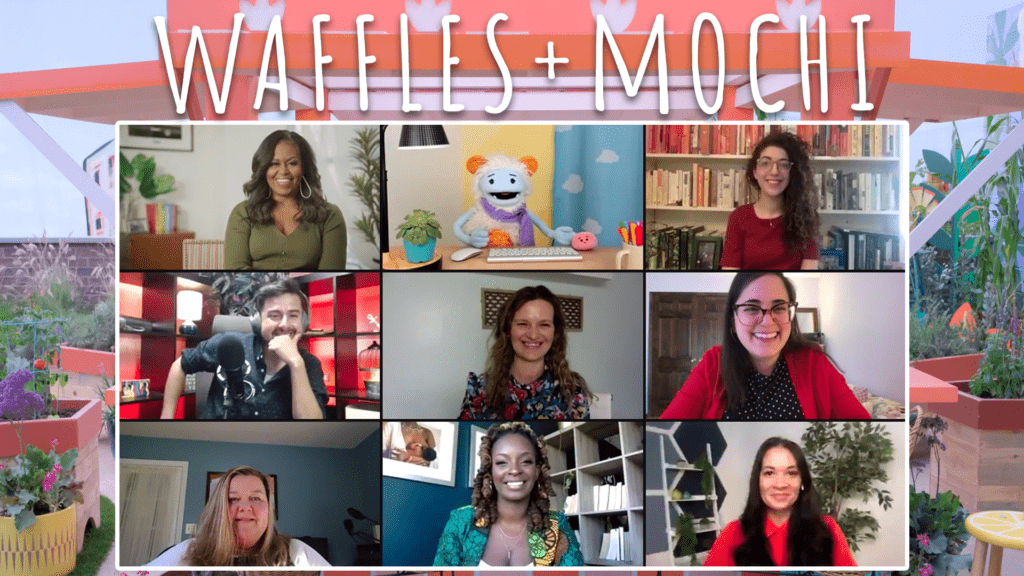 I am grateful to have had the time to talk with Mrs. Obama, Waffles and Mochi during a virtual round table. Thank you to Netflix for giving me this incredible opportunity.
Waffles +Mochi Now on Netflix.  Be sure to make plans to watch it with your kids and get excited to learn more about the foods that you eat!