These Instant Pot Circus Animal Cookie Cheesecake Bites are an easy, fun and delicious dessert for any occasion. These adorable treats have creamy cheesecake, animal cracker crust and a fun pink ganache icing. Perfect for birthday parties, baby showers or any other festive occasion! And it's all made in just minutes in your pressure cooker!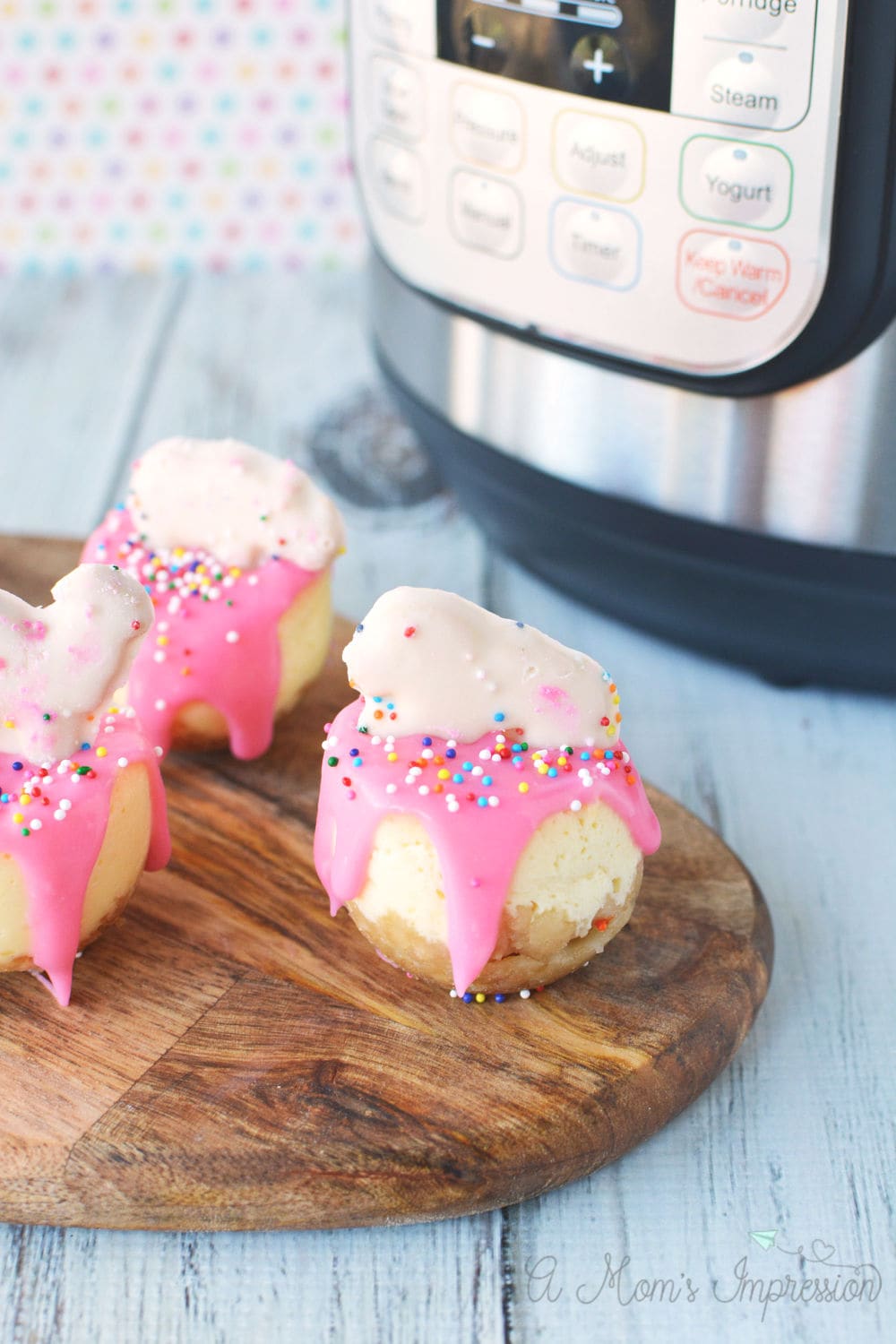 Why You'll Love This Recipe
I think everyone has a soft spot in their heart for frosted animal cookies. Sometimes I hear them named animal crackers, but… really, they are a cookie, right?!?!
A bag of animal cookies doesn't last more than 2 days in our home. So, why not make them into a fun dessert? 
We love this recipe because of how bright and fun it is. These mini cheesecakes are perfect for entertaining or to bring to a pitch in or potluck. Everyone loves cheesecake, but sometimes doesn't want to commit to slicing off a whole piece. These mini cheesecakes are so easy to share and easy to eat!
And their festive look is certainly eye catching, making them a fun dessert recipe that will have your friends and family asking for the recipe. 
And, also, they are all made in your Pressure Cooker! No need to bake in the oven. No springform pan. No water bath. This is a super simple, easy and quick dessert recipe. It's almost unfair. 

Can You Make Cheesecake In An Instant Pot
Over the years, an Instant Pot has become a super popular pressure cooker. Pressure Cooking has been around for years, but the Instant Pot was a game changer. You can make just about anything in your Instant Pot and cheesecake is no exception! 
You get the same rich, creamy results as you would get from making it in a traditional way, except it is so much easier! We've made Lemon Cheesecake, Turtle Cheesecake and Pumpkin Cheesecake in our Instant Pot and they have both come out amazing!
Tools Needed For This Recipe
Obviously, you will need an Instant Pot or any other Pressure Cooker.
In addition, you will also need a Silicone Mold. A couple of months ago, I made these Starbucks copycat Instant Pot Egg Bites using this  baby food silicone mold. They were delicious but I wanted to get more usage out of the mold than just using it for egg bites.  The cavities in the mold are a great size so I thought they would be perfect for miniature cheesecake bites.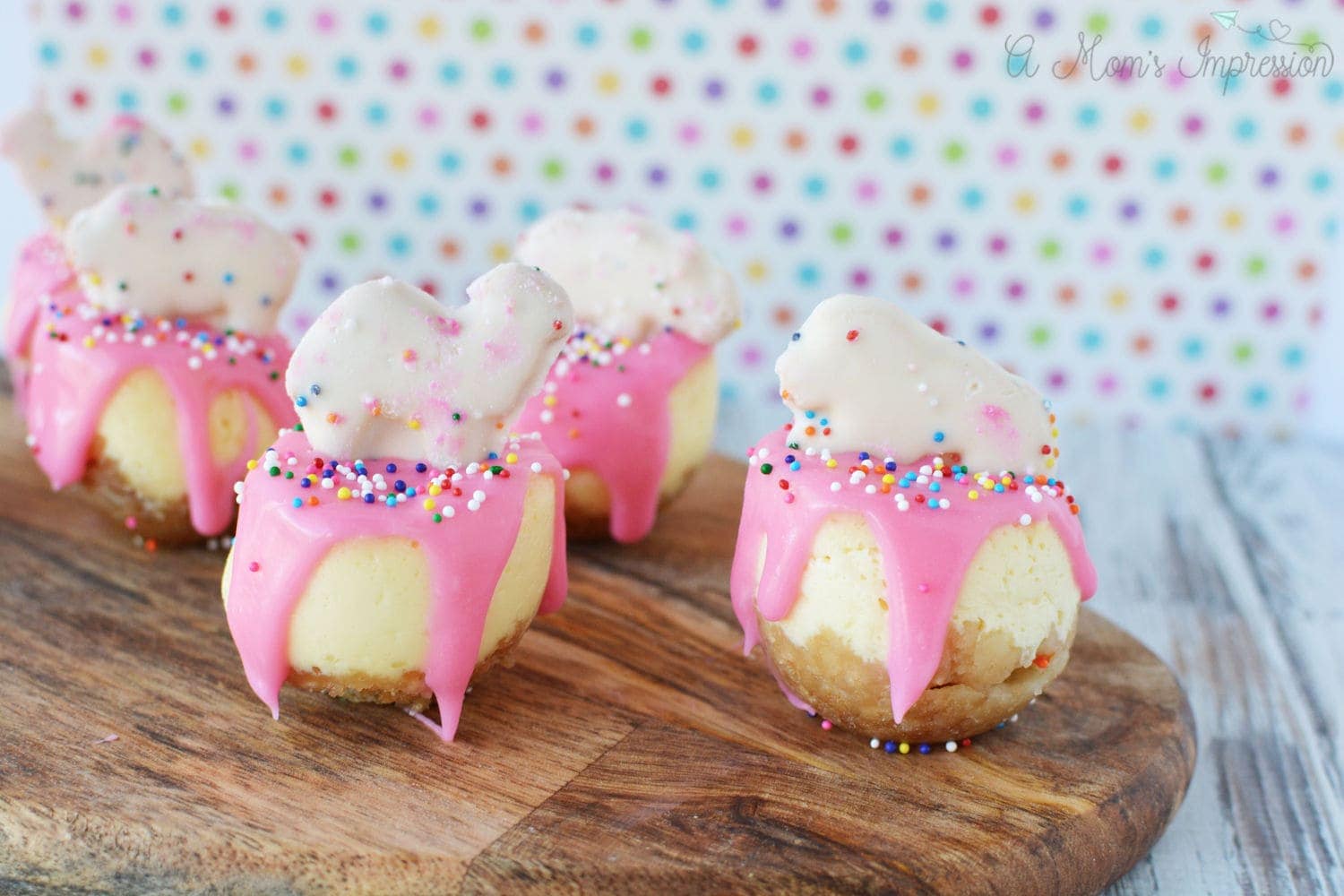 Do You Need To Use A Circus Animal Cookie Crust?
My family loves Circus Animal Cookies so I thought it would be fun to incorporate them into this recipe as a crust by combining them with sugar and butter.  If you aren't a big fan, you can use a regular graham cracker crust.
Just combine Graham Cracker Crumbs with the butter to make your own crust. You would not need to add the sugar as described in the directions below.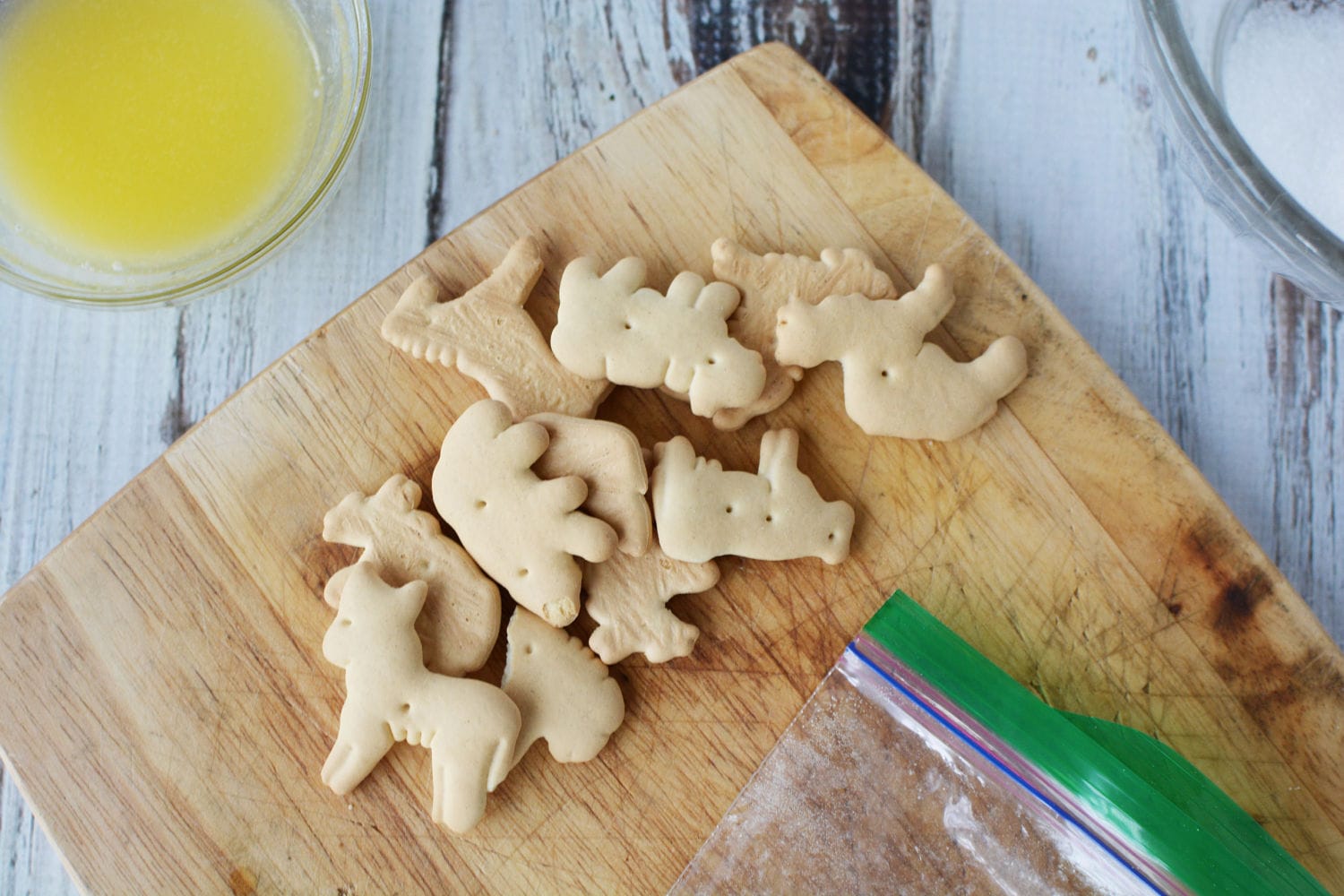 Instant Pot Circus Animal Cookie Cheesecake Bites
Just a few little tips when you go to make this recipe. There are a lot of steps, but it is a pretty easy recipe to make. One tip is to be sure to grease your silicone mold generously with nonstick cooking spray, you don't want them to stick when you go to take them out of the mold. I didn't cover my mold when I placed it into the pressure cooker.  You can if you want to but it doesn't need to be covered.
For step-by-step instructions, check out the printable recipe card below!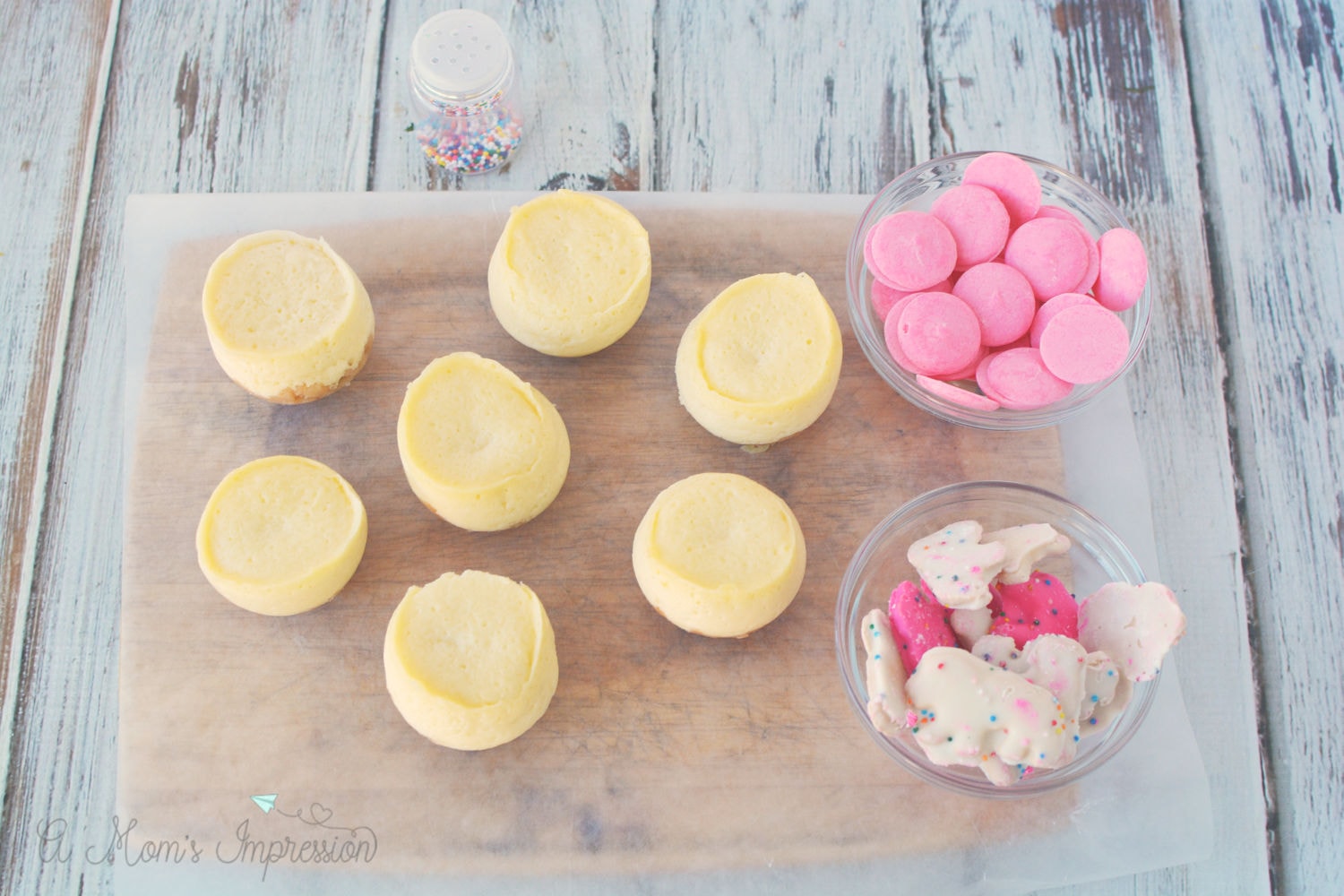 White Chocolate Ganache
The ganache is made with pink candy melts and heavy whipping cream.  If you can't find pink candy melts, you can use white chocolate candy melts. Either leave them as is for a white chocolate ganache or use pink food coloring to get the desired color.
When melting the candy melts be sure to stir well for at least 1-2 minutes.
You will need to refrigerate the ganache after the melts have been incorporated because it will be too hot to pour over the cheesecake bites. It took about 20 minutes in the fridge before it was ready to pour over.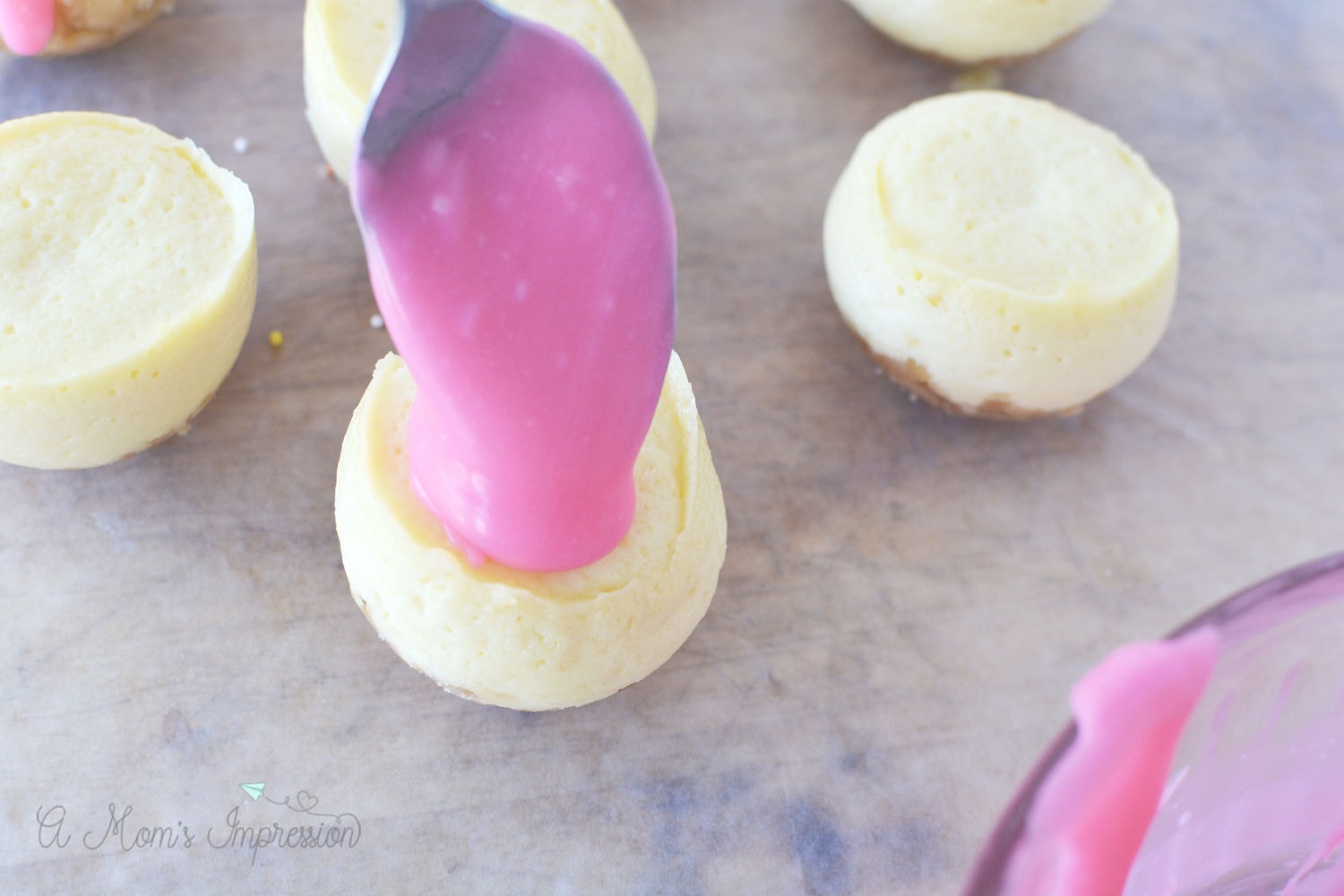 You can pipe some whipped cream on the top of these mini cheesecake bites for some extra flair before you put your animal cookies on top. You can also put some sprinkles on top as well for extra fun! 
We hope you enjoy this recipe for Instant Pot Circus Animal Cookie Cheesecake Bites. Let us know how they turn out for you in the comment section. Thanks for reading!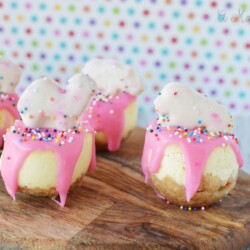 Instant Pot Animal Cookie Cheesecake Bites
Instant Pot Animal Cookie Cheesecake Bites are adorable, delicious and the perfect bite of cheesecake. These miniature cheesecakes are the ultimate party food and perfect for a birthday party!
Ingredients
Crust Ingredients:
6

tablespoons

crushed plain animal crackers

1/4

cup

butter

melted

2

tablespoons

white sugar
Filling Ingredients:
1

package

8 oz, cream cheese, softened

1/2

cup

white sugar

2

eggs

1

teaspoon

vanilla
Ganache Ingredients:
30

candy melt circles in bright pink color

3

tablespoons

heavy whipping cream

colorful sprinkles

frosted animal crackers
Instructions
Grease cups of silicone mold with nonstick cooking spray. Set aside.

Use a jar or rolling pin to crush animal crackers placed into a re-sealable bag. Mix crushed crackers, butter and sugar together. Use a 1 tablespoon portion scoop to scoop into each of the 8 cavities in the prepared mold. Press down with your fingers to pack the cracker into the mold. Set aside.

In a mixing bowl, beat cream cheese. Add sugar, eggs, and vanilla and beat well. Use a 3 tablespoon portion scoop to scoop cheesecake mixture into each cavity.

Place 1 cup of water into the instant pot. Place the trivet onto a table and place the mold on the trivet. Use the handles to lift the mold into the instant pot. Place the lid on the Instant Pot and seal shut. Close the pressure release valve. Set the Instant Pot to manual, high pressure for 35 minutes. When the cooking cycle is complete, naturally release pressure for 20 minutes. Open the pot and remove the cheesecakes by carefully lifting the trivet out of the pot by its handles. Let set to cool before refrigerating.

When cheesecakes are cool from the fridge and you are ready to top, leave cheesecakes in the fridge and prepare the ganache.

In a small bowl, add heavy whipping cream. Microwave on high for 30 seconds. When the cooking cycle is complete, add candy melts. Stir well, at least 1-2 minutes. If desired, pop back into the microwave for 5 seconds and stir well until all candy is melted. Refrigerate for 15-20 minutes, stirring every 5 minutes. You want the color to change from a transparent pink to an opaque pink. You want it to be runny, but not too runny that it all runs off the top of the cheesecake. I refrigerated mine for 20 minutes.

Pop cheesecakes out of the mold onto a surface protected with wax paper. Spoon a dollop of ganache onto the top of the cheesecake, allowing it to run down the sides. Place a frosted animal cracker onto the cakes and add rainbow sprinkles. Repeat until all cheesecakes are covered.

Refrigerate until ready to serve.
Nutritional information is an estimate and provided to you as a courtesy. You should calculate the nutritional information with the actual ingredients used in your recipe using your preferred nutrition calculator.
Sharing of this recipe is encouraged and appreciated. Copying of full recipe to any social media is prohibited.