This Instant Pot yogurt recipe is made using the "cold-start" method. Please read about the type of milk you need to use in order to make this yogurt safely. Contains affiliate links. 

LOOKING FOR MORE FAMILY FRIENDLY INSTANT POT RECIPES? CHECK OUT MY INSTANT POT MACARONI AND CHEESE, INSTANT POT CHEESEBURGER MACARONI OR MY 23 KID FRIENDLY INSTANT POT RECIPES!
There are so many reasons why I love my Instant Pot electric pressure cooker.  I have made many delicious recipes for my family using my Instant Pot.  I love the ease of only having one pot to clean up, and how quickly I can get a meal on the table in a pinch. Instant Pot yogurt is another reason to love your pressure cooker. Making your own yogurt is not only delicious, it is a healthier way to enjoy it!  You can control exactly what goes into your yogurt. This is one of the big reasons we also love making homemade Instant Pot applesauce!
How to Make Instant Pot Yogurt
Traditionally you make homemade yogurt by heating up your milk until just about boiling, cooling it back down and then running it through a pressure cooker to make your yogurt.  There is a faster way to do it by skipping a step. This "no-boil" method allows you to use ultra-pasteurized whole milk, mixed with a starter and put through the "Yogurt" setting on your Instant Pot without boiling.  It is a "set it and forget it" and it's done.  Instant Pot yogurt is delicious either way, but if you know me you know that I love a good shortcut.
Pressure Cooker Yogurt Recipe
Ingredients
1 tablespoon plain

yogurt

(use a

yogurt

with active cultures)
8 cups ultra-pasteurized whole milk*

Yogurt

toppings of your choice – fruits, granola, honey, etc.
Directions
Place ultra-pasteurized milk and

yogurt

into the Instant Pot and whisk well to mix the

yogurt

with the milk.
Place the lid on the instant pot and close the pressure release valve. Press the

yogurt

function and change the time (if necessary) to 8 hours. The setting should also remain on normal. If you like your yogurt a little more tart you can have it incubate longer than 8 hours.
Once the cooking cycle is done, let set for about 30 minutes before removing the lid and placing plastic wrap over the instant pot. Place the pot in the refrigerator overnight.
Your

yogurt

may be like pancake batter, thin and runny. If this is the case, strain it using a large bowl, strainer, and coffee filters. You could also use a strainer or a nut milk bag.
Place 2 coffee filters into the strainer, and place the strainer into a bowl. Pour

yogurt

into the coffee filter and place into the refrigerator. Strain in the refrigerator and check every 2 hours until you reach your desired consistency. Ultra-pasteurized milk can also give you the Greek yogurt consistency that many love. 
Carefully scrape

yogurt

from the filter and discard filter. Store in airtight containers in the refrigerator.
Enjoy your

yogurt

with fruit, granola or honey as desired.
*Please only use ultra-pasteurized milk (such as Fairlife) for this recipe. You can make Instant Pot yogurt with regular milk, however, you will need to use the "boil method" as regular milk needs to be
heated to 180 degrees before being made into yogurt to take care of any harmful bacteria.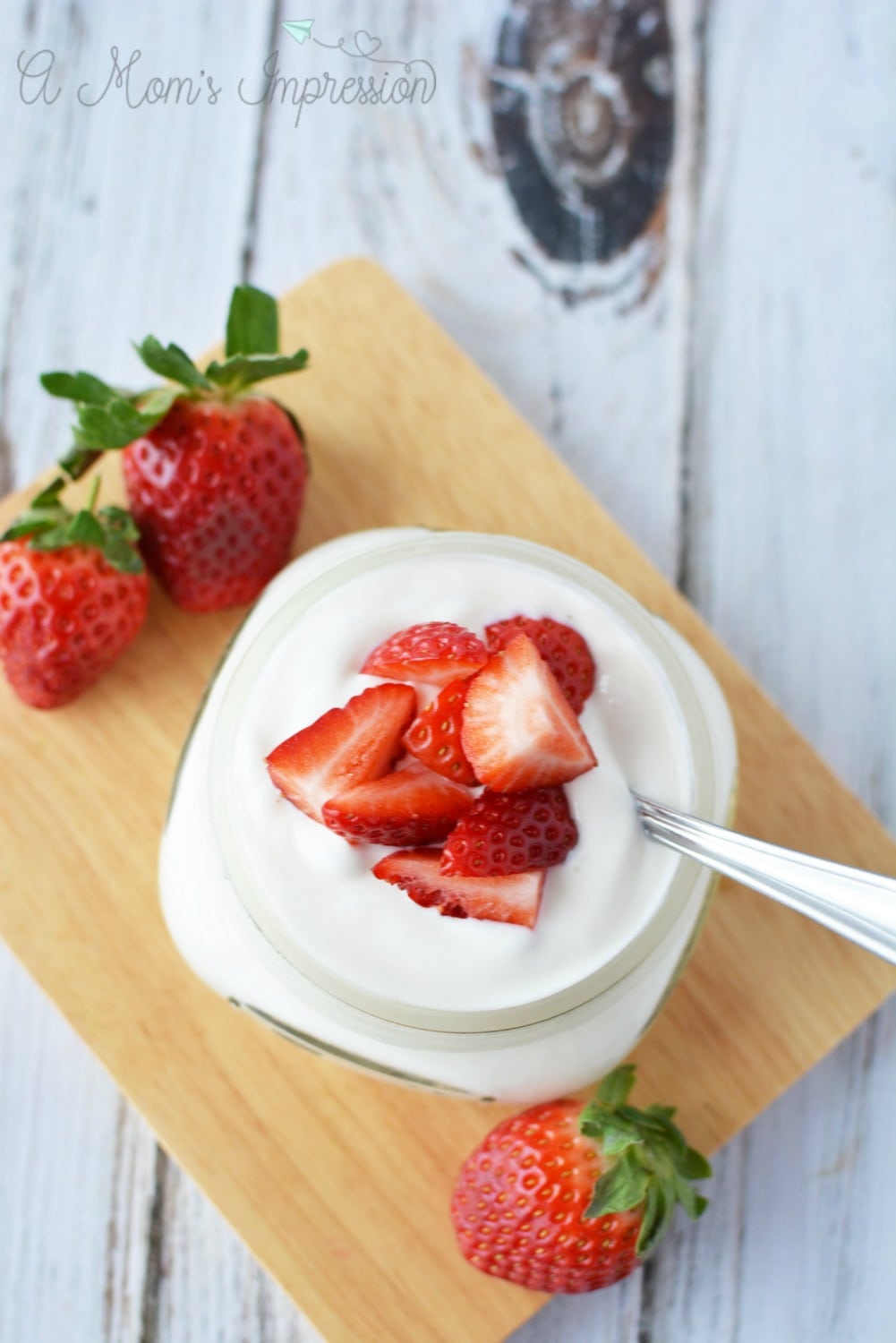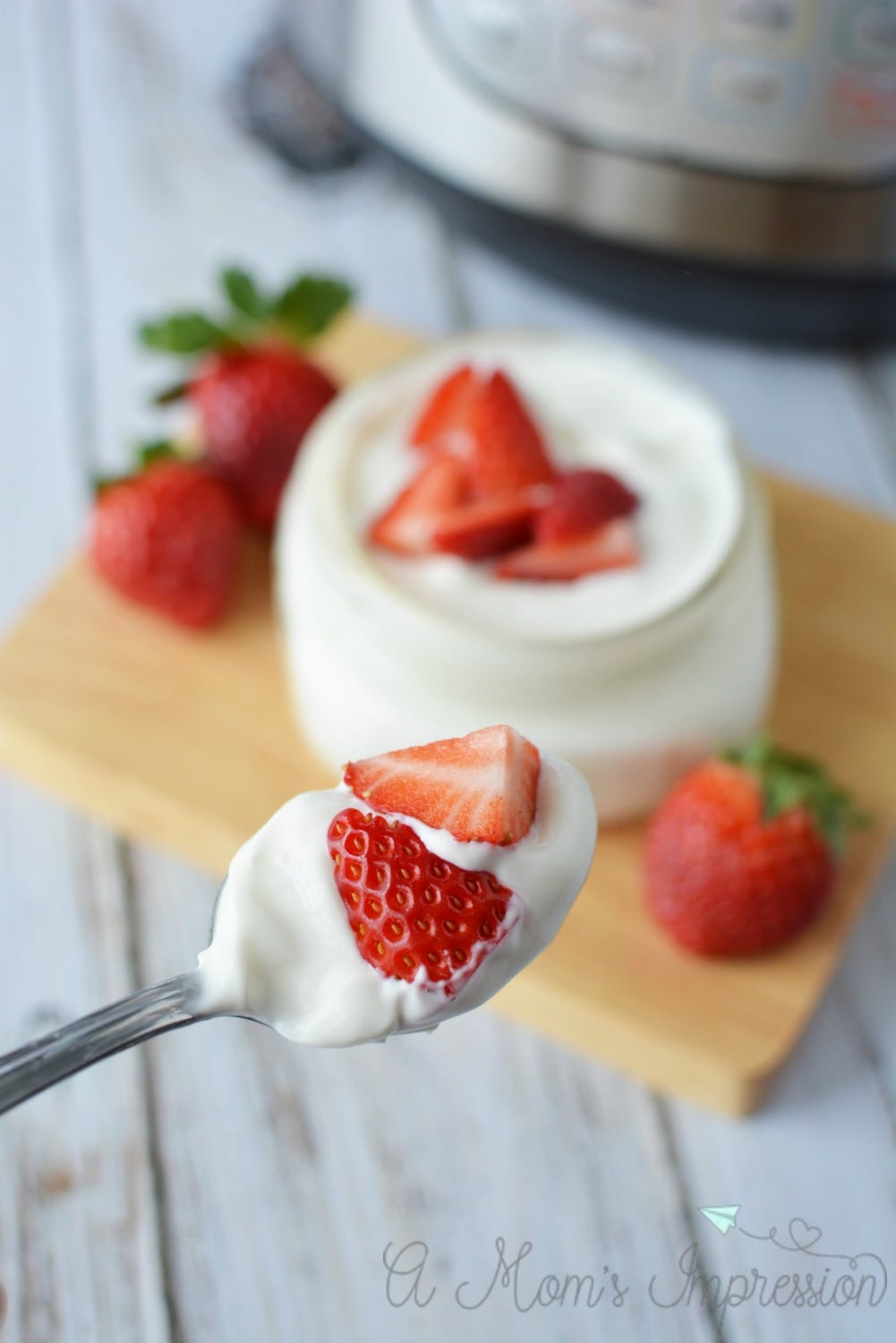 Don't forget to save at least 2 tablespoons of your yogurt to add to your next batch as your new "starter". You can freeze it in
ice cube trays
to keep until your next batch.
This recipe is perfect for adults and kids alike. For more family favorite Instant Pot recipes check out my version of
Crack Chicken!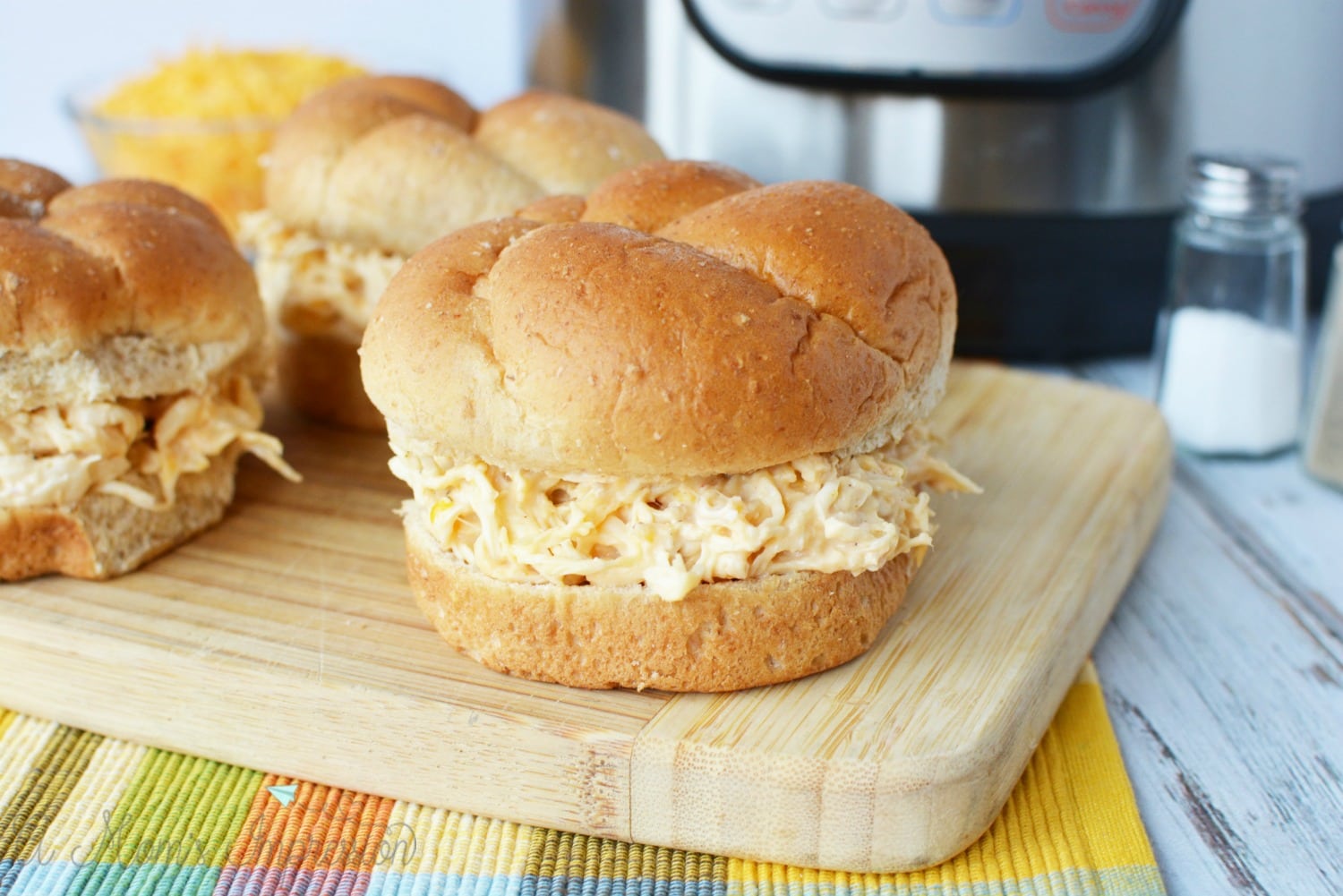 I love using my electric pressure cooker and I have a lot of
Instant Pot recipes
, so if you are looking for more tasty recipes be sure to take a look.
Pin For Later