We recently went on a weekend trip to St. Louis. We learned so much about this city while we were there and had so much fun. But the main thing we learned is that we need to go back again soon to do all the things we didn't have a chance to experience! If you thinking about a quick and fun family trip, read below to learn all about 48 hours of fun in St. Louis with kids!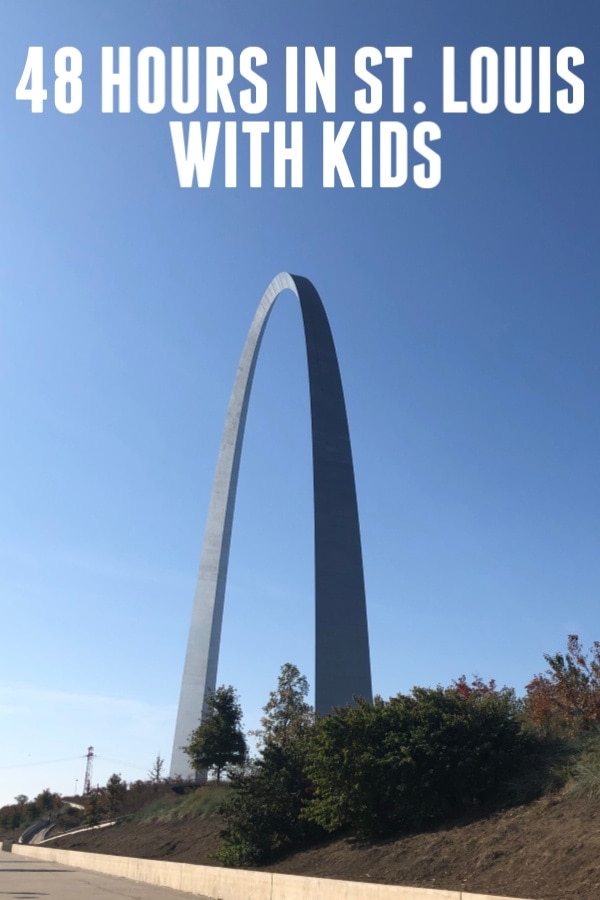 Thank you to Chase Park Plaza for hosting our stay!
Even though it is only 4 short hours down I-70, I hadn't really ever had the chance to visit St. Louis. But a couple of weeks ago, my husband and two school-aged kids decided to take a trip there. We. Had. SO MUCH. Fun! We are definitely going to have to go back for more.
The great thing about St. Louis is that it is just about smack dab in the middle of the country. So, it is probably within a reasonable driving distance for a lot of people. If you're looking for a quick, fun and affordable family trip, check out St. Louis! To help with your planning, I've written this guide.
St. Louis – A Summary
St. Louis, Missouri sits right on the shores of the Mississippi River. This is the dividing line between Illinois and Missouri. Technically, it is the second largest city in Missouri (behind Kansas City). This is because St. Louis proper only has a population of around 300,000 people. What makes St. Louis sort of unique is that it is divided into 79 different "neighborhoods", many with their own identity.It is almost like New York in that way, which is really cool. So, all together, the population approaches 3 million.
I think this is a great size for a city. The population of Indianapolis, where we live, is around 2 million. So, I really loved the feel of St. Louis. It definitely felt larger and more "metropolis" than home, but still had that smaller mid-western feel. It was the perfect sized city for me.
Another great thing about St. Louis is it's location. It is smack dab in the middle of the country, which makes it pretty easy to get to. For example, it is less than a 5 hour drive from:
Chicago
Nashville
Memphis
Indianapolis
Des Moines
So, if you live by any of these locations, St. Louis is just a handful of "Friends" episodes away!
St. Louis – Where To Stay
Obviously, with a population hovering around 3 million, there are plenty of hotels to stay at in the area. But we stayed in a magnificent hotel that I would certainly recommend: The Chase Park Plaza Royal Sonesta.
Located in the Central West End of St. Louis, the Chase Park Plaza Royal Sonesta provided a wonderful place for us to plot and plan our family adventures in St. Louis with kids.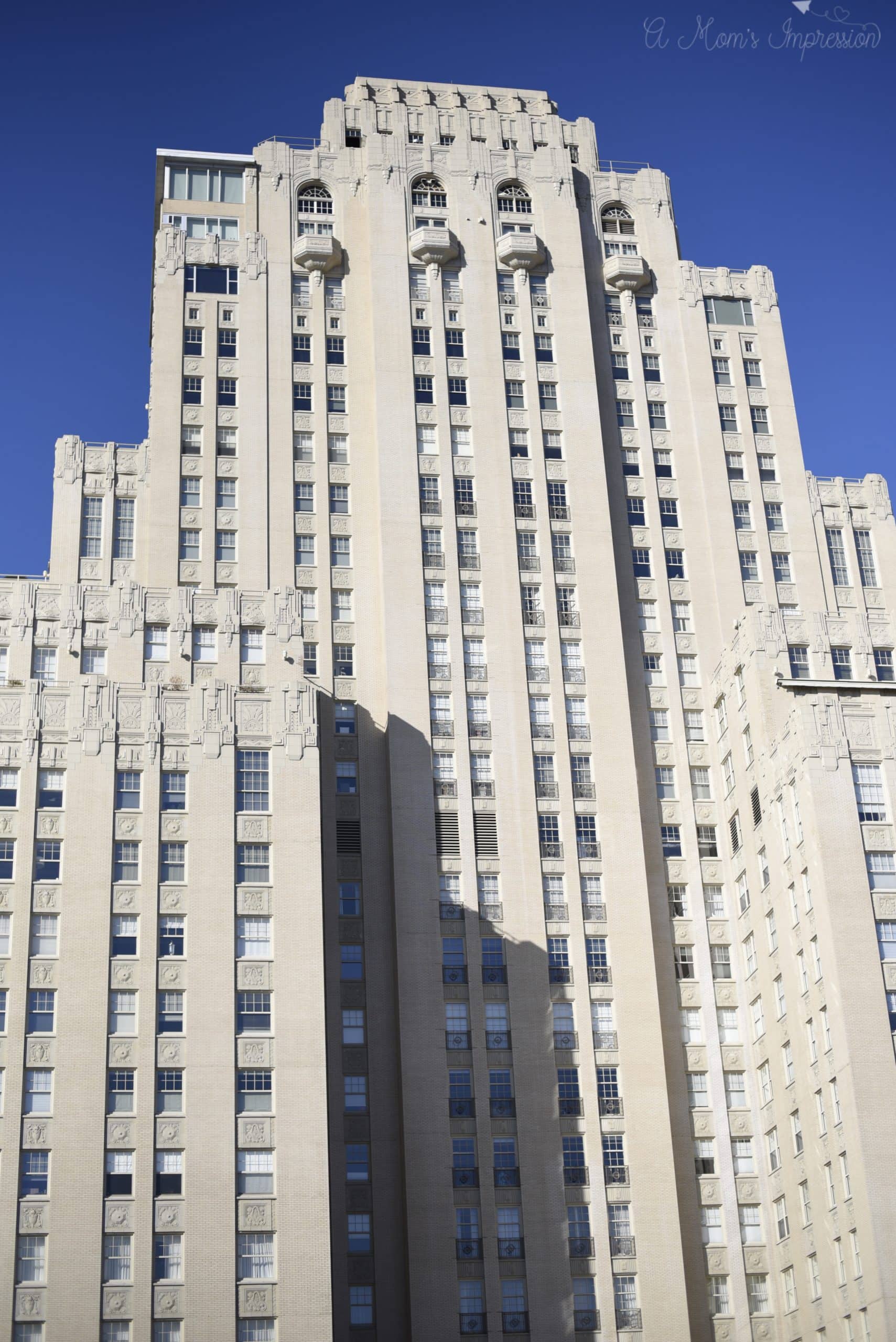 Chase Park Plaza Royal Sonesta-Location
One reason this hotel is perfect for a weekend in St. Louis is it's location. It sits just walking distance from the Chess Hall of Fame and Cathedral Basilica of St. Louis. It is also conveniently located to a whole bunch of other attractions:
DRIVING DISTANCE FROM CHASE PARK PLAZA HOTEL:
St. Louis Zoo-4 minutes
Busch Stadium-11 minutes
St. Louis Arch-14 minutes
City Museum-13 minutes
Science Center-6 minutes
Anheuser-Busch Brewery-14 minutes
Union Station-11 minutes
The ability to be less that 15 minutes from all of these attractions in a city this size is pretty awesome!
Chase Park Plaza Royal Sonesta-Parking
We initially weren't sure where to park so we drove up to circle drive were the valet was located. The 24-hour valet staff was very helpful, telling us that we could use them for $25/night or do self-park in the attached garage for $20/night. We chose self-park and he gave us directions to get into the garage.
Although the garage IS attached to the hotel, be prepared for a bit of a walk, especially if you have young children. It took us about 10 minutes to walk from our car to the front desk. If we had done the valet, the walk would have been about 20 seconds. Not a big deal for us, but something to consider when choosing to spend that extra $5 on the valet!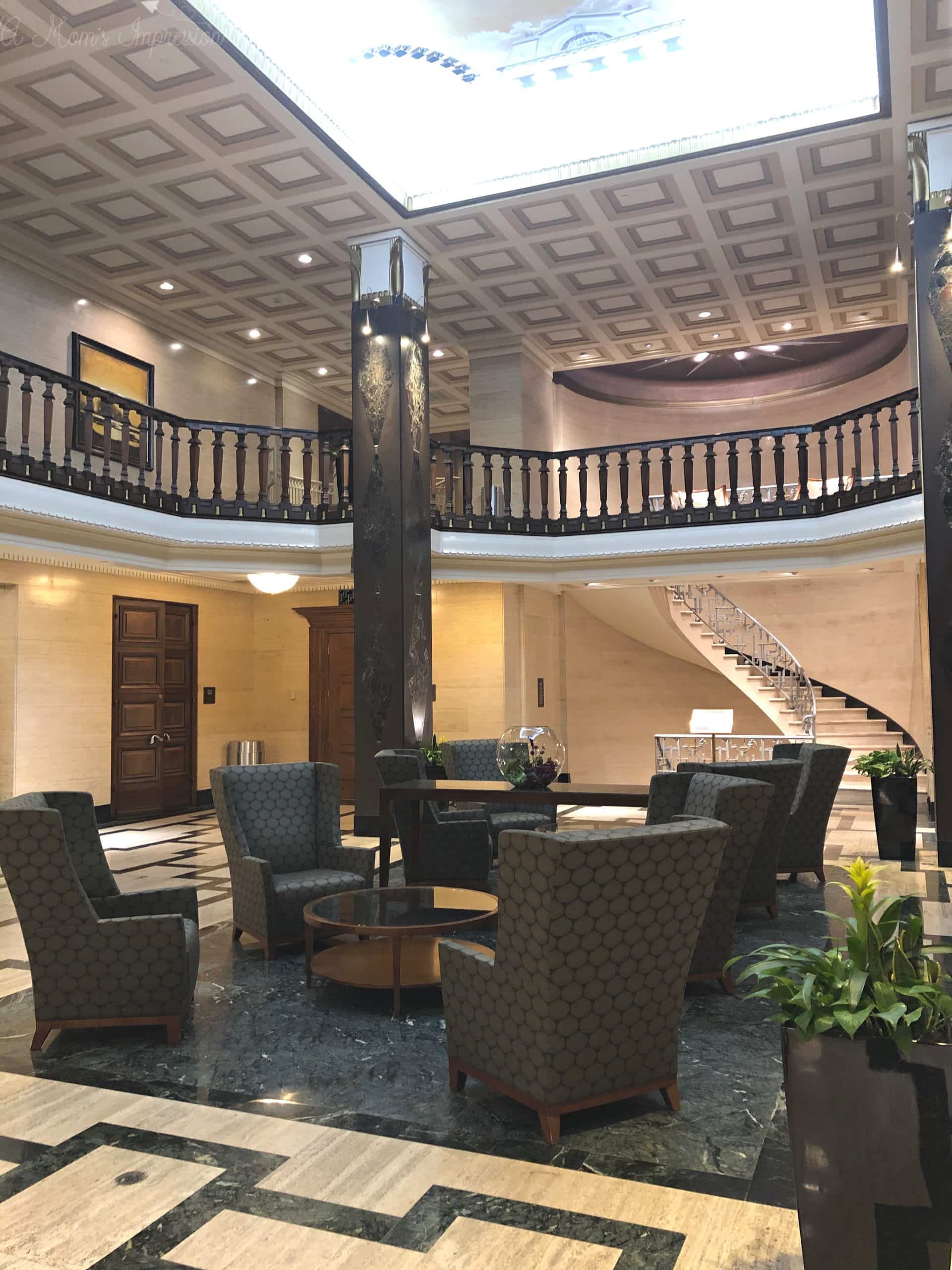 Chase Park Plaza Royal Sonesta-Amenities
Driving up to the hotel, it looked and felt like a high-end establishment (This is probably because it is). It's a beautiful building with wonderful, classy architecture.
Amenities include:
Full service spa
Outdoor pool
Health club
Wifi
Concierge
Shops
3 restaurants
Movie Theater
65,000 sq/ft of business/conference space
Chase Park Plaza Royal Sonesta-The Rooms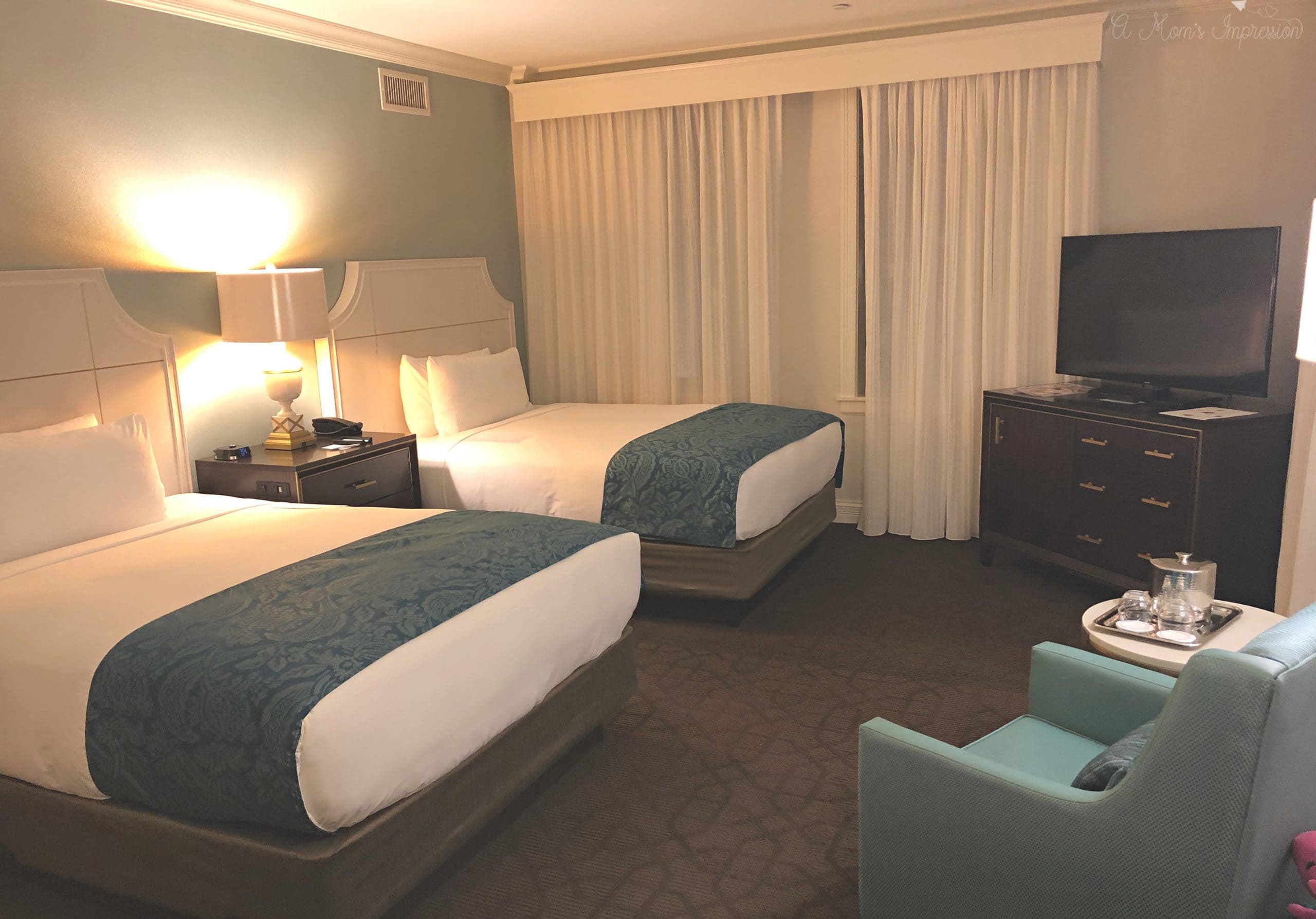 I really loved the rooms at The Chase Park Plaza, they were certainly larger than we are used to. There is a private bathroom with both a shower and a tub. This really makes the room feel more like an actually living space than a cramped hotel room. The beds were super comfortable with pillow tops and there was a flat screen television with cable programing. The Chase Park Plaza website says that there are video-game consoles in every room. I don't remember seeing one in ours, but, honestly, I wasn't really looking for one. In addition, there was a small desk, a sitting chair, a refrigerator, ironing board, hair dryer and closet.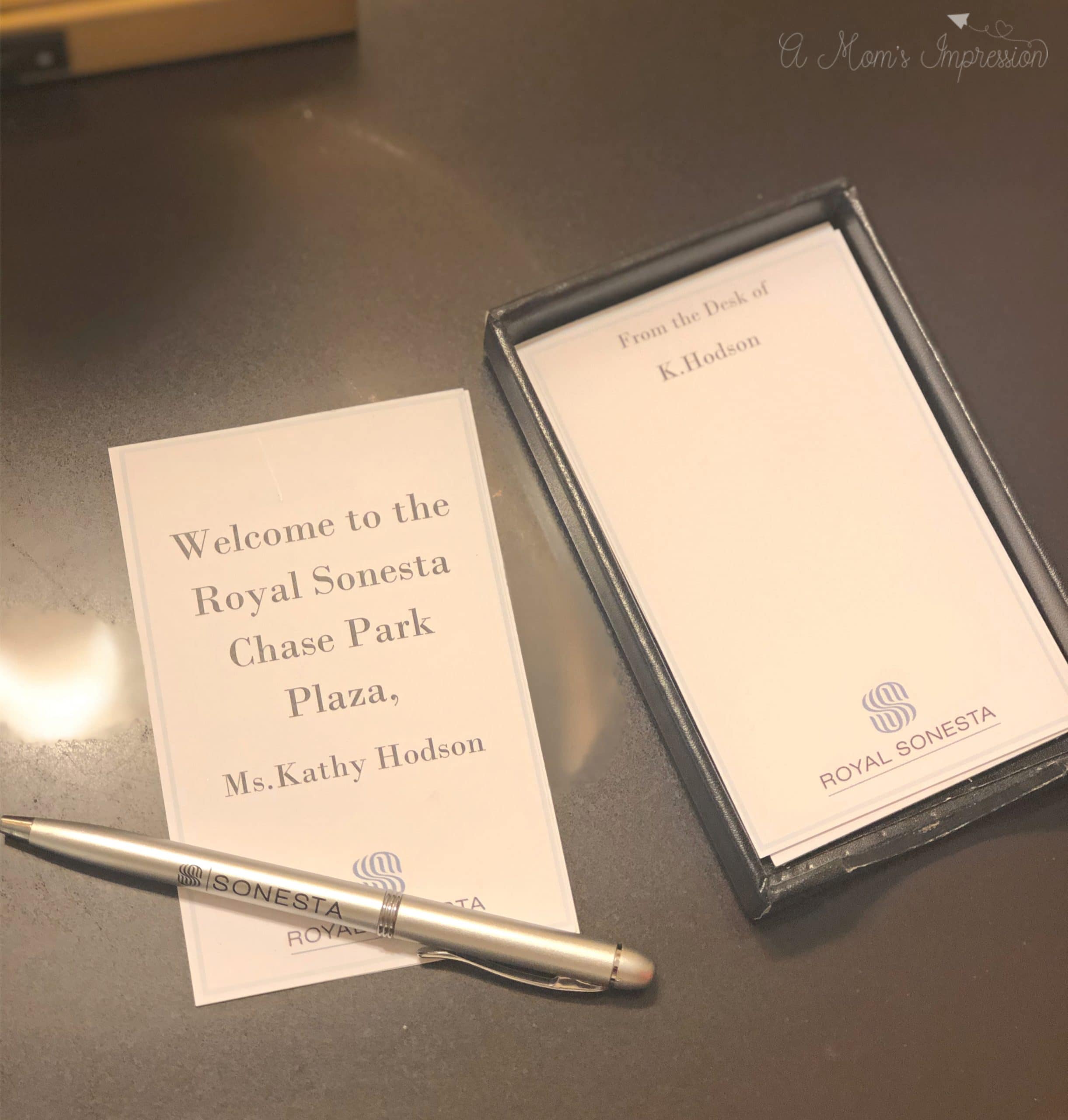 I must say that I was taken by complete surprise to find, on the bedside table, stationary with my name on it! It is these personal touches that makes this hotel stand apart from the others.
Chase Park Plaza Royal Sonesta – Final Impression
The staff, without exception, was SO friendly. Everyone said hello when we passed them in the hallways and they were all incredibly helpful. My husband was wondering around the hotel after dinner on Saturday night and ended up speaking to a staff member behind the desk of the residential portion of the desk. They talked for about 15 minutes and the employee (I feel terrible that I forget his name) gave us all sorts of really great information about the hotel, the Central West End and St. Louis in general.
We loved how there were restaurants in the hotel to eat at, a movie theater and other small shops. Right outside the hotel is a great little neighborhood with tons of restaurants, bars and even a cute little cupcake shop that we LOVED!
Things To Do In St. Louis With Kids – The St. Louis Gateway Arch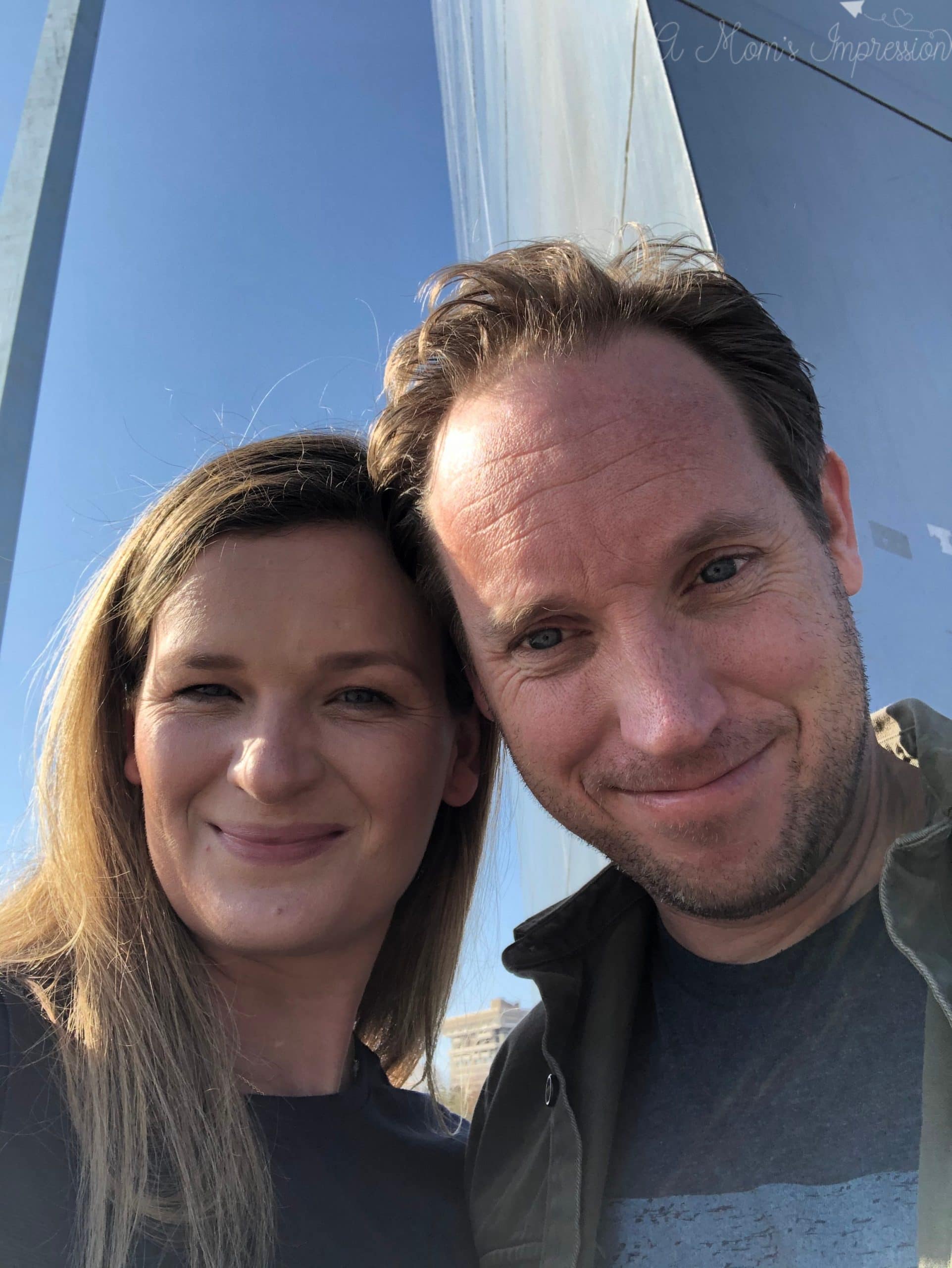 Thank you to St. Louis Gateway Arch for hosting us for this fun adventure!
As I mentioned above, there are a ton of great things to do in St. Louis with kids, from going to the Zoo (it's free!) to catching a Major League Baseball game. But, what is St. Louis REALLY famous for? Yep, The Gateway Arch! No trip to this fine city would be complete without a visit to the St. Louis Arch. So, if you are planning on heading to this famous landmark, read below to help plan your visit.
St. Louis Arch-Getting There and Parking
The Gateway Arch is located right on the bank of the Mississippi River. It's pretty easy to get to with google maps or, just generally driving towards the big arch on the horizon! I found that parking was a little tricky. There is street parking along the west side (southbound lane) of S. Leonard K Sullivan Blvd. The directions in our phone had us going northbound, so it was difficult for us to find a spot. The tram up to the arch starts at 9am (at this time of year. It's 8am in the summer). We got there right at 9am and those street spots were filling up quick. We ended up finding a parking garage about 1/2 mile north of the park. It cost $10.
St. Louis Arch-Tram Tickets and The Museum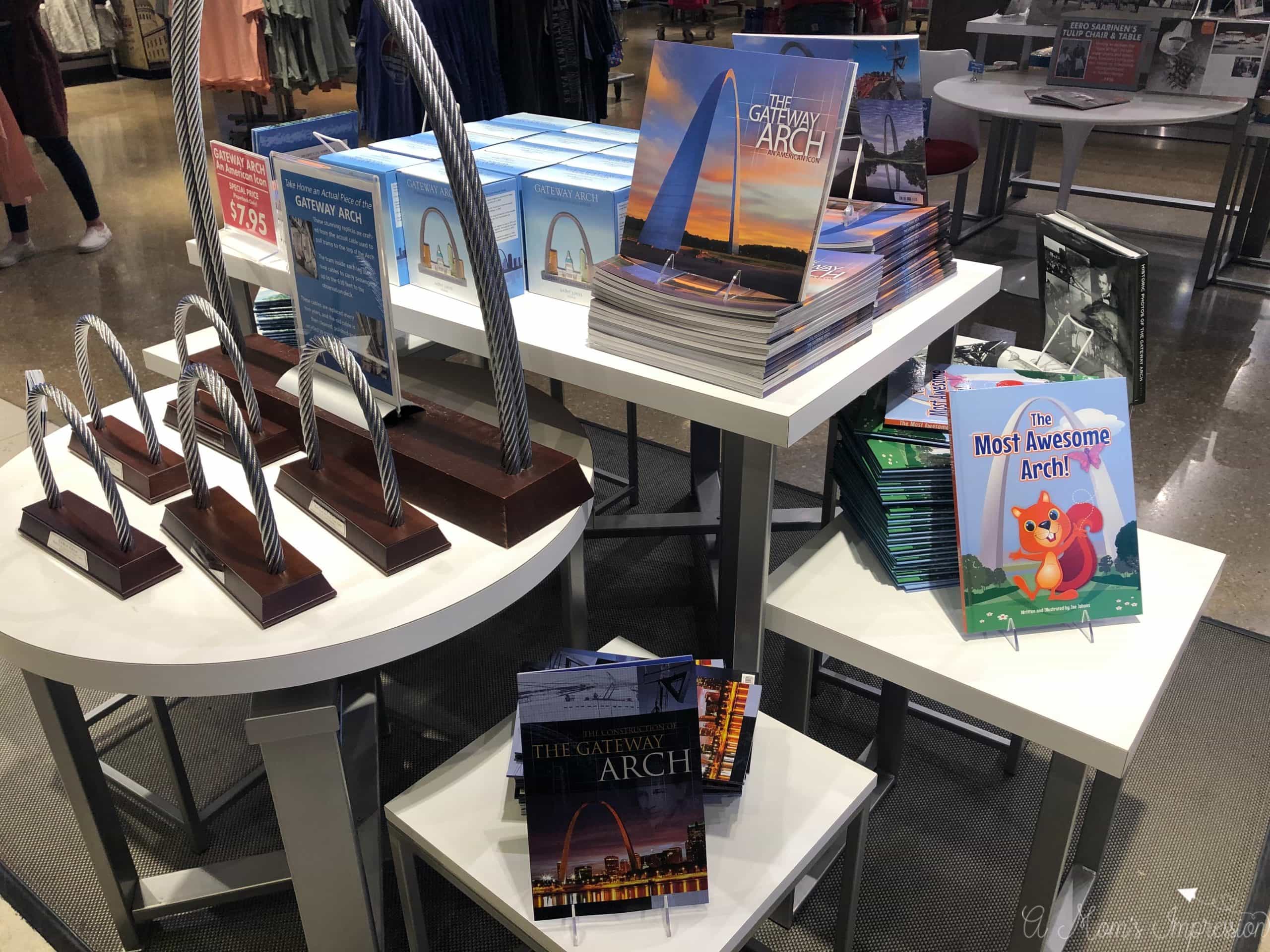 If you want to go up to the top of the Arch, you will need to buy a tram ticket. They system they have for the trams going up and down is pretty efficient. It looks like there is a tram going up one of the sides every 15-20 minutes or so. The cost for a tram ride to the top is $12 for adults and $8 for a child (ages 3-15). There are a number of different ticket combos you can purchase (tram and cruise combo, tram and documentary movie combo, etc..). For a full list of prices and options, go here.
Once you purchase your tickets, follow the signs and you'll head through security. This is a national moment and they take security pretty seriously. I would travel as light as possible to make it stress-free. Once through there, you'll be able to enter into the museum area while you wait for your tram.
I thought the museum was SUPER cool and was surprised that it would be down there. Here, we learned all about the history and the design of the arch as well as about pioneer life along the Mississippi River. There was a gift shop (of course) and a food court.
St. Louis Arch-Tram To the The Top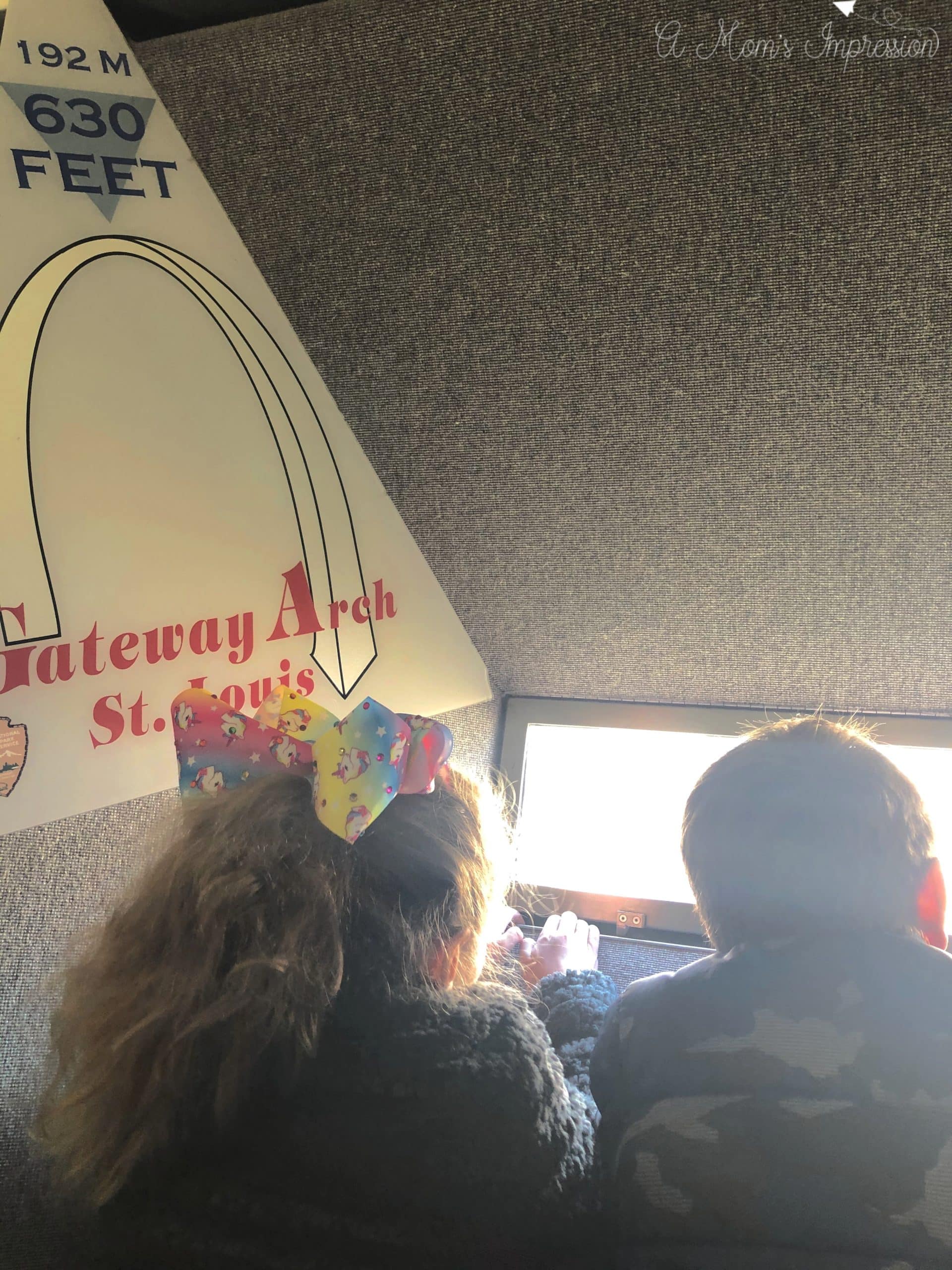 Your ticket will have your boarding time on it. At the designated time, queue up and you will be given your tram pass. They really do have this down to a science to get everyone up and down as efficiently as possible. Before getting on the tram, the staff will show you a short movie and you'll have the opportunity to get your picture taken.
The trams themselves are SMALL! If you are claustrophobic, I'd think twice about getting on. They fit up to 5 people in them, but the doors are only 4 feet tall, if that gives you any indication of the space ware are talking about. There is a small window in the door that looks into the interior of the arch. It takes about 4 minutes to go up and 3 minutes to go down.
Once up, you can walk around freely and look out both the East and the West facing sides. The view was beautiful and you can spend as much time as you'd like up there. When you are ready, just catch a tram back down!
Things To Do In St. Louis With Kids – City Museum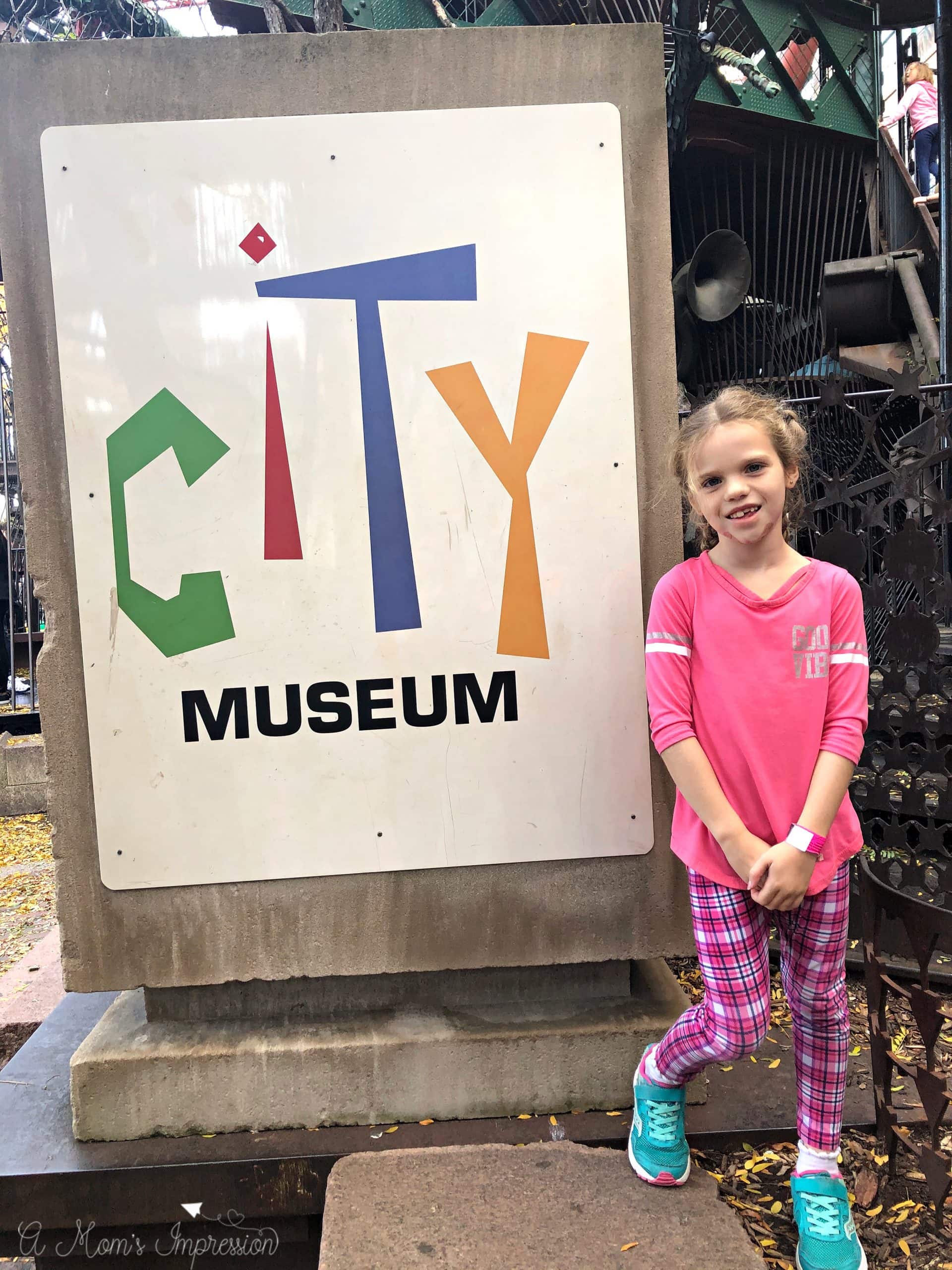 The other thing that you MUST do if you travel to St. Louis with kids is to visit the City Museum. My husband had heard how cool this place was and had been trying to get me to come here for years. I had no idea what I was in for.
What Is The City Museum?
Opened in 1993, this 10-story former shoe factory has 600,000 square feet of space. The designers strived to create a "city within a city". There is no map of the inside of the museum. There is no method for going through it. You just sort of wander. You're going to get a little lost, you're supposed to! It sports a 10-story slide, underground caves, a huge outdoor play and climbing area and a bonus rooftop adventure. And this is really just the tip of the iceberg. Check out this drone video to give you a better idea. But, really, this is something you need to experience in person!
The City Museum-Tickets and Parking
Tickets are $16 for both adults and children (kids under 2 are admitted for free). To access the bonus area on the rooftop is $5 more dollars (it closes in November). There are a TON of parking options around the area. We got there right when it opened and we were able to park on their property. It cost $10 and was only about 30 seconds of walking to get into the museum. So, I'd certainly recommend trying to park in their lot if possible.
We arrived right when it opened and I think this was a great idea. We went on a Saturday and the place is so massive that we really felt like we had it to ourselves for the first hour or so. But it quickly filled up as the day went on. I'd factor in at least 3 hours to experience it. That is how long we were there and we didn't get to see everything!
The City Museum With Kids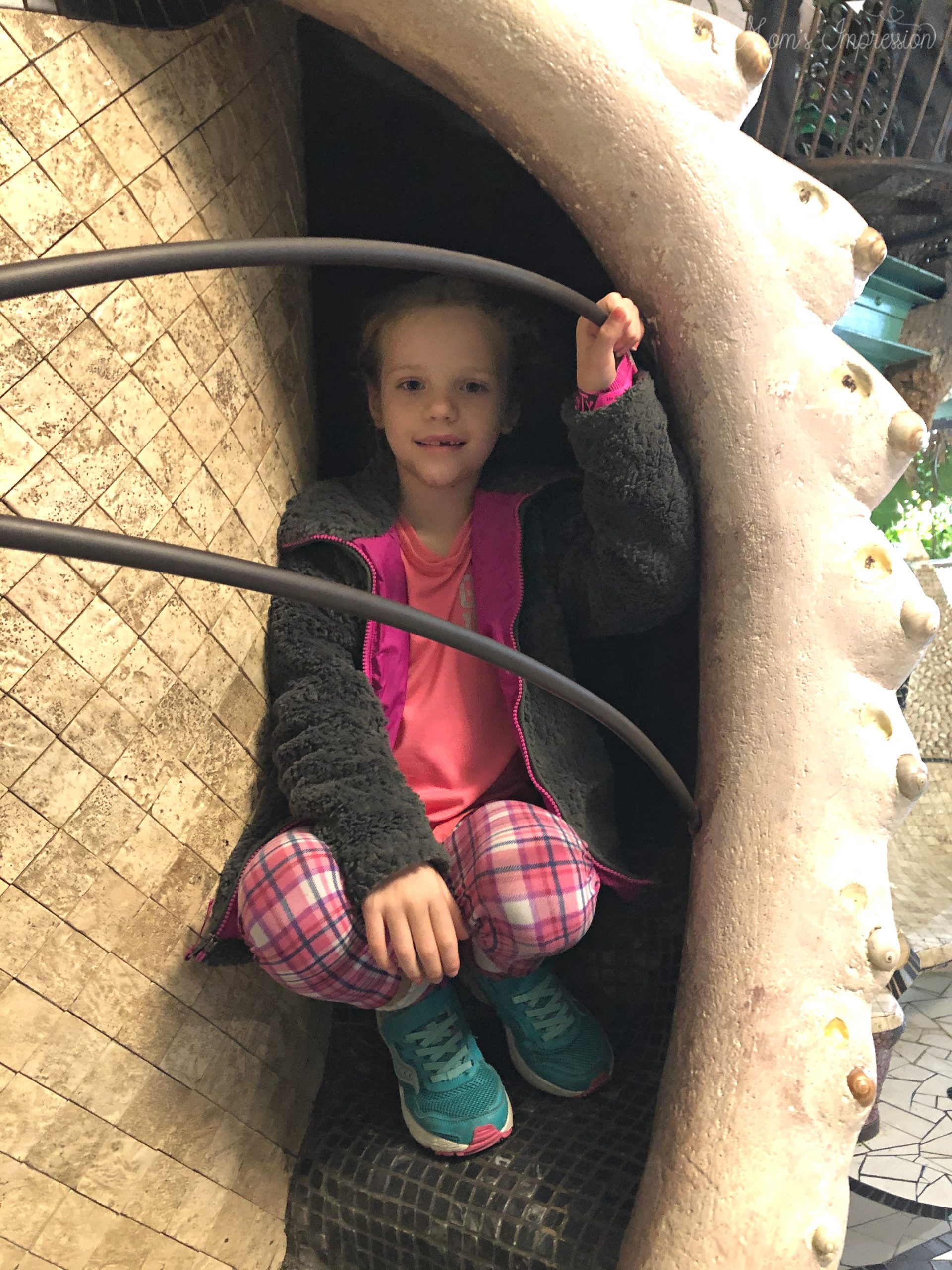 The one thing that my husband and I had to get used to is that it is virtually impossible to stay with your kids the whole time. Your kids will climb into a tunnel and literally come out on another floor of the building. Our first 30 minutes there were a little stressful because we had no idea where they are. There are so many dark nooks and crannies for their little bodies to fit and hide it, it was just impossible to track them. At some point, we just got used to this fact and recognized that ALL the kids seemed to be wondering around on their own.
I'd recommend making a "rally point" somewhere in case you can't find each other. And, obviously, teaching your kids about stranger danger and asking an adult in uniform for help if needed.
Are There Restaurants At The City Museum?
Yes. There are a TON of food options. I just looked it up on their website and it turns out there are 9 different places to get anything from cotton candy to pub style food. I was there and didn't realize there were that many places to eat. This gives you an idea of how disorienting it is in the building! I'd recommend heading to their website and getting an idea of which place you want to eat before you go. They are located on different floors of the building. We ate at The Mezzanine and, honestly, the food was underwhelming. As we walked around more, we saw more dining options and the food looked a lot better. So, I wish we had planned that a little better!
The City Museum-Our Experience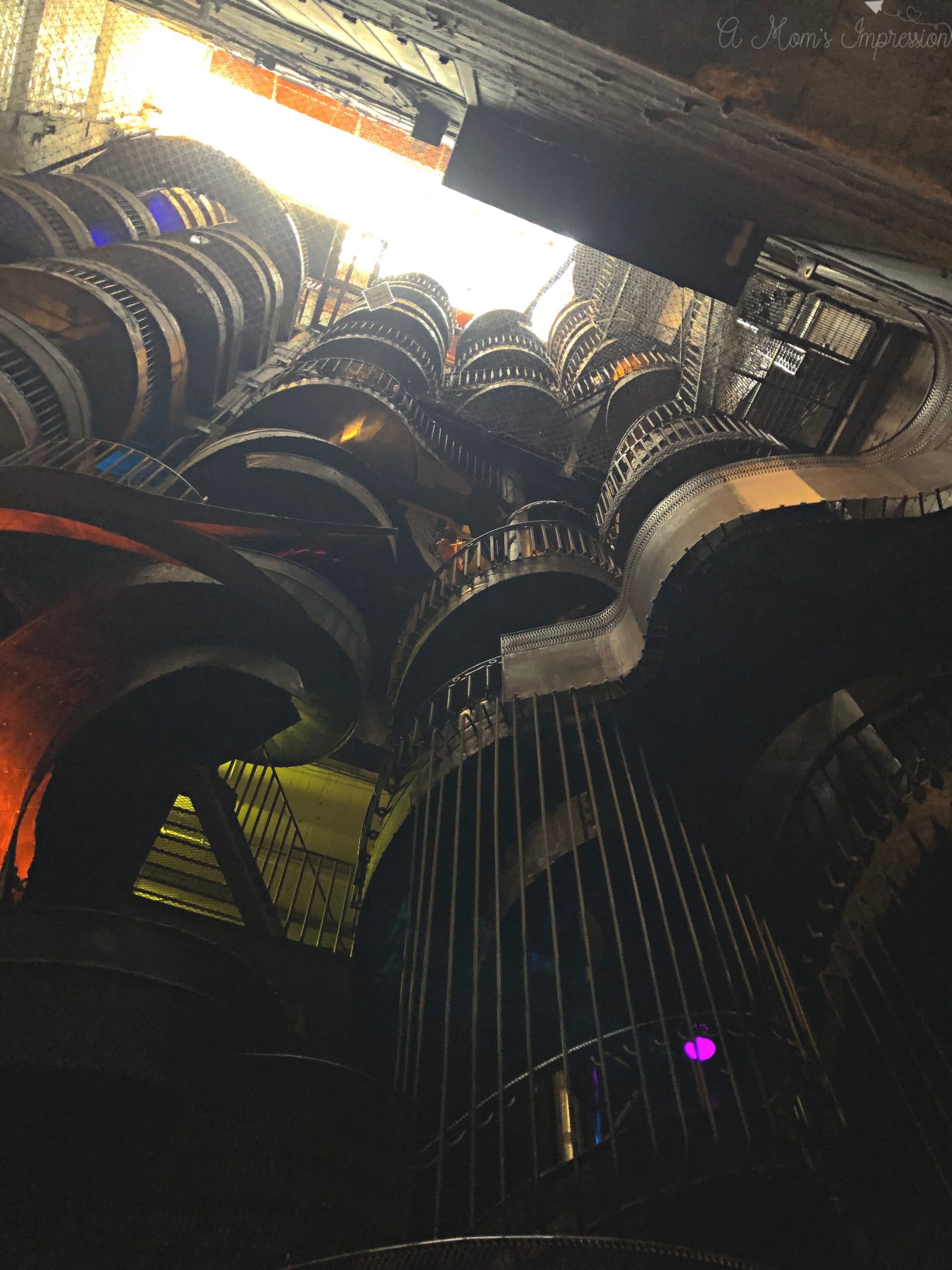 After my parenting anxiety died down a bit, we had an absolute blast at the City Museum. I SO wish there was a place like this when I was younger and was small and flexible enough to fit in all the tiny spaces. There were countless slides, tunnels. exhibits, a skateless skateboard park, a toddler town, a mini circus, a train ride and on and on. I literally can't list everything here. Let me just say this we will need to go back to see it all again!
St. Louis With Kids-We Need To Go Back!
We learned a lot about St. Louis on our recent trip there. But one of the main things we learned is that we are going to need  to go back to see everything else we didn't have time to see. We heard great things about the St. Louis Zoo, and the fact that the admission is free is totally awesome! We went to Grant's Farm a couple years ago when the kids were much littler. We had a blast there and would love to try it again. We don't have a Major League Baseball team in Indianapolis, so we'd love to take them to a Cardinals game too!
So, if you live in the Midwest, chances are that St. Louis is pretty convenient for you to get to. If you go, make sure you stay at the Chase Park Plaza Hotel, it can't recommend it enough! And also, the first two things you should put a priority on doing is to see the St. Louis Arch and go to the City Museum. Have fun and happy travels!