As a parent and a teacher, I am constantly looking for mindfulness activities for children. Today I am going to show you how to create a Comfort Corner in your home or classroom to help kids manage their big emotions. All you need is a dedicated space, some comfy pillows and your Cricut cutting machine!
This is a sponsored post written by me on behalf of Cricut. All opinions are 100% mine.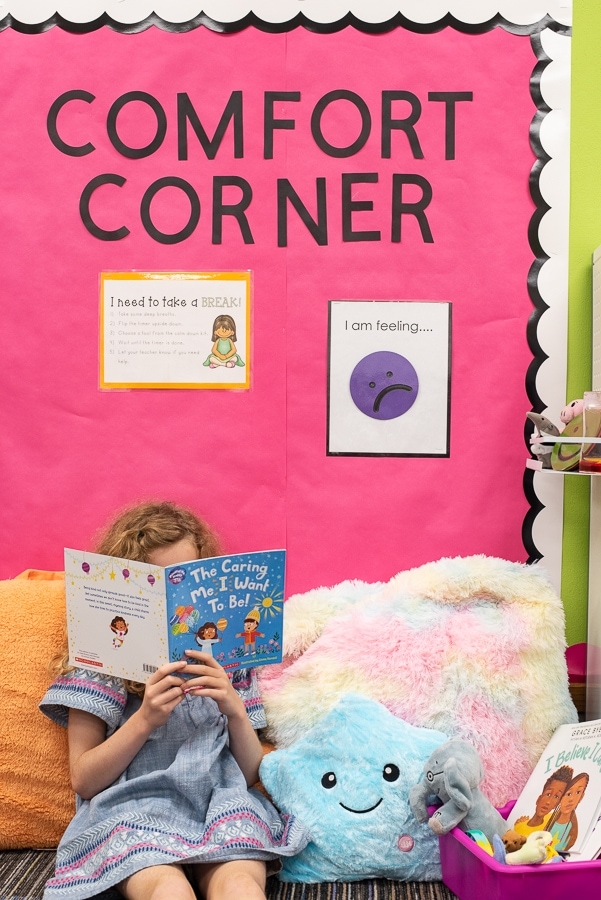 Teaching kids to be aware of their emotions and feelings and then how to deal with them is a big task for any adult. As a parent, I am constantly reminding my kids that they need to identify why they are feeling the way that they are, especially when they are upset. Identifying and regulating our feelings is something that we will need to do for the rest of our lives. Teaching kids this at an early age will help them be productive as well as being socially aware. In my classroom we dedicate our morning meetings to social-emotional learning every single day.
Some of us didn't grow up with this type of mindset or we were not specifically taught how to manage our emotions and they when our feelings got to be too big, we wouldn't know how to manage them. That is why finding and exposing our kids to mindfulness activities is so critical.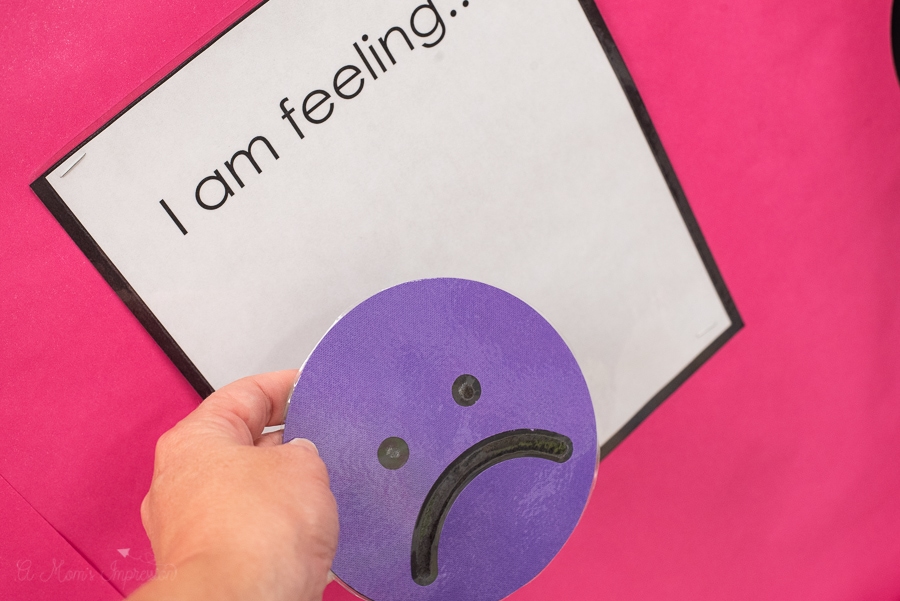 Mindfulness Activities for Children
There are several easy ways that you can incorporate mindfulness activities into your child's daily life. Some of my favorite mindfulness activities for kids include:
Creating a Comfort Corner – We have a full tutorial below on how to create a safe place in your home or classroom. A Comfort Corner is a place where a child can go when he/she is feeling some big emotions. They can go to identify and reset their feelings while feeling safe and comforted. In this special spot are some tools that the child can use to help calm or reset their feelings.
GoNoodle.com- This amazing website is a place you can go to give kids a movement break such as guided dancing, stretching exercises and indoor recess ideas. They have many mindfulness activities that are fun!
Journaling – Teaching kids to write about their feelings at an early age is critical. All kids need a safe place that they can "talk" about their emotions. Creating opportunities for kids to write about their feelings is a wonderful activity.
Positive Affirmations – I love to have kids create positive affirmations for themselves and write them on sticky notes to put all over their house and bedroom. One of my favorites is "You Can Do Hard Things"
Taking Nature Walks – There is nothing like a bit of fresh air and a nice walk. Taking a walk with your kids and listening to the natural sounds that you might find on a walk is a wonderful way to connect with your thoughts. It is also a great time to have conversations with your kids without interruptions.
Reading Children's Books about Emotions – I am a huge fan of children's literature and the power behind amazing stories. Reading stories about emotions and how to regulate them is so important. I included 10 of my favorites below.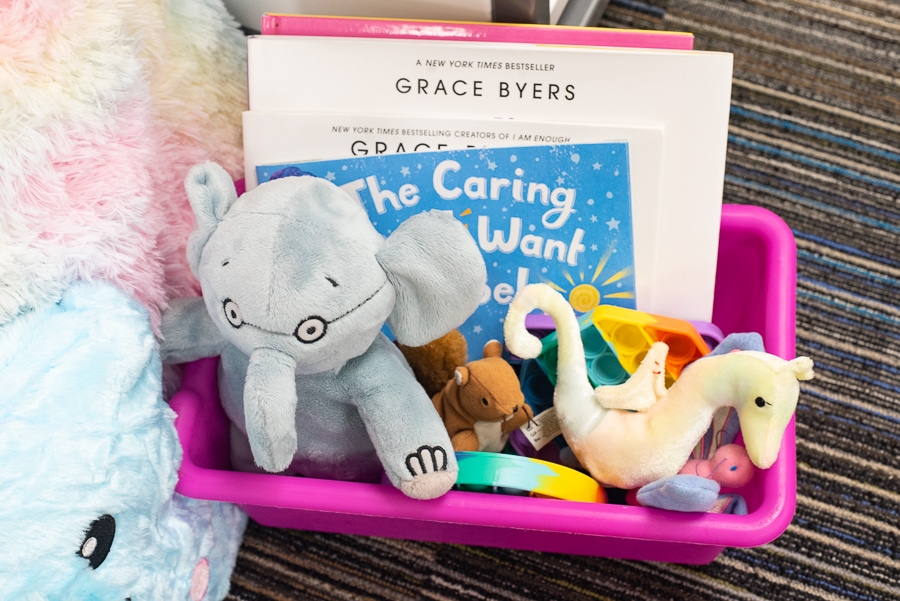 Children's Books About Identifying and Regulating Emotions
The Boy with Big, Big Feelings by Britney Winn Lee
When Sophie Gets Angry – Really, Really Angry by Molly Bang
The Color Monster by Anna Llenas
My Body Sends a Signal by Natalia Maguire
Listening to my Body by Gabi Garcia
Grumpy Monkey by Suzanne Long
The Way I feel by Janan Cain
Pete the Cat and His Magic Sunglasses by Kimberly and James Dean
When Miles Got Mad by Samantha Kurtzman-Counter
Jonathan James and the Whatif Monster by Michelle Nelson-Schmidt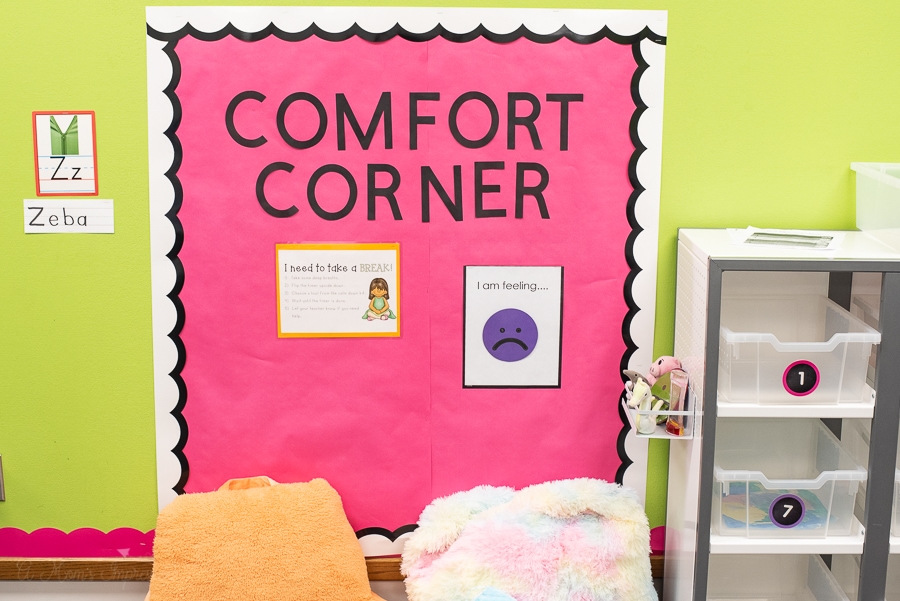 How to Create a Comfort Corner
Find a corner in your home or classroom that you can dedicate to this space. It doesn't have to take up a lot of room, a very small space can feel cozy. The idea is to have tools and strategies available for the kids to use to make them feel safe and calm. Some kids like to write about their problems, some might need a fidget to play with so that they feel less anxious, some might like to hug a pillow or a stuffy to make them less sad. The idea is to help them identify and regulate their own emotions.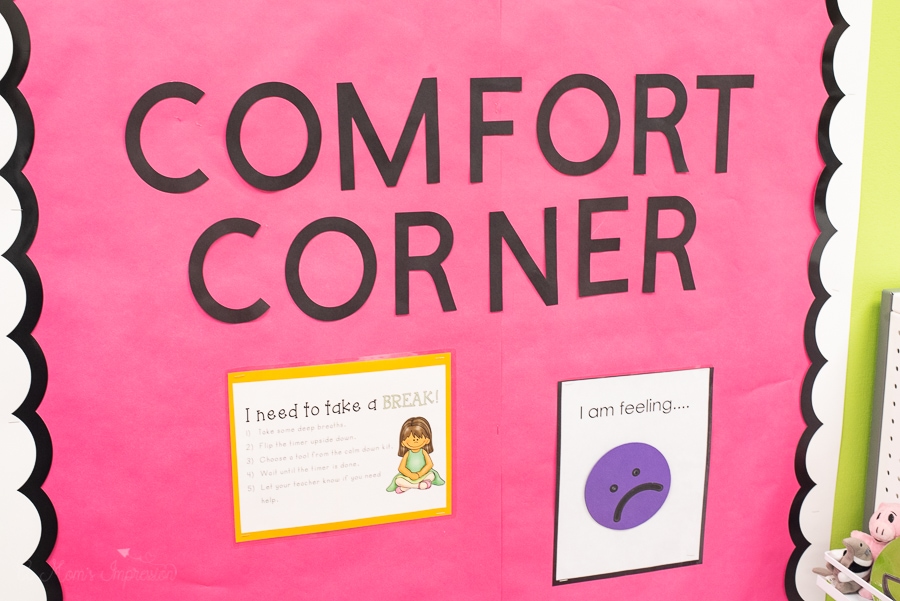 Helpful Items to have in Your Comfort Corner:
Timer (I find this helpful in my classroom)
Children's Books about Emotions (See Above)
Fidgets
Pillows
Stuffed Animals
Calm Down Signs
Identifying your Emotions Signs (See our Cricut Craft Activity Below)
Paper and Pencils/Pens
Weighted Blankets or Vests
How to Make Emotion Signs – Cricut Craft Activity
Materials:
Directions
Being able to identify how you are feeling is very important and that is how this idea came to be. I wanted the kids in my classroom to think about how they are feeling so that they can find a tool that will help them calm down. This craft is really simple yet very impactful. You can change it up to suit your child's needs.
The first step is to head to Design Space and load up my Emotion Sign project. You can find it here.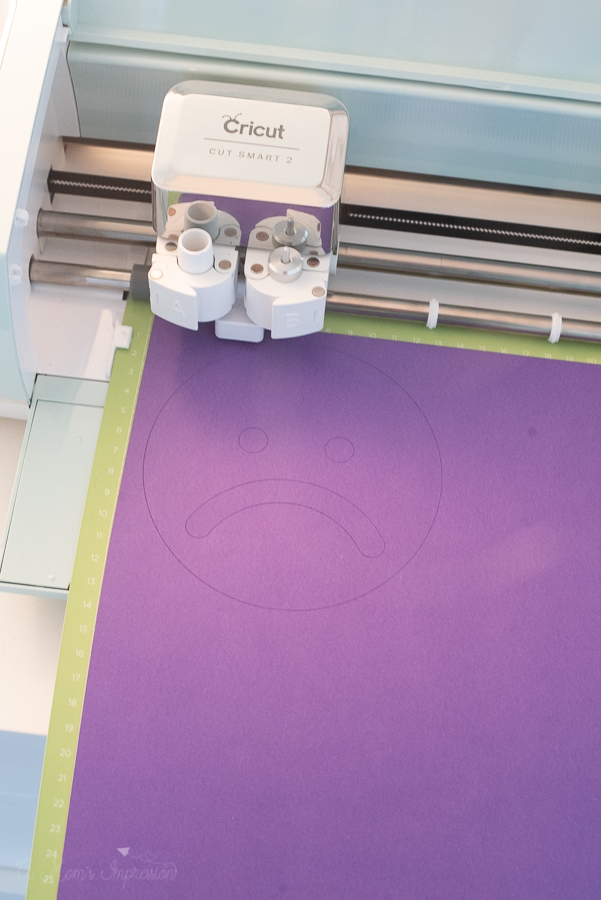 Follow the directions and load your first color of card stock onto the green StandardGrip Cutting Mat and follow the directions on the screen. I used the premium fine point blade but the deep-point blade may also work depending on the thickness of your card stock. You will then carefully peel the mat away from the card stock I found that using the spatula to lift the card stock up off the mat was very helpful. Use the weeding tool to make sure all the cutouts are weeded away.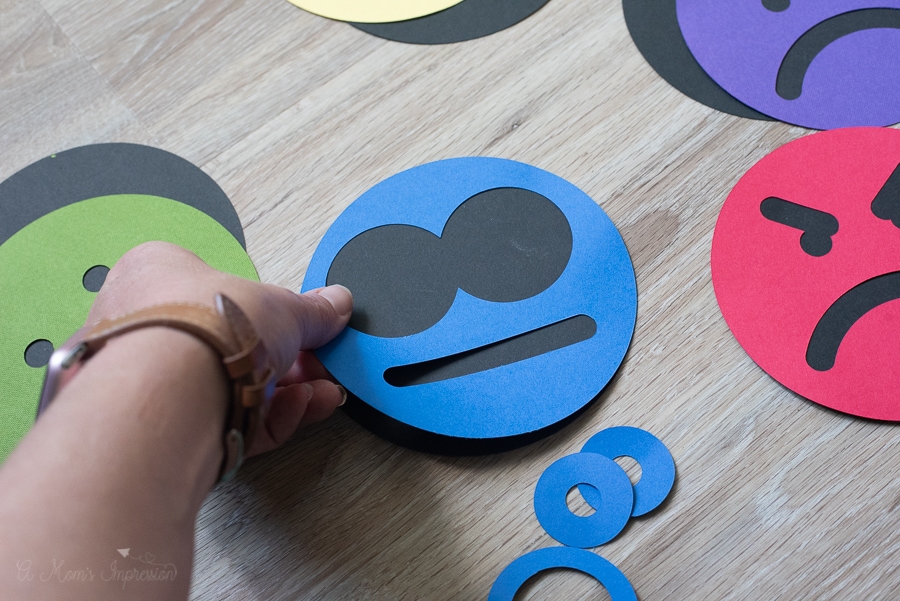 Next, you will load the second color onto the mat. Peel off the mat when you are finished. Repeat this process until all of your emotion faces have been cut out.
Finally use double sided tape to tape the front of the emotions to the black circle background. I also put a Velcro dot on the back of each one to stick to the "I am Feeling…" board. You can get a copy of that here!  I laminated mine because they will be used multiple times a day in my classroom, but you don't have to do this step, they will be pretty durable on their own.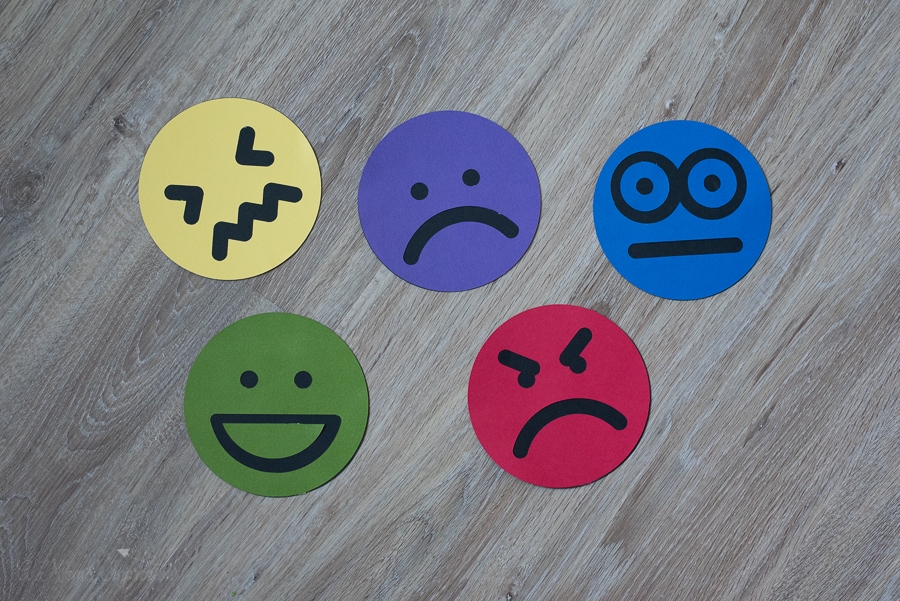 You can also make custom cutout letters for your Calm Down area using your Cricut. I have found that my Cricut is an essential tool for my classroom.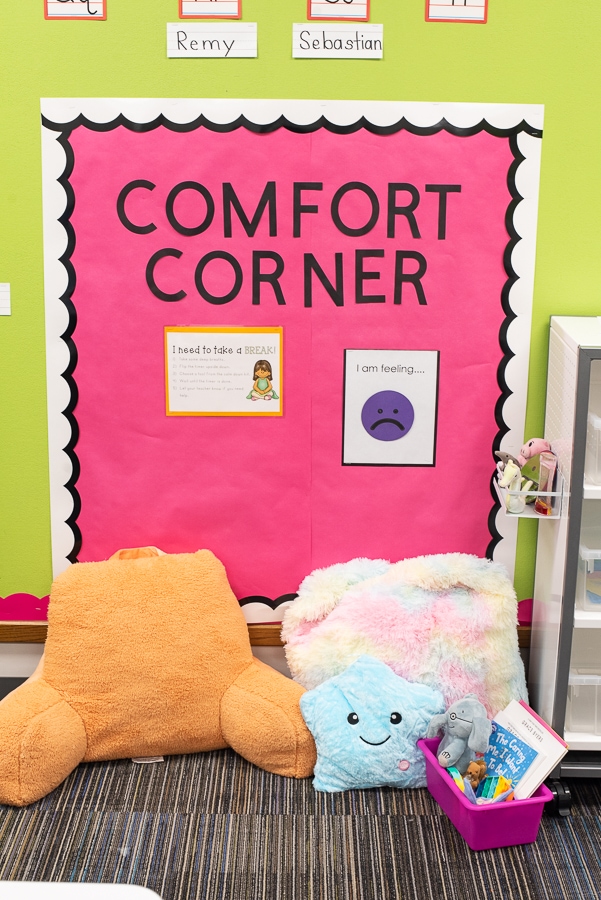 I hope this gives you some good ideas on some mindfulness activities for your kids. Let us know in the comments if you have any more suggestions.