Instapot recipes for the pressure cooker are an amazing time-saver for busy people. We have used our Instant Pot more times that I can count in our Paleo lifestyle. Cooking in one pot means cleaning up just one pot and that is a win for our busy family.  See what our favorite Paleo Instapot recipes are!

ALSO, CHECK OUT MY 15 VEGAN INSTANT POT RECIPES, MY 13 VEGETARIAN INSTANT POT RECIPES AND MY 20 KETO RECIPES!
Last year my husband and I decided that our diet needed a change.  We were ready to start thinking about our food in a new way.  Last January we took on a Whole30 challenge that changed the way we look at food.  As a result of this, we are adopting more of a Paleo lifestyle. Recently we jumped on the Instapot (otherwise known as Instant Pot) craze because of the ease of making some of our favorite recipes quickly, without losing the flavor. I searched the Internet to find delicious Paleo Instapot Recipes.
If you are new to pressure cooking be sure to read our pressure cooking guide to learn everything you need to know!
Instapot vs. Instant Pot
Confused about the difference between an Instant Pot and Instapot? People commonly refer the Instant Pot Brand of pressure cooker as an Instapot. They are essentially the same thing. When you see people talking about the Instapot they are referring to this appliance.
Instapot Recipes for the Paleo Lifestyle
The Instant Pot makes our Paleo lifestyle even more manageable because you can use it like a traditional slow cooker or as a pressure cooker.  There are also many more options for the Instapot that makes it different from a traditional slow cooker.  The model that I have even has a yogurt making setting where we can make our own delicious yogurt.
Don't have an Instapot?  Be sure to get yours now!
Paleo: Instant Pot – The Ultimate Paleo Pressure Cooker Cookbook
If you are looking for some great Paleo recipes for the Instapot, I highly recommend this cook book. Almost every recipe in the book can be made in under 30 minutes and has ideas for every meal of the day including Paleo desserts. There are so many different delicious recipes to try that anyone who has an Instant Pot needs this resource!
Paleo Instapot Recipes
1. Low Carb Soup with Ground Beef, Green Beans and Tomatoes (omit Parmesan) | Kalyn's Kitchen
2. Instant Pot Buffalo Chicken Meatballs | What Great Grandma Ate
3. Tortilla Soup | Foraged Dish
4. Five Ingredient Instant Pot Carnitas | A Calculated Whisk
5. Swedish Meatballs | Forest and Fauna
6. Paleo Turkey and Gluten-Free Gravy | Gutsy By Nature
7. Butternut Squash Coconut Curry | Foraged Dish
8. Paleo Butter Chicken | The Primal Desire
9. Cheesy Chicken and Green Zoodles | The Castaway Kitchen
10. Chicken Tikka Masala | Wholesomelicious
11. Paleo Beef Barbacoa | Jay's Baking Me Crazy
12. Pressure Cooker Chicken Stock | Pressure Cook Recipes
13. Rosemary Apple Sauce | Forest and Fauna
And don't forget about my Instant Pot Italian Wedding Soup that I made using my pressure cooker!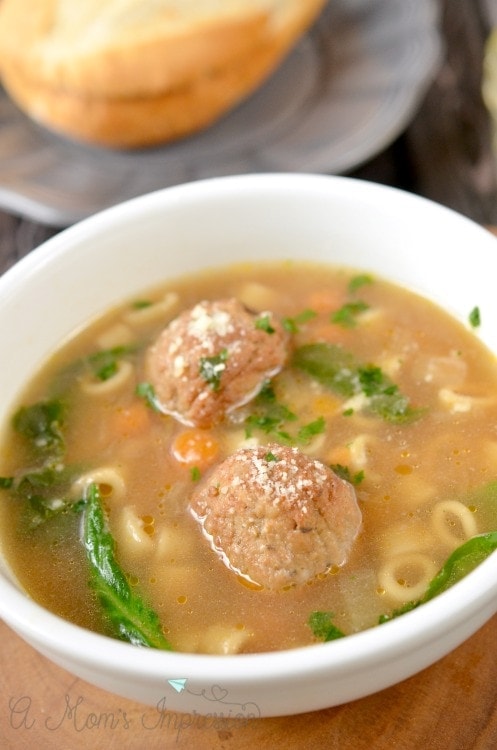 For more delicious Instapot recipes check out our 18 Delicious Instant Pot Dinner Ideas!
These 13 recipes look amazing and delicious and I can't wait to try them all.  I love using my Instant Pot and plan on featuring more and more recipes using it in the next year.  I would love to hear about any delicious Instant Pot recipes that you already love, so please share in the comments!
Instant Pot IP-DUO60 7-in-1 Multi-Functional Pressure Cooker, 6Qt/1000W
Instant Pot Tempered Glass Lid for Electric Pressure Cookers, 9
Secura 6-quart Electric Pressure Cooker Steam Rack Basket Set
Paleo Cooking With Your Instant Pot: 80 Incredible Gluten- and Grain-Free Recipes Made Twice as Delicious in Half the Time
The Instant Pot® Electric Pressure Cooker Cookbook: Easy Recipes for Fast & Healthy Meals
&
This post contains affiliate links. Thank you for your support.