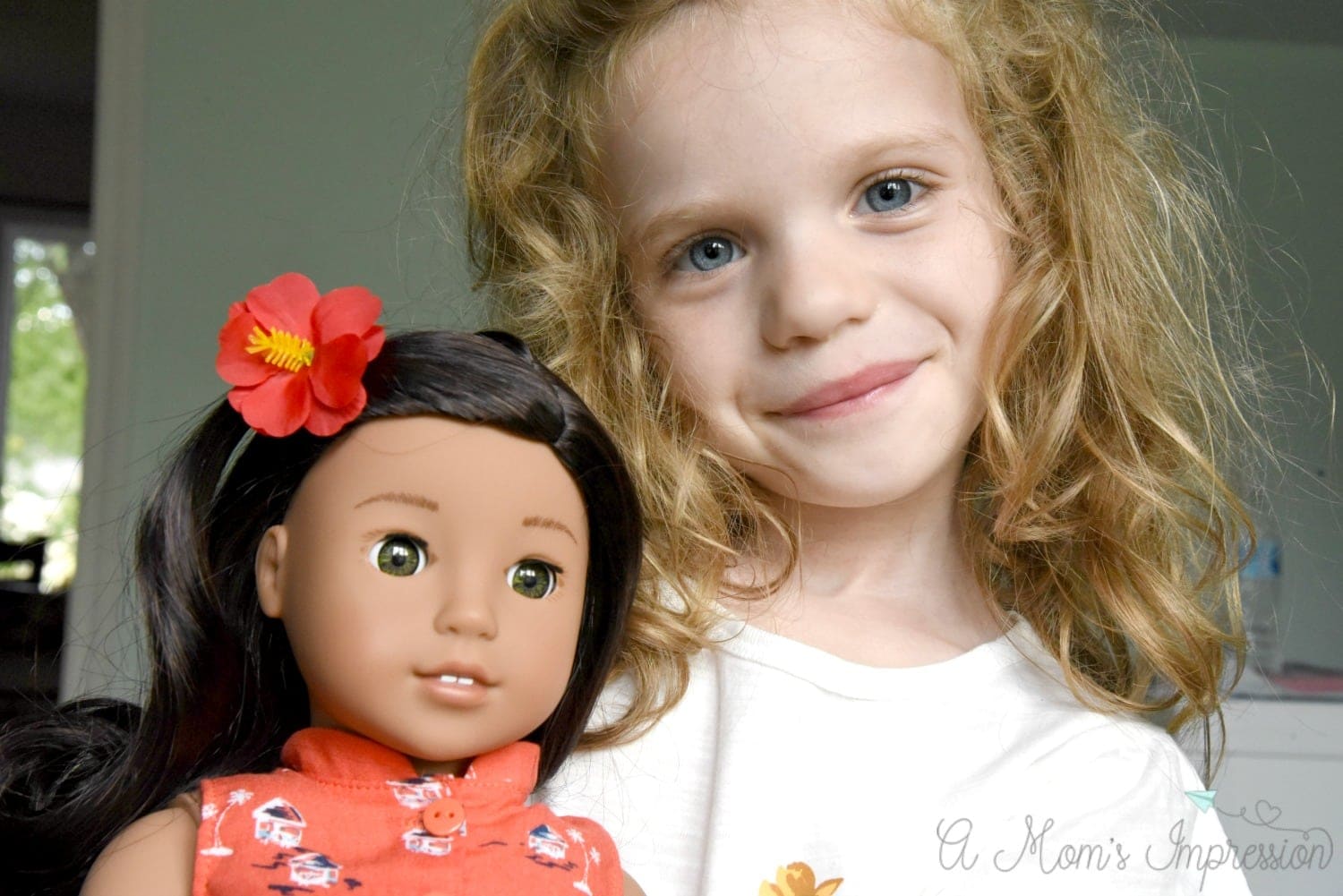 WANT MORE AMERICAN GIRL? CHECK OUT MY POSTS ABOUT:
It's always a big deal in our house when American Girl releases a new doll. A couple months ago we were first introduced to the newest BeForever American Girl Doll, Nanea Mitchell. My daughter and I were anxiously awaiting her arrival and were thrilled when they offered to send her to us to check out.
Nanea's Story
Nanea loves her close-knit extended family, dancing the hula, fishing with her father, and playing with her dog, Mele. Nanea is also eager to "dip her paddle in" to be useful at home and at her grandparents' store. When Pearl Harbor—the naval base where her father works—is attacked by Japan, the peaceful existence the Mitchells and their neighbors enjoy is replaced with martial law, and rumors of additional attacks and frequent air-raid drills have everyone on edge. Amid the chaos and uncertainty, Nanea embraces her spirit of aloha and deeply held belief in kokua—doing good deeds and giving selflessly—to do her part for the war effort and help restore peace to her beloved Hawaiian home.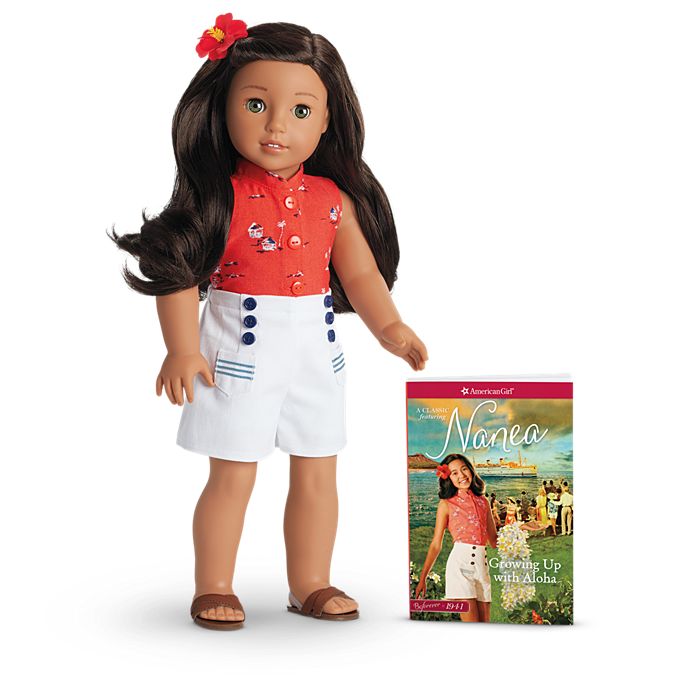 Like most of the American Girl dolls, Nanea comes with her story in book format. In creating the Nanea books and product collection, American Girl worked closely with a five-member advisory board—including an eye witness to the Pearl Harbor attack—who provided their expertise in Hawaiian culture and history to inform all aspects of Nanea's development.
American Girl Nanea Mitchell

First off I have to say that when Nanea came out of the box I was taken back by how beautiful she is.  I honestly think she is my favorite American Girl Doll so far.  I love her long wavy hair and green eyes. Her 1940's outfit is so cute and is actually back in style for 2017. I would honestly wear this exact outfit if I was going on vacation someplace warm.
Her hair is long and gorgeous (why is it that I am always jealous of these dolls' hair?) but it needs to be said that it does take a little effort to keep her hair looking this nice.  Just keep that in mind when you are deciding what doll to purchase next.  Most retail stores do have a hair salon for the dolls just in case you need a little help.

Her sandals are the perfect touch to her Hawaiian outfit.
Nanea's wardrobe is amazing.  I was looking online at some of the clothing options she has and this dress just blew my mind…

I am ordering this for Caroline's dolls as a Christmas present!  Shh… don't tell her! I wish they had this dress as an option for real girls as well, but the doll dress will do for now.
I think Nanea is an important character for our country.  My grandfather was apart of World War Two and as this generation grows up they need to know what happened in a kid-friendly way.  American Girl is providing that for our young girls and I applaud them for doing that.
Donations to the American Red Cross
Tied to Nanea's debut, American Girl is supporting the American Red Cross and their Service to the Armed Forces mission to provide care and comfort to members of the military, veterans, and their families. From now until December 31, 2017, American Girl will match any customer donation, up to $75,000 maximum, made at americangirl.com or at any American Girl store in the U.S.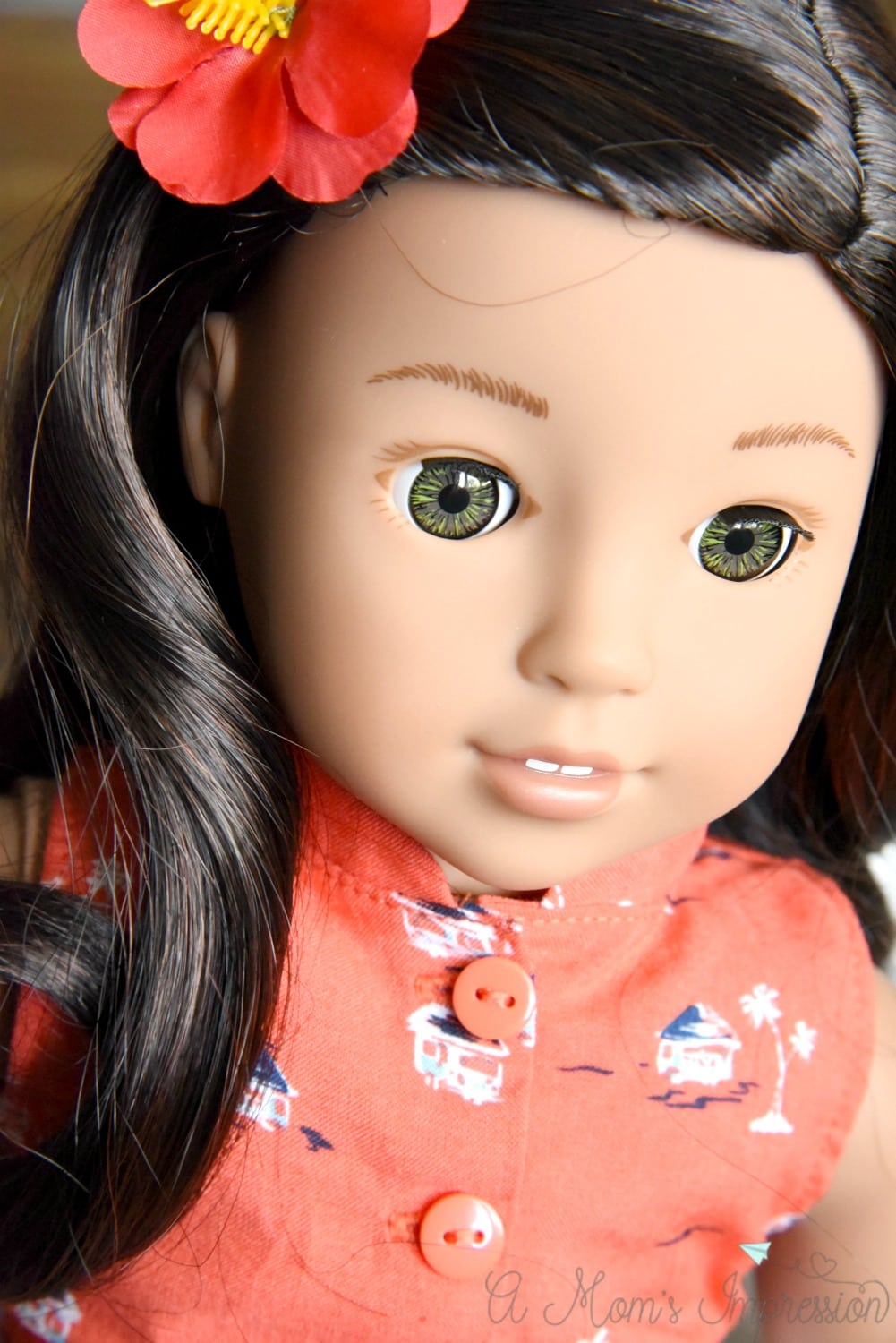 I encourage you all to head on over to a store to see the newest American Girl Doll Nanea Mitchell for yourself!  For more information and to purchase Nanea, you can visit American Girl on their website!
For more American Girl Doll Reviews check out our posts about Melody Ellison, Lea Clark, MaryEllen Larkin,  Gabriela McBride and Z Yang.