Looking for an easy recipe that makes a great side dish or even a light meal? Check out this Asian Cucumber Salad! Made with Rice Vinegar, this authentic blend of fresh cucumbers, garlic, sesame oil and other spices will have your taste buds celebrating! It's light, perfectly crunchy and full of authentic flavor! It only takes 10 minutes to make and it's vegetarian and gluten-free!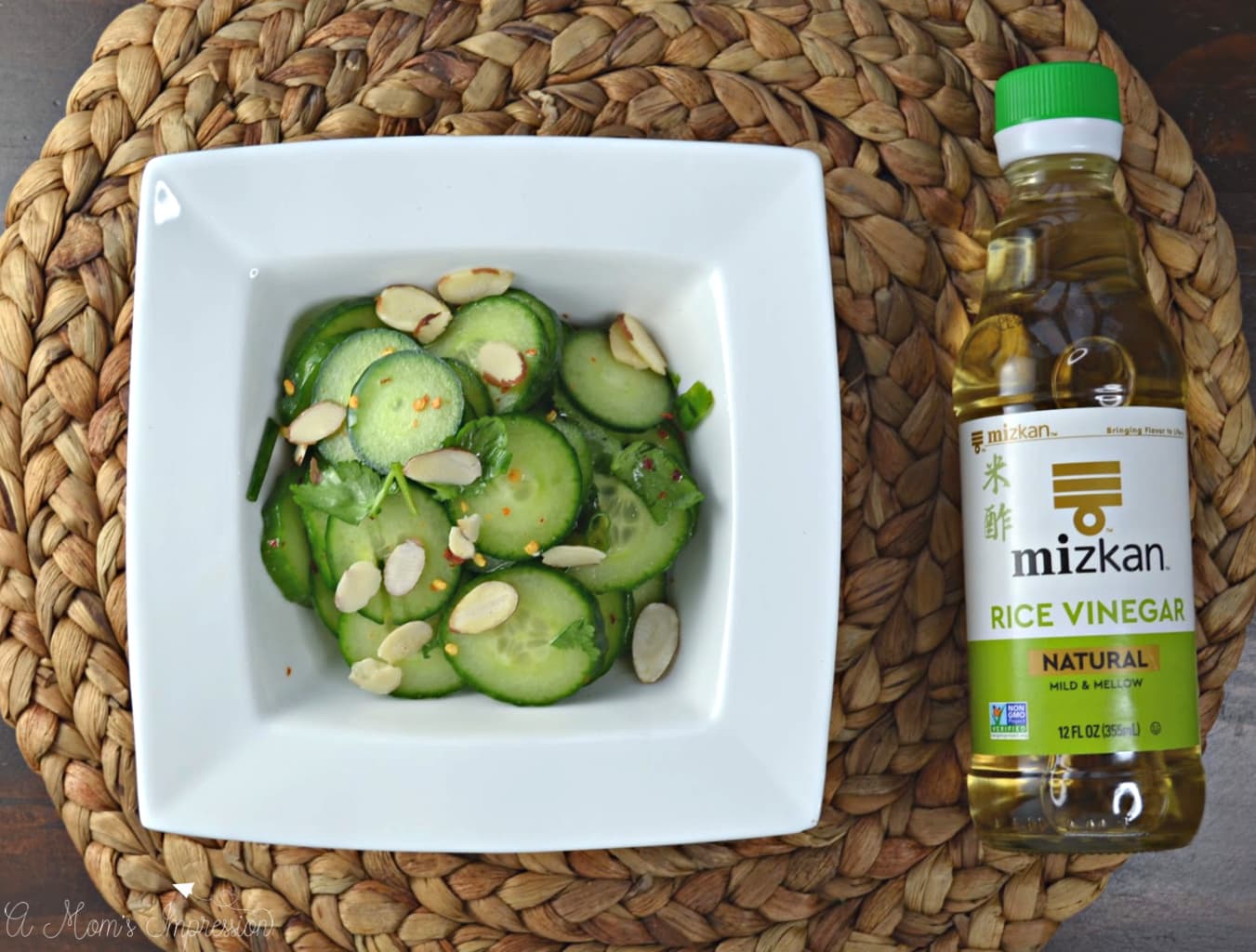 Why You'll Love This Recipe
I'm always looking for a fun and easy recipe to eat for lunch. I like something that is pretty light and fresh and will provide me with the energy I need to get through my hectic day. I just can't eat a super heavy lunch, it just makes me want to take a nap when I'm done.
Lately, I've been into making some really cool salads. A "salad" can be so much more than some lettuce with dressing on it. There are tons of really cool, healthy flavor combinations out there. To get inspiration, it's fun to look at some other cultures and cuisines. A couple months ago, we published a recipe for this Asian Style Sesame Salad. It was so tasty, that we thought we'd look into finding another great Asian Salad Recipe!
This is a great recipe to have on hand because it can so many things. Make it on Sunday and have it through the week for a snack, side dish or even a light lunch! Or put it on top of a sandwich or any other dish to give it a light, fresh crunch!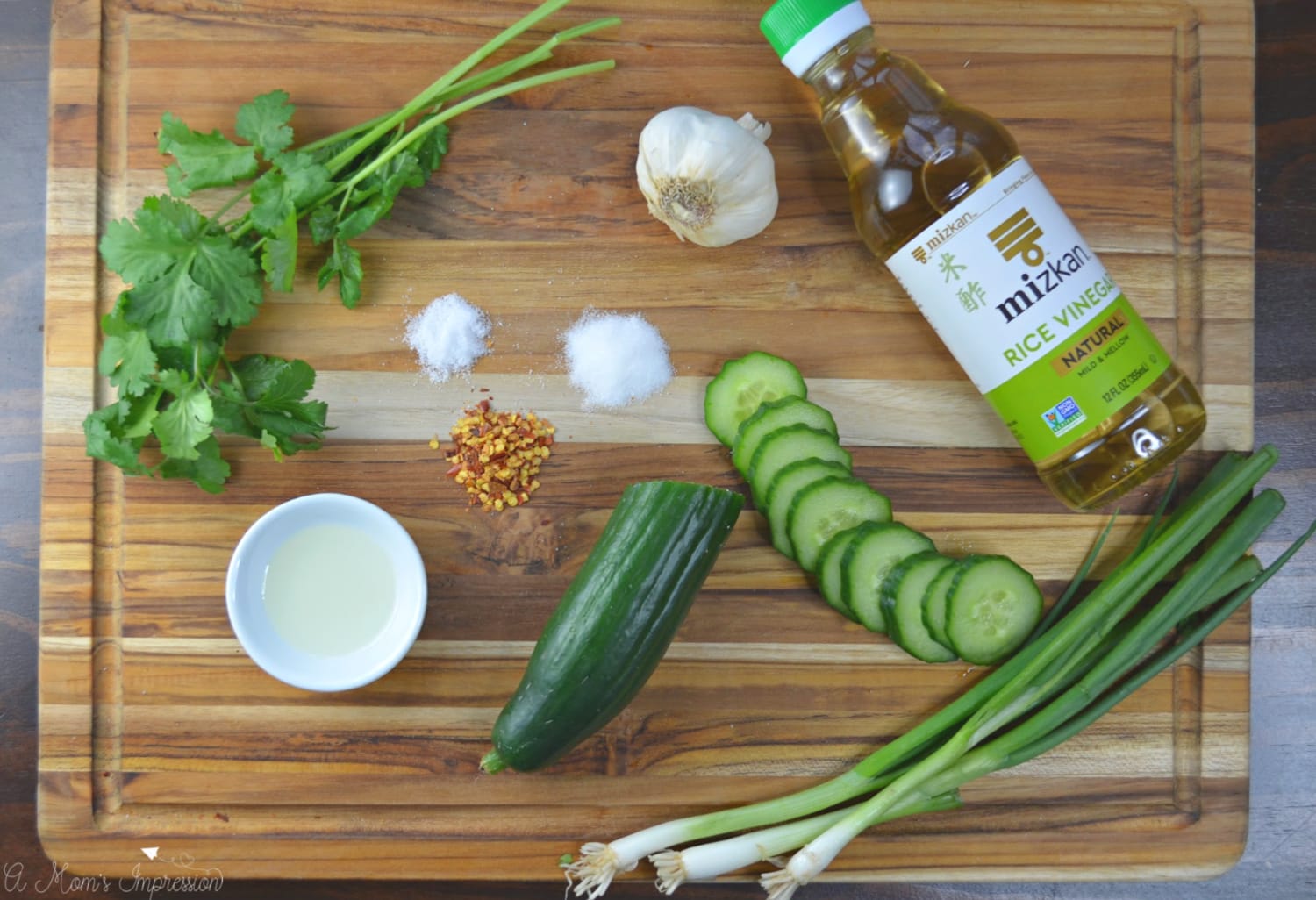 Ingredients For Asian Cucumber Salad
In researching my ingredients for this recipe, I found that there were several different ways that you could make it. Some had jalapenos in them, some had red pepper flakes. Some used ginger and some didn't . But, whatever flavor combination that I used, I wanted to try to use the most authentic ingredients possible. For step-by-step instructions, check out the printable recipe card below. But here is what you'll need to get started!
CUCUMBERS – You'll need about 2 cup of sliced cucumbers. This recipe is easy to double if you need more. Make sure you select the most fresh and crisp cucumbers you can find at the store.
RICE VINEGAR – This is pretty easy to find in the Asian section of your grocery store. Made sure you get the "unflavored" kind. We would not suggest substituting anything else for this ingredient. It's nice and mild and works perfectly in this recipe. We used 3 tablespoons.
SESAME OIL – Gives this recipe a nice, subtle smoky flavor.
SCALLIONS – Or green onions. Finely chopped.
CILANTRO – Also finely chopped. Gives this salad a little zest.
RED PEPPER FLAKES – Add them to taste. Obviously, use more or less according to your heat tolerance.
SALT – Helps balance out all the flavors.
SUGAR – Helps sweeten the Rice Vinegar a bit. We used 3/4 teaspoon but you can add to taste.
SLICED ALMONDS – We love the sliced almonds in this recipe to add some more crunch and texture. If you'd like, you could substitute for crushed walnuts or pecans.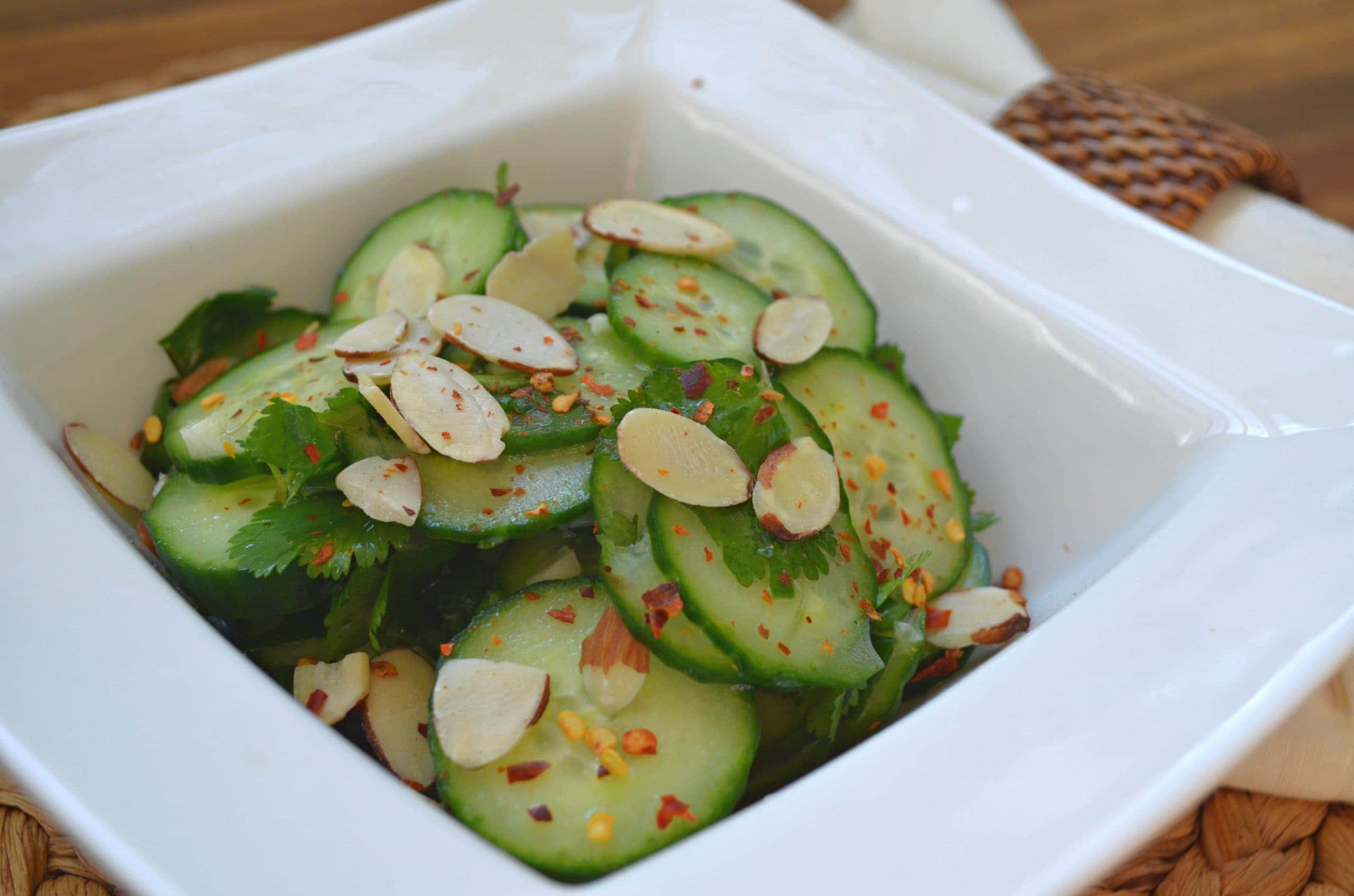 How Long Will A Asian Cucumber Salad Be Good?
As the dressing seeps into your cucumbers, it will certainly add tons of yummy flavor. But it will also start to soften the cucumbers as well. Everyone likes their vegetables at a different state of crispness, so this will largely be a factor of taste as to how long your Asian Cucumber Salad is "good".
Keep leftovers in an airtight container in your refrigerator. It should stay pretty crisp for the first two days. Afterwards, the cucumbers will get softer and soggier.
Do You Need To Peel Your Cucumbers?
No, you don't. As you can see from my pictures, I didn't skin mine. Some people like to and that is totally fine. Or, you could skin half of each cucumber lengthwise. This would give you the best of both worlds and results in a really pleasing "striped effect" that helps with presentation.
What Is The Best Way To Slice Cucumbers?
We recommend slicing the cucumbers to about 1/8 of an inch. This is pretty skinny and is best achieved by using a mandoline. You could also use a food processor, although those can be a pain to clean. Or, you can just carefully use a sharp knife.
Notes and Tips
HOW LONG SHOULD IT SIT BEFORE EATING?  I saw that some people like to let their cucumbers sit in the salad dressing after you toss all the ingredients for 30 minutes or so before serving and some like to eat it right away. For this recipe, I ate mine right away and it was fantastic! Obviously, the more you let it sit, the softer the cucumbers will get. But I like mine nice and crunchy!
CAREFUL WITH THE SPICE! – Also, be careful with the red  pepper flakes. As you add them to taste, they can really stand out in this recipe, so err on the side of caution. You can always add more!
ADDITIONS – Add sesame seeds, sliced carrots, red onion, diced bell peppers or even a splash of honey to liven this up even more!
I hope you enjoy this recipe for an Asian Cucumber Salad Recipe. Let me know what you think in the comments. And keep an eye out on my Instagram page because I'll be announcing details about the upcoming contest. Enjoy!
LOOKING FOR MORE LIGHT SALAD RECIPES? CHECK OUT: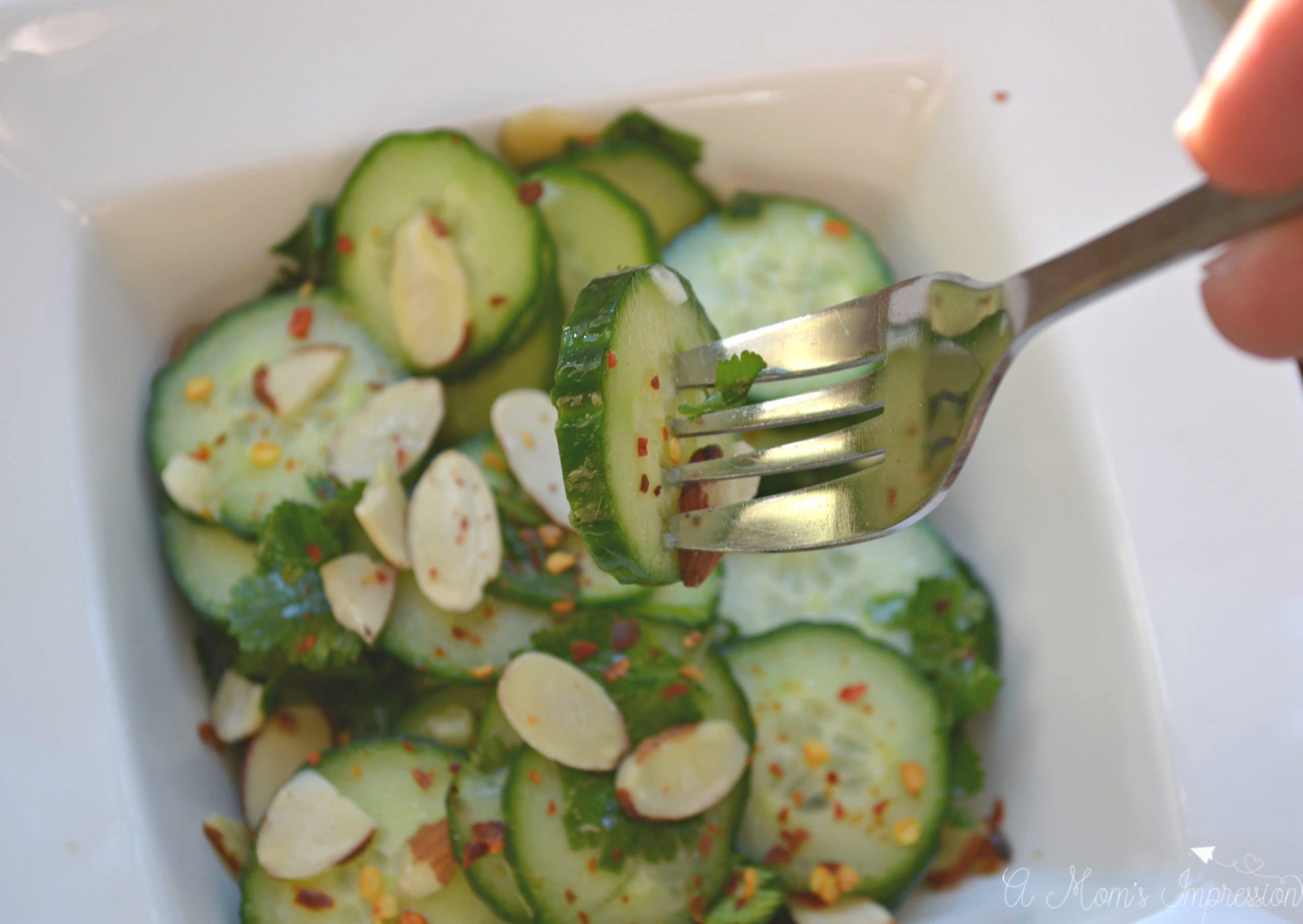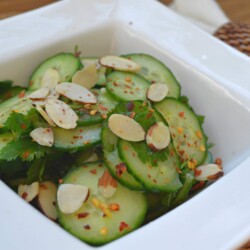 Ingredients
2

cups

Cucumbers

3

tbsp

Mizkan Natural Rice Vinegar

1

tsp

Sesame Oil

2

scallions, diced

1/4

cup

cilantro, chopped

Red Pepper Flakes

To Taste

1/4

tsp

Salt

3/4

tsp

Sugar

3

tbsp

Sliced Almonds
Instructions
Slice cucumbers into thin slices put into a bowl.

In a medium sized mixing bowl, blend the Rice Vinegar, Sesame Oil, salt and sugar together.

Pour mixture over cucumbers to coat.

Add cilantro and red pepper.

Plate and sprinkle with sliced almonds.
Nutritional information is an estimate and provided to you as a courtesy. You should calculate the nutritional information with the actual ingredients used in your recipe using your preferred nutrition calculator.
Sharing of this recipe is encouraged and appreciated. Copying of full recipe to any social media is prohibited.