Check out these 15 fun slime recipes that kids are going to love! The kids won't be saying they are bored anymore without anything to do. Making slime is a fun kid activity that can be done year round. This collection includes Borax free recipes and even slime made from soap.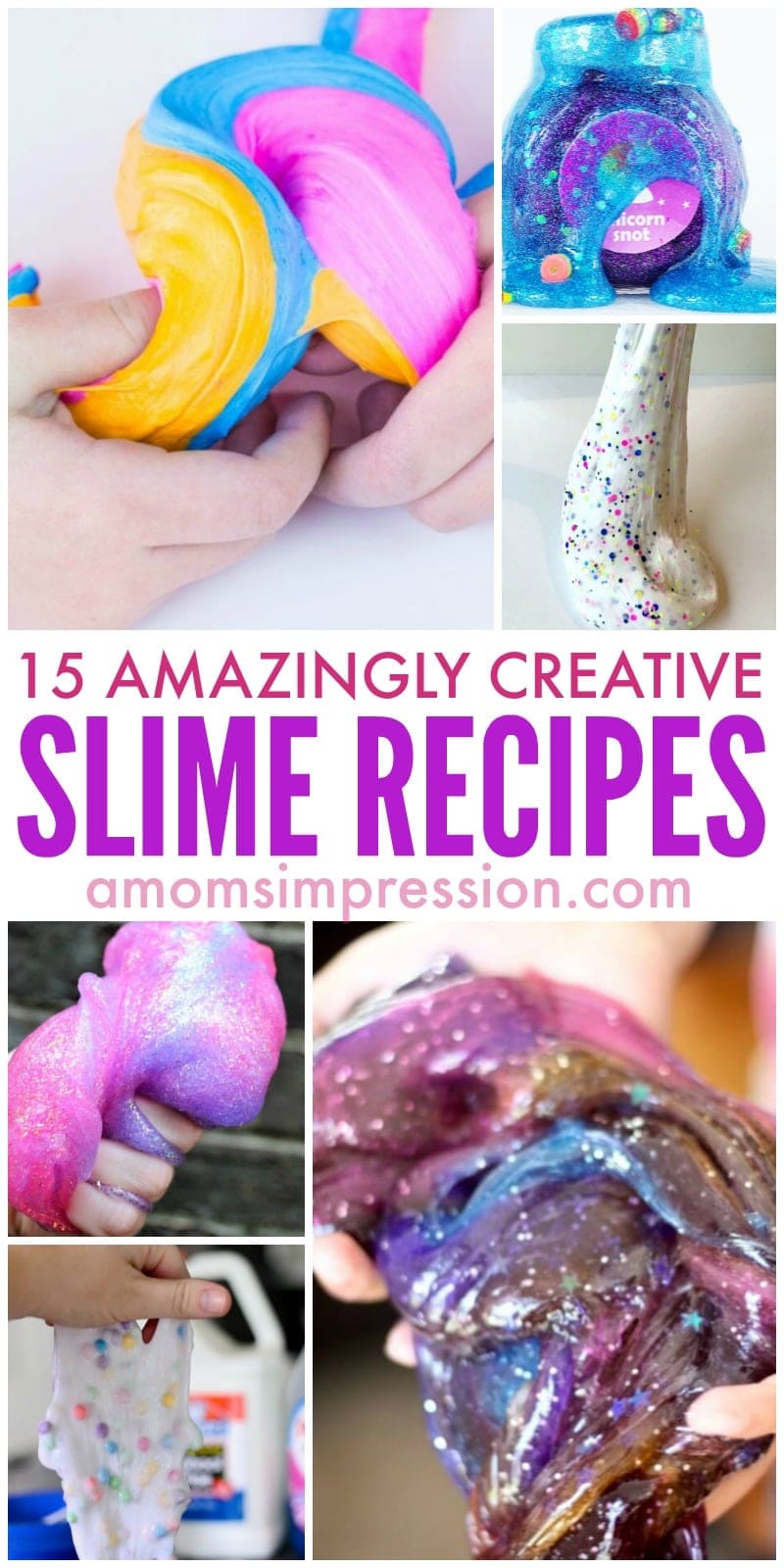 It is all the rage right now with the kids, slime is being made, sold, and played with on a daily basis. I love seeing all the young entrepreneurs out there selling their slime to their friends. If you are not familiar with slime, it is really easy to make and a lot of fun to play with.
Easy Slime Recipe
The basic slime recipe is to add equal parts glue and water to a bowl and stir together. Next, you add your food coloring and anything else you want like glitter. Finally, add an equal part of a saline solution or liquid starch and stir until combined. We prefer not to use Borax in our slime recipes but there are recipes that will use Borax instead of liquid starch or saline solution.
For a fun and clean slime, recipe be sure to check out our dish soap slime.
16 Amazingly Creative Slime Recipes
If you think outside the box, you can make some pretty incredible slime recipes.  Here are some creative slime recipes that I think you will enjoy!
1. 2 Ingredient Dish Soap Slime | A Mom's Impression
2. Apple Jiggly Slime | Natural Beach Living
3. Easy Zebra Slime | Fun-A-Day
4. Best Fluffy Slime Recipe | Schooling A Monkey
5. Glitter Slime | A Mom's Impression
6. Pom Pom Slime | It's Peachy Keen
7. Bird Seed Slime | Sugar, Spice & Glitter
8. Galaxy Slime | Little Bins for Little Hands
9. Edible Chocolate Slime | The Soccer Mom Blog
10. Confetti Party Slime | The Imagination Tree
11. Erupting Volcano Slime | Steam Powered Family
12. Easy Baking Soda Slime Recipe | The Typical Mom
13. Unicorn Snot Slime | Left Brain Craft Brain
14. Model Magic Slime | Buggy and Buddy
15. Edible Marshmallow Slime | Teach Beside Me
16. Blue Fluffy Slime | The Simple Parent
For more fun with your kids be sure to check out our fun spring activities for kids!