This easy Instant Pot fried rice recipe is the best homemade fried rice I have ever made without using a wok. This Chinese vegetable fried rice version is vegetarian friendly and can be easily adapted for the vegan lifestyle.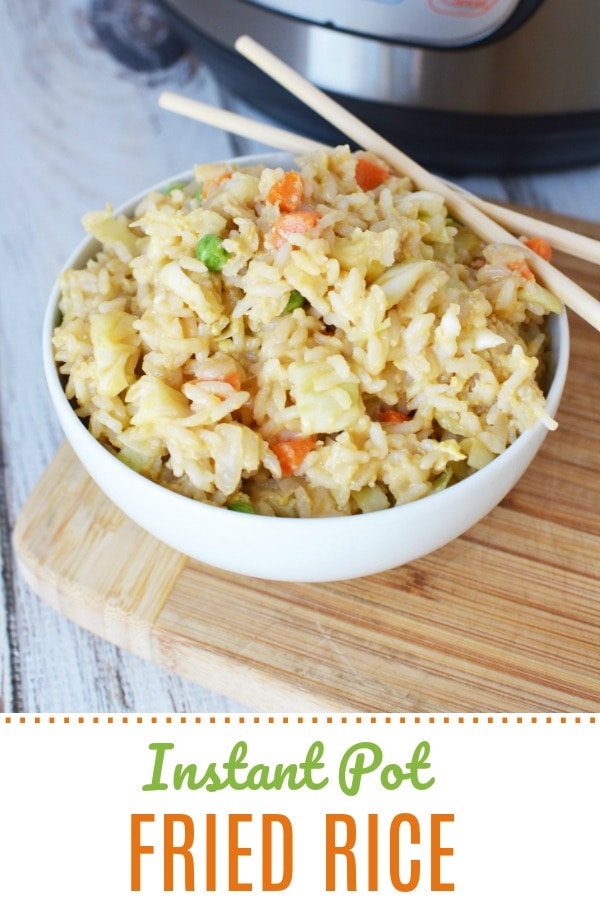 Why You'll Love This Recipe
EASY – After just a couple minutes of prep, let y0ur Instant Pot do all the work! And it only takes about 10 minutes of cooking time before your Pressure Cooker dings to let you know that dinner is ready! And, made all in one pot, cleaning up is so easy!
WHOLESOME – Sure, we all love takeout food. But we can never be totally sure of all the ingredients that are being put into our dish from the restaurant. With this recipe, you know exactly what you are feeding your family. Just simple, natural, wholesome ingredients.
DELICIOUS – When you cook recipes in an Instant Pot, all the aromas, flavors and juices are locked in the pot while your dish cooks. This results in delicious, amazing flavors you need to taste to believe! This dish tastes just like a Hibachi Restaurant!

Can You Cook Rice In An Instant Pot?
Rice can be a "sticky" subject when it comes to pressure cooking. Every Instant Pot is different so it's very important to consult your manual for the correct rice to water ratio for your type of rice. My manual says 1 cup white rice to 1.5 cups water. If you use a different rice, the ratio is different. I used the rice option that is built into my Instant Pot for this recipe.  The settings showed 12 mins on low pressure. I have used the manual function in the past and if you don't get it right you will get the dreaded "BURN" notice. To avoid this make sure you are using the right liquid to rice ratio.
To learn more about the benefits of pressure cooking check out our Pressure Cooker Guide.
Don't have an Instant Pot? Enjoy all the benefits and get yours now!

What Ingredients Do You Need For Instant Pot Fried Rice?
For step-by-step instructions, check out the printable recipe card below. But here is what you'll need to get started.
ONION – One small onion. Diced. We like to use yellow onions for this recipe because of their softer, milder flavor.
GARLIC – Minced.
OIL – We used Extra Virgin Olive Oil to saute the onions with. But you can use any oil that has a higher smoke point.
WHITE RICE – Make sure you rinse your rice first. Any medium to long grain rice will work. White Rice or Jasmine Rice is best for this recipe. You can use brown rice, the the cooking time may differ.
WATER –
SOY SAUCE – Any brand of soy sauce will work. You can use low sodium if you are watching your salt intake.
FROZEN PEAS AND CARROTS – No need to thaw first.
CHOPPED CABBAGE – Will be added after pressure cooking or some extra flavor and texture.
EGGS – Scrambled eggs. We will also cook the eggs after pressure cooking.

Do You Need To Use Cold Rice For Fried Rice?
For the best results, yes you should. If you use warm rice, your dish may get a little more mushy. Chilling the rice helps give you that more "authentic" fried rice flavor and texture. But if you are in a time crunch, this recipe will still work with warm rice. You could even put the rice in the freezer while you are sauteing your onions, etc.
Can You Add Protein To This Fried Rice Dish?
Yes! Easily! While y0u saute the onions, you could also add in small pieces of ham, chicken or beef. Or, if you have chicken or ham that's already cooked, you can just add this in when you add your eggs to warm them up. We love to use Rotisserie chicken, or those cubes of ham you can buy in the deli section for shortcuts!
Storage, Leftovers and Freezing
Store your leftover Instant Pot Fried Rice in an airtight container in your refrigerator. This dish reheats great in the microwave.
You can freeze Fried Rice. Just let it fully cool and put it in a freezer safe container or a freezer bag. It should stay good in your freezer for up to 4 months. Allow to thaw overnight in your fridge.
Other Notes, Tips and FAQs
ADD VEGETABLES – Lots of other veggies would work great in this dish! Green onions, broccoli, snap peas, mini corn on the cobs, etc….
SCRAMBLE YOUR EGGS – Don't forget to scramble your eggs before adding them to the dish. They are easier to incorporate into the rice that way.
WHY AM I GETTING A BURN NOTICE FOR MY RICE? – Make sure you are adding enough water to the rice when cooking. Sometimes, that "Rice Mode" doesn't work too great and you have to set it to manuel.
SEALING THE INSTANT POT – Before cooking, always make sure the lid is sealed and the valve is on "sealing". I sometimes forget to do this and the dish doesn't cook properly.
We hope you enjoy this Instant Pot Fried Rice Recipe. Please let us know below how it turns out for you!
FOR MORE ASIAN INSPIRED INSTANT POT RECIPES, CHECK OUT: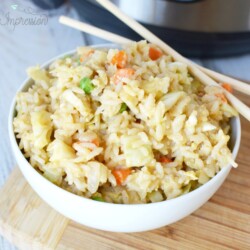 This easy Instant Pot fried rice recipe is the best homemade fried rice I have ever made. This vegetable fried rice version is vegetarian friendly and can be easily adapted for the vegan lifestyle.
Ingredients
1

small onion

diced

1

tablespoon

minced garlic

1

tablespoon

oil

1

cup

white rice

1-1/2

cups

water

3

tablespoons

soy sauce

1/2

cup

frozen peas and carrots

1

cup

chopped cabbage

3

eggs

beaten
Instructions
Add water and rice and mix well. Place the cover on the instant pot and close the pressure release valve. Set the instant pot to Rice function. When cooking cycle is complete, quick release steam and open the pot. Revmove rice from pot. Either let it chill in the refrigerator for a couple hours, or simply set aside.

Add onion, garlic and oil to instant pot and sautee until onion is tender.

Stir in soy sauce, peas and carrots and cabbage.

Make a well in the center and add beaten eggs. Set the pot to saute and cook the eggs until done and then mix into the rice.
Nutritional information is an estimate and provided to you as a courtesy. You should calculate the nutritional information with the actual ingredients used in your recipe using your preferred nutrition calculator.
Sharing of this recipe is encouraged and appreciated. Copying of full recipe to any social media is prohibited.
Pin for Later