These Crescent Mummy Hot Dogs are the perfect addition to your Halloween festivities. Get video directions and see how easy they are to make.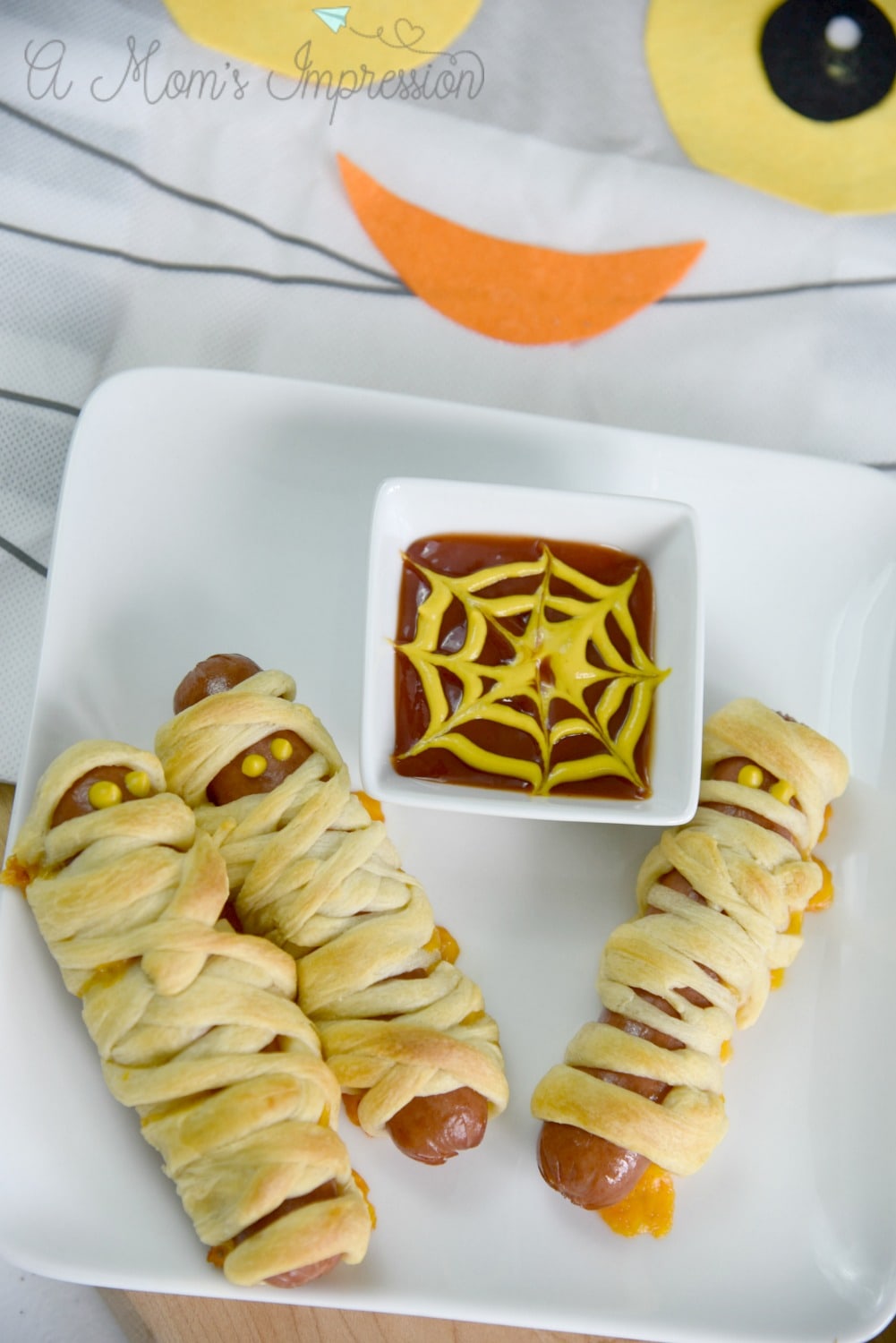 LOOKING FOR MORE HALLOWEEN FUN? CHECK OUT MY 20 HALLOWEEN CRAFTS FOR KIDS AND MY DIY "TAKE ONE" CANDY SIGN!
OR LOOKING FOR MORE CRESCENT ROLL RECIPES? CHECK OUT MY SPINACH CRESCENT ROLL APPETIZERS, MY RED, WHITE AND BLUE SHORTCAKES OR MY MINI CINNAMON ROLLS!
I love when Halloween season starts! Every year I break out my Halloween decorations a little bit earlier. My husband had to finally put his foot down and tell me that I have to wait until October 1st to decorate the house. I'm okay with that. I have deemed October as Halloween month. This year I decided that we needed to have a little fun for our otherwise normal October dinner.  So I started looking for some fun Halloween food ideas. The kids are catching my excitement and so Crescent Mummy Dogs were on the menu. This is a fun way to get the kids excited for Halloween. They love eating these adorable mummies and they love to help make them as well. It's a great Halloween activity to do with the kids.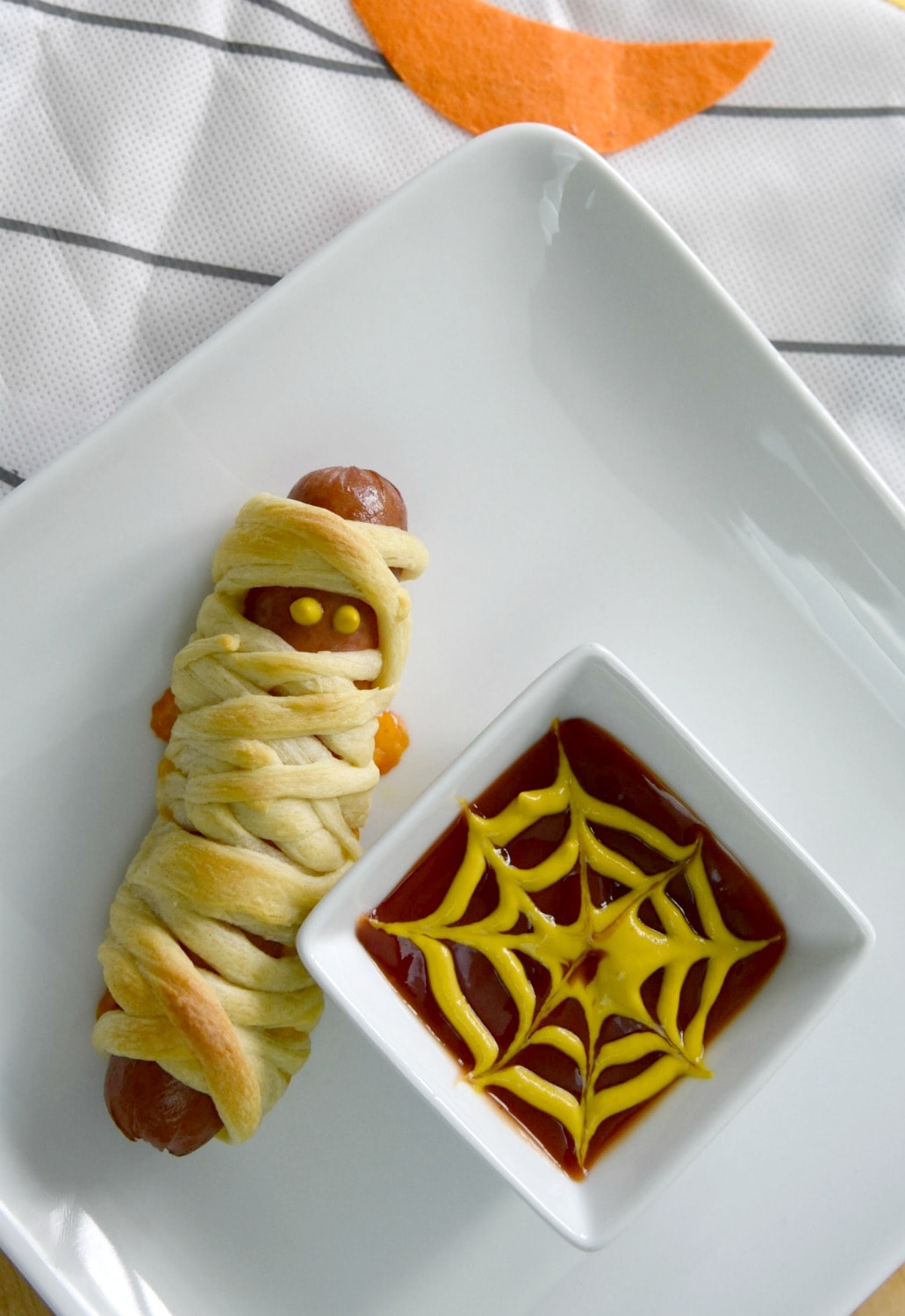 The secret ingredient is Pillsbury™ Refrigerated Original Crescent Rolls. The mummy bandages are made up of little strips of this classic crescent roll. I always have a can or two of Pillsbury™ Refrigerated Crescent Rolls on hand at all times during the holiday season. Crescent rolls come in handy all the time when making delicious meals, appetizers, and treats for family and friends. Pillsbury™ is a brand that I trust when I am cooking at home. I have used it for everything from spinach rolls to breakfast crescent cinnamon rolls. Last week I picked up a couple of cans on my weekly grocery trip to Walmart. You can find them in the refrigerated rolls section of the store, mine is nestled between the cheese and the yogurt.
Crescent Mummy Dogs
Crescent Mummy Dogs are simple to make but turn out so cool and cute!  No one has to know how easy they are!  Making Mummy Dogs with Crescent Rolls is a great idea if you are trying to come up with some fun Halloween party food or Halloween party ideas.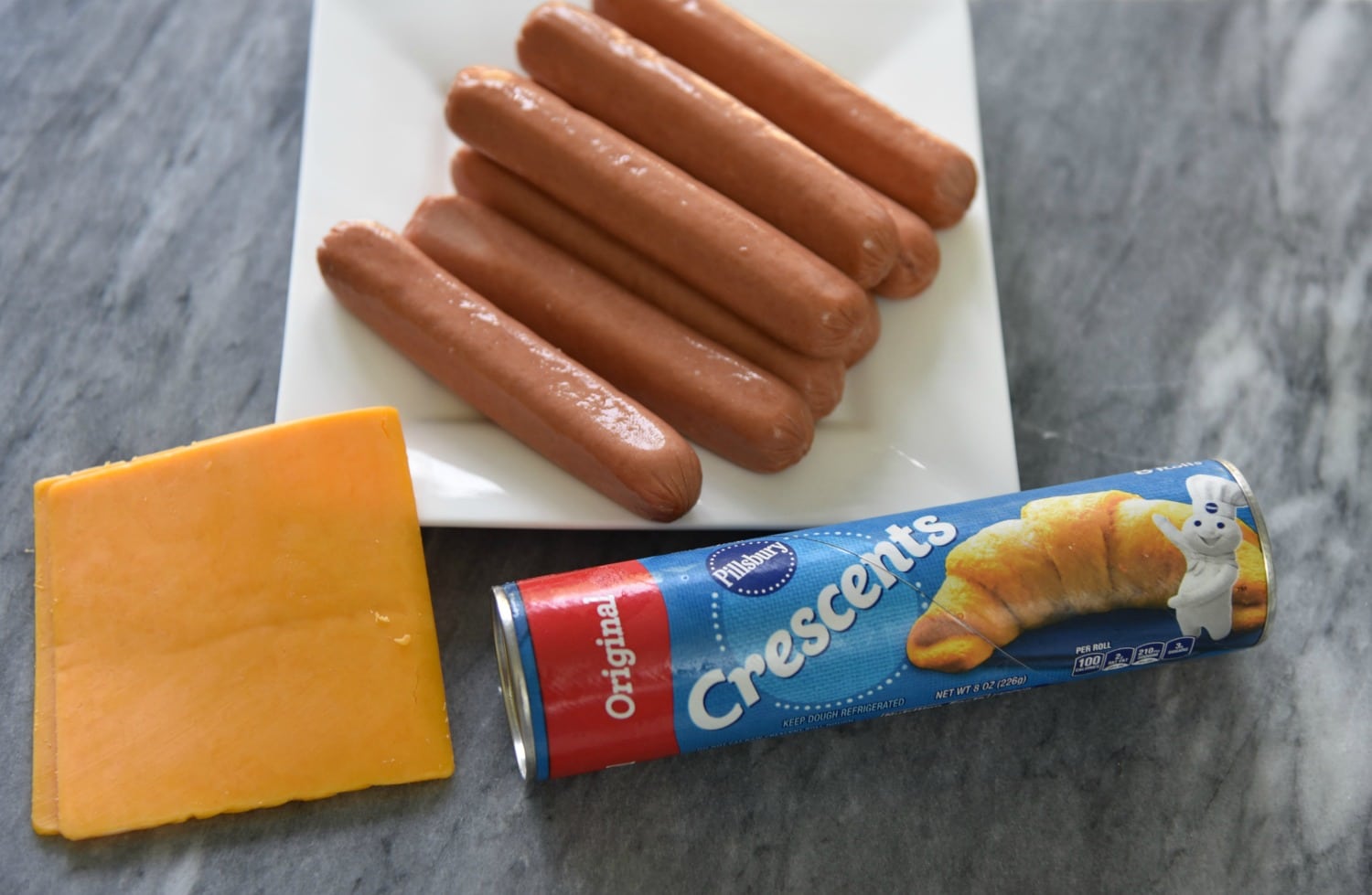 Mummy Hot Dogs Ingredients
1 can (8 oz) Pillsbury™ refrigerated crescent dinner rolls
2 1/2 slices Cheddar cheese
10

hot dogs

Cooking spray

Mustard or ketchup (optional)
Mummy Hot Dogs Directions
Heat oven to 375°F.
Unroll crescent dough; separate at perforations, creating 4 rectangles. Press perforations to seal.
Cut each rectangle lengthwise into 10 pieces using a knife or a pizza cutter. You should have a total of 40 pieces of dough when you're finished. Slice cheese slices into quarters set aside.
Place a hot dog on top of 1/4 slice of cheese. Using 4 pieces of the dough, wrap around each hot dog to resemble "bandages." You will need to stretch the dough slightly to completely cover hot dog. Make sure you are leaving a little room between "bandages" toward the top of the hot dog to make room for the mummy "face."
Place your wrapped hot dogs (cheese side down) on an ungreased baking sheet. Spray dough lightly with cooking spray to give it a nice golden brown color when baked.
Bake 13 to 17 minutes or until dough is light golden brown and hot dogs are hot.
While the hot dog mummies are baking, place a few tablespoons of ketchup in a side dish and draw circles on top with mustard. Using a toothpick, draw lines from the center circle to the rim of the dish to create a web for dipping.
After mummies have come out of the oven and cooled a bit, apply two small dots of mustard to the "face" of the hotdog for eyes. You may also use ketchup or sriracha sauce to make a "bloody mummy."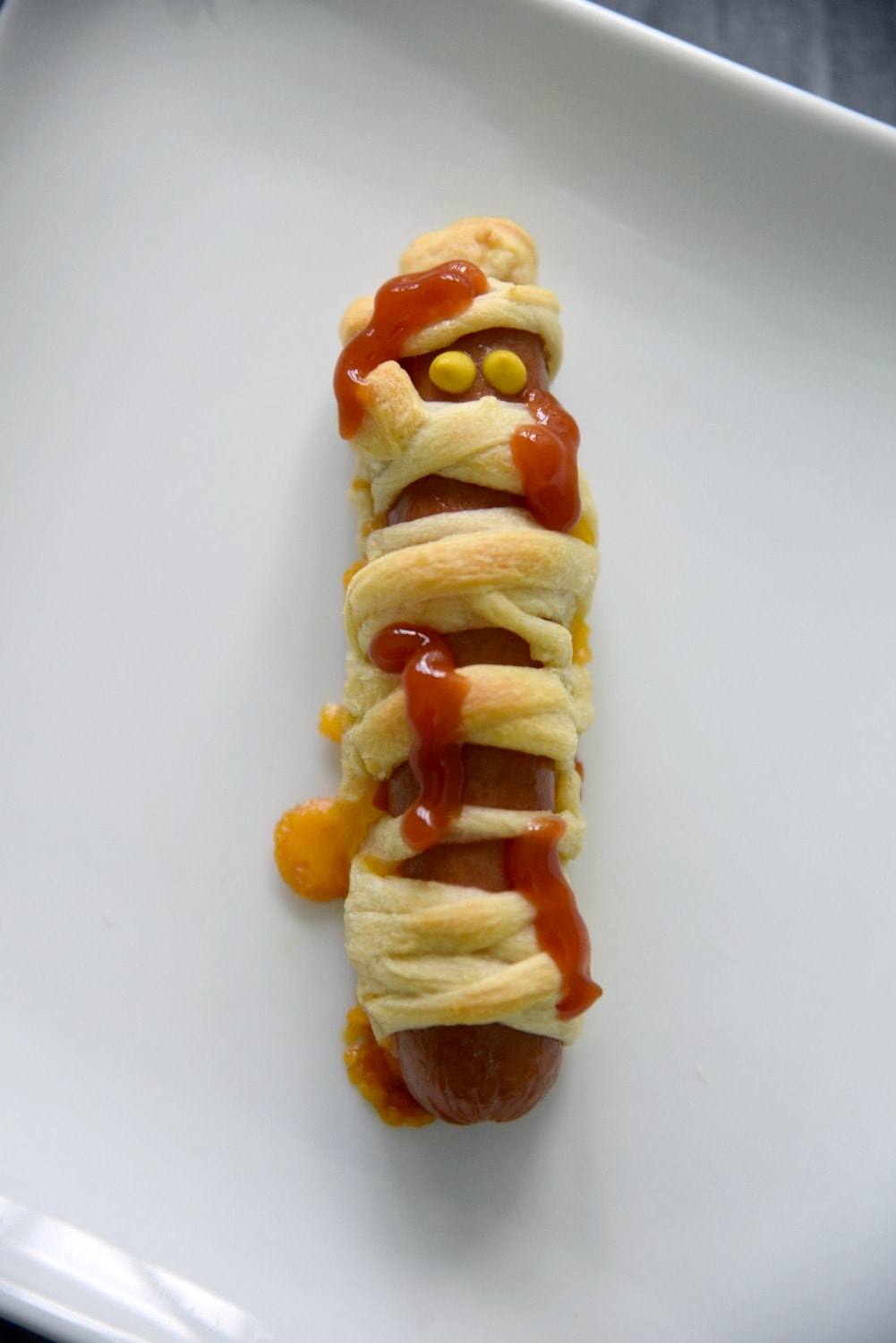 Bloody or not, these are adorable little guys that your family is going to gobble up!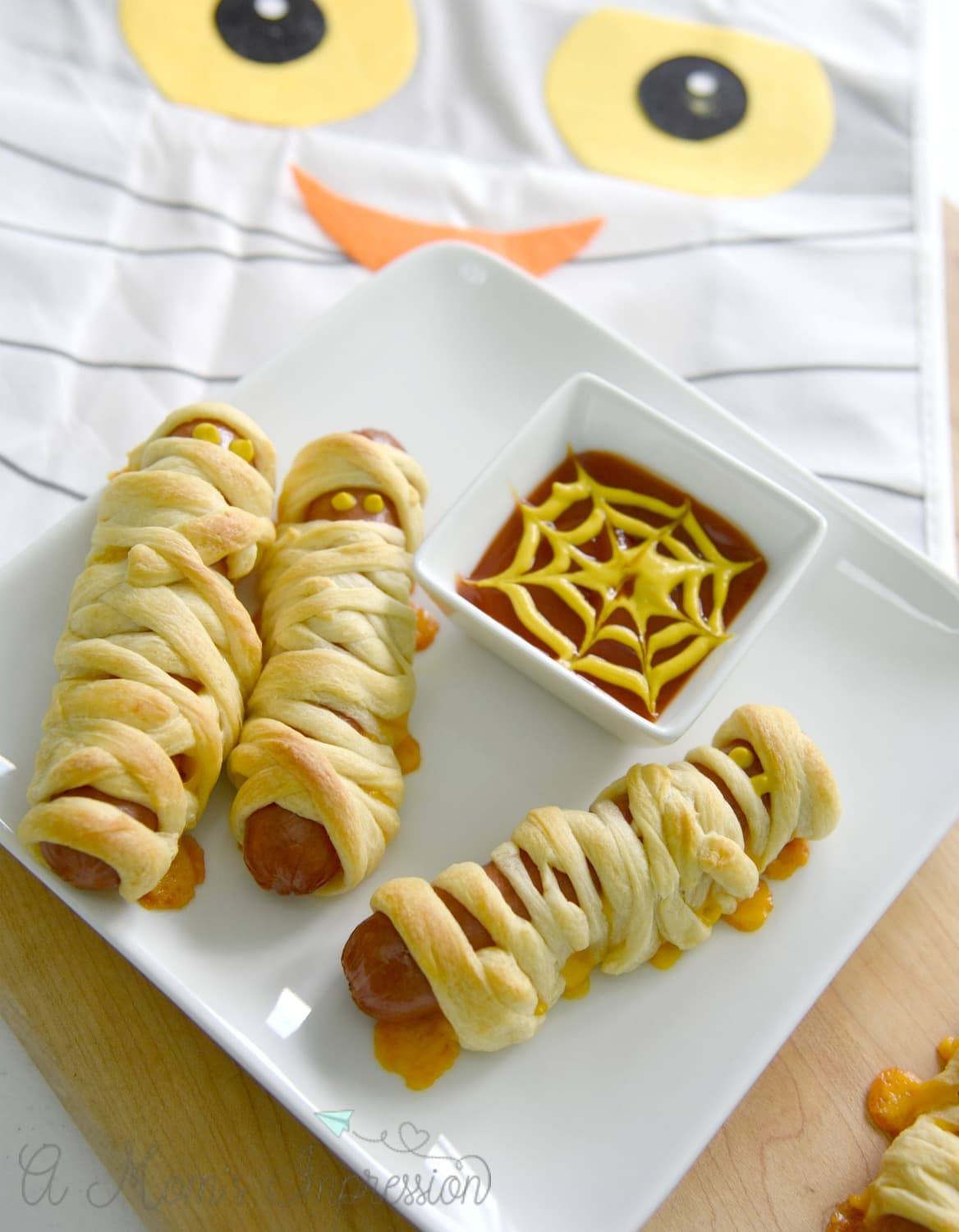 I thought it would be fun to create a little video showing you all the steps so you can see for yourself just how easy making Crescent Mummy Hot Dogs can be!
Get into the holiday spirit and make these Crescent Mummy Hot Dogs for your family!
LOOKING FOR MORE FUN HALLOWEEN RECIPES?  CHECK OUT MY MUMMY PIZZA!
Pin For Later