My husband and I love iced coffee.  We are finding more and more ways of incorporating iced coffee into our diet.  My husband prefers to drink it straight out of the carton, especially since International Delight launched their new Light versions of our favorite Iced Coffee flavors.  Me? Well if you know me I like to get a little creative on how I enjoy coffee.
This week I was thinking of all the ways I have enjoyed iced coffee.  I have done Frappes, whipped topping desserts, and frozen ice cubes in the past.  This time I wanted to pair my coffee with something that I enjoy eating for breakfast.  Thus, I thought about cinnamon rolls.
I am a busy mommy who works full time, tutors, and runs a blog.  I don't have time to make cinnamon rolls from scratch unless school is out, so I found an easy way to make them using store bought crescent dough.  I love a little help in the kitchen and ready made dough is one of my best friends.  So here is what I made: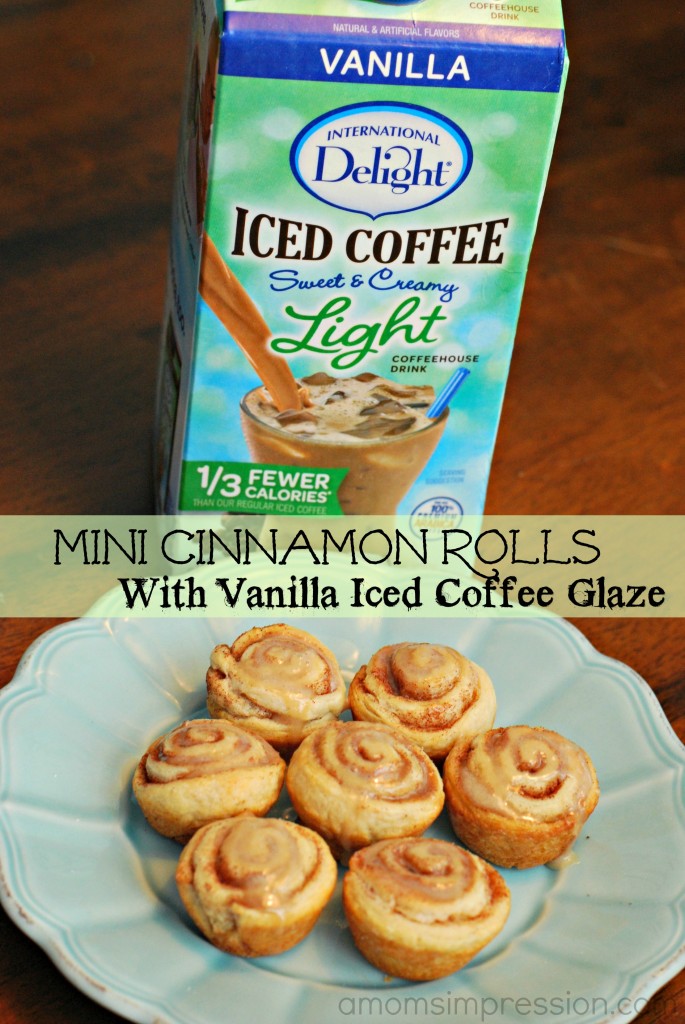 LOOKING FOR MORE CRESCENT ROLL RECIPES? CHECK OUT MY SPINACH CRESCENT ROLL APPETIZERS, MY MUMMY HOT DOGS OR MY RED, WHITE AND BLUE CRESCENT SHORTCAKES!
I bought some mini cinnamon rolls a few months ago at my grocery store and fell in love with them.  I love that they can pop in your mouth as you are heading out the door, and they are not very messy.  When I found my shortcut this were impossibly easy to make, and they were even better than the store bought ones because they had a hint of coffee flavor from the glaze that I made.
Ingredients:
Crescent Dough
Cinnamon
Sugar
Powdered Sugar
International Delight Light Coffee in Vanilla
Procedure:
Preheat oven to 350 degrees.
Unroll crescent dough on a flat surface in one sheet.  Pinch perforations together to make a smooth sheet of dough.  Flip the dough over and do the same on the other side. (hint: you can also just purchase the crescent dough sheets at the grocery store, but I didn't have any)
Sprinkle the top with a decent amount of cinnamon and sugar.
Start at the top and roll the dough toward you to make a log.
Cut log into pieces about 1/2 inch wide.
Put pieces into a mini muffin tin and bake for 8-9 minutes.
Transfer to a cooling rack.  Meanwhile, mix about a half cup of powdered sugar and about a tablespoon of International Delight LIght Iced Coffee in Vanilla to make a glaze.
Drizzle glaze over rolls and enjoy!
With less calories and less sugar, International Delight Light Iced Coffee lets you enjoy MORE of what you love! For more fun ways to break up your day, visit ID's new online games today for a chance to win sweet prizes and coupons to use on your next purchase!
This is a sponsored conversation written by me on behalf of International Delight. The opinions and text are all mine.