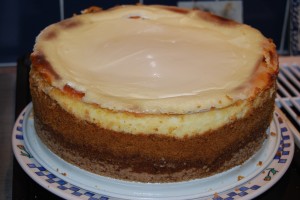 My mother and I made this yummy cheesecake for my brother's wedding reception.  If you love lemon, you will love this recipe.  I actually liked it better without the sour  cream topping, but most people liked it this way better so I left the recipe alone.  Enjoy!
Lemon Cheesecake with Sour Cream Topping
Yields at least 12
Ingredients
Unsalted Butter (for greasing pan)
1 graham cracker crust
4 eggs separated
24 oz cream cheese
Grated zest and juice of lemon
1-cup sugar plus 1 T.
1 T. all purpose flour
2 cups sour cream (optional)
1 teas. Vanilla (optional)
Liberally butter a 9 or 10-inch spring form pan.
Preheat oven 325 degrees.  Press the crust into pan.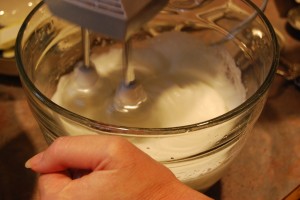 Use electric mixers to beat eggs yolks until light add cheese, lemon zest and juice and 1-cup sugar and beat until smooth. Stir in flour.
Beat egg whites until they hold soft peaks.  Fold gently into egg yolk mixture, gently but thoroughly.  Turn the batter into the prepared pan and place the pan into a pan that will hold it comfortable.  Fill that pan to 1 inch from the top of the cheesecake pan with warm water.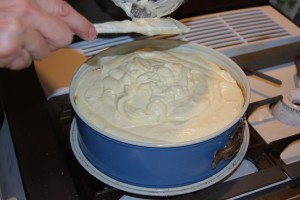 Transfer to oven and and bake until cake is just set, about an hour. Turn the oven up to 450 degrees if making the sour cream topping.
Remove the cake from the oven and cool completely if not adding the sour cream topping.  If adding the topping combine the sour cream with the vanilla and the tablespoon sugar and spread on the top of the cake.  Return it to the oven for 10 minutes without the water bath.
 Let the cake cool for about 30 minutes before removing it.  Cool, cover, and refrigerate until well chilled.
 Graham Cracker Crust
6 T butter
6 oz broken graham cracker 1-½ cups
3 T sugar
Melt Butter
Combine sugar with graham cracker crumbs into the bowl of food processor slowly add the butter press into pan.
*adapted from the cookbook How to Cook Everything.