If you are looking for a fun new idea to give your loved one for Valentine's Day, using OREOs is a fun, affordable and cute option! These Chocolate Covered Oreo Valentines are an easy, adorable treat! Cover them in sprinkles and nonpareils or any other fun decorations and send Cupid on his way to deliver them to loved ones or co-workers!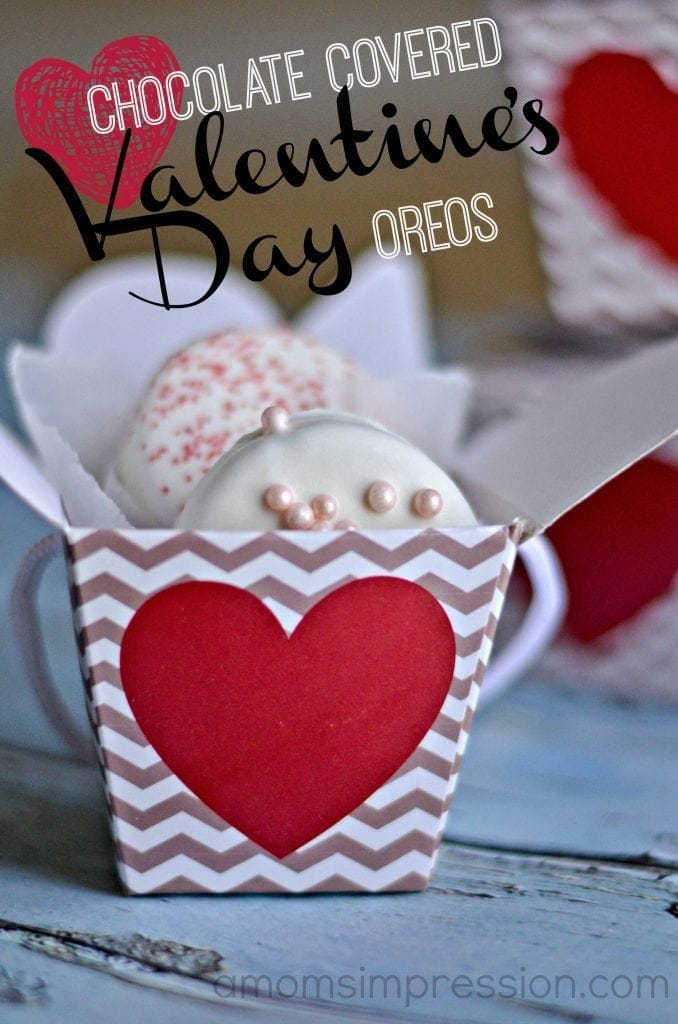 Valentine's Day is right around the corner again.  It sneaks up on me every year.  I'm still getting over the whirlwind of the Holidays from last year, and then I turn around and Valentine's Day is coming up fast.
Having kids completely changed my view of Valentine's Day.  My husband and I decided long ago that we wouldn't celebrate it and instead do something special for each other a few time a year when we weren't expecting it, I love it!  I received flowers from him earlier this school year because I was so stressed out about all of my commitments.  Unexpected flowers more than make up for not celebrating Valentine's Day. When we had kids I realized that Valentine's Day is a lot more fun that I had originally thought.  I love making fun treats to give them or for them to pass out to their friends.  This year I wanted to make some kid-friendly Valentine's Day cookies that Jonah could bring to preschool.
Fun Chocolate Covered Valentine's Oreos
Of course, they had to be quick and easy because that is how I do things these days.  After a quick brainstorm and a look through my pantry, I decided that Chocolate Covered Valentine's Day Oreos were the perfect treat for the kids.  I gathered some fun Valentine's Day sprinkles, some white chocolate and my chocolate melter and got to work! This is a quick and easy dessert recipe that everyone will love!
There isn't even a recipe for this.  And really just a couple ingredients! It was as simple as melting some chocolate, dipping an Oreo sandwich cooking in it, adding some sprinkles and letting them harden.  Really folks, it is that easy!
Of course with any present, it's all in the presentation.  I found these adorable little chinese takeout containers at my local Jo-Ann Fabric stores on sale.  They are the perfect size for a couple of these yummy treats!
Or, you can make your own DIY Valentine's Day Treat Boxes!
Pro Tips
The easiest way to dip your Oreos into the melted candy is to take a toothpick and insert it into the Cream filling. Then you can use that to hold the cookie while it gets covered in chocolate.
Easily make these into any other Holiday cookies by simply putting some holiday sprinkles on them!
If you need the chocolate to harden quickly, put them on a cookie sheet lined with parchment paper and put them in the freezer for a couple of minutes.
Do You Have To Use White Chocolate?
Not at all! You can use any sort of meltable candy you'd like! Milk Chocolate or Dark Chocolate would be delicious!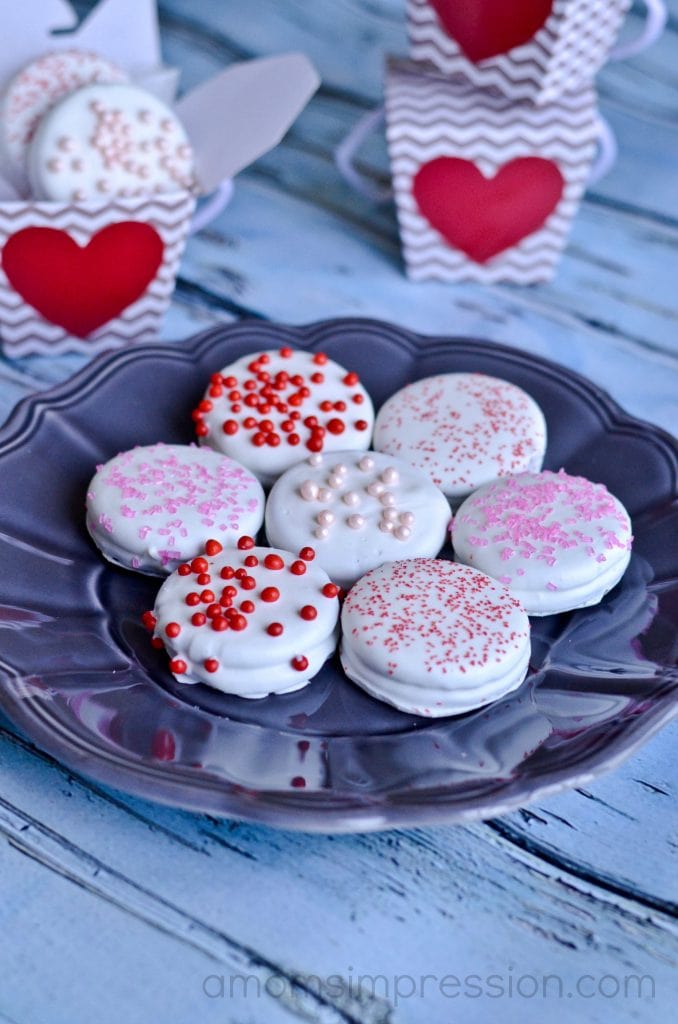 What Kind of Oreos Should You Use?
We used just regular Oreos, but these days, Oreo has SO MANY cool flavors to choose from. You can also have some custom made! Choose whatever flavor you want and start creating!
Oreo Valentine's Day Gift Box
Or, if you don't have time to make your own Valentine's Day Treat. You can also simply order an Oreo Valentine's Day Gift Box! It is perfect for exchanges at work, with friends, or just family fun.  OREO has always been my favorite cookie and I have fond memories of sharing quality time with friends and family. I love this simplicity of the chocolate wafers and creme filling. What other cookie has started a worldwide conversation on the best way to eat it?!?! Or whether to dunk or not!?! This cookie is a part of who we are.
I hope you have a great Valentine's Day with your friends, family and loved ones.  Now, let's just count the days until the warmer weather!
LOOKING FOR OTHER DIY VALENTINE'S DAY IDEAS? CHECK OUT: