Easy Kids Christmas Crafts – Recycled Toilet Paper Tube Christmas Elves contains affiliate links.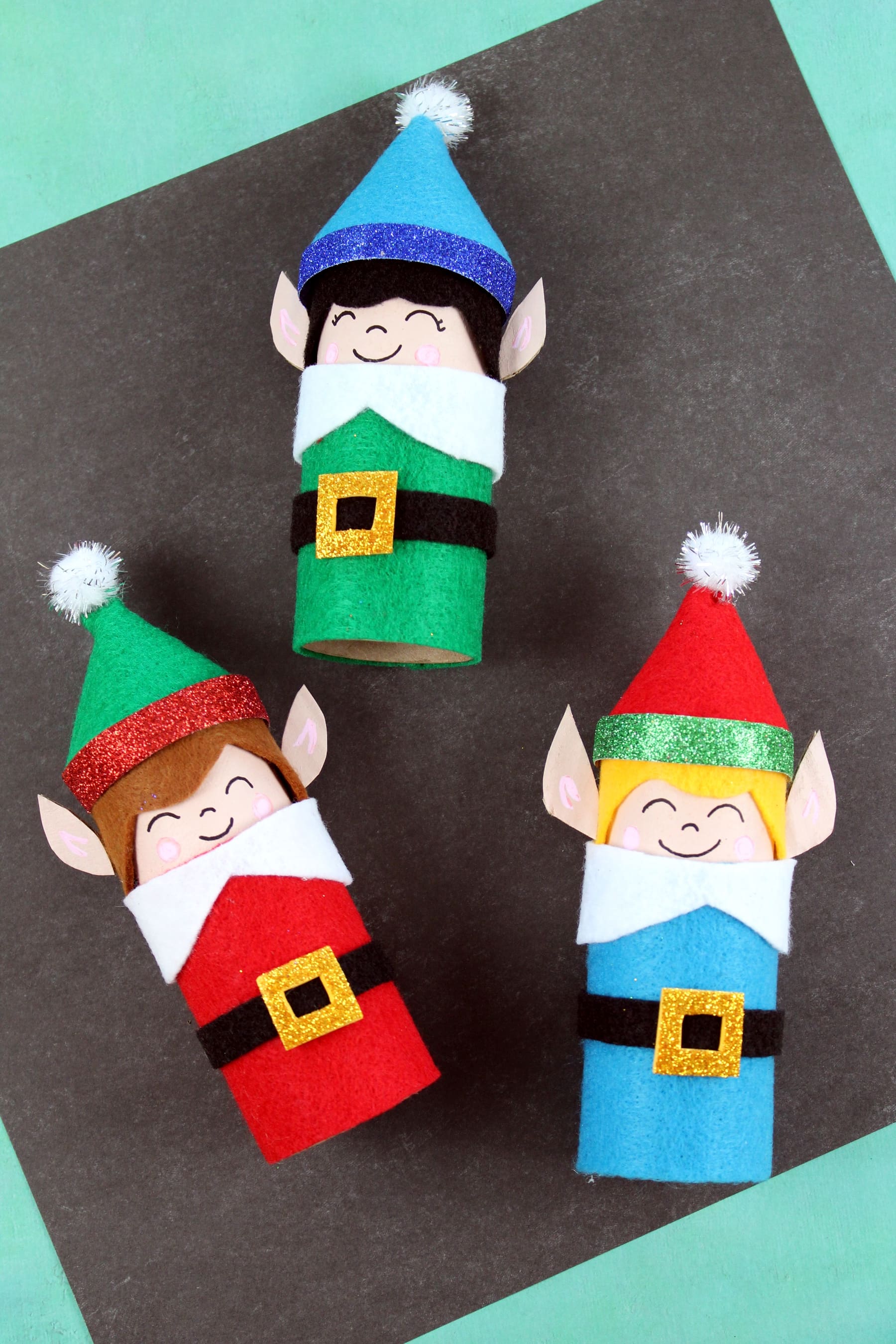 LOOKING FOR MORE DIY CHRISTMAS CRAFTS? CHECK OUT MY GLITTERING OATMEAL REINDEER FOOD RECIPE, MY FARMHOUSE CHRISTMAS TREE DECOR OR MY LIST OF 16 DIY  CHRISTMAS ORNAMENTS!
I love making easy DIY Christmas crafts with my kids. These adorable elf Christmas decorations are a really cool craft because they use recycled toilet paper rolls. These Christmas elves are perfect to decorate mantles, console tables, or even in the bathroom for the holidays. Best of all, it is a fun craft project for kids!
In addition to these elf Christmas decorations, there are so many things that you can do with your leftover toilet paper roll.  There are also lots of great DIY ideas for paper towel roll crafts as well.  The sky is the limit!
Toilet Paper Roll Christmas Crafts-Christmas Elves
Supplies:
Toilet Paper Tubes
Felt
Glitter Foam Sheet
Scissors
Glue
Pom Poms
Glitter Tape
Paint Markers
Uni-POSCA PC8K15C Paint Marker Pen Bold Point Set of 15 (Japan Import)
Life Glow DIY Polyester Soft Felt Fabric Squares Sheets Assorted Colors 6×6 inch for Crafts, 1.5mm Thick 42Pcs
Darice 106-1009 12-Pack Foamies Sticky-Back Glitter Sheet, 6 by 9-Inch, Assorted Colors
Fireboomoon 400pcs Glitter Poms Sparkle Balls 1/2
Instructions:
Paint the top half of a toilet paper roll flesh toned color. You'll need to do two coats. You can also use paint and a brush if you prefer.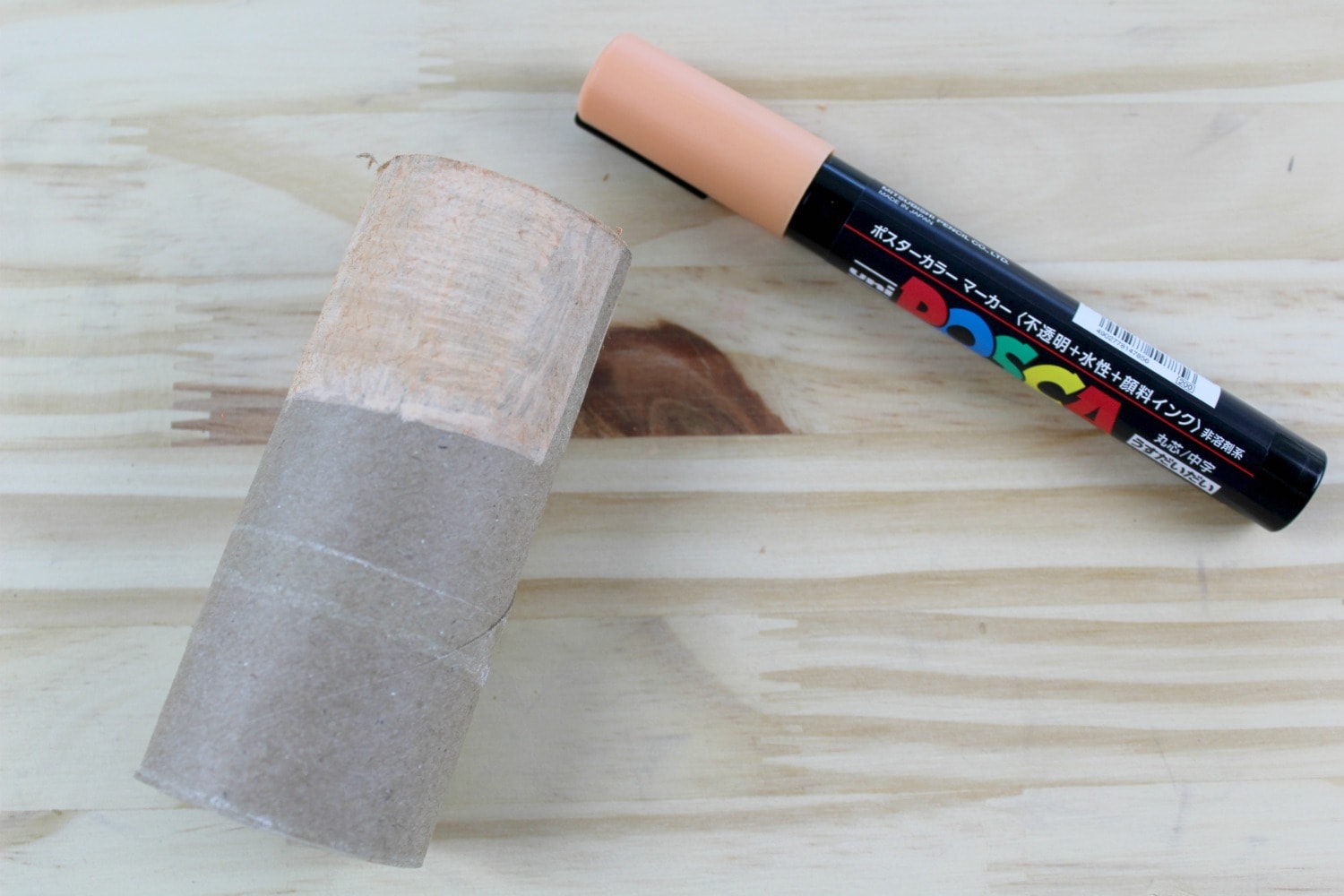 Draw Christmas elf ears on a scrap piece of cardboard and paint them. Allow them to dry completely. Cut them out and set them to the side.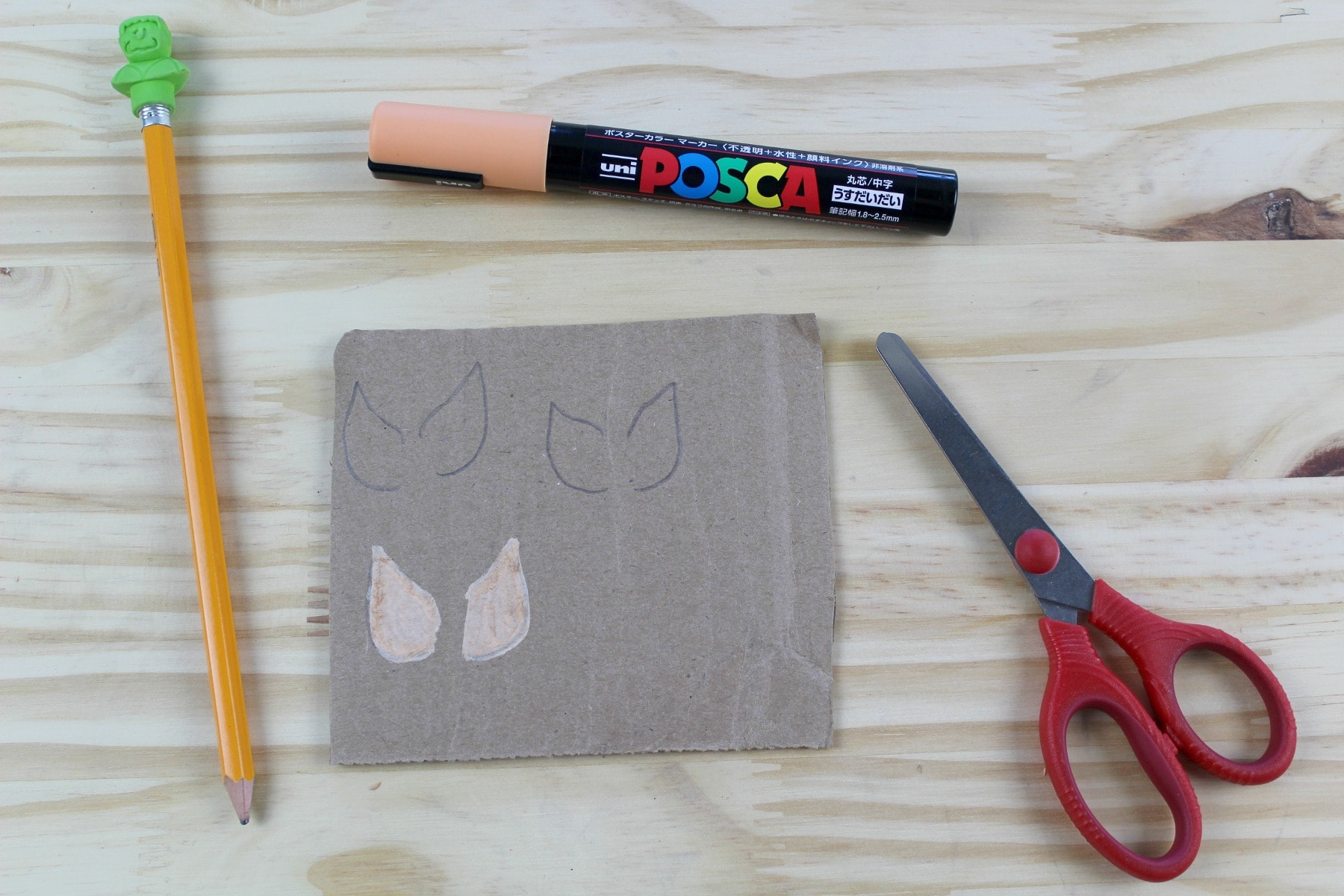 Cut the shape of hair from felt. Refer to the photo. Wrap the felt around the tube before making any final cuts to ensure it's long enough.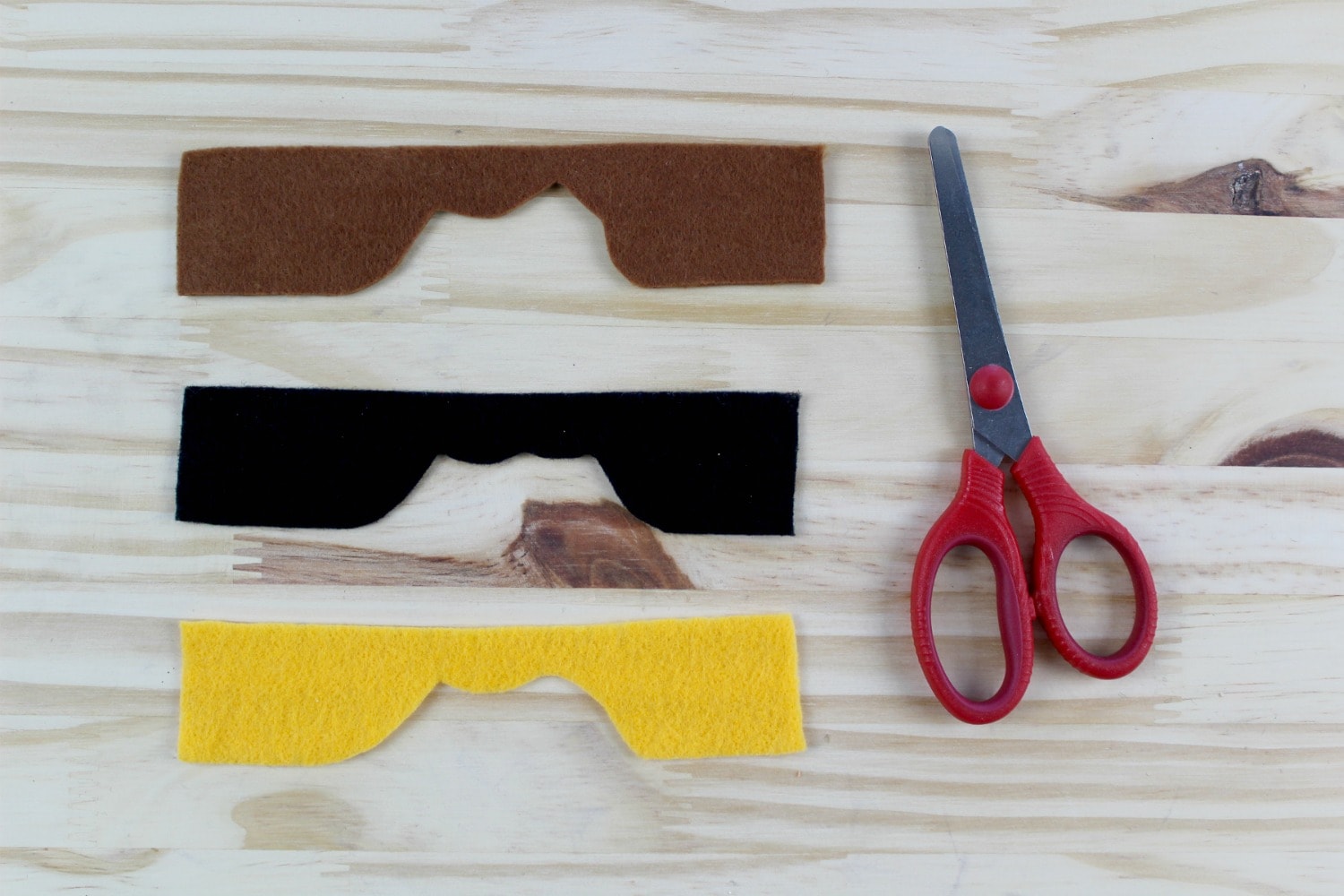 Cut the elves clothes from colored felt. Make sure the felt is long enough to wrap around the toilet tube before making a cut. Refer to the photo.

Cut a white collar from felt and a black belt from felt.
Cut a square belt buckle from glitter foam sheet.
Glue the clothing to the toilet paper tube.
Glue the belt over the clothing and then glue on the belt buckle.
Glue the hair onto the toilet paper tube.
Glue the ears onto each side of the toilet paper roll.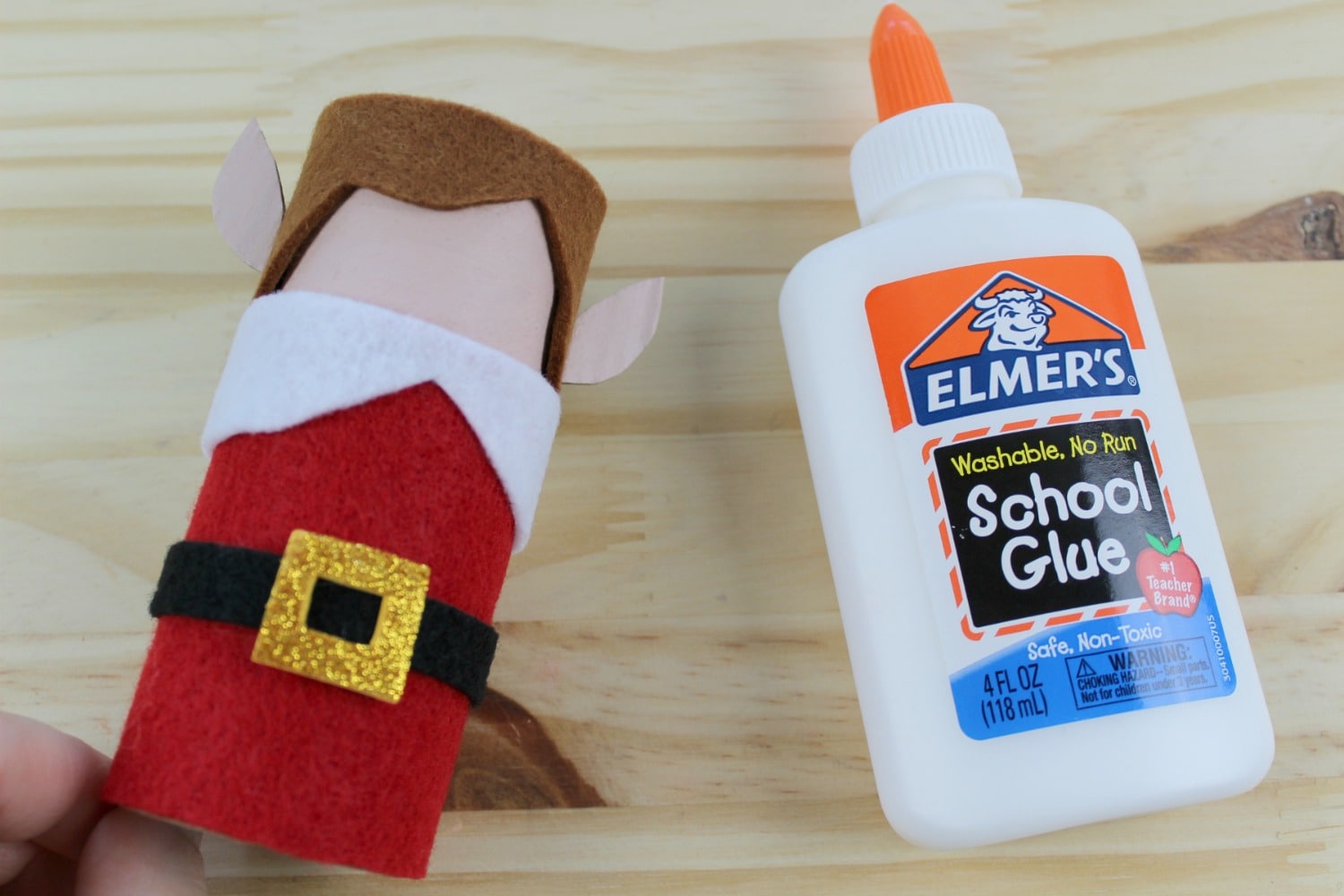 Cut half circles from felt. Fold the circles to create a cone-shaped hat. Glue in place. Refer to photo.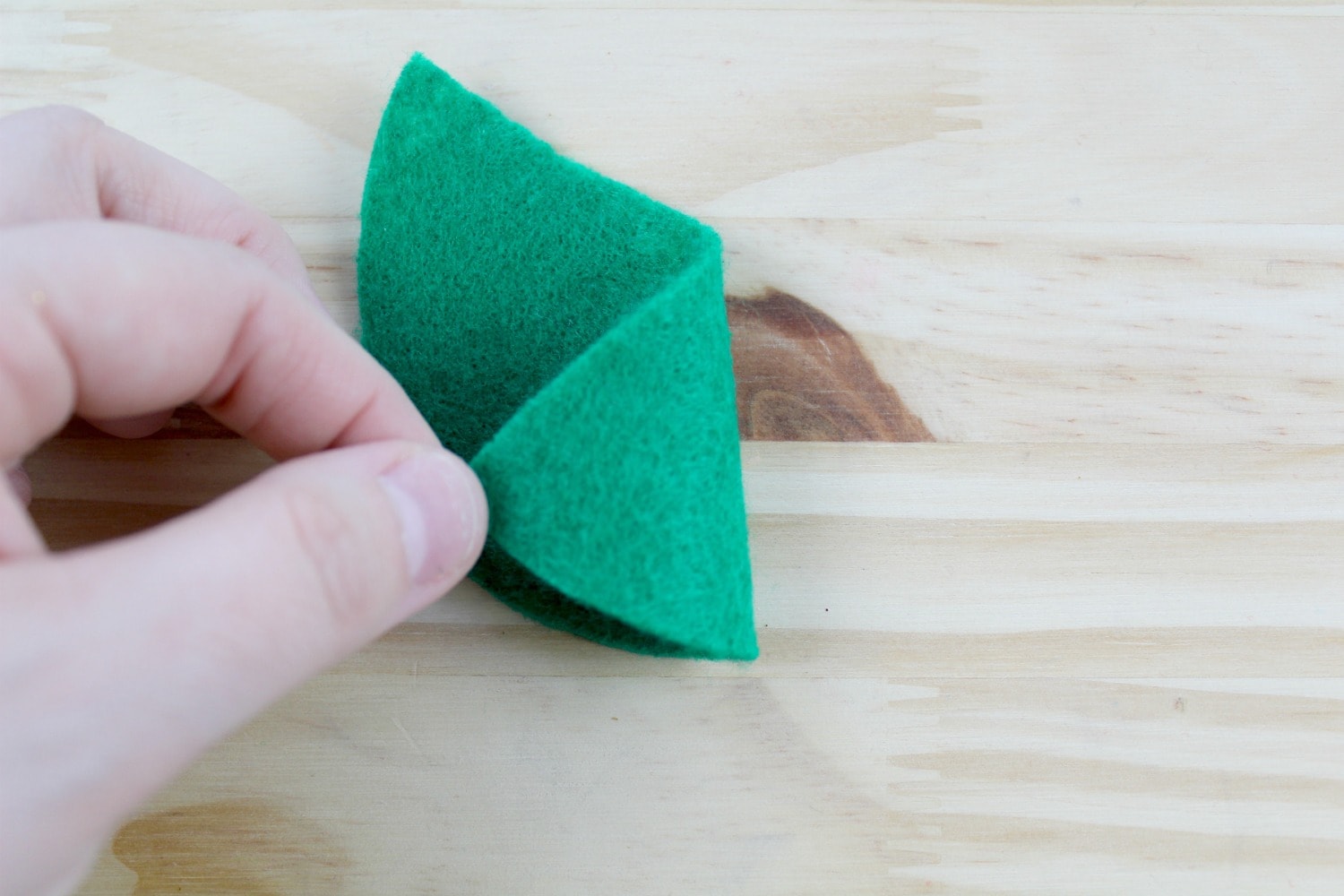 Glue a pom pom to the top of the hat.
Glue the hat on top of the toilet paper tube.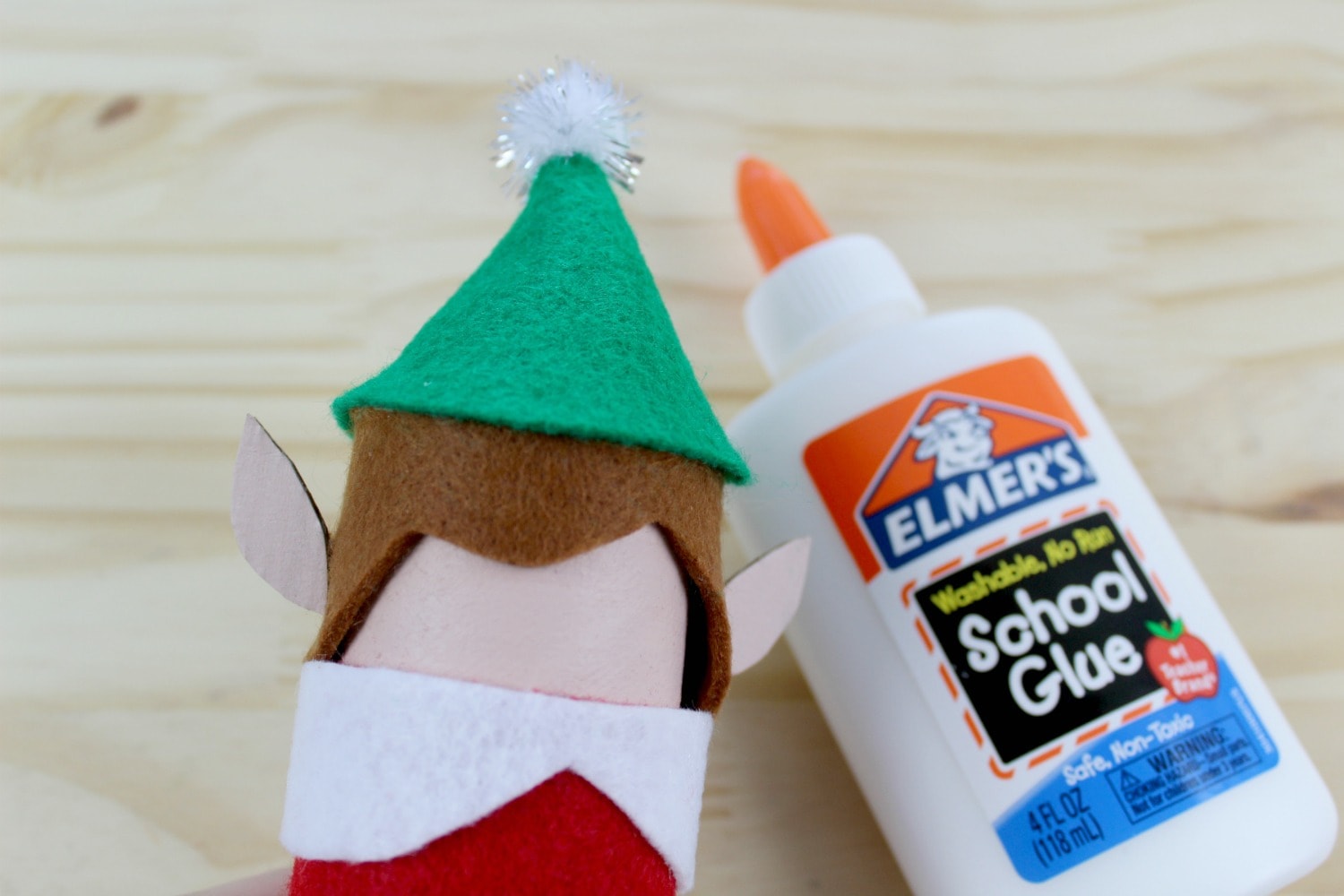 Wrap glitter tape around the bottom of the hat and secure in the back with a dab of glue.
Use paint markers to draw a face onto the toilet paper tube.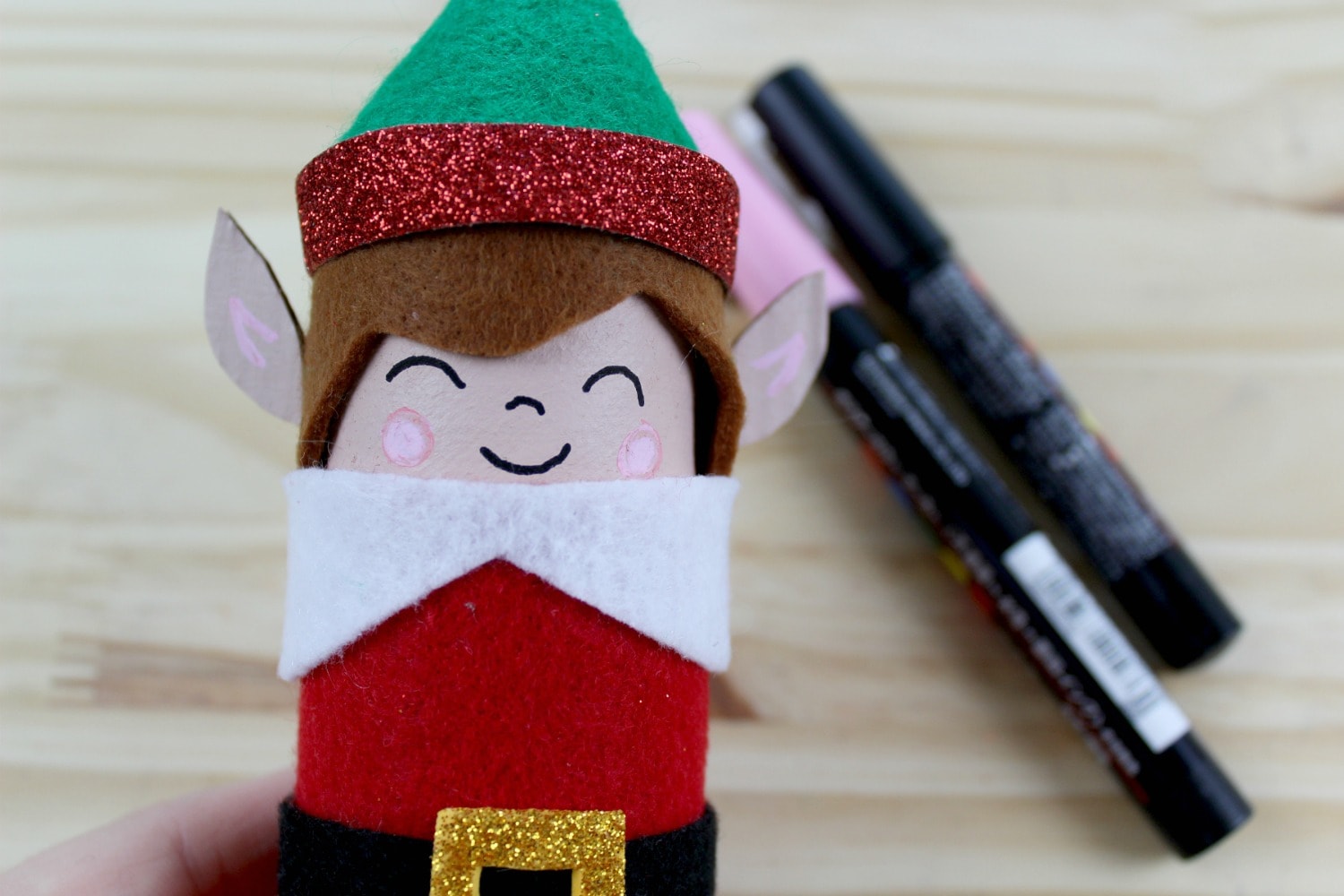 Your toilet paper roll elf is now finished and ready to cause some Christmas mischief!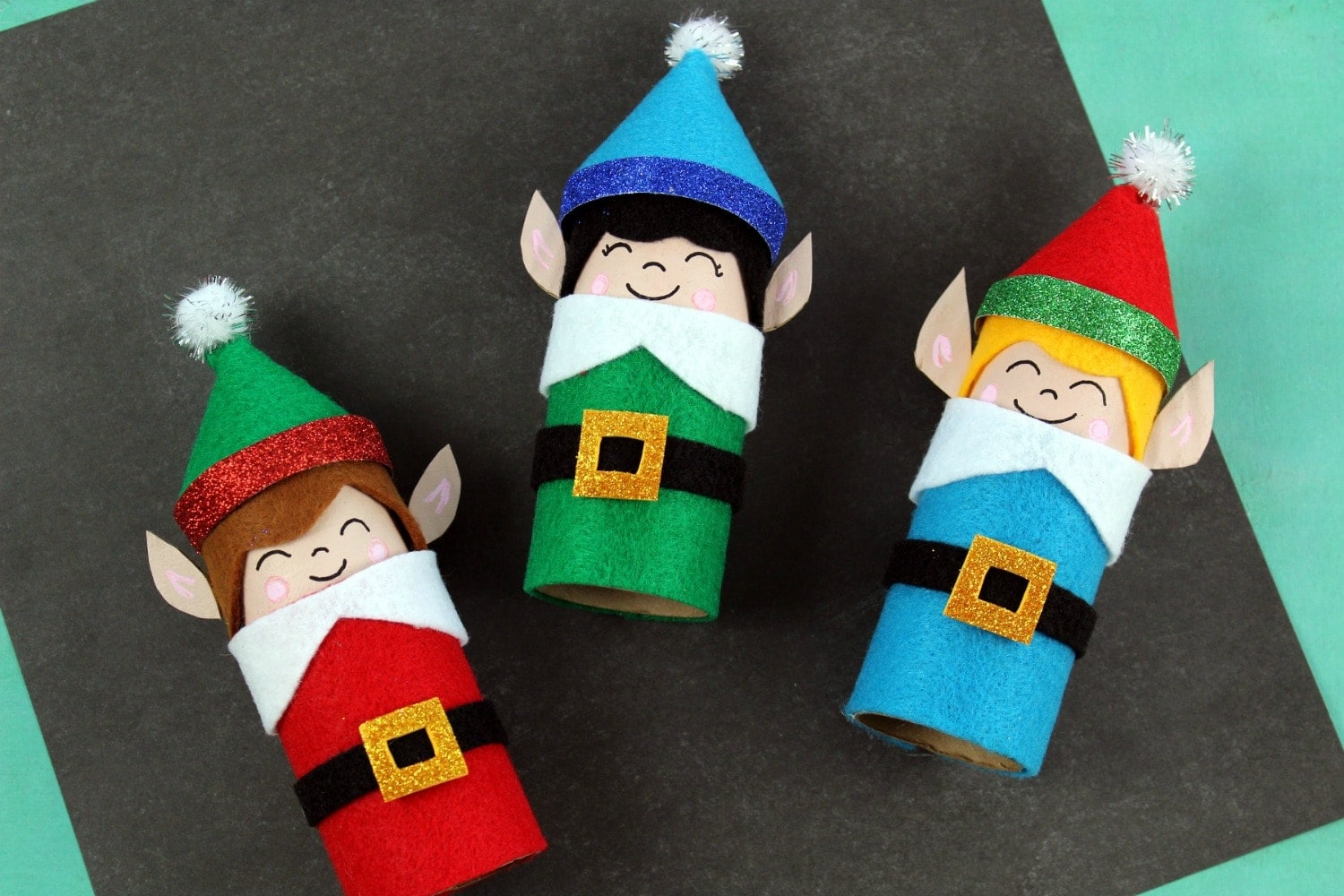 More Easy Kids Christmas Crafts
For more easy kids Christmas crafts, be sure to check out our Christmas Eve Oatmeal Reindeer Food!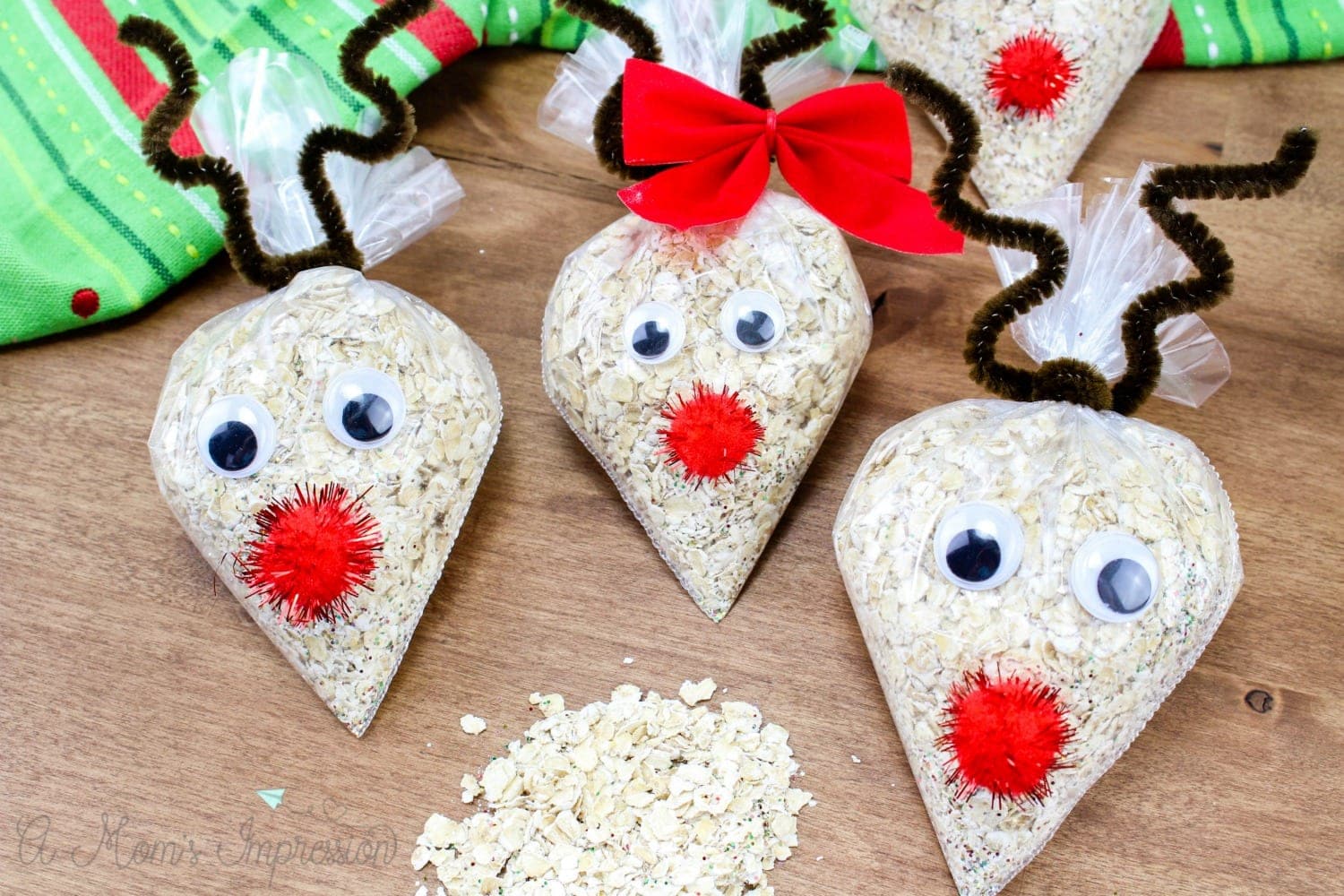 I also have enjoyed making some Christmas crafts with my kids from craft kits I found on Amazon.  Everything you need is already put together for you so it's a nice time saver.  Here are some to check out!
Melissa & Doug Mess-Free Glitter Christmas Ornaments – 6 Ornaments, 7 Glitter Sheets
Button Wreath Ornament Craft Kit for Kids
Foam Reindeer Holiday Ornament Craft Kit – Pack of 12 Kits
Creativity for Kids Holiday Snow Globes – Makes 3 Snow Globes
Christmas Crafts For Kids: 50 Step-By-Step Decorations And Gift Ideas For Festive Fun
Pin for Later