Give Santa and his team a little extra magic with this Oatmeal Reindeer Food Recipe. Learning how to make this reindeer food is super fun and easy. And it is a great holiday activity for children!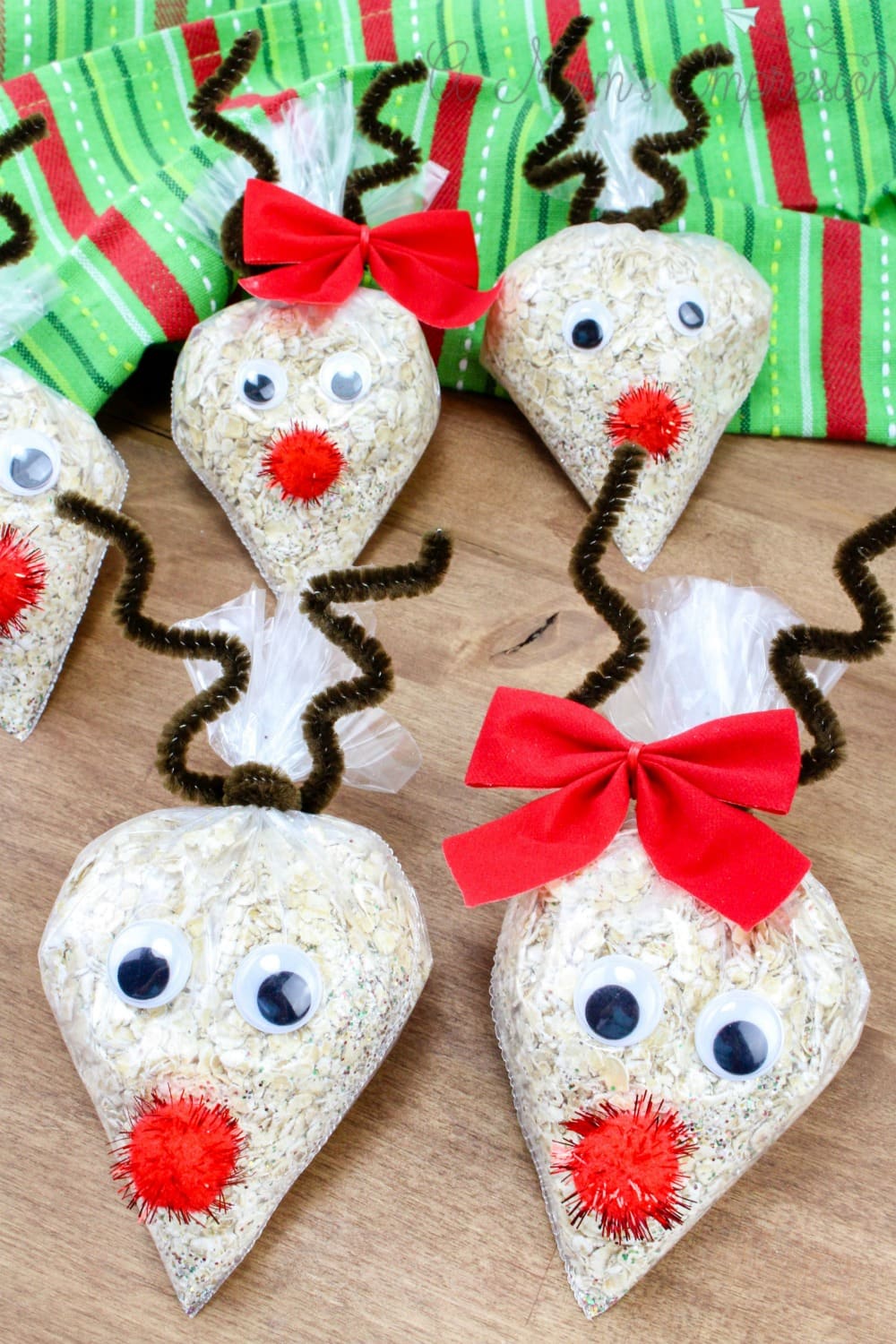 LOOKING FOR MORE DIY CHRISTMAS CRAFTS? CHECK OUT MY TOILET PAPER ROLL ELF DECORATIONS, MY FARMHOUSE CHRISTMAS TREE DECOR OR MY LIST OF 16 DIY  CHRISTMAS ORNAMENTS!
Reindeer Food-Sprinkling Some Magic On Christmas
As a mom, I am constantly looking to find ways to make our holidays more magical. Sure, my husband and I both have our own family holiday traditions that we like to carry on, but we are also creating our own. One thing that we love to do as a family is to engage in a lot of DIY Christmas Crafts. On craft that we did last year is this Glittering Oatmeal Reindeer Food Recipe!
Reindeer Food
While there are several different Christmas reindeer food recipes, this one sparkles on the snow!  We add a bit of glitter to our reindeer food recipe so that Santa and his helpers can see it glisten from way up in the sky! Glitter helps power the Reindeer's magic! Be sure to put some cookies out on a plate for Santa, and then go out to your lawn and sprinkle some of this glittering oatmeal reindeer food to keep Santa's helpers full all night long!
Make a batch for your own family, but this can also be a fun holiday gift for friends and neighbors. We love to walk around the neighborhood and put them in their mailboxes.
Important note: while this Reindeer Food is a great treat for Santa's Reindeer, this isn't a good treat for humans. Make sure you keep an eye on your little ones so they don't try to eat it!
How To Make Reindeer Food
What's Needed
2 ½-3 cups Quick Oats
5 Brown Pipe Cleaners
5 Plastic Sandwich Baggies
Glitter, assort. colors
Glue Stick
Googly Eyes
Red Poms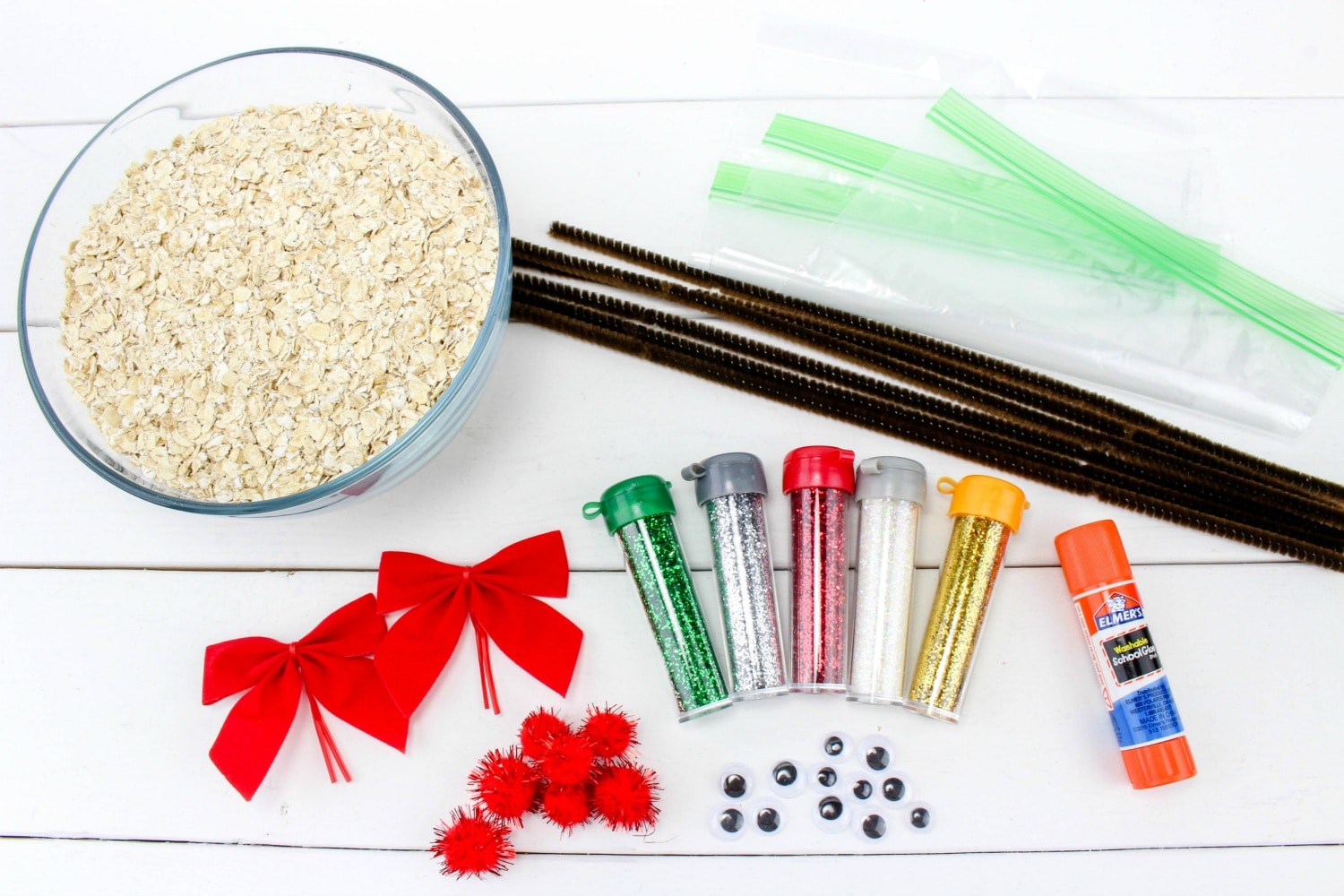 Oatmeal Reindeer Food Recipe
Put the oats in a bowl, and mix in 1-2 Tablespoons of each color of glitter.
Cut the zippered tops off each baggie and pour ½ cup of oat mixture into each baggie. Make sure to pour it into the corner of the baggie.
Now, take a pipe cleaner and tie each baggie closed. Twist it a few times around and leave the ends sticking up. Bend each of the ends back and forth a few times to resemble antlers.
Glue two googly eyes and a red pom on each bag.
On Christmas Eve, children can sprinkle it on the lawn to feed Santa's reindeer!
Enjoy this new holiday tradition of oatmeal reindeer food with your family this year!  I would love to hear about any more holiday traditions that you celebrate with your family.  Leave your ideas in the comments!
Pin for Later

For more holiday fun be sure to check out our collection of DIY Holiday Wreaths!