This shop has been compensated by Collective Bias, Inc. and its advertiser. All opinions are mine alone.#AHealthyHolidays #CollectiveBias
The weather took a turn this week.  We felt the drop in temperatures which means that the holidays are just around the corner. It is my favorite time of the year, except for one thing…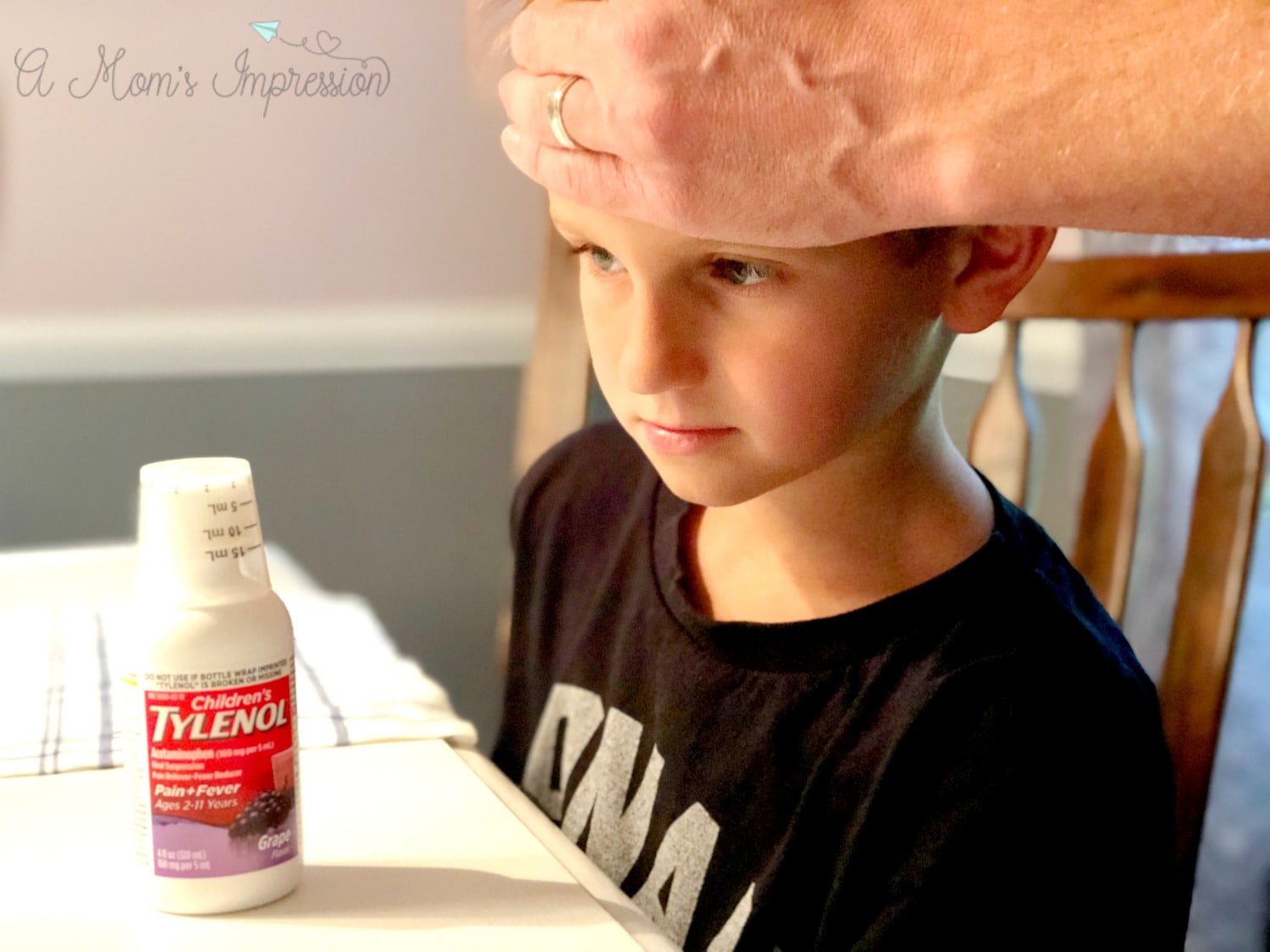 … it's also germ season!

MY LATEST VIDEOS
Jonah has already been complaining that he doesn't feel "right" and Caroline has been having a stuffy nose. So of course, I jumped in the car and headed to our local Kroger store to stock up on everything we need to help get us through the germ season.
We always have Clorox Disinfecting Wipes on hand throughout the year. Clorox Disinfecting Wipes kills Staph, E. Coli, Salmonella, and Strep. Not only that it also kills 99.9% of all germs* that can live on surfaces** for up to 48 hours. Using Clorox Disinfecting Wipes ensures that I am doing everything I can to get to the germs before they get to my kids. We also make sure we constantly have Children's TYLENOL® on hand for our kid's ages 6-11 years old. It comes in grape or bubblegum flavored liquid to make it go down a little easier. Children's TYLENOL® will help tackle your child's tough multi-symptom cold by temporarily relieving runny noses and headaches, quieting coughs and reducing fever.
While I was at Kroger I also picked up an Abreva pump and Theraflu. Abreva delivers the best results when used at the first sign of a cold sore. Abreva helps with the healing process.  Theraflu gives us powerful cold and flu symptom relief without a prescription.  We are all set for germ season. Well, almost…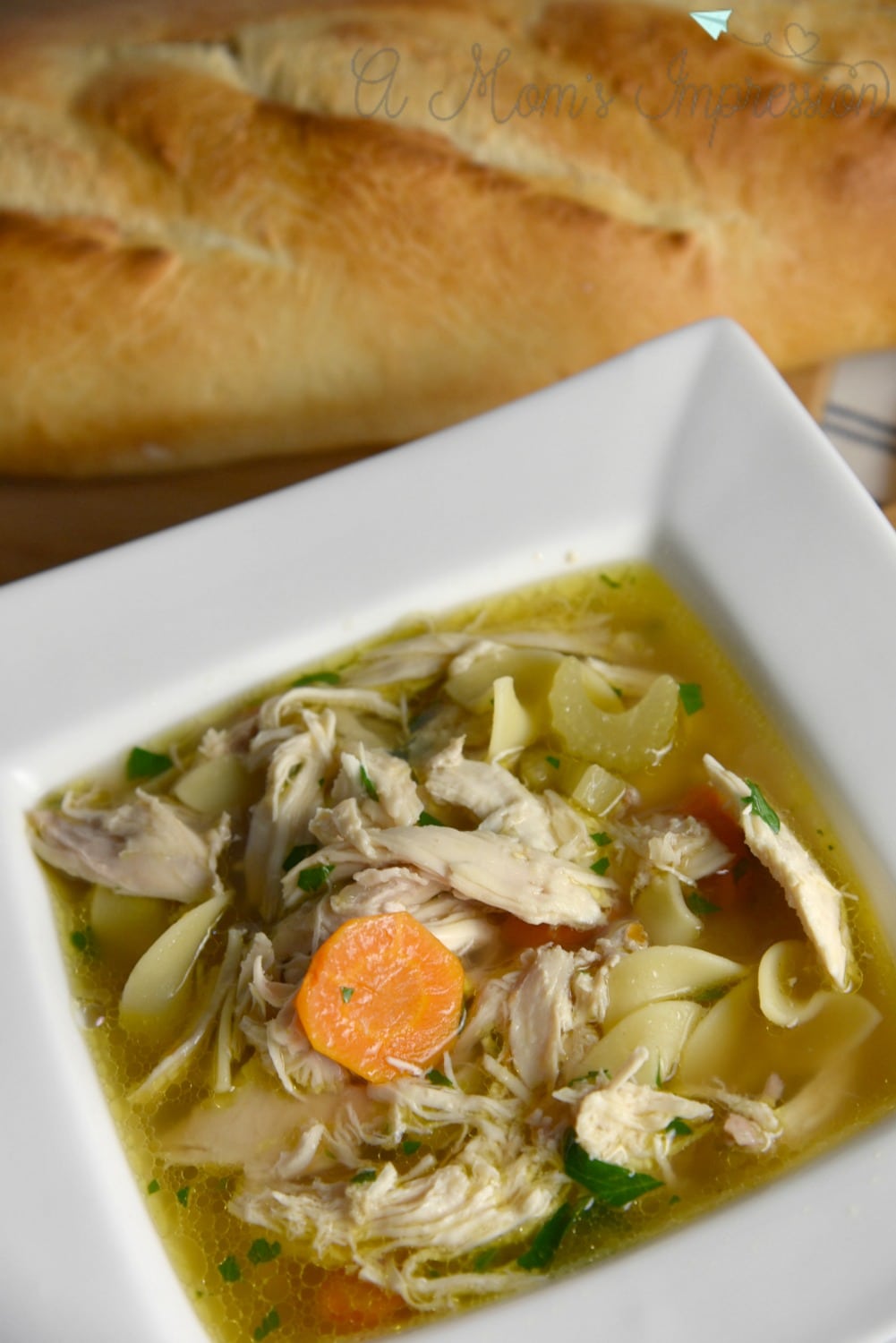 When I grew up my mom made us the most delicious turkey noodle soup with our leftover Thanksgiving turkey.  She would boil the entire leftover turkey, bones and all, add vegetables and noodles and we would have a great tasting, healthy bowl of soup.  She would also freeze some for the next time we would feel a little under the weather.  I instantly felt better when I had a bowl of her Thanksgiving leftover turkey noodle soup.
These days I am making a lot of my family's meals in my electric pressure cooker. I found that it has helped speed up making delicious homemade meals.  In honor of my mom, I made a large batch of homemade chicken noodle soup in my Instant Pot.  This recipe is pretty adaptable and you can, in fact, use your leftover turkey from your holiday dinner in place of the chicken.  It is perfect for germ season, nothing tastes better than comfort food when you are feeling under the weather.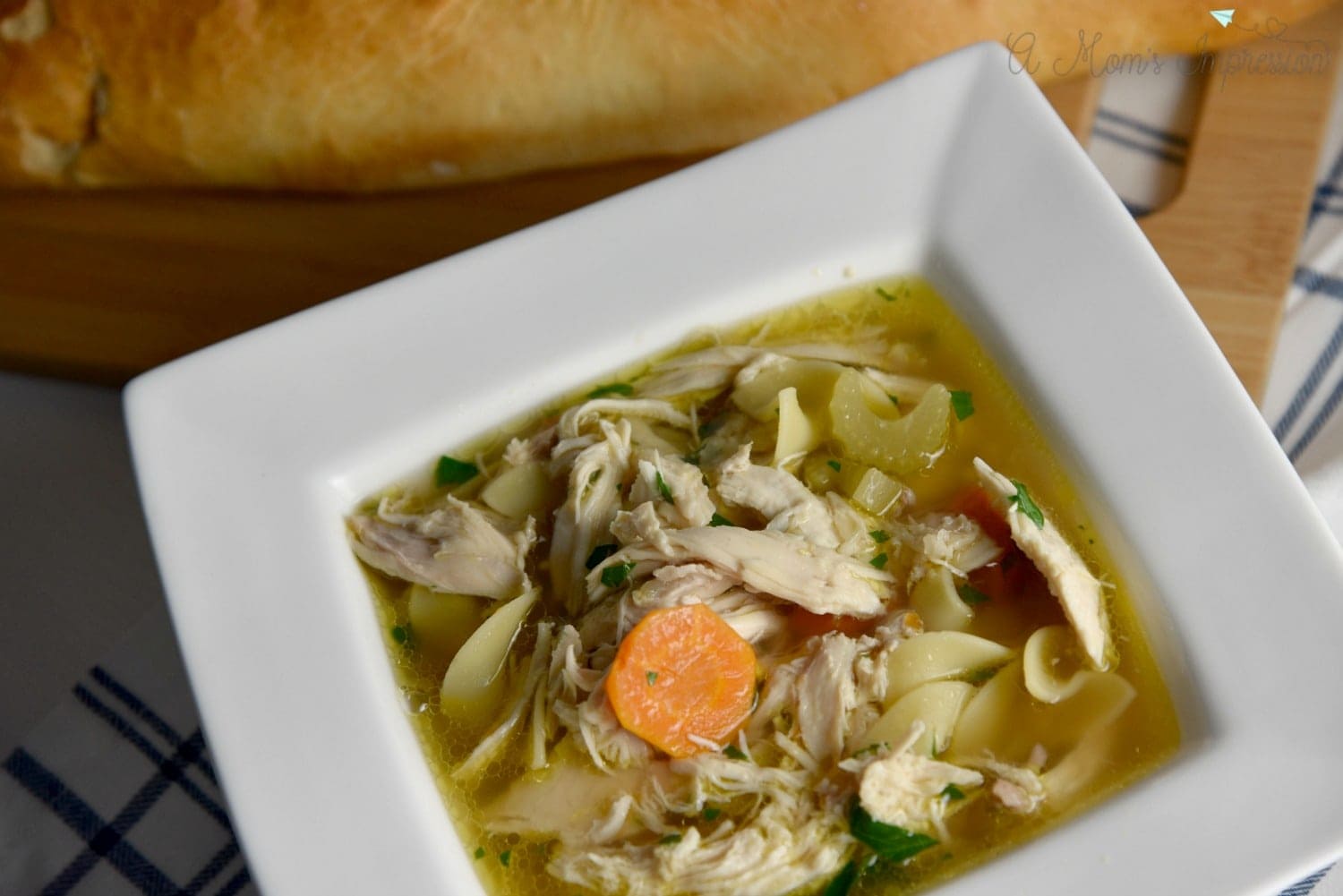 Homemade Instant Pot Chicken Noodle Soup
Ingredients
1 tablespoon of olive oil

1 small  yellow onion, diced

4 cloves of garlic, minced

salt and fresh ground pepper

6 carrots, peeled and sliced

3 celery sticks, sliced

1 whole 5-pound chicken,

8 cups of water

4 ounces extra wide egg noodles

2 tablespoons fresh flat leaf parsley, minced
Instructions
Precut all of your vegetables and mince garlic. Set your Instant Pot to the saute mode.

Place 1 tablespoon of olive oil in the Instant Pot with the diced onions and saute until the onions become translucent about 3 minutes.

After onions become translucent add garlic, carrots and celery and saute for another 2 minutes.

Remove giblets from the center of chicken and then add the entire chicken to Instant Pot. Add water, 1 tablespoon salt and 1/2 tablespoon of freshly ground pepper.

Turn off Instant Pot, lock the lid in place, make sure pressure valve is set to sealing and set the manual mode to high pressure for 20 minutes. Because of the amount of liquid in the pot, it will take about 20 minutes to come to pressure, don't worry.  Once it comes to pressure it will start counting down the minutes.

When the manual mode is finished, let NPR for about 5 minutes and then Quick Release the rest of the pressure.

Open the pressure cooker and remove the chicken.  Turn the Instant Pot back to saute mode and let the soup come to a boil. After it starts boiling, add egg noodles and cook for about 5 minutes.  Set Instant Pot to warm.

Shred chicken into bite-sized pieces discarding bones and skin. Stir chicken and parsley into the soup. Add seasoning and enjoy!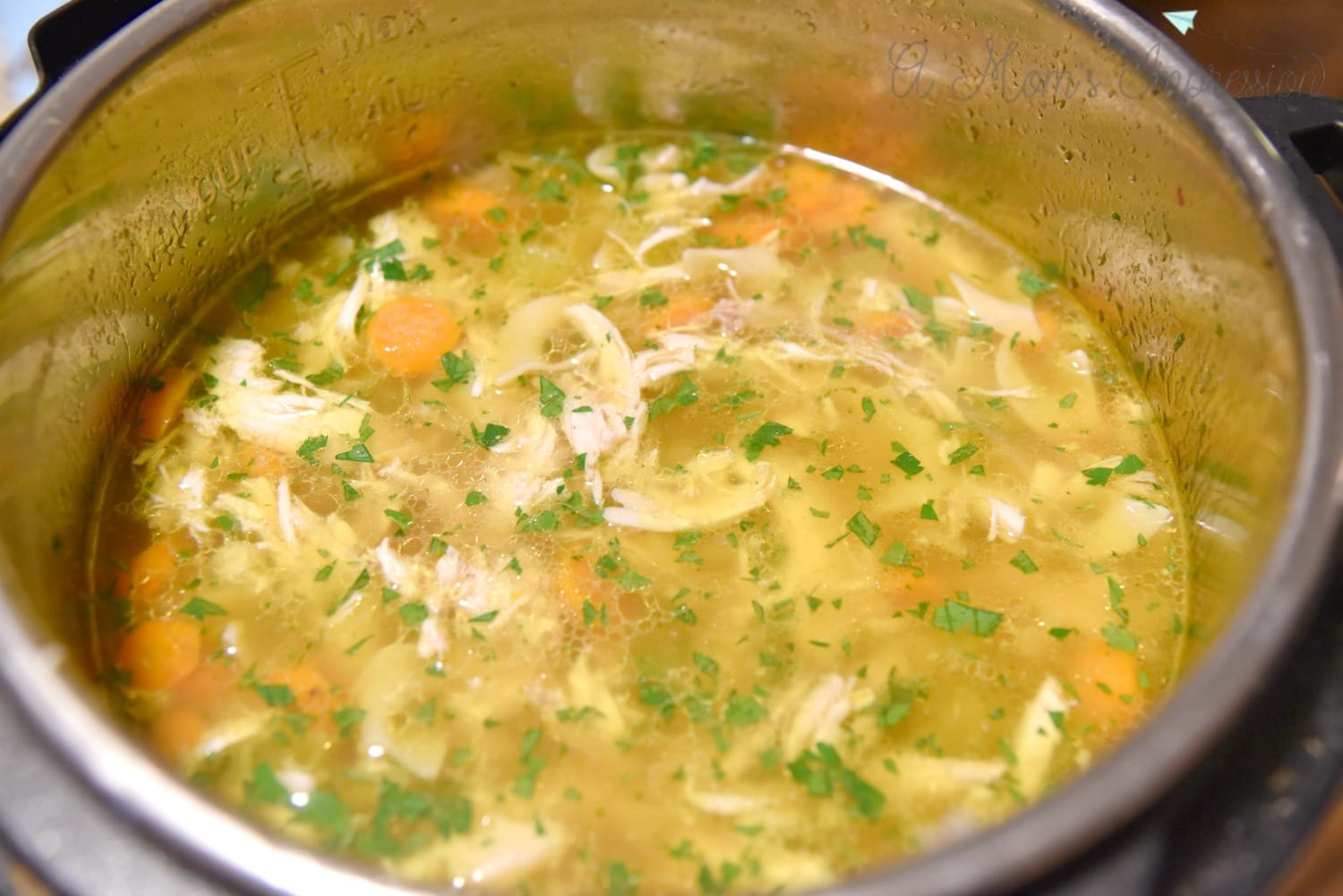 This holiday season, be sure to stock up on Abreva, Clorox, Theraflu and TYLENOL® brands at Kroger.  Having these on hand is a good idea while getting prepared for house guests.  You can find Abreva, Theraflu and TYLENOL® brands near the pharmacy in the OTC medication aisle. Clorox Disinfecting Wipes are located in the cleaning supply aisle. Click here for great savings from your local Kroger store.
To learn more visit the Social Hub.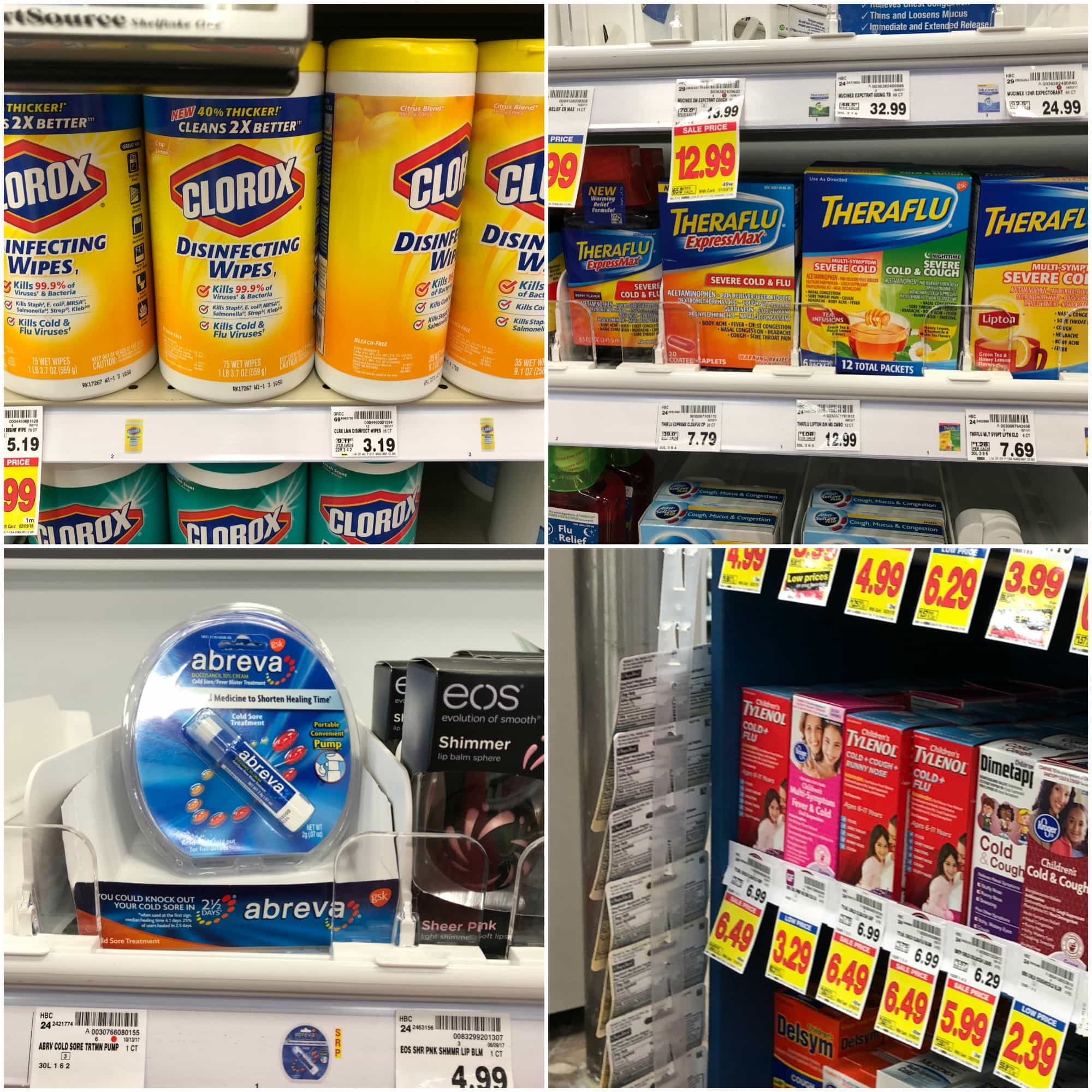 I'd love to hear how you keep your family healthy during germ season.  Do you have a favorite comfort food recipe you make?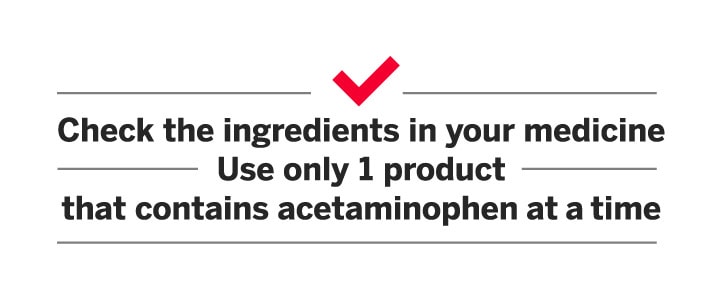 Abreva – Use only as directed. Read and follow label directions. Clorox – Use as directed.
Theraflu – Read and follow label directions.
TYLENOL® – ® Johnson & Johnson Consumer Inc. 2017. Use products only as directed. The makers of TYLENOL® remind you to use only one medicine with acetaminophen at a time.
Pin for Later