I am in love with these easy to make DIY farmhouse Christmas tree decorations. They are a simple and frugal way to give your home a little farmhouse touch this winter!

LOOKING FOR MORE DIY CHRISTMAS CRAFTS? CHECK OUT MY TOILET PAPER ROLL ELF DECORATIONS, MY GLITTERING OATMEAL FOOD RECIPE OR MY LIST OF 16 DIY  CHRISTMAS ORNAMENTS!
I have fallen in love with the rustic farmhouse decor look over the past couple of years. I love the whites, the woods, and the cozy feeling I get from these spaces.  I wanted to create this look myself, but I'm on a budget. These farmhouse style trees are perfect to decorate for the holidays or for the winter season and best of all they are a pretty frugal craft to make.
The result is an adorable woods created by yourself!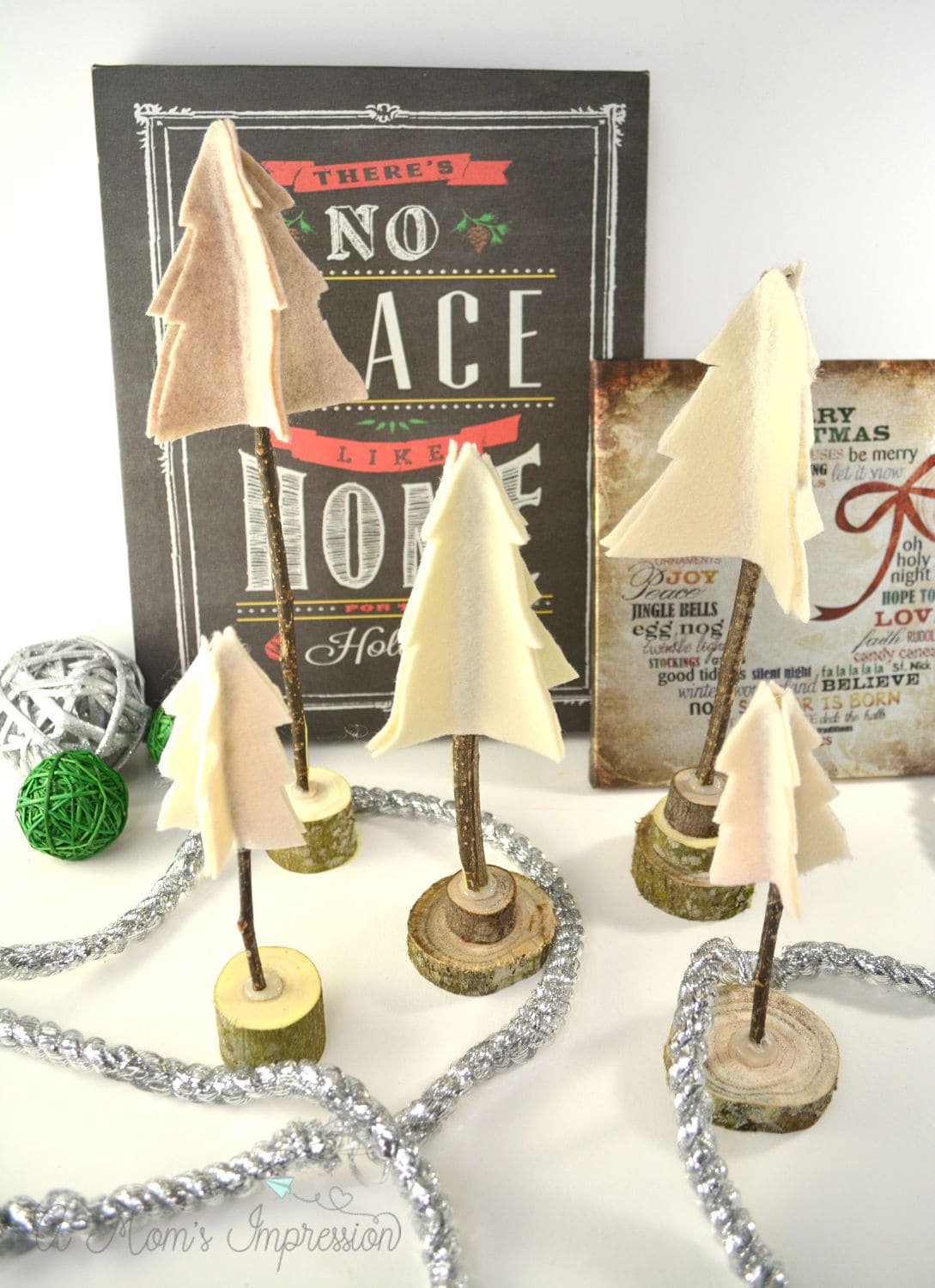 For another fun, frugal winter craft check out our Pompom Snowman magnets!
How to Make DIY Farmhouse Style Christmas Trees
Materials:
Long twigs
Felt in a variety of colors
Hot glue gun
Small wood slice rounds in different sizes
Scissors
Cardstock
Pencil
Instructions:
Begin by drawing half of a Christmas tree shape on the outside edge of a piece of cardstock paper and cutting it out. You can view the photo for reference on how to do this.
Fold a portion of felt over and cut out a Christmas tree shape using your cardstock tree shape as a template. Cut out 4-5 felt trees for each finished tree you wish to make. You can create and cut out a smaller template as well if you would like to make trees of different sizes.
Break a twig to the length you would like your tree to be.
Starting at the top of the twig, put a straight line of hot glue down the twig about as long as your felt trees.
Fold a felt tree in half and push it into the hot glue so that the hot glue runs behind the center of the felt tree, and the top of the tree is just above the top of your twig. Again, you can view the photos or the video for reference on how to do this.
Continue folding and gluing your felt trees all of the way around the twig. You can fit 4-5 felt tree shapes on the twig depending on how full you would like your finished tree to look.
Create a base for your felt and twig Christmas tree by gluing together 2 or more small wood slice rounds of different sizes. You can also use a single wood slice if you prefer.
Use hot glue to attach the bottom of your twig and felt tree to the base. Hold it in place for a minute or two until the hot glue has hardened.
Display your felt trees as a group on your mantel, shelf or table this holiday season.