Allow your child's imagination to bloom with the American Girl City Market. The American Girl City Market is a fun playset where your child's dolls can sell (pretend) baked goods and supplies. The set comes with everything your child needs to set up shop!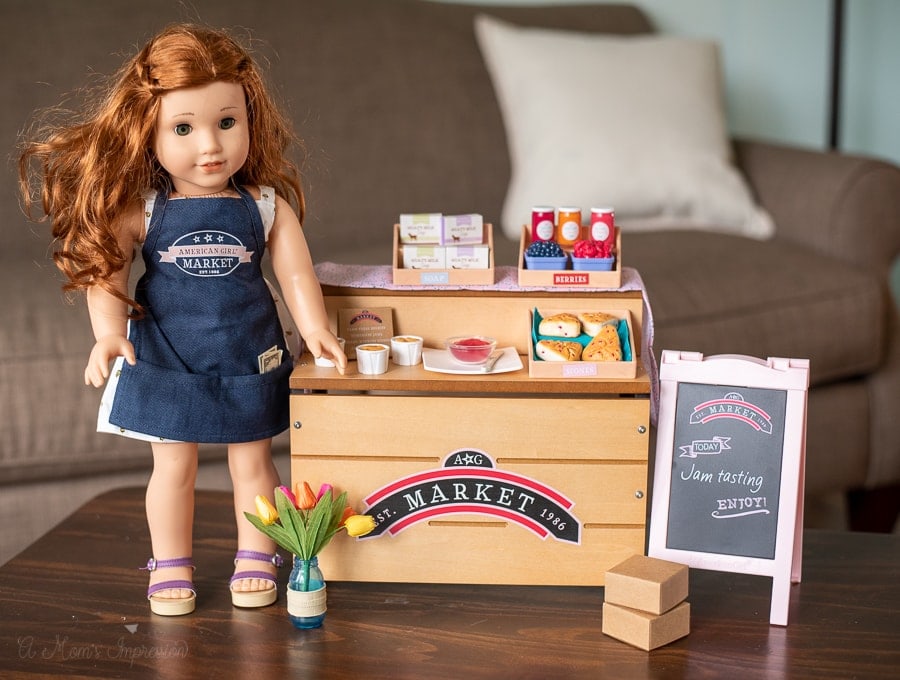 My daughter is obsessed with her American Girl Dolls. It has been pretty nice for her to use her imagination while she is pretend playing during our stay at home time. I love watching her play with her dolls and create some pretty interesting story lines. Its kinda interesting to see what kind of adventures her dolls are getting themselves into every day.
We have been fortunate to collaborate with American Girl over the years and my daughter has several dolls she loves to play with. When American Girl offered to send a playset for us to enjoy, she was over the moon excited! The City Market came just a couple days later and my daughter has been playing with it ever since! Thank you to American Girl for our ongoing partnership! We mentioned this City Market playset in our top 5 American Girl gifts for Easter article and we are really excited to showcase it again for you.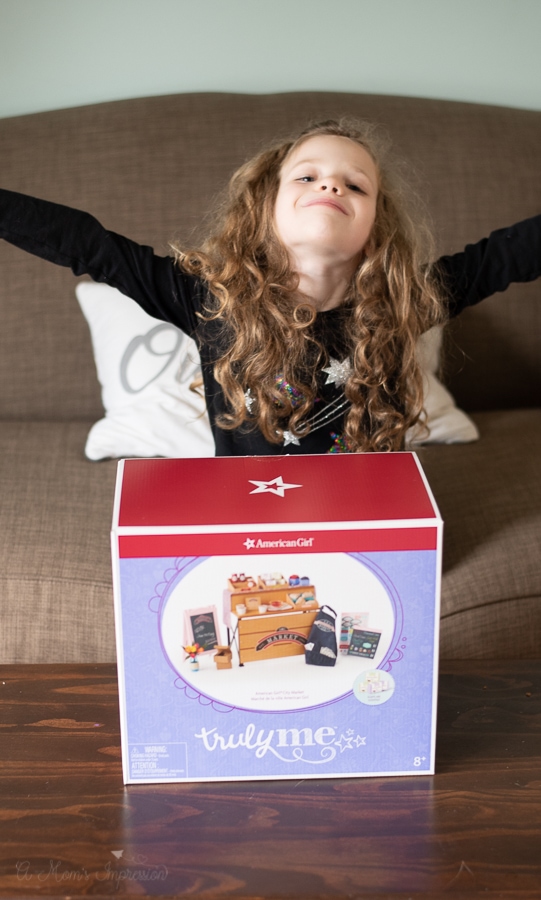 American Girl Truly Me City Market Stand
Do you love visiting Farmer's Markets? If you love it as much as we do, your family will love the City Market Stand. It includes everything your doll needs to create their own little market.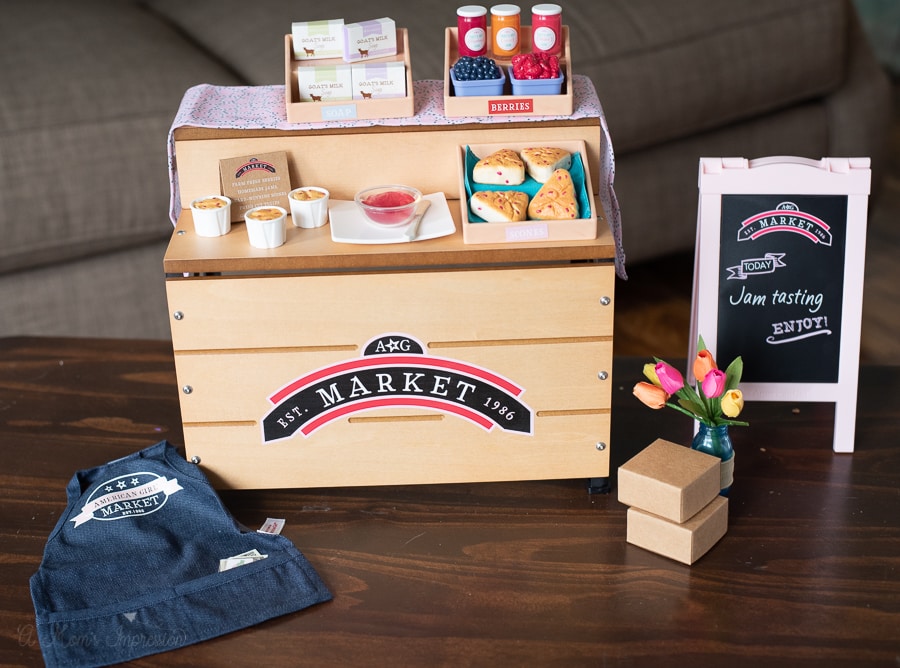 What is included with the City Market Playset?
The American Girl City Market Includes:
A two-tiered market stand made of wood and metal
A patterned fabric table runner to use for display
A mason jar vase
One bunch of flowers
Three tiered display boxes for displaying jam, soap, and scones
A display cloth for under the scones
Four berry scones
A jar each of rhubarb jam, apricot jam, and raspberry jam
Two scented bars of pine soap and two bars of lavender soap with paper label wraps
Two fruit containers with blueberries and strawberries
A square sample plate for setting out tastes
A jam bowl with a jam sample
Three sample scone pieces in cups
A metal spreader knife for the jam
A two-sided paperboard table sign
A two-sided faux chalkboard sidewalk sign
A denim apron with a screen-printed graphic and front pocket
Five faux dollar bills
Two paper business cards
Two natural brown paper boxes for packing up goodies
One sticker sheet for the sidewalk sign and one sticker sheet for labeling boxes and jam jars
Please note that all food items are pretend and not real.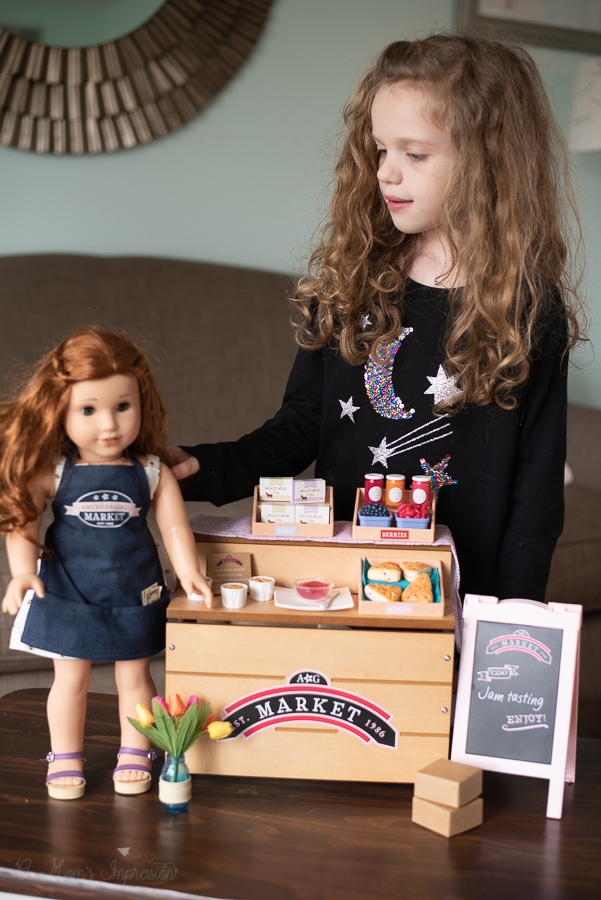 Our Thoughts
I was really impressed with the quality of the City Market playset. American Girl knows how to make items that will stand the test of time. The market is not plastic but actual metal and wood. It is built to last for a very long time. I can see my daughter using the stand as a lemonade stand or a toy market. All of the accessories have amazing detail and the soaps actually smell! We love those little touches that make this set special. My daughter loves the apron and the paper money that is included in the set. She already had her American Girl Blaire Wilson doll picked out to manage the stand and she fits right in.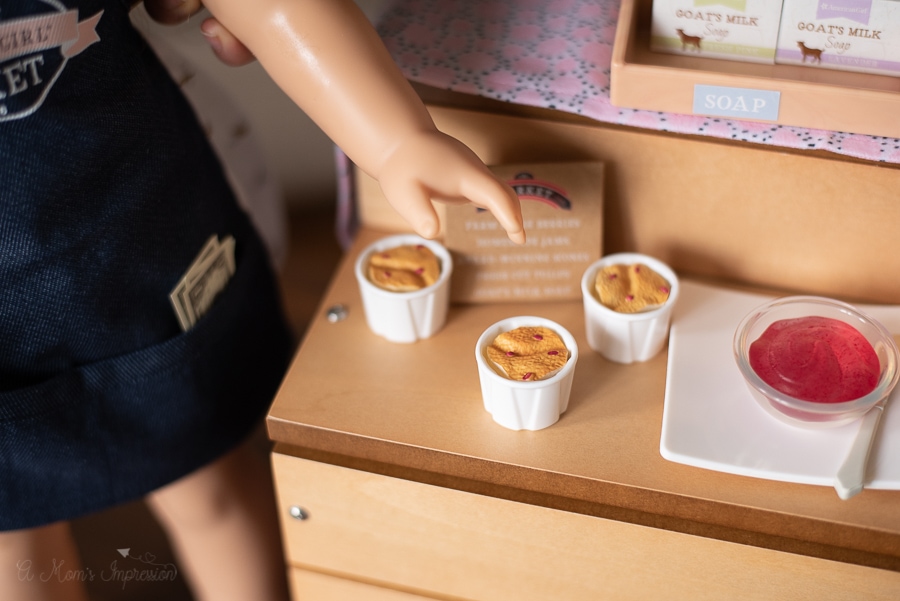 American Girl thought of everything including a plate, knife and blanket that works perfectly with the market theme. If you have a child who loves to bake or garden, this set would be perfect for them.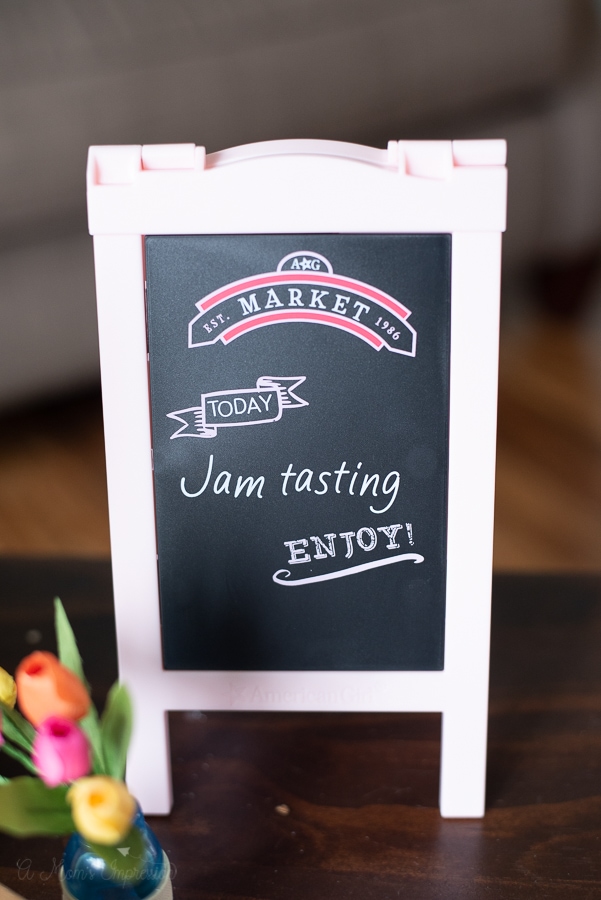 The sidewalk market stand is great as well. One one side is the Jame tasting message and the other side is blank so you can customize it the way that you want to. My daughter is loving this. She has decorated hers with the included stickers and loves it! The stickers allow you to customize your market just the way you want.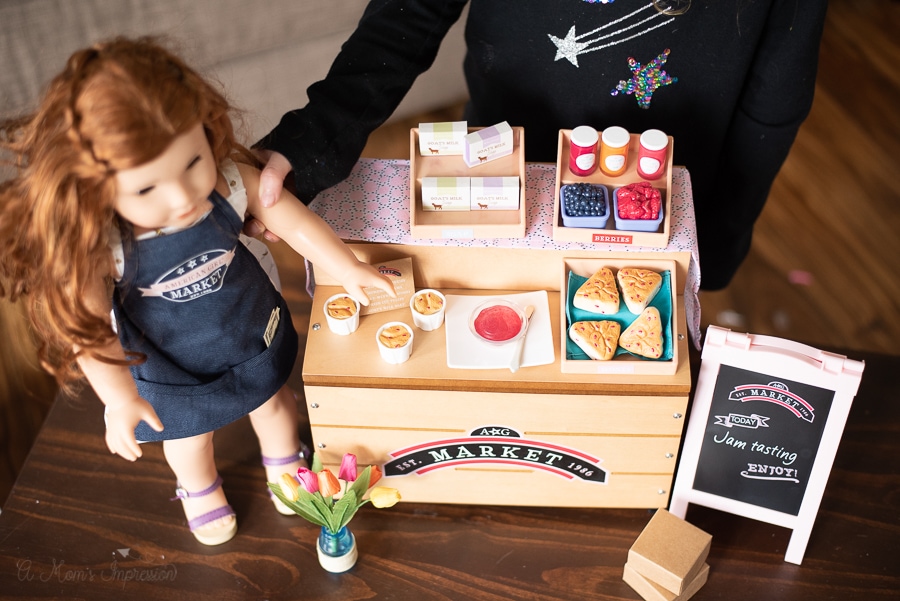 Overall we were really impressed with the American Girl City Market. There has already been hours upon hours of enjoyment gained from this fun playset. We can't wait to try new sets out.
You can purchase the AG City Market Stand on AmericanGirl.com for $100.00.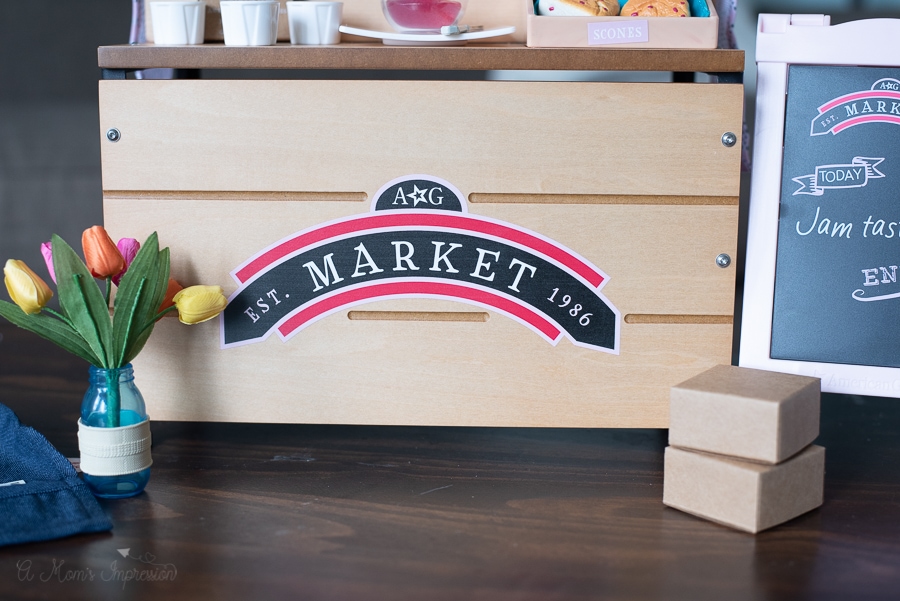 A huge thank you to American Girl for sending us the City Market playset for purposes of this review. All opinions are 100% ours!