Cleaning your kitchen the natural way can smell amazing! Did you know that many essential oils are also naturally antibacterial? Check out these 5 essential oils to use in the kitchen to replace chemical household cleaners.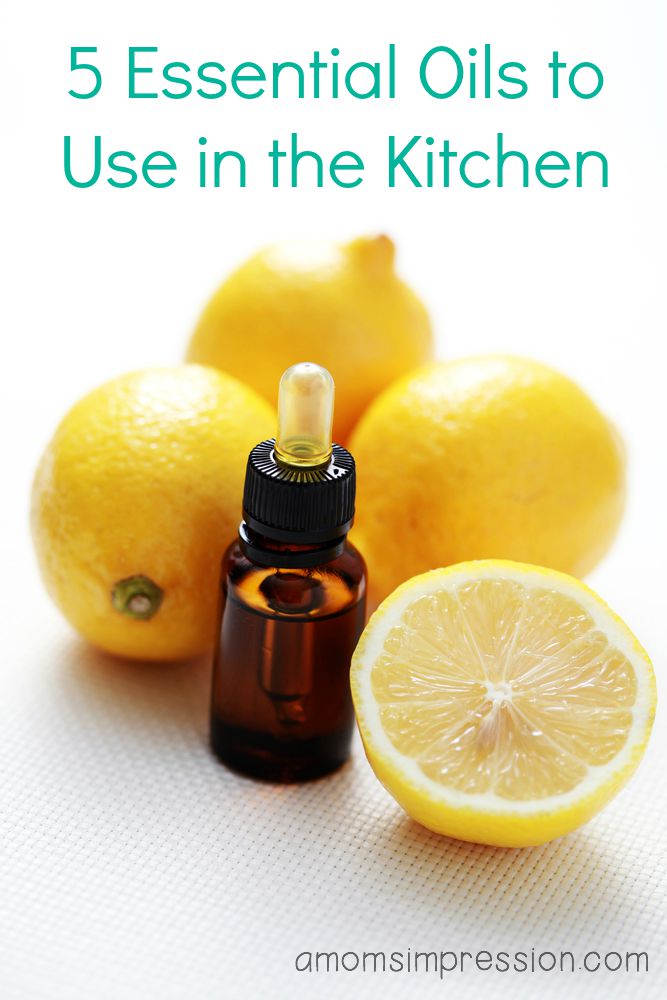 Essential oils are great for everyday use in the kitchen, from cleaning to freshening up the air to adding them to our food, there are natural options for everything. Plenty of oils are used as effective cleaners and disinfectants, and it doesn't hurt that they smell great. As air fresheners, oils can be used to add fragrance or help get rid of musty kitchen smells that sometimes settle in a room. At the same time, those same essential oils can easily be added to your baking and cooking to change the entire flavor of your cuisine. If you are still learning how to use essential oils in your home, these are 5 of the best essential oils to keep in your kitchen for daily use.
Lemon Oil for Cleaning
Lemon Essential Oil
Lemon essential oil can be used for cleaning, as an air freshener and added to your cooking, making it one of the most versatile oils. Lemon is great for breaking up grease, helping work through tough stains and sticky messes, and makes everything from linens to porcelain to certain metal pots and utensils shine brighter. If you aren't cleaning with the oil, add lemon to a diffuser to freshen the air, working its magic as a mood enhancer at the same time. Lemon essential oil is safe for consumption and really brightens up baked goods, soups and pasta dishes.
Peppermint Essential Oil
Peppermint essential oil is a great cleaning oil, can be added to baking to give treats a mint flavor and is great to diffuse when you need something to clear and open up sinuses. Peppermint kills and removes mold and mildew stains and smells, and a little bit goes a long way. It is also a great way to deter kitchen pests like ants, who cannot stand the strong menthol smell. Added to your recipes, peppermint is a great substitute when you don't have fresh mint available, or your flavoring something like cakes and chocolate.  Anyone that has been around mentholated products knows how fast they work to clear up sinuses and ease breathing.
Essential Oils that Smell Good
Lavender Essential Oil
Diffusing this oil in the kitchen, and the rest of the house creates a calm atmosphere that can help you through any situation. The oil is also popular for disinfecting areas of the kitchen and things that are prone to lots of use and germ collection. While it is possible to use lavender oil in baking, cooking and even beverages, you want to use it sparingly to avoid overpowering other flavors.
Orange Essential Oil
Like lemon, this citrus essential oil is great for cleaning the highest traffic room in the home, and its fragrance is perfect for a kitchen setting. If you have tough, sticky situations, where other methods won't help to make the stuff budge, turn to orange essential oil to get the job done. Smoothie fans looking for a new flavor twist to add to their favorite recipes can just add a drop of the oil to their recipes and also gain the health benefits that this essential oil provides.
Disinfecting Essential Oils
Basil Essential Oil
This oil might be the one oil that you get the most use out of in the kitchen when it comes to cooking. You can add it to everything from pasta dishes to soups to meat and fish plates. If you need an oil to disinfect the kitchen with, basil is antibacterial and antiviral, so use it to wipe down surfaces and clean dishes. A drop of basil added to a diffuser in the kitchen is a great way to complement the other air fresheners that you are using without adding an overwhelming earthy scent to the room.
For more information about getting started with essential oils be sure to check out our Essential Oils Starter Guide. And check out our hack for getting melted crayon out of clothing if you accidentally wash a crayon in your load of laundry.