Learning how to get crayon out of clothes isn't as difficult as you might think and you certainly don't need to bring them a professional.  There is no need to freak out when you open the washing machine and see your entire load of laundry covered in a colorful waxy mess.  I have found it to be as easy as just a few simple steps.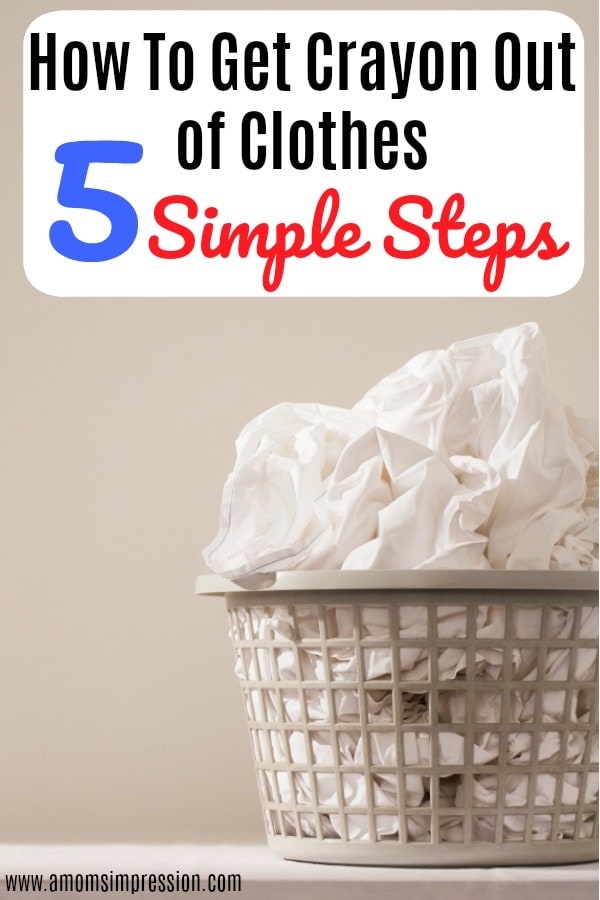 How to get Crayon out of Clothes
I am a first-grade teacher.  I come home with broken crayons in my pants all the time.  Mostly I remember to take them out before I put them in the washing machine.  Well, the other day there was a straggler.  One small broken, red crayon caused an entire load of laundry to become pink.  It was a disaster.  The load consisted mostly of my husbands work clothes and needless to say, we both freaked out just a little.  I needed to learn how to get crayon out of clothes. I was determined to try to somehow perform a mommy miracle and learn how to get melted crayon out of clothes. With a little bit of research, I figured it out.
My method worked like a charm!  The only bit of melted crayons I found was on the inside of my husband's workout shorts.  It is a shiny, silky material and the mesh pockets still have a little pinkish red to them.  Since they are on the inside of his shorts, it really didn't matter.  I call that a win!
In my panic to fix the situation, I didn't think to snap a picture beforehand, but here are my husband's work pants after I was finished!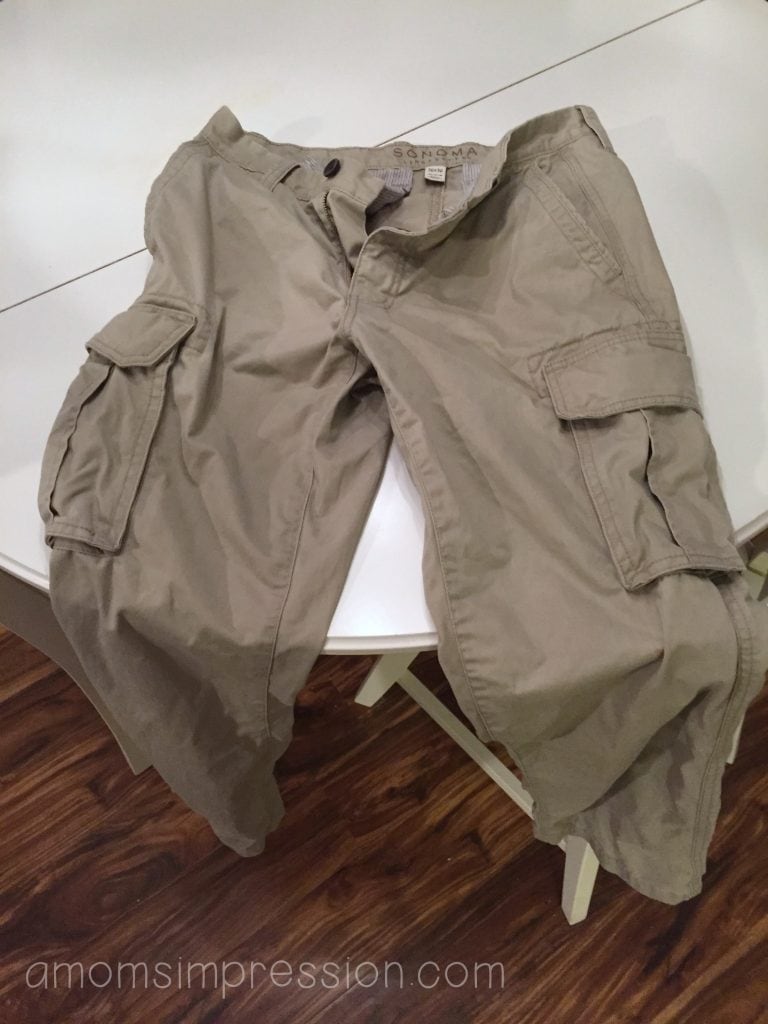 Not only did I need to get the pink out of the clothes, I needed to also get the melted crayon out of my dryer.  That process was a little bit easier.
Getting Melted Crayon Out of Clothes
What you will need:
Mr. Clean Magic Eraser Cleaning Pads, 8-Count Box
Palmolive Ultra Original Dish Washing Liquid, 10oz – 2 Pack
Tide 8317 High Efficiency Laundry Detergent, 170 Fl. Oz.
&
Directions
I set my washer to the sanitize cycle (basically the cycle with the hottest wash temperature).
I programmed in a short soaking period (15 minutes) at the beginning of the cycle.
Next, I used my liquid dish soap (I had Palmolive Original Ultra Concentrated) and squirted about 4 tablespoons right over the clothes.
Add your detergent as normal.  I have precision dispense and so my washer used the exact same amount I would normally use for a load of laundry.
Finally turn the cycle.  If you don't have a programmed soak cycle, fill up the washer and then manually let the clothes soak in the hot water for 10-15 minutes. I have also read that you can pour boiling water over the clothes, but I didn't try that.
While that was working, I turned my dryer on for a few minutes and then using a magic eraser, I cleaned up the residual crayon mess that was left behind.  You want to be sure to do this so that you don't accidentally get any more wax on your clothes a second time.
When the washer cycle is finished (my entire cycle was about 2 1/2 hours long) check your clothes and repeat if necessary.  I got all of the crayon mess out on the first cycle.
Let me know if it works for you!
How to Get Wax Out of Clothes
I have found that the process of how to get wax out of clothes is just a little different than how to get crayon on out of clothes.  If you ever find that you have dripped candle wax on your clothing, you will need to react a little differently but you can still save your clothing in just a few simple steps:
Allow the wax to dry!  Don't touch the wax until it fully dries.  Trying to do anything to it before it is dry may just make your problem worse!
Once it is dry, it is time to start to begin to remove the wax from your clothing.  Get a dull knife scrape as much of the wax as you can off of the clothing.
Once all the wax you can remove from your clothing is gone, it is time to remelt the wax!  The best way to do this is to iron it with a paper towel on the was side of the clothing. You'll see that the wax stain is beginning to be removed from the clothing.
Once all of the was is out of the clothing, you will probably still see a can from the color of the wax.  Just add some liquid dish soap to the spot and let soak for 20 minutes.
Run the wash cycle as normal and let air dry.  Congratulations!  You have learned how to get wax out of clothes!
I found this tutorial helpful on how to clean your dryer after this happens to make sure no more wax gets on your next load of laundry. I hope it helps.
How to get Crayon out of Clothes Video Demonstration
What are some of your laundry mishaps and how did you fix them?