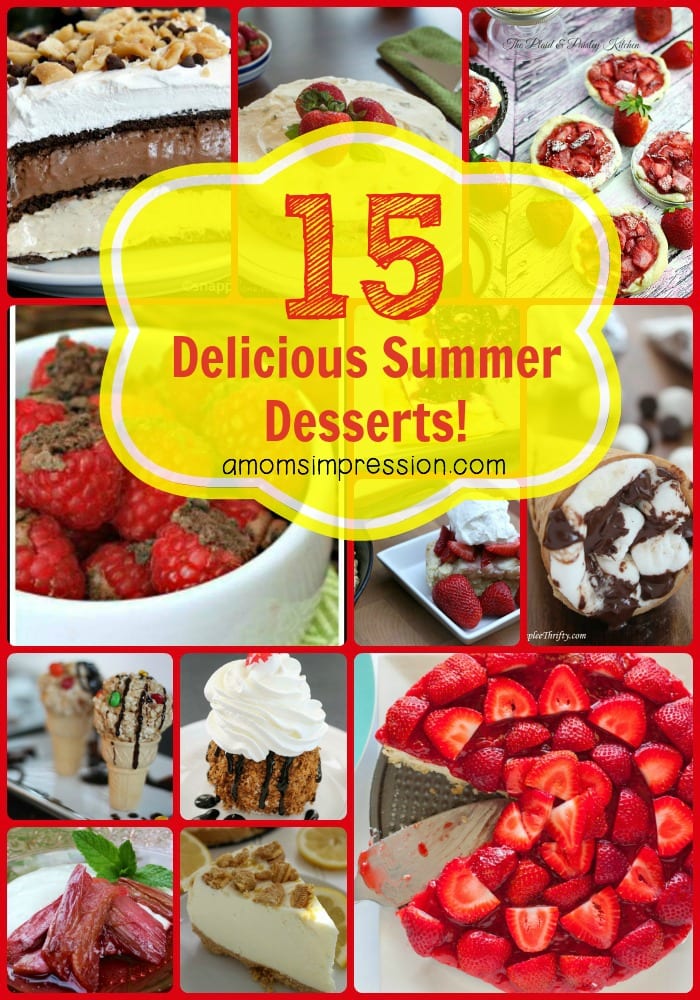 I want to shout from the rooftops that summer is finally officially here!  The kids and I have been enjoying getting outside and soaking up the rays.
I adore the warm weather and pool dates. Summer time is our favorite time of the year to entertain.  We have a lovely backyard and screened in porch that we love to have guests over for a evening meal and drinks.  When planing our meals a great looking and tasting dessert is essential.  I came up with a list of 15 delicious summer desserts that I think you are going to love!  So sit back, relax, and plan your next get together!
15 Delicious Summer Dessert Recipes
1. Chocolate Cheesecake Stuffed Raspberries
2. No Bake Peanut Butter Chocolate Lasagna
3. Roasted Rhubarb With Cottage Cream
4. Cast Iron Skillet Strawberry Shortcake
5. Summer Berry Tart
6. No Bake Banana Cream Pie
7. Strawberry Lemon Creme Breakfast Tarts
8. Patriotic Firecracker Fruit Kabobs
9. Strawberry Energy Balls
10. Key Lime Pie Parfaits
11. Strawberry Scones
12. No Bake Oreo Lemon Cheesecake
13. Campfire S'mores in a Cone
14. No-Fry Fried Ice Cream
15. Grilled Pound Cake With Berries and Whipped Cream
What is your favorite summer time treat?