This Instant Pot Risotto is the easiest way to make a tasty risotto in minutes. Forget about stirring and ladling a cup of stock one at a time with this pressure cooker recipe. This basic recipe is creamy, delicious and full of Parmesan flavor!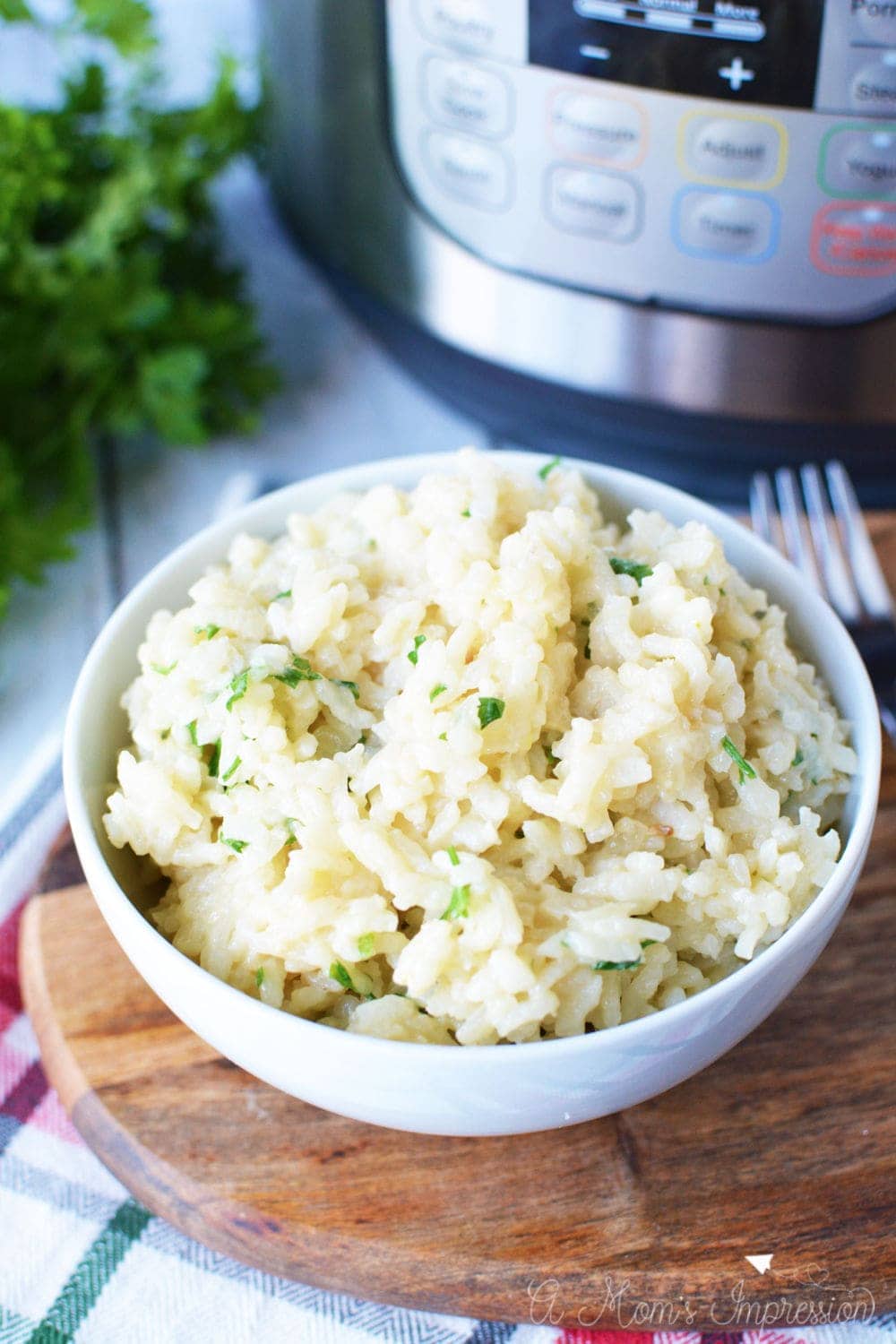 Why Cook Risotto In An Instant Pot?
QUICK AND EASY – Most people don't attempt to make risotto at home, and I can understand why.  It is traditionally a dish that takes a lot of time and a lot of care. One ladle of hot broth is added to the rice at a time until it is absorbed and then the process is repeated. The result is a creamy consistency that tastes amazing. But who has time to do that very often? Cooking Risotto in an Instant Pot solves all those problems! It's so straightforward and the whole process only takes about 20 minutes, start to finish!
DELICIOUS – There are a few dishes I have eaten in my life where I fall in love in the first spoonful, risotto was one of these meals. From the minute it hit my lips, I was in love. It is no wonder, I can't seem to get enough parmesan cheese and there aren't very many rice dishes I don't like. You'll fall in love with this Risotto made in an Instant Pot too!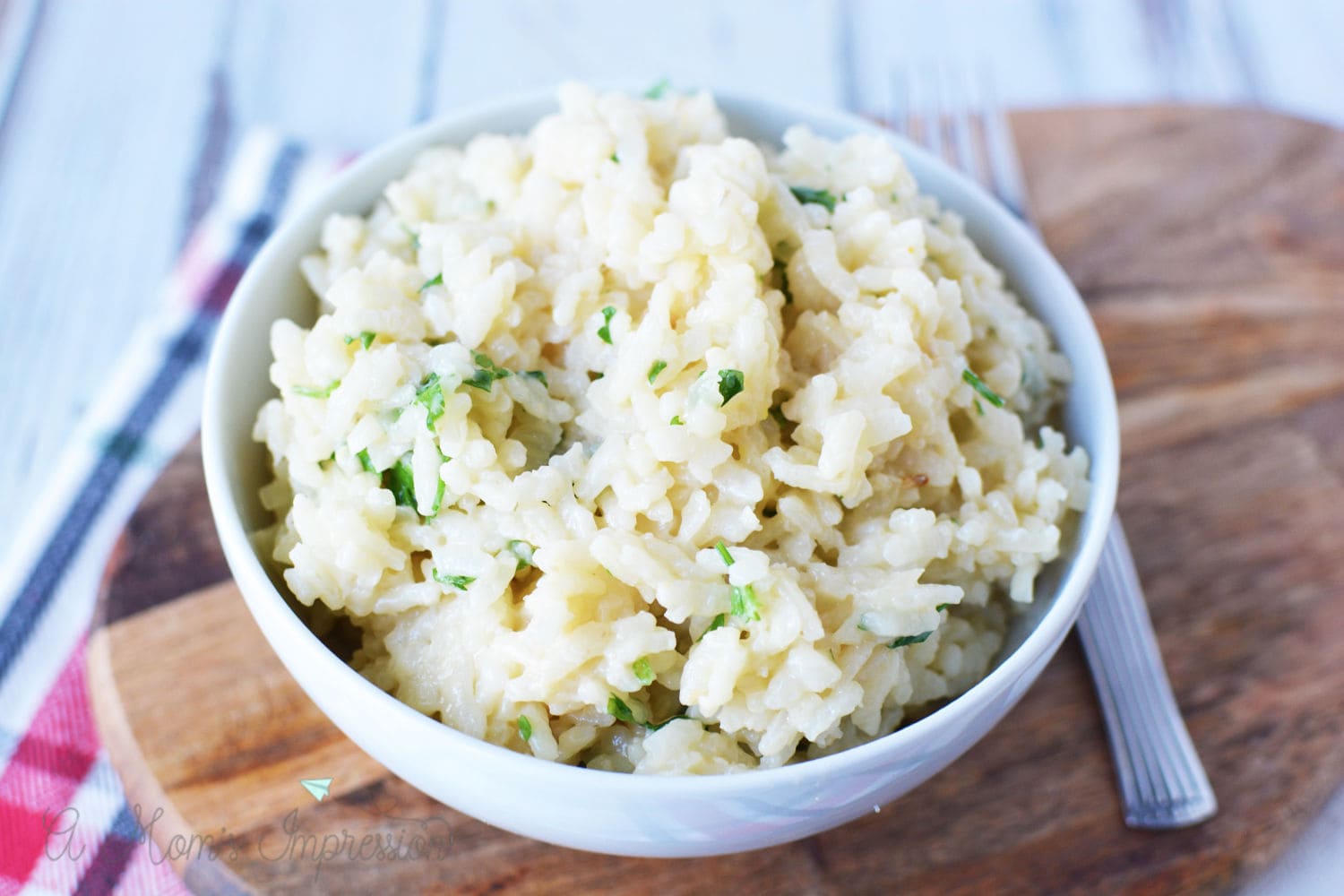 For step-by-step instructions, check out the printable recipe card below. But here are the ingredients you'll need to get started.
OIL – You will saute your onions in garlic in the oil. You can use any oil you'd like, as long as it's got a high smoke point. We used Extra Virgin Olive Oil (EVOO).
GARLIC – Minced. You can either use fresh garlic cloves or buy the stuff in a can.
ONION – Diced. We like using yellow onion for it's softer, milder flavor. But you can use red onion if you'd like.
RICE – We used Arborio Rice. See below for more information on rice.
CHICKEN BROTH – You can substitute the chicken broth for vegetable broth to make this vegetarian.
PARMESAN CHEESE – We recommend using fresh grated parmesan cheese. Don't buy the pre-shredded stuff. It doesn't melt as well.
SALT AND PEPPER – To taste.
FRESH PARSLEY – Chopped. For garnish.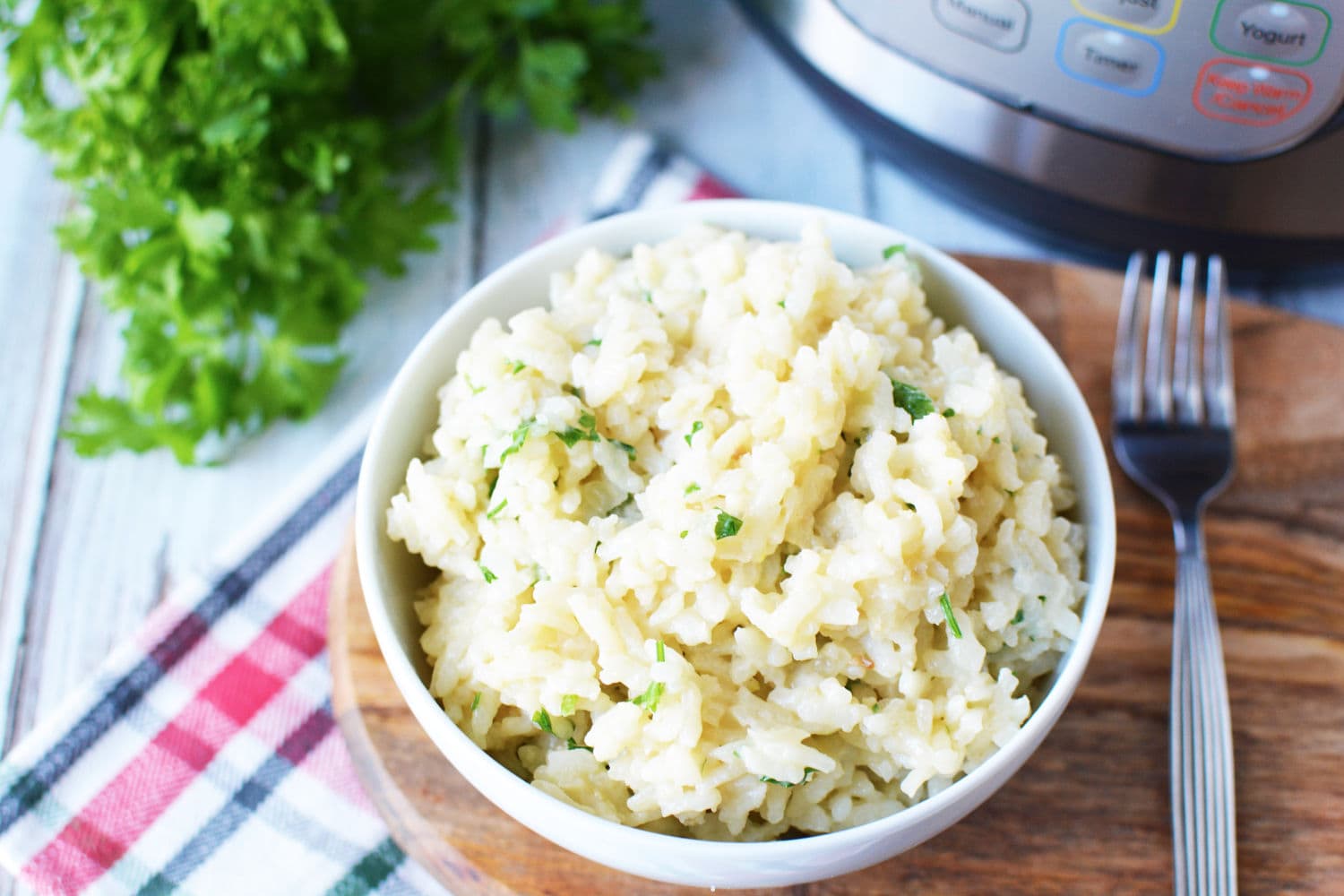 What Rice Should you use for Risotto?
It is wise to stick to a short grain rice when you pressure cook risotto.  The best type of rice to use is Arborio rice like we did in this recipe. At the grocery store, it might be labeled as risotto rice. If you don't have any Arborio on hand, you could use paella rice or even sushi rice if that is what you have on hand in your pantry.
Storage, Leftovers and Freezing
This recipe is best eaten fairly quickly after it is done.  Don't worry, this won't be too hard as it is delicious and everyone won't want to wait to try it! But, that doesn't mean you can keep leftovers for later. It just won't ever have as much of that creamy texture as it was when it was fresh.
Just keep leftovers in an airtight container in your refrigerator. You can either reheat on the stovetop on a low heat or in the microwave. If the risotto is a little dry, you can mix in some liquid. Water, butter or chicken broth could work.
You can freeze Risotto. Let it fully cool and put in freezer safe containers or freezer bags. You can pack in individual portions if you'd like. It should be good in your freezer for 3-4 months. Thaw overnight in the refrigerator.

Notes, Tips and FAQs
ADD PEAS OR MUSHROOMS – If you want to make mushroom risotto it is super easy to add your sliced mushrooms in your pot when cooking the onions and garlic. If you'd like to add the peas, you can add frozen peas as well!
ADD PROTEIN – You could also add a protein like chicken, pork, or turkey.  Add during the saute phase of cooking and you are good to go.
WHAT IF MY PRESSURE COOKER DOESN'T HAVE A "RICE" FUNCTION? -To make this easy risotto recipe I used the "rice" function on my Instant Pot.  If your pressure cooker doesn't have a rice function you can you use Low Pressure for 12 minutes or High Pressure for 6 minutes. Whatever method you choose to cook your risotto under, you will be quickly releasing the steam.
We hope you enjoy this Instant Pot Risotto Recipe! Please leave us a comment to let us know how it turned out for you!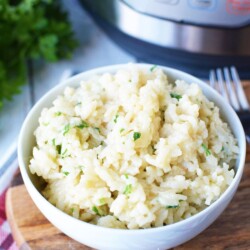 This Instant Pot Risotto is the easiest way to make a tasty risotto in minutes. Forget about stirring and ladling a cup of stock one at a time with this pressure cooker recipe. This basic recipe is creamy, delicious and full of Parmesan flavor!
Ingredients
1

tablespoon

oil

2

tablespoons

minced garlic

1/2

cup

diced onion

2

cups

arborio rice

4

cups

chicken broth

1/2

cup

shredded Parmesan cheese

1/2

cup

chopped fresh parsley

1

teaspoon

salt

1/4

teaspoon

pepper
Instructions
Add oil, onion, and garlic to the instant pot and saute until onions are tender and garlic begins to brown.

Add broth and rice and mix well.

Place lid on the Instant Pot and seal shut. Close pressure release valve. Set instant pot to rice.

Once the cooking cycle is complete, quick release steam.

Stir in Parmesan Cheese and parsley and enjoy!

Notes
I used my rice function on my IP and it's set. you cannot change it. It was set to Low Pressure for 12 minutes and it did the excellent cooking this rice. In doing additional research and consulting my manual/recipe book that came with the IP, It looks like you can cook it on Manual, High Pressure for 6 minutes and then Quick Release pressure when cooking is complete.
Nutritional information is an estimate and provided to you as a courtesy. You should calculate the nutritional information with the actual ingredients used in your recipe using your preferred nutrition calculator.
Sharing of this recipe is encouraged and appreciated. Copying of full recipe to any social media is prohibited.