This Instant Pot Elderberry Syrup is easy to make and can help protect and soothe against cold and flu symptoms. Make in your pressure cooker, you just need a few ingredients to make this natural remedy. Orange, lemon, cinnamon, ginger, vanilla and honey give this elderberry syrup a great taste. I've also included instructions for your stove top too!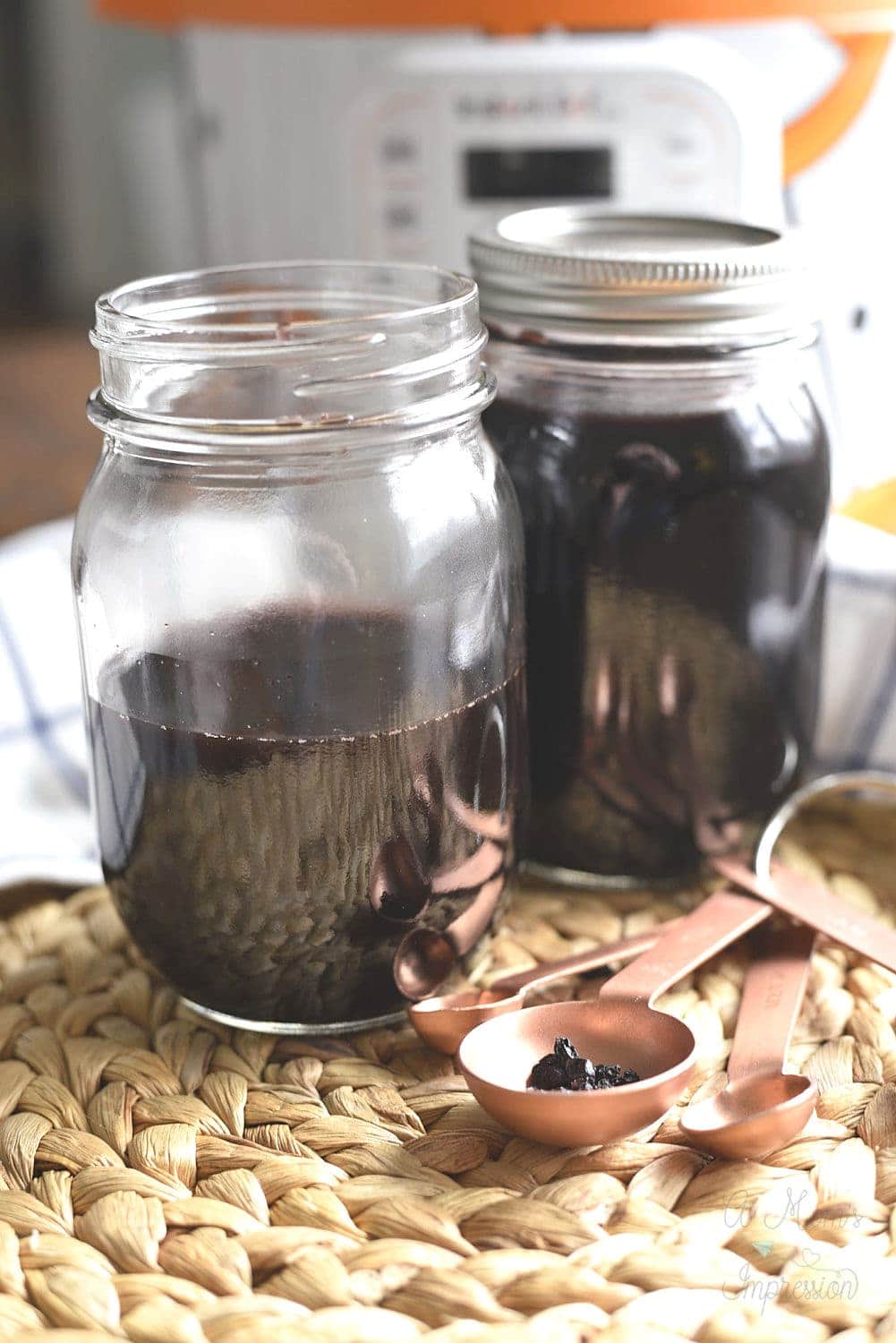 PLEASE READ BEFORE CONTINUING: I did not write this post to give any sort of medical advice. I am not a medical professional nor am I responsible for your choices. Nothing should replace any advice that your doctor has given you. I encourage you to do your own research and talk to your doctor before using this or any home remedy.
We all want to make our families more comfortable during cold and flu season. While we can't control the virus, we can try to boost our immunization and there are some things we can do to try and shorten the lifespan of a cold.  Also, honestly, as a mom I just love to feel like I'm doing something proactive to make my kids feel better!
Lately, I've discovered Elderberry Syrup. Elderberry syrup has been known to be a natural remedy full of antioxidants. Using an Instant Pot instead of boiling it on the stove shortens the cooking time of this Elderberry Syrup Recipe so it is easy to make at home. Not to mention that it will contain the elderberry smell a lot better than the stove method.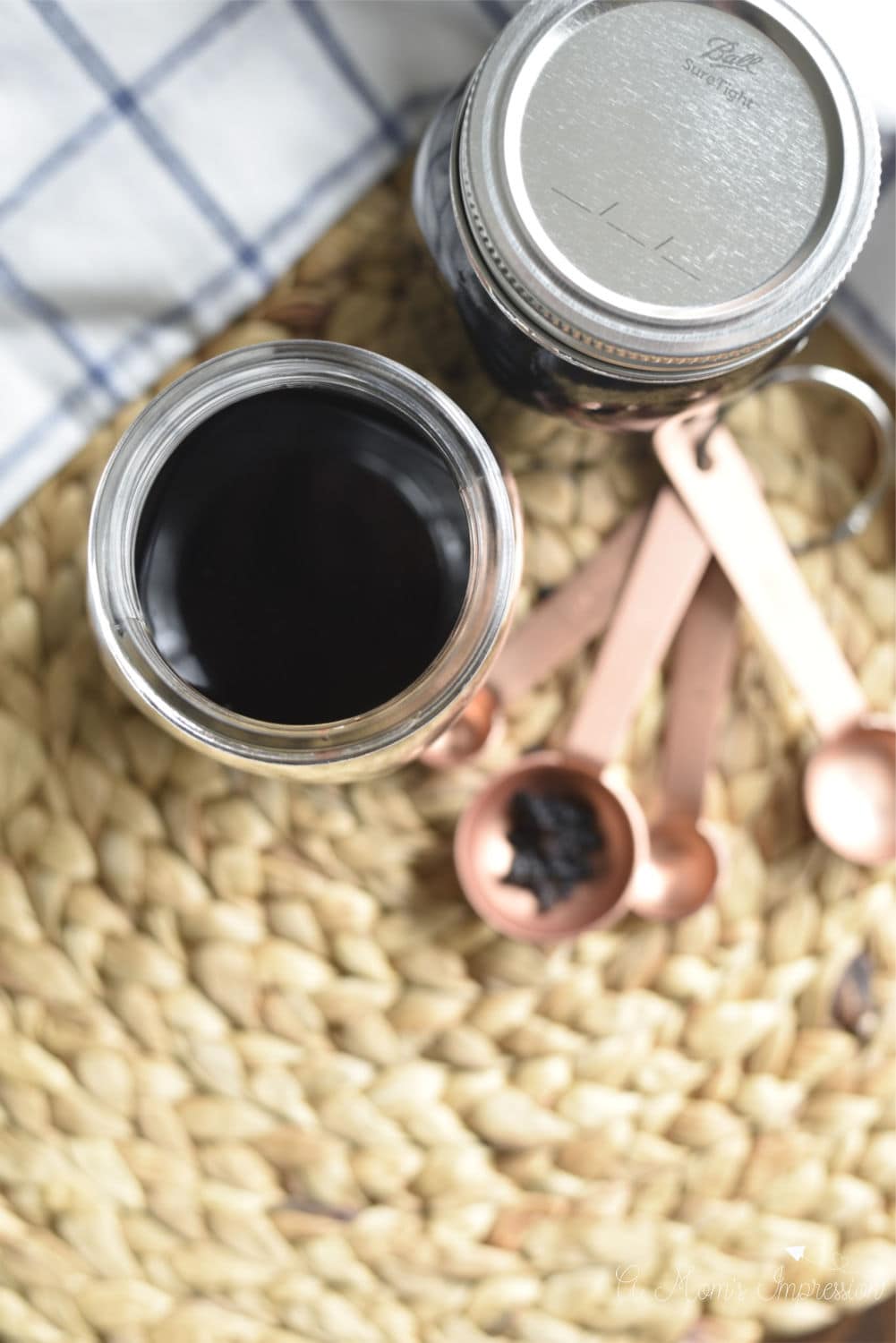 What Are Some Potential Benefits Of Elderberry Syrup?
I encourage you to do your own research when it comes to using home remedies. When I first heard about all of the benefits of Elderberry Syrup, I dug into my research! There are so many thing things that Elderberry Syrup could possibly benefit and help your body defend against the bad guys and to make you feel better if they do find you.
Potential Benefits of Elderberry Syrup:
Can Help Reduce Symptoms of The Flu- In one study, Elderberries were shown to contain antiviral and antioxidant properties. In another study, people suffering from flu-like symptoms reported that the felt better 4 days earlier than those in a control group when taking elderberries. Again, please do your research when it comes to finding studies.
Been known to have anti-inflammatory benefits-my husband has a bad back that REALLY acts up in the morning. This remedy could possibly help him out if he adds it to his breakfast routine!
Can Help Fight Against Bacterial Infections- While there isn't much we can do against common colds and other viral infections, they CAN lead to bacterial infections. Taking Elderberry syrup can potentially help reduce the risk of these infections occurring.
Digestive Benefits– Sometimes we ALL could use some help here…. Especially my kids!
Excellent Source of Vitamin A– Vitamin A may lower risk of certain cancers, promote bone health and supports a healthy immune system!
Can Help Suppress A Cough– We added honey into our recipe, which can be a natural remedy for coughs.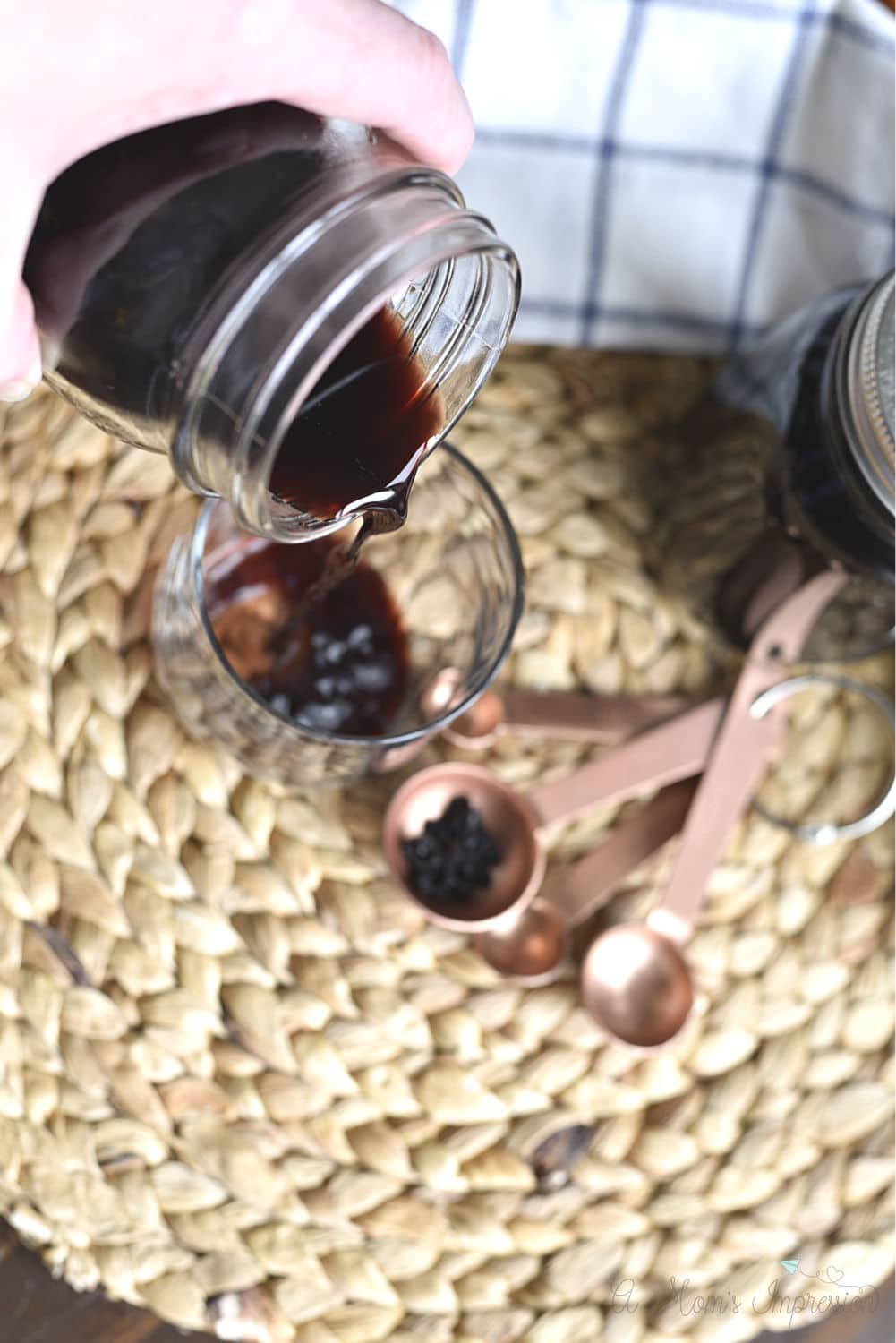 Where Can You Find Elderberries?
It is possible to find Elderberries at your local store. In fact, it looks like even Walmart has them. But, it can be tough to find them locally. I just ordered mine from Amazon, plus, they were organic! With just the click of a couple of buttons you can have your elderberries delivered to your door so you can start making your own Instant Pot Elderberry Syrup.
Can You Eat Raw Elderberries?
So, why even go through the trouble to make an Elderberry Syrup? Why not just pop a couple in your mouth or mix them into a smoothie? I'm here to tell you that this is bad idea. While cooked Elderberries can potentially be really good for you, eating them raw can be toxic. They can cause major stomach problems like cramps and diarrhea. So, please take the time to cook your Elderberries.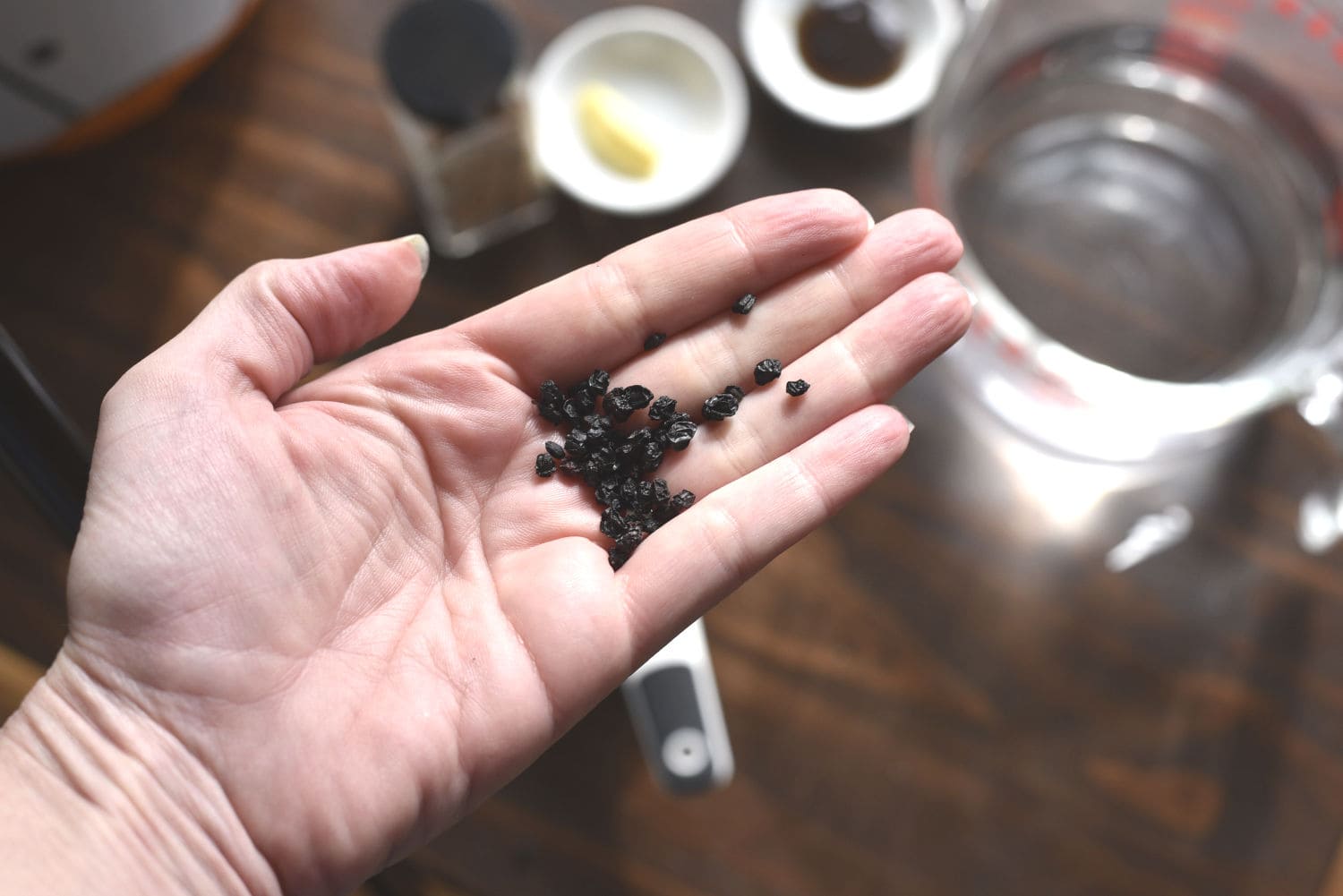 How To Make Elderberry Syrup On The Stovetop?
Don't have an Instant Pot or a Pressure Cooker? No worries. It is also easy to make Elderberry Syrup on the Stovetop. Simply bring all the ingredients except the honey to a boil. Then let simmer for about 45 minutes until the liquid has reduced. Strain the liquid through a fine mesh strainer or a cheesecloth. You can use a spatula or a large spoon to press the berries down so you can get every last drop of juice. Then let the syrup cool down to room temperature and add your honey!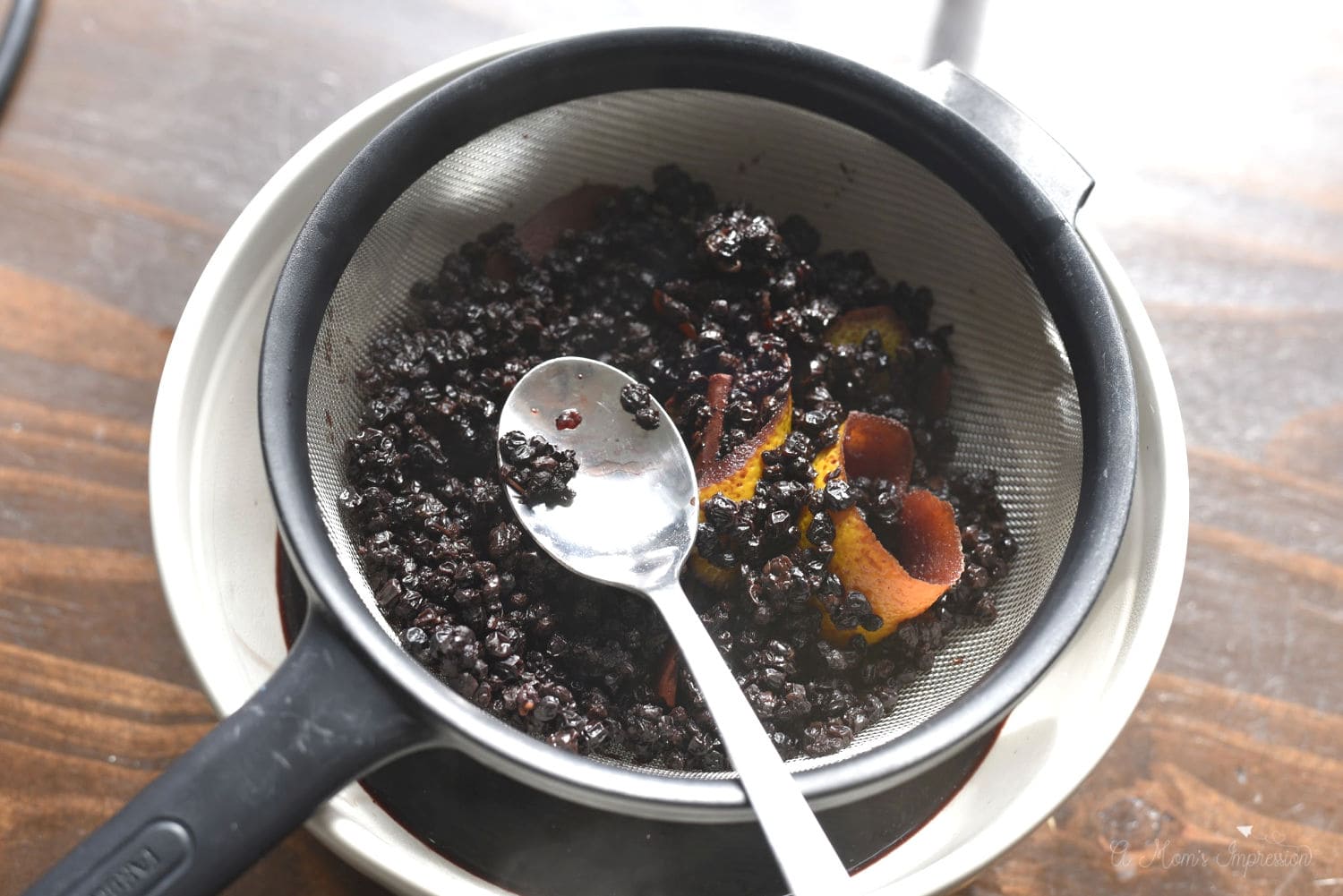 How Long Does Elderberry Syrup Last?
It should last in your fridge for about a month. If you don't think you'll need to use it all in that timeline, you can freeze it. Just thaw it out overnight in your fridge if you think you'll need it again!
Uses for Elderberry Syrup
You can use this elderberry syrup for many different things including:
Over Ice Cream
To make Homemade Gummies
To make Salad Dressing
Add to Your Morning Yogurt
Add to Lemonade for a Fun Twist
Freeze into Ice Cubes for Smoothies or for a Summer Treat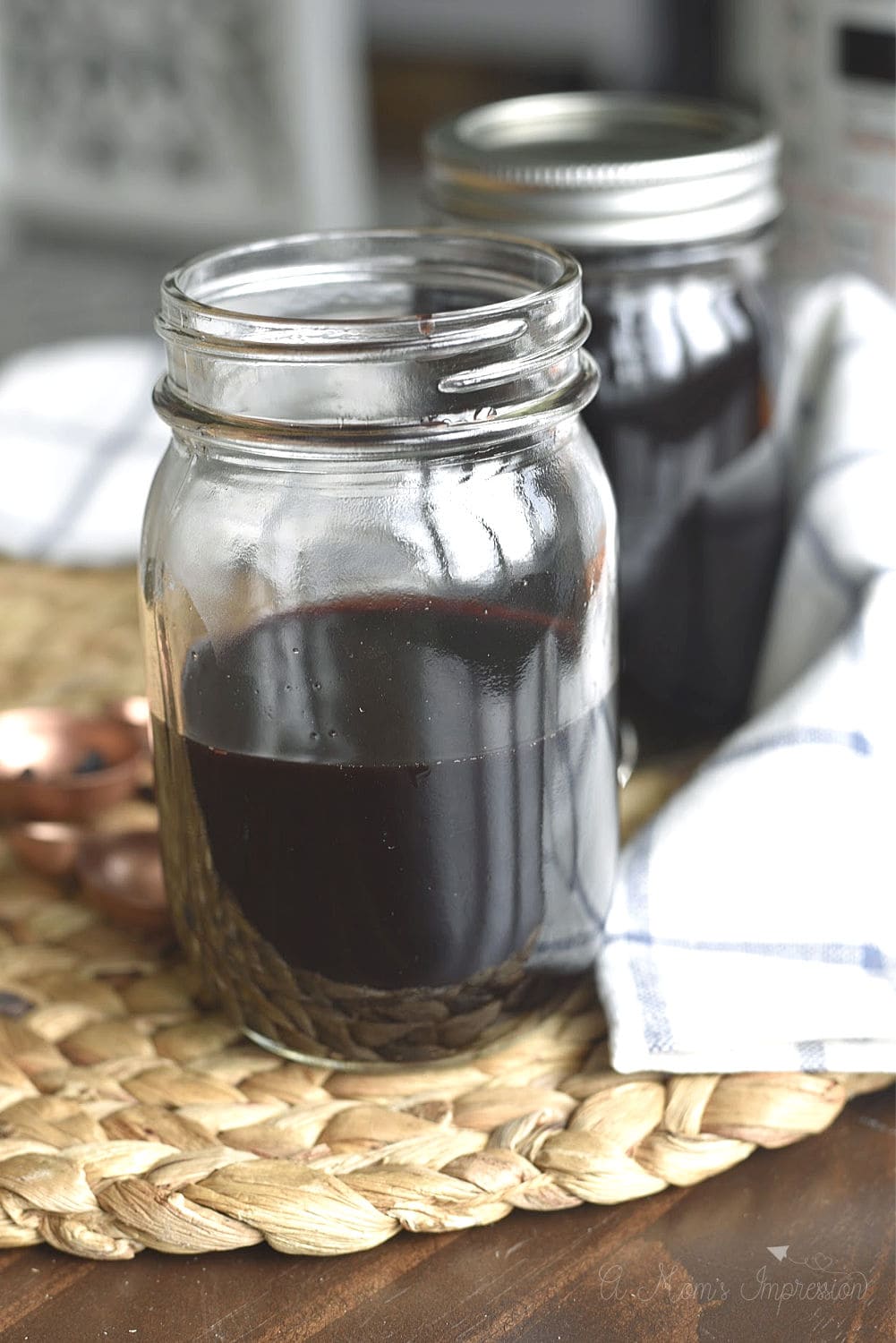 How to Make Elderberry Syrup Video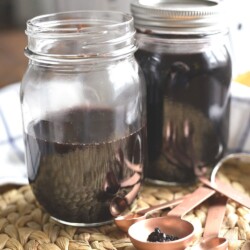 Instant Pot Elderberry Syrup
Ingredients
1

cup

dried elderberries

1

cinnamon stick

1

inch

piece of raw ginger

peeled

1

teaspoon

vanilla paste

Can Use Vanilla Extract

1

orange

1

lemon

3 1/2

Cups

water

1/2

cup

raw honey
Instructions
Add elderberries, cinnamon stick, ginger, and vanilla into your pressure cooker pot. Peel your orange and lemon, trying not to get any of the white pith. Add peel to the pot and juice the orange and lemon into the pot.

Add water and seal lid. Ensure that the pressure valve is set to sealing.

Set your pot to manual, high pressure for 10 minutes.

When the pressure cooker is finished, quick release the pressure.

Using a mesh strainer, pour the syrup into the strainer. Press on the mixture with the back of a spoon to get all the liquid out. Dispose of the berry mixture left in the strainer and allow the syrup to cool.

When the syrup is cool, stir in the honey until it is dissolved. Pour mixture into jars and store in the refrigerator for up to one month.
Notes
* I did not write this post to give any sort of medical advice. I am not a medical professional nor am I responsible for your choices. Nothing should replace any advice that your doctor has given you. I encourage you to do your own research and talk to your doctor before using this or any home remedy.
Nutritional information is an estimate and provided to you as a courtesy. You should calculate the nutritional information with the actual ingredients used in your recipe using your preferred nutrition calculator.
Sharing of this recipe is encouraged and appreciated. Copying of full recipe to any social media is prohibited.