Hot Chocolate Pancakes are an easy pancake recipe that is perfect for kids! Loaded with chocolate and topped with whipped cream, marshmallows, and chocolate sprinkles, these fluffy pancakes will put a smile on everyone's face!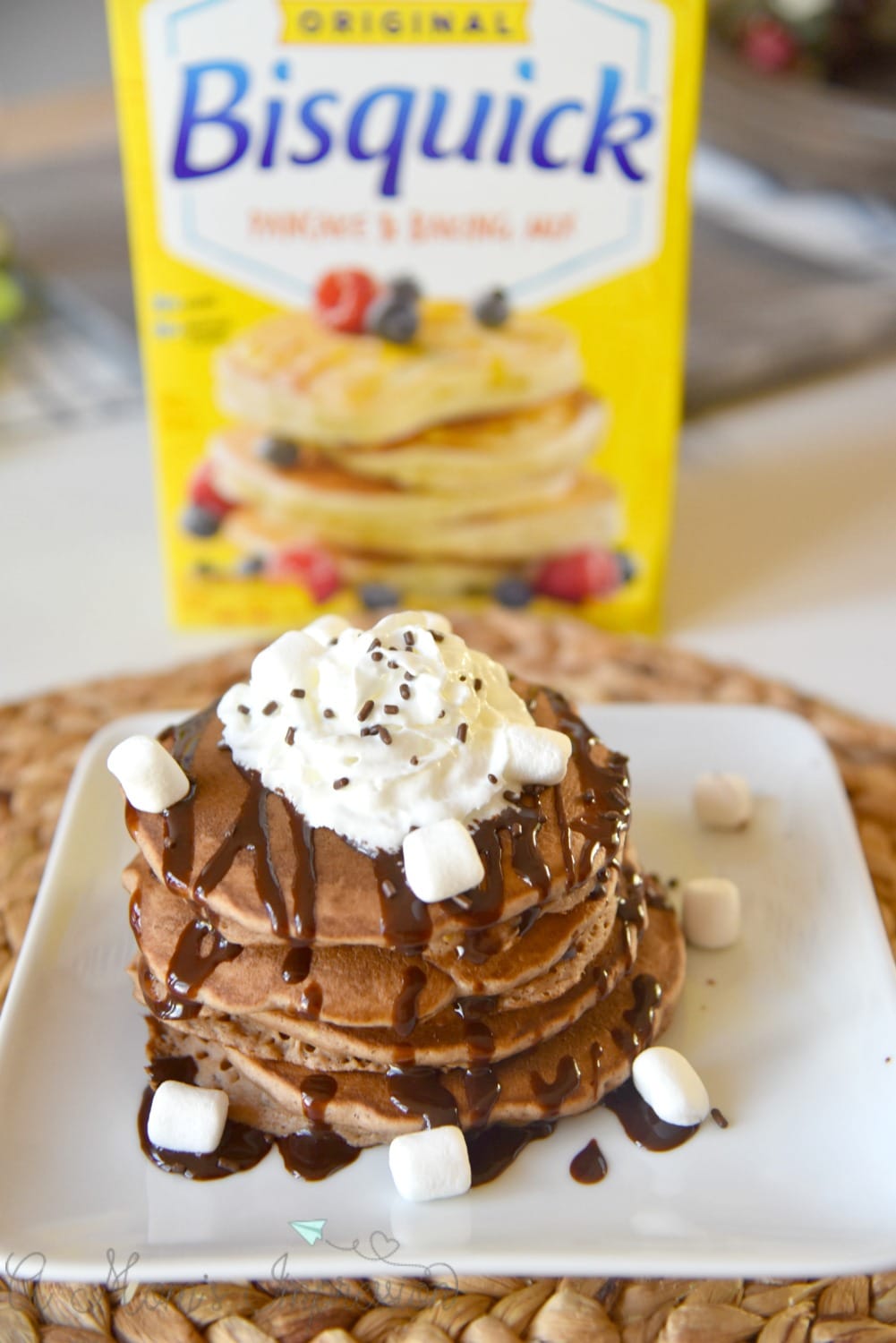 This Hot Chocolate Pancakes recipe is a sponsored post on the behalf of Bisquick and Meijer. All opinions are mine.
LOOKING FOR MORE BISQUICK BREAKFAST RECIPES? CHECK OUT MY BREAKFAST PIZZAS WITH SAUSAGE AND EGG OR MY EASY BISQUICK BREAKFAST CASSEROLE!
When the weather is cold, I love to stay in my pajamas on the weekend and snuggle up with my kids. The weekends are wonderful for making memories with your family. I remember waking up with my mom, watching Saturday morning cartoons and making breakfast for the family. These memories are important to me and I want to create some new ones with my own kids.  Things like making these fun Hot Chocolate Pancakes on a cold weekend morning is something I know we will both remember.

How to Make Chocolate Pancakes with Pancake Mix
Making chocolate pancakes with pancake mix is easy if you have the right tools. Anytime I want to make creative pancake options I pull out my Original Bisquick mix.  Bisquick is a brand that I have been using since I was little and in my opinion, it makes the best pancakes. To make chocolate pancakes you just add in unsweetened baking cocoa and a little extra sugar and replace the milk with chocolate milk in your recipe! The result is a lovely chocolate pancake recipe that you can do some fun things with!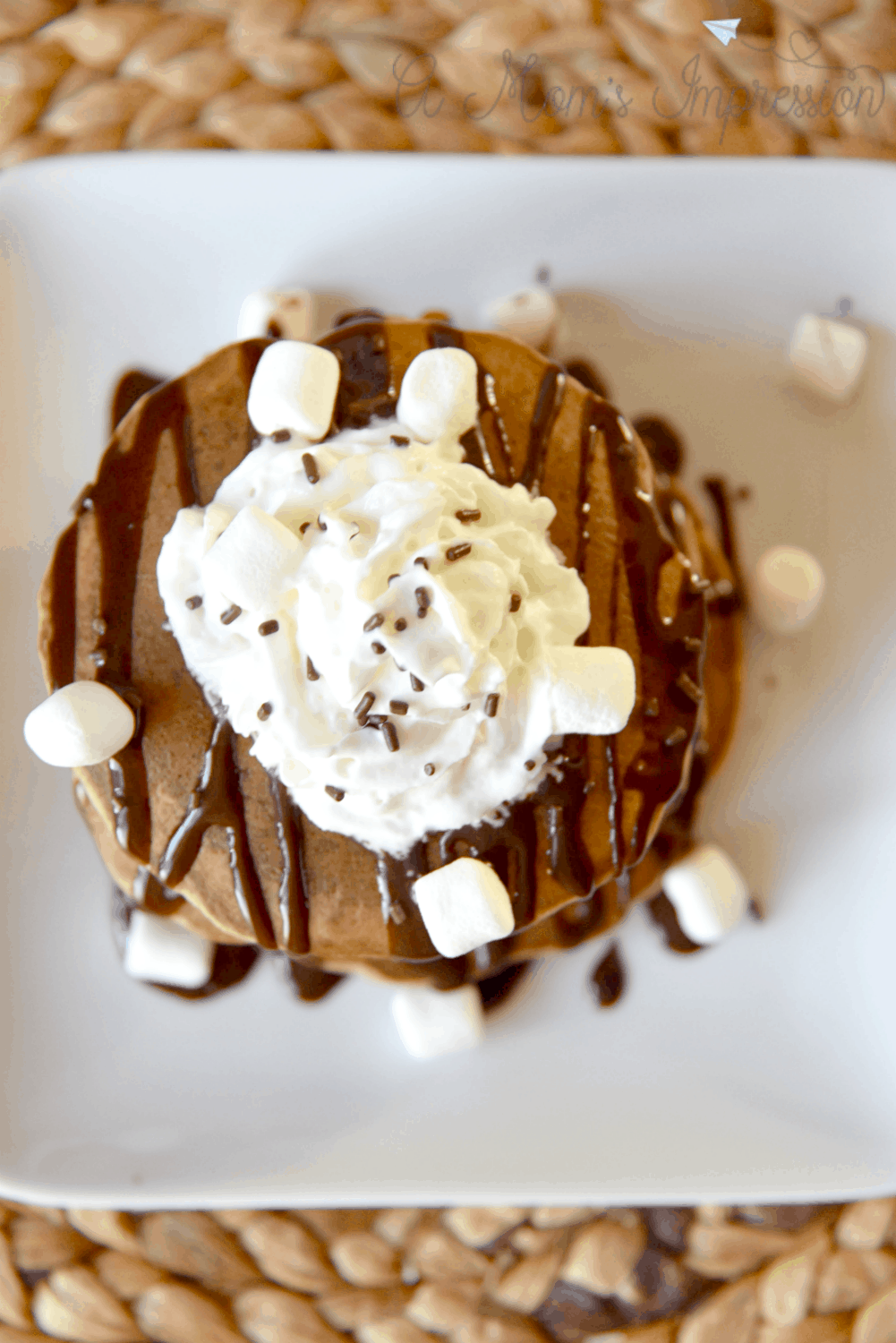 It is time to get creative.  I am turning some ordinary chocolate pancakes into Hot Chocolate Pancakes! Check out this fun video:
Hot Chocolate Pancakes
Recipe courtesy of Bisquick.
Pancake Ingredients
2 cups Original Bisquick™ mix
1/4 cup sugar
2 tablespoons unsweetened baking cocoa
1 cup chocolate milk
1 teaspoon vanilla (optional)
2 eggs
Toppings (Optional)
Chocolate syrup
Whipped cream
Miniature marshmallows
Chocolate candy sprinkles
Directions
In a large bowl, stir all pancake ingredients together until well combined. Spray a large skillet with cooking spray and preheat over medium-high heat. You could also use a griddle like you would with your normal pancakes.
Measure out  1/4 cupful of batter and spread into the middle of your skillet. If you are a good pancake flipper you could probably get more than one in a pan at a time. Cook 2 to 3 minutes or until bubbly on top and dry around edges. Carefully flip your pancake and cook the other side until light golden brown around edges.
Drizzle pancakes with your choice of toppings. I used chocolate syrup, whipped cream mini marshmallows, and some festive chocolate candy sprinkles.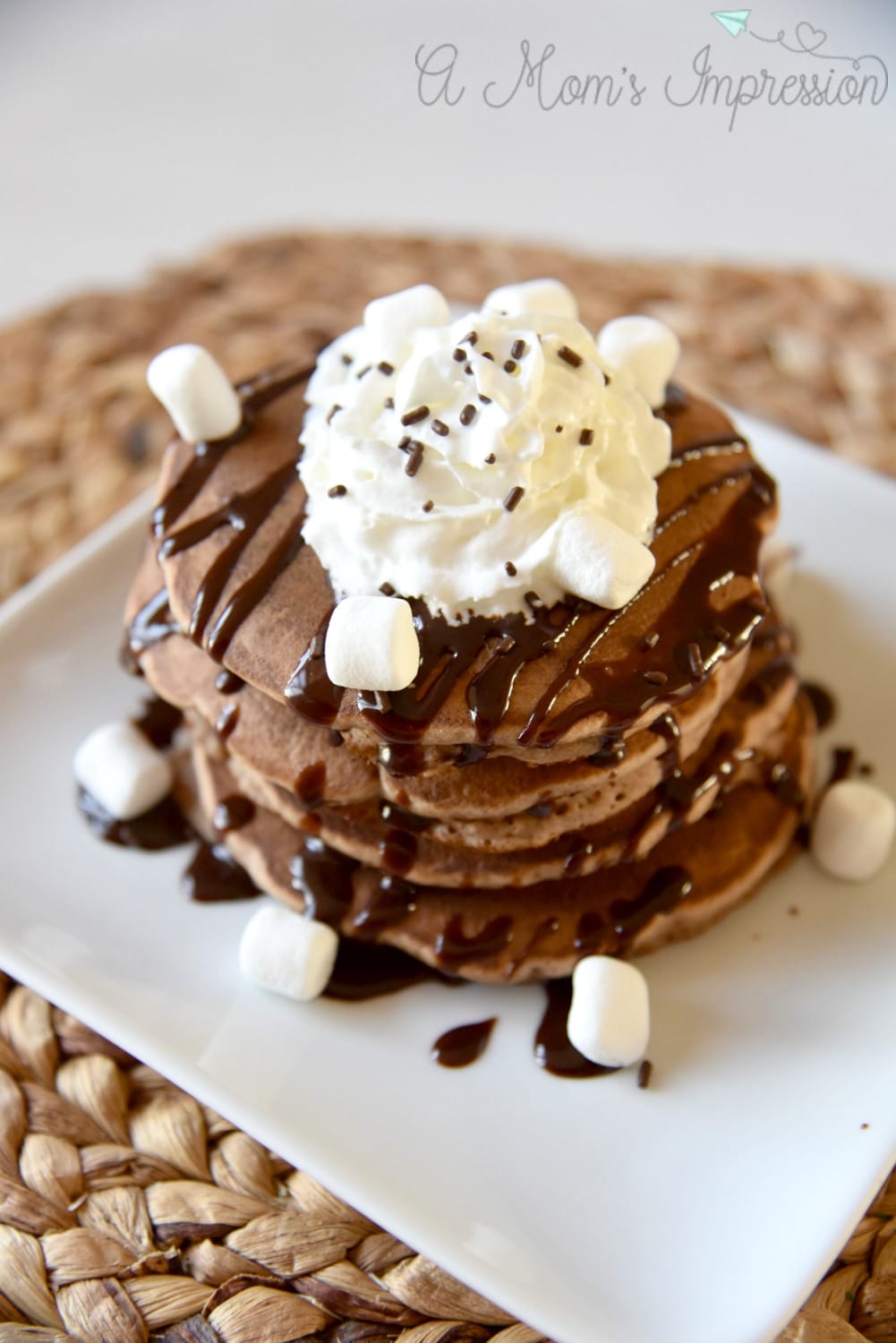 Bisquick "Pancake Star"
Right now Meijer and Bisquick want to help families make memories with their own pancake creations. Visit the Pancake Star site to get more amazing recipes and to find some fun activities.  You can even be rewarded with Pancake Star Rewards.
What are some of your favorite pancake recipes?
Pin for Later