This is a sponsored conversation written by me on behalf of Tyson Foods, Inc. The opinions and text are all mine.
Add some fun and flair to Mother's Day by delivering a pizza to your mom in bed!  Breakfast pizza, that is!  Made with eggs, cheese, bacon, and Jimmy Dean® Premium Pork Sausage Rolls, these mini breakfast pizzas are perfect for the kids to help make and it really makes a Mother's Day to remember!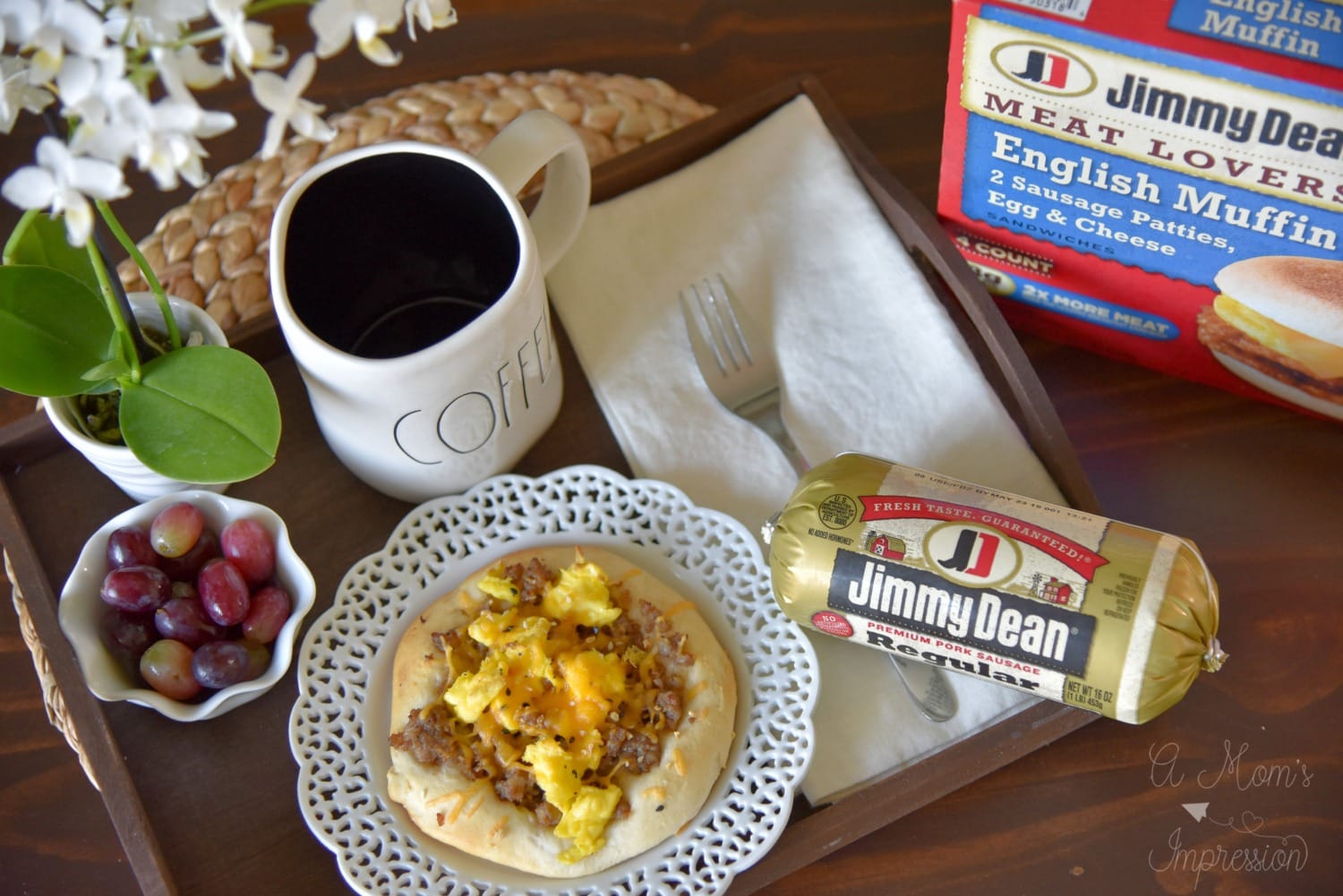 LOOKING FOR MORE BREAKFAST RECIPES? CHECK OUT THESE SUPER YUMMY HOT CHOCOLATE PANCAKES OR MY EASY BISQUICK BREAKFAST CASSEROLE!
If you are looking for a new, fun and exciting way to celebrate your mom this Mother's Day, I've come up with a great idea. We've all heard of breakfast in bed and we've all heard of having a pizza delivered. What about delivering mom a "breakfast pizza in bed"? The greatest part about all of this is that you can get your kids involved in it and make it super fun. You can pair these mini breakfast pizzas with a fresh cup of coffee, some juice, or even a mimosa!

Mini Breakfast Pizza
It will be a ton of fun, you and the kids can wake up early on Mother's Day, sneak downstairs and start making your very own breakfast pizza. If you've never had a breakfast pizza before, they are delicious. We like to make our "mini" pizzas using refrigerated biscuit dough for the crust, it makes it really easy for the kids to help. Another option is to use frozen pizza crust, naan bread, pita bread or anything! The same goes for the toppings!
We keep our pizza toppings pretty simple for the picky taste buds that our kids have; just cheese, eggs, and Jimmy Dean Premium Pork Sausage Rolls.  Our secret ingredient is sprinkling a little everything bagel seasoning on top. It gives it some nice flavor and that breakfast taste I love. I encourage you to try out more adventurous toppings such as bacon, arugula, salsa, avocado or even sausage gravy!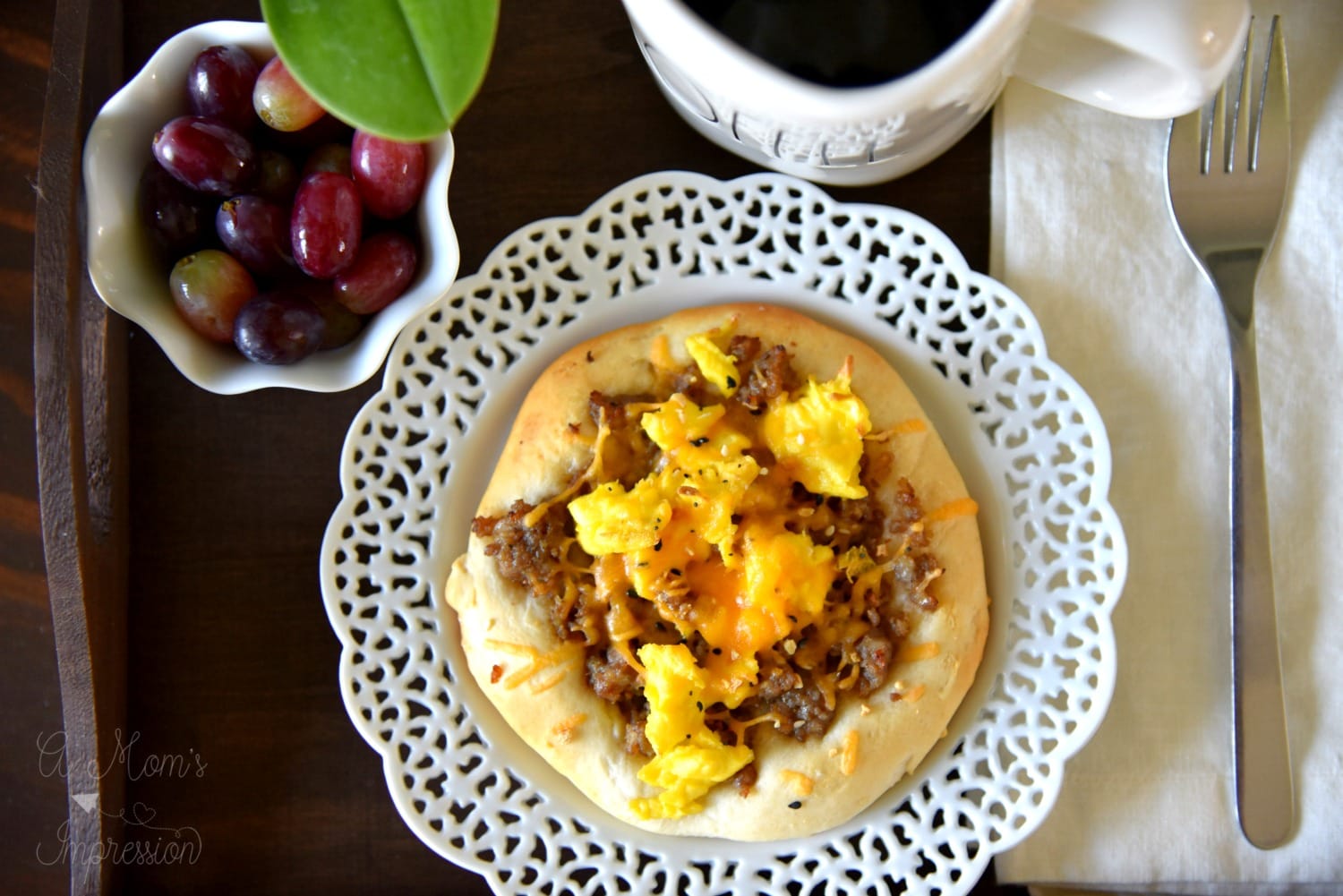 The recipe to make your breakfast pizza is pretty simple. Spread out the dough into several small circles. Then, in one skillet scramble your eggs and in another skilled cook your Jimmy Dean Premium Pork Sausage. I make sure the sausage is cooked nicely and crumbled perfectly for our pizzas.
When everything is cooked, just top your pizza dough with the eggs and sausage, cover with cheddar cheese on top and sprinkle with your seasoning. Bake at 450 degrees Fahrenheit for about 10 minutes or until the cheese is melted and enjoy!
Jimmy Dean Breakfast Options
Savory Jimmy Dean Premium Pork Sausage is a great option for our mini breakfast pizza because it is full of protein and is made from real ingredients. It is easy to find at our local Meijer store, right there in the refrigerated section! Jimmy Dean has you covered for many of your other cooking needs, especially breakfast.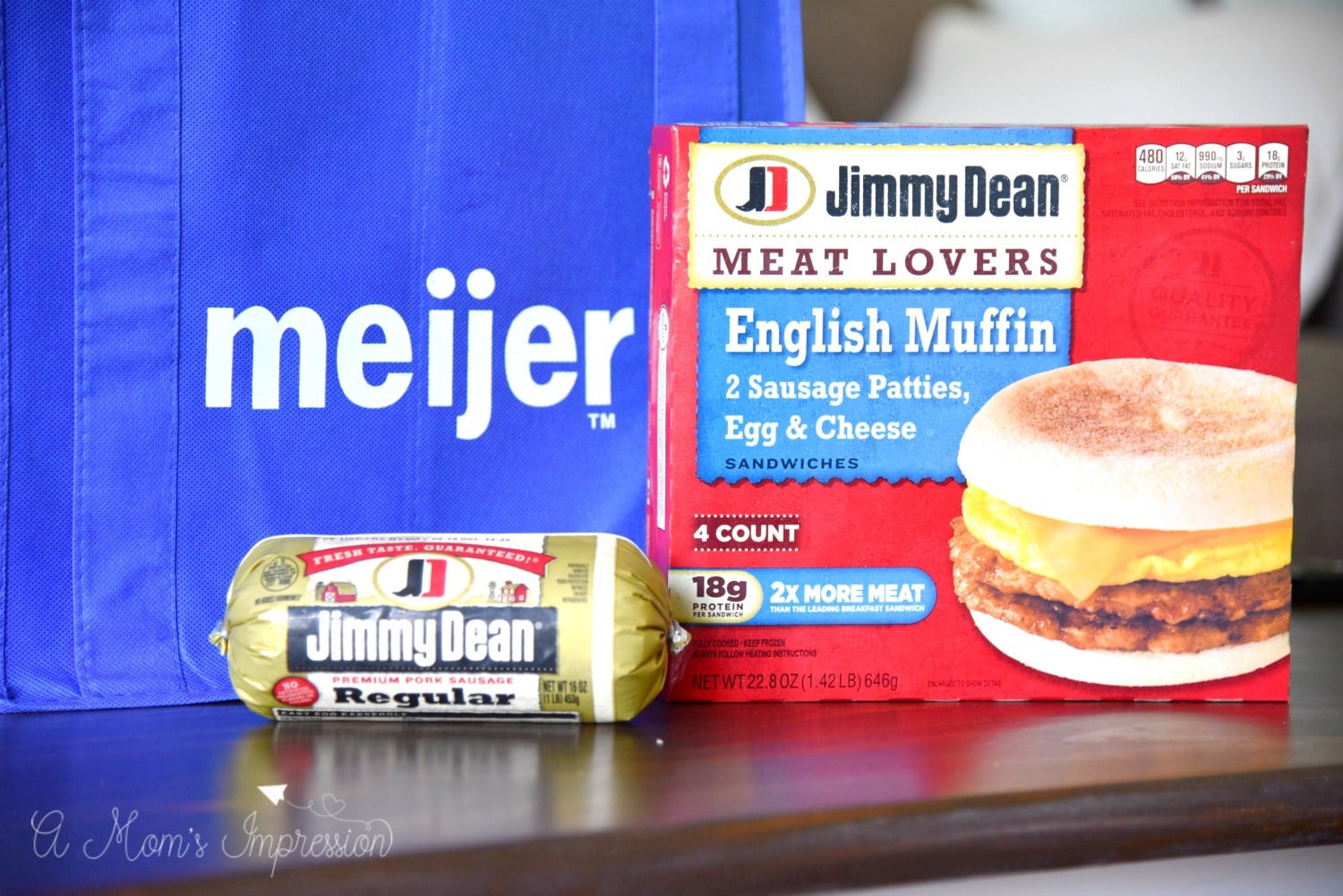 While I was at Meijer, I also went to the freezer section and found a 4-count sausage, egg, and cheese biscuit. These would be perfect if you needed a flavorful, savory breakfast with a good source of protein on-the-go! They are also delicious so if you don't have a ton of time to make your mom a breakfast from scratch, these are a great time-saving option for a breakfast in bed!
mPerks Digital Coupon
Now is a great time to stock up on Jimmy Dean Products at Meijer because you can save $1 off of any two Jimmy Dean products with the mPerks Digital coupon.  Please note that you must clip to save and there is a limit of one per customer.  This offer is valid from 4/28/19-6/2/19.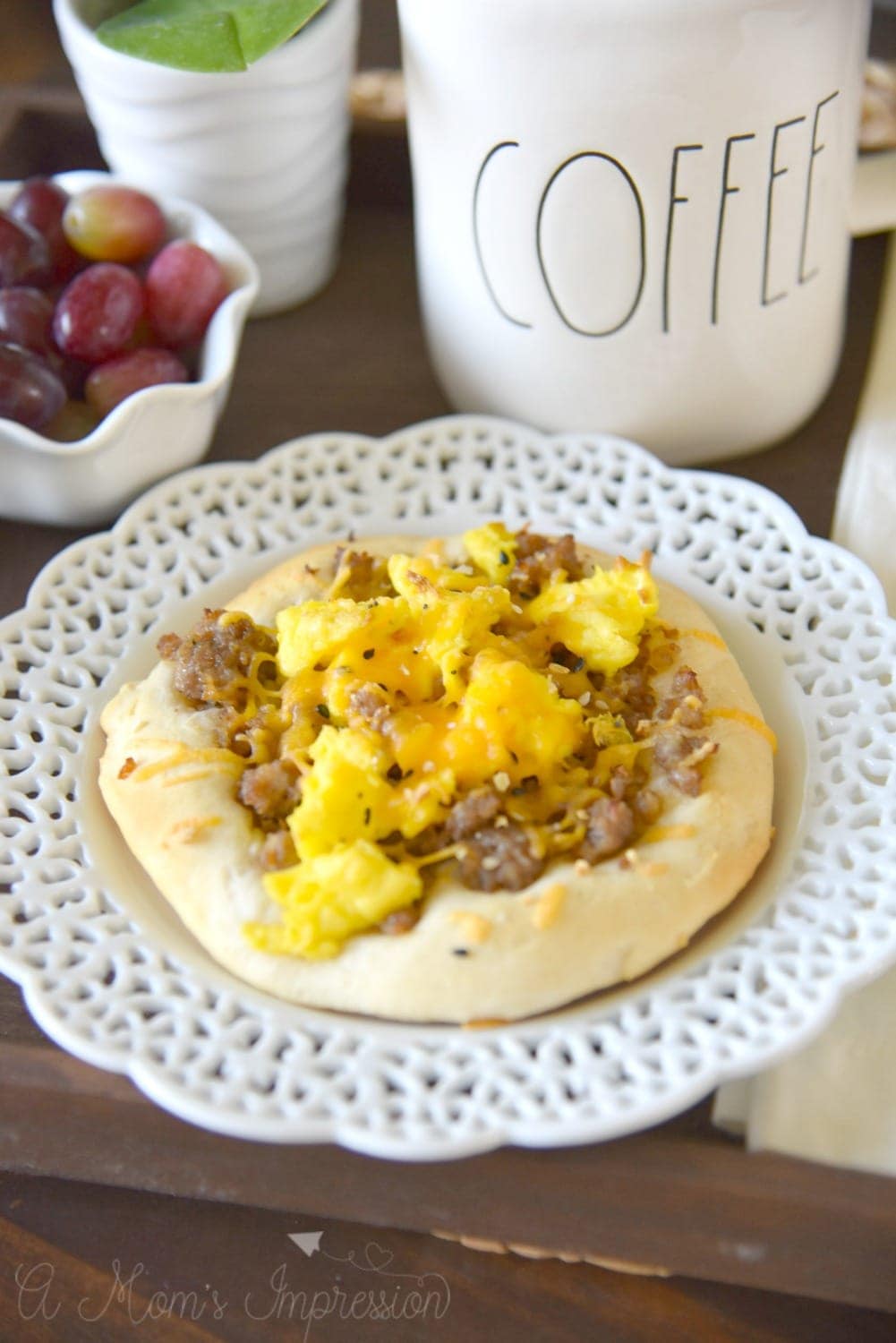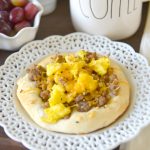 Breakfast Mini-Pizzas
Add some fun and flair to Mother's Day by delivering a pizza to your mom in bed! Breakfast pizza, that is! Made with eggs, cheese, bacon and Jimmy Dean Premium Pork Sausage Rolls, these mini pizzas are perfect for the kids to help make a Mother's Day to remember!
Ingredients
8

ounces

Jimmy Dean Premium Pork Sausage

6

eggs, scrambled

1

cup

Cheddar Cheese

8

Large Refrigerated Biscuits

1

tsp

Everything Bagel Seasoning
Instructions
Preheat Oven to 450 Degrees

In two medium skillets Scramble eggs and cook sausage over medium heat.

Drain grease from sausage and set aside on paper towels.

Spread biscuit dough out into small circles and place on a baking sheet lined with parchment paper or a silicone baking mat.


Top dough with eggs, sausage and cheese. Sprinkle Everything Bagel seasoning on top of each pizza.


Bake for 10- 12 minutes, or until cheese is fully melted and dough is golden brown.

It would be fun to go out to mom's room and knock on the door as a pizza delivery person would. When she says come in, the kids can help bring the food in for her very own pizza delivery in bed! We like these mini breakfast pizzas because everyone gets their own. Also, making mini-pizzas is great for families because each person can add the ingredients they like and everyone is happy.
Make this Mother's Day one to remember with a mini-pizza delivery in bed!