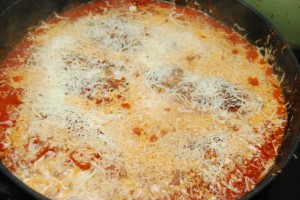 Welcome to my first Foodie Friday here on AMI.  Each Friday I will showcase a food related post.  I am trying to become a better cook and baker this year so it is my hope that these Foodie Friday's will help me achieve my goal. I have never made a Chicken Parmigiana dish before.  This dish is so easy to prepare, and with the shortcuts I took I made it in under 30 minutes.
Here we go!
Ingredients:
4 tablespoons of olive oil (you could substitute vegetable oil)
1 small onion (or a half of a large onion)
2 cloves garlic, chopped
1 can crushed tomatoes
2 tsp sugar
a pinch of salt
some cracked ground pepper
4-6 boneless thin sliced chicken breasts (you can flatten regular cut chicken breasts to a 1/4 inch thickness, but buying them thin saves a lot of time)
1/3 cup Italian style bread crumbs
1/3 cup grated Parmesan cheese
1 egg, beaten
1/2 cup shredded mozzarella cheese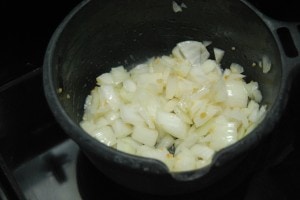 Heat 2 tablespoons of oil in a med saucepan over medium heat.  Cook garlic and onions in oil for about 2 minutes, stirring occasionally.  Stir in tomatoes, sugar, salt and pepper.  Bring to a boil.  Reduce heat, cover and simmer, stirring occasionally.
In a shallow dish mix the bread crumbs and the Parmesan cheese.  In a second shallow dish place the beaten egg. Dip chicken into egg, then coat with bread crumb mixture.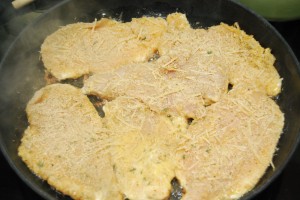 In a large skillet, heat 2 tablespoons oil over medium heat.  Cook chicken for about 5- 7 minutes, turn over and cook for an additional 5-7 minutes (center of chicken needs to be at 170 degrees).  Pour tomato sauce around chicken in skillet. Sprinkle the mozzarella cheese over the chicken.  Cover and heat until the cheese is melted.  Sprinkle with Parmesan cheese when serving.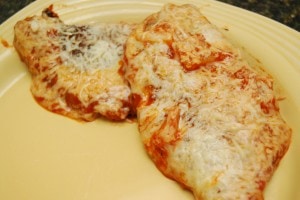 Serve with your favorite pasta or rice for a yummy meal.  This was unbelievably easy, and yet delicious.  My husband was very excited that I have started to cook different foods.  I love this meal because I could easily prepare it after work during the week while TJ played with his toys.  We all ate at the table as a family together, and I felt accomplished. Not bad after a 10 hour work day!
Recipe was adapted from Progresso.