This Instant Pot Queso only has a handful of ingredients and takes just 60 seconds of cooking time! Use it as an appetizer, game day snack or during your Cinco De Mayo celebration.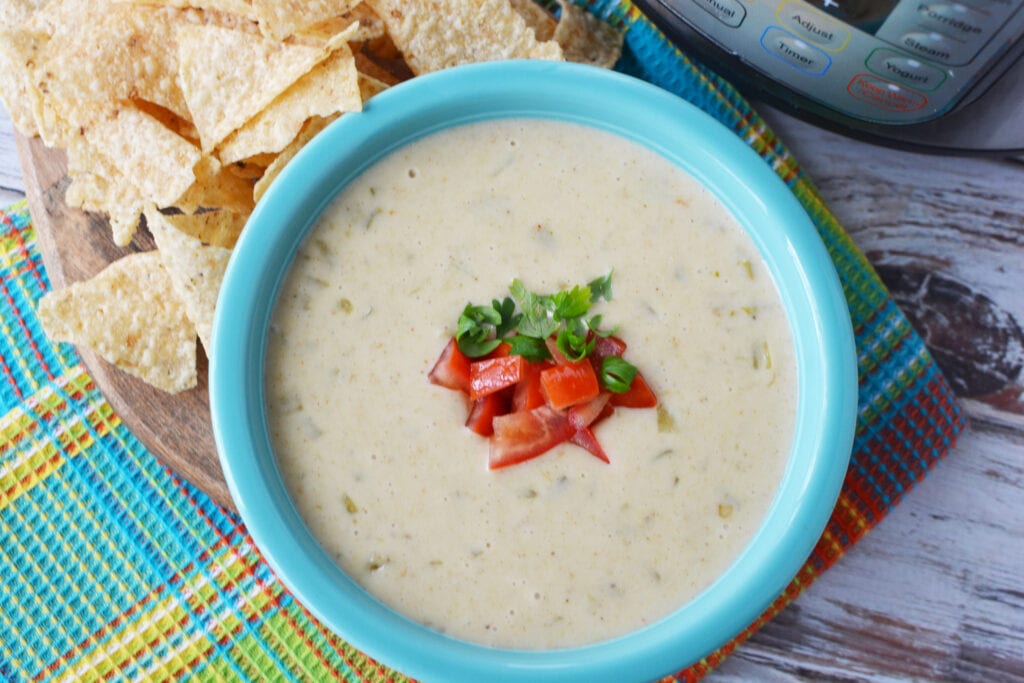 Looking For A Good Dip?
When I head to a party, one of the first things my husband always looks for is whether or not they have any sort of dip. He's not picky, he likes hot and cold dips. He's fine with dipping vegetables, breadsticks or tortilla chips in the dip. Just any sort of dip, and he's happy.
So, we've made some yummy dips on this website. From cold dips like Caramelized Onion Dip and Spinach Dip, to hot dips like this Buffalo Dip.
While I've had my Pressure Cooker for a couple of years now, I was surprised that I really hadn't made that many dips in it! Recently, I shared a recipe for Instant Pot Spinach Dip that was super yummy! That got me thinking, what other dips can be made in a Pressure Cooker. Well, how about the king of all dips: Queso!
Instant Pot Queso
Looking for some good cheese dip recipes? We've got you covered!
First of all. What is Queso? Queso simply means "cheese" in Spanish. You'll see people ordering Chips and Queso a lot at Mexican Restaurants. We all LOVE to dip our chips in Queso, but there are actually a lot more uses for it. Read below for some Queso Inspiration!
This Instant Pot Queso may be one of the easiest, straightforward recipes I've ever made in my Pressure Cooker. You literally just dump a couple of ingredients in your Instant Pot, let it cook for one minutes and then stir in some butter.
Ready to get started? Here is what you'll need:
MILK – We used 2% milk in our recipe. Some people use heavy cream, which you can substitute for. We use 1/2 cup, which gives it a nice consistency. Some people like their Queso a little thinner and easier to pour over things. Some like it thicker. You can adjust the dairy you put in this to change how thick it will be.
WHITE AMERICAN CHEESE – This is a great cheese to use for this dip. But you can substitute for cheddar, monterey jack or anything else that sounds yummy. We advise shredding your own cheese and not buying pre-shredded cheese. That cheese just doesn't melt as well as blocks of cheese.
DICED GREEN CHILIS – Adds some heat. You can also put Rotel Tomatoes in this recipe, which has the green chilis in it.
SPICES – We use a dash of Cumin, Garlic, Salt, Cayenne Pepper and Onion powder.
BUTTER – We put this in at the end to give it some more flavor and texture.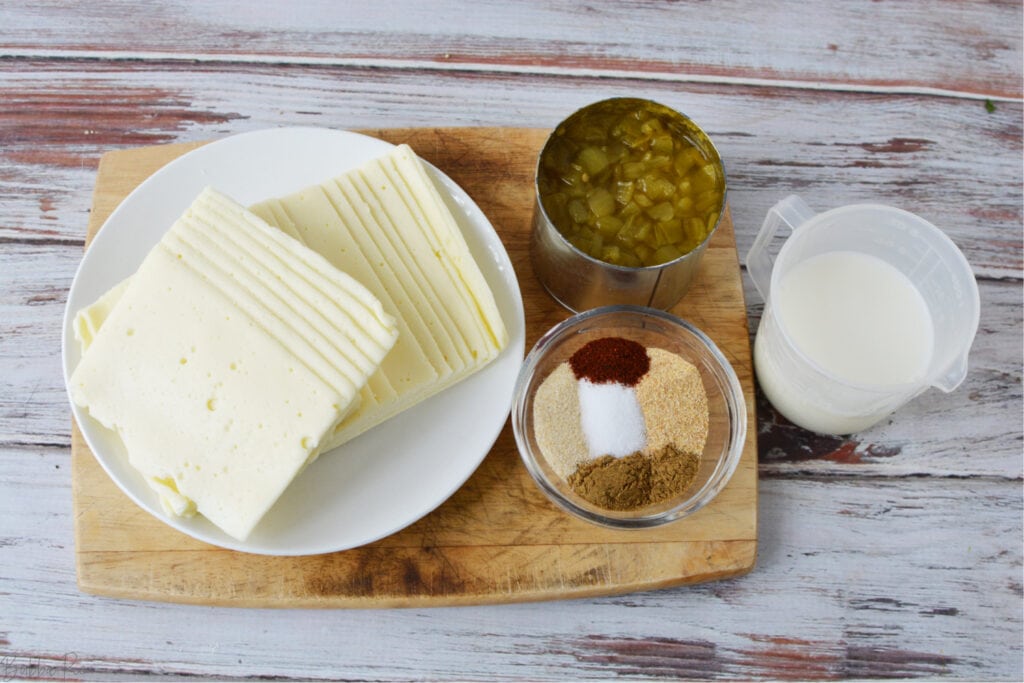 What To Use Instant Pot Queso For?
Yes, this is an awesome dip for your tortilla chips. But there is so much more you can do with it! Here are some ideas:
DIP – What else can you dip into this Queso Dip Recipe? How about Fritos, Carrots, Celery, Bell Peppers, Breadsticks or Baguettes? Or any other veggies that sound good!
POUR IT OVER AN ENTREE – But you can also pour it on top of other dishes to add some South-of-the-Border flair. I would be delicious poured over a boneless skinless chicken breast or as a topping of a baked potato!
NACHOS – Obviously, this would be an awesome addition to any nachos!
ADD SOME FLAIR TO MEXICAN DISHES  – Pour it into or over some tacos, burritos or enchiladas.
OTHER FUN IDEAS – Add a spoonful of it to your Macaroni and Cheese. And then thank me later! Or add some to your chili. It would also be delicious poured on top of your hamburger on on a pulled pork sandwich. You could also take your BBQ pulled pork and just add it to the Queso. The possibilities are endless!
How To Serve Queso?
If your Pressure Cooker has a "keep warm" function, it would be best to keep it in that to serve in. Or you could transfer it to a Crockpot or Slow Cooker and set it on low heat or "keep warm" and serve it in there. Once you remove it from all heat, the cheese will immediately start to harden.
So, you can make this ahead of time, just make sure you have a way to keep it warm until you serve it.
Can You Make Queso In A Slow Cooker?
Yep! This recipe works just great in a Slow Cooker. Simply add all the ingredients in and set it on low. Let it cook for 2-4 hours. Serve right out of the Crockpot so that it stays warm.
Stove Top Queso Recipe
You can also easily make this recipe on your stove top. Just heat all the ingredients in a large pot over low heat until the cheese is melted and everything is heated through.
Storage and Freezing
Leftover Queso is easily stored in an Airtight Container in your refrigerator. It reheats just fine in your microwave. Just reheat it at 15 second intervals and keep an eye on it. You can also reheat it on your stovetop over a low heat. Some people like to put a splash of milk in before reheating to restore some of the original creaminess.
With all the diary in this recipe, I don't think that it would freeze very well.
Notes, Tips and Variations
ADD MEAT – Our version doesn't have any meat, but you could certainly add some. Ground beef, ground chicken, ground turkey, sausage or chorizo would work great. You'll just need to brown the meat before adding the rest of the ingredients and pressure cooking. You can use the Saute function to do this.
OTHER ADDITIONS – To make this dip go a little further, you can add a can of black beans into it. Just make sure to drain it first. To add some more heat, substitute or add some Jalapenos with the Green Chilis.
I hope you enjoy this recipe for Instant Pot Queso Dip. I'd love to hear how it turns out in the comments section.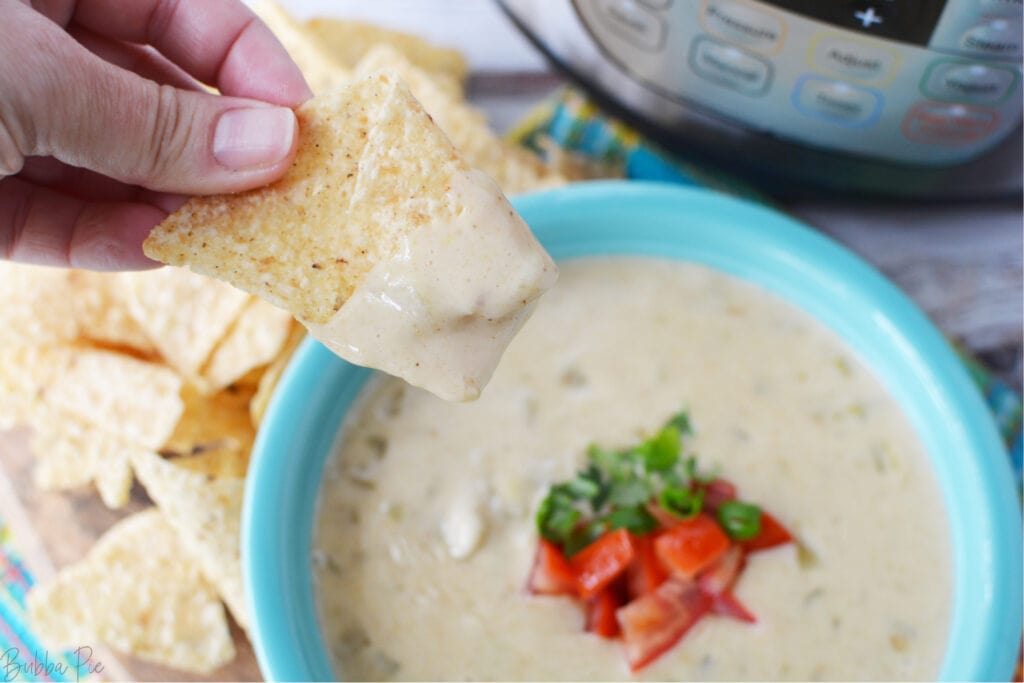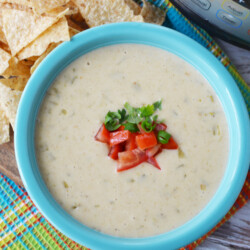 This Instant Pot Queso only has a handful of ingredients and takes just 60 seconds of cooking time! Use it as an appetizer or pour it as a topping to give your dishes a Tex-Mex kick!
Ingredients
1/2

cup

milk

1

lb

white american cheese

1

can

7 oz, diced green chilies

2

teaspoons

cumin

2

teaspoons

garlic powder

2

teaspoons

onion powder

1

teaspoon

salt

1/2 to 1

teaspoon

cayenne pepper

optional for heat

1

tablespoon

butter

tortilla chips for serving
Instructions
Add milk, cheese, green chilies and spices to instant pot. place the cover on the instant pot and seal shut.

Close the pressure release valve. Set the instant pot to manual, high pressure for 1 minute.

When cooking is complete, quick release steam.

Open the instant pot and stir the cheese mixture.

Add butter and stir until melted.
Nutritional information is an estimate and provided to you as a courtesy. You should calculate the nutritional information with the actual ingredients used in your recipe using your preferred nutrition calculator.
Sharing of this recipe is encouraged and appreciated. Copying of full recipe to any social media is prohibited.