This is a sponsored post written by me on behalf of Cricut. All opinions are 100% mine.
Pet fashion is all the rage right now. This easy custom dog shirt and jacket tutorial can be made with just a few items using your Cricut cutting machine.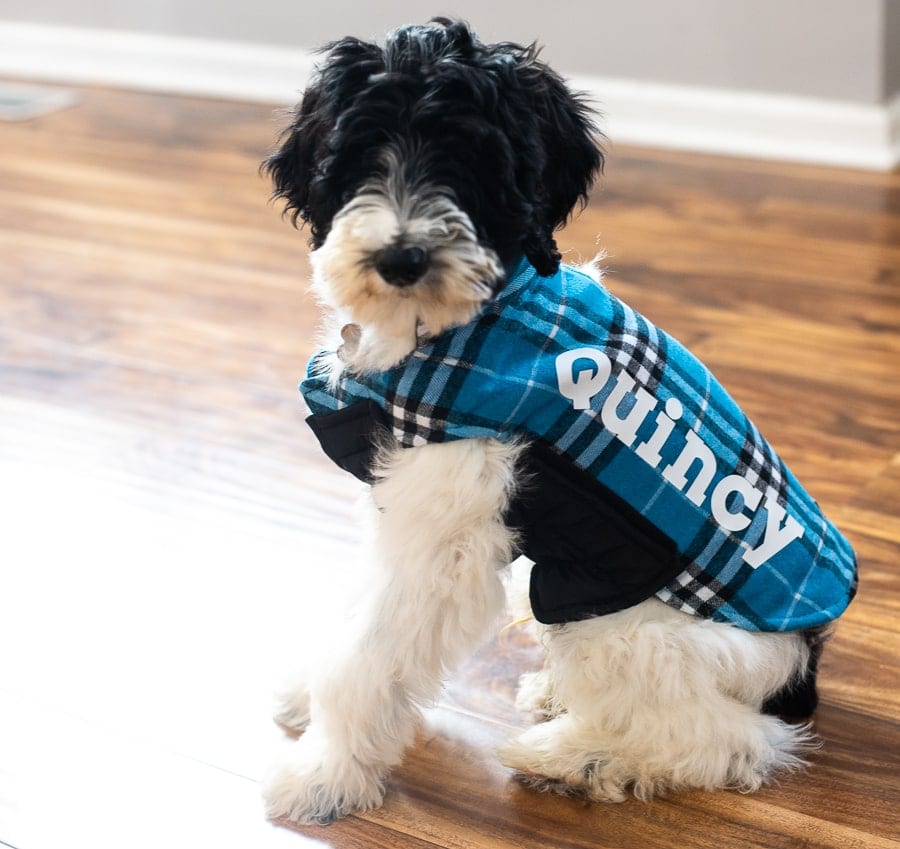 We have had our new puppy, Quincy, for a couple of weeks now and we couldn't be more in love. He has filled the missing piece in our family that has been gone for over 6 years now. While potty training in the winter isn't that much fun, I have been having a lot of fun picking out all the puppy gear he needs.
When researching puppy supplies, I have found that pet fashion is a thing! It is a big thing, so I thought it would be fun to get out my Cricut and make Quincy some fashionable new pet items. I wanted to customize a jacket for him and make him a custom shirt!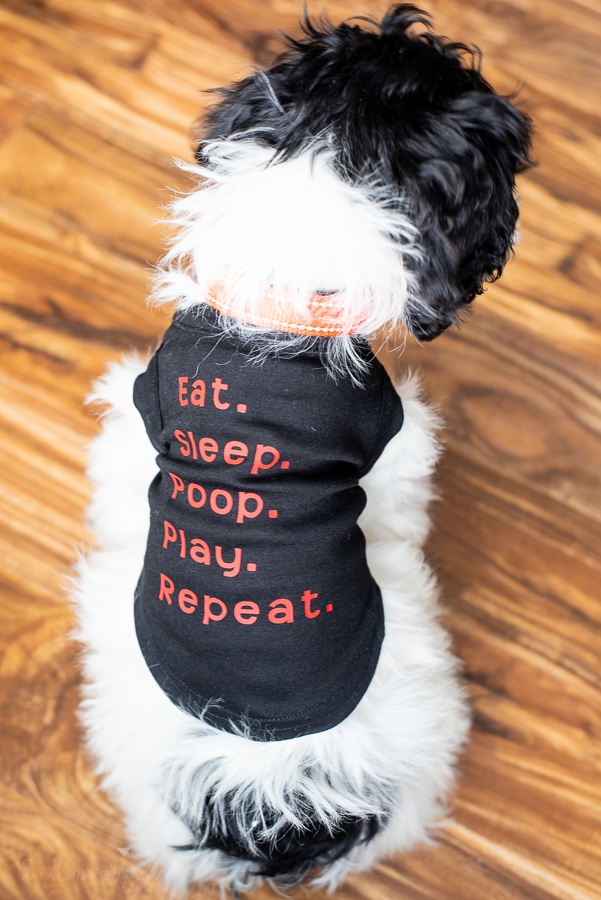 This tutorial is really simple and the result is adorable, your pet will be the talk of the neighborhood. All you need is your Cricut Cutting machine and a dog jacket and shirt that you want to customize.
What Do I need to Get Started Making a Personalized Dog Jacket and Dog Shirt?
Materials
How to Make Custom Pet Shirt Designs
The first thing you will want to do is find a fun shirt design on Cricut Design Space or open up Design Space to type out your dog's name. There are many fun options to choose from, or you can create your own. I used the Cricut fonts (available with Cricut Access) to create both my jacket and my dog shirt (I used the font Birthday Bash for Quincy's name on his jacket).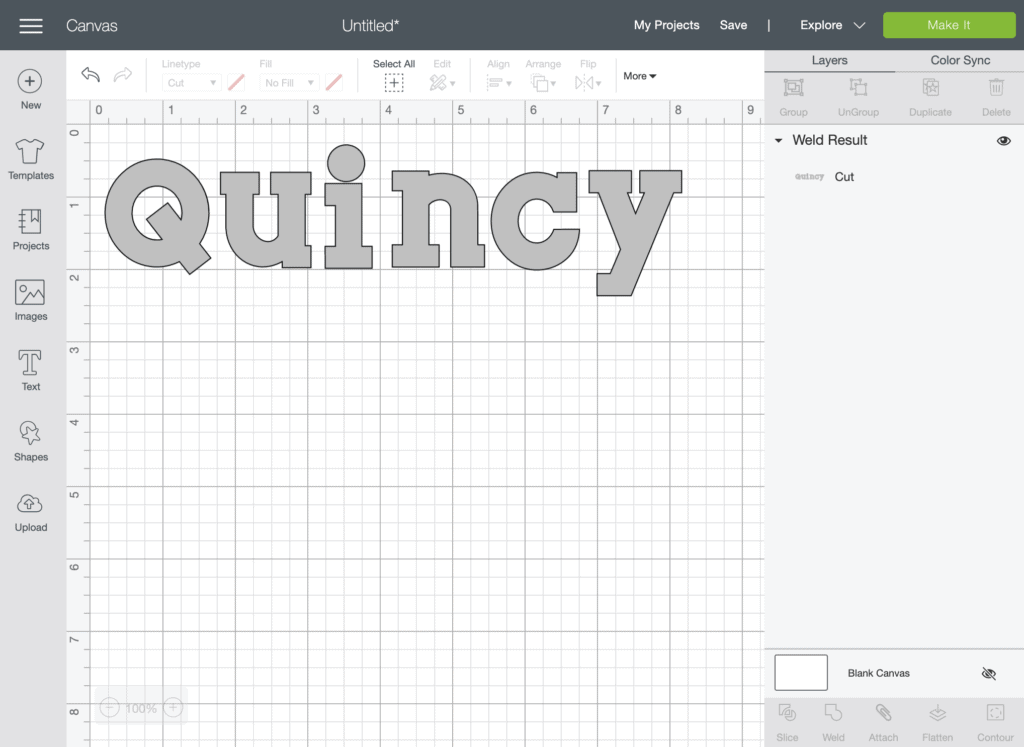 If you want to create the same custom dog shirt you can check out my design here. You will need to measure your shirt or jacket to figure out what size you want your name decal or saying decal to be and then drag the corners to adjust the size for your project.
Click on Make It and then be sure to mirror the image! Don't forget this step or your design will be backwards on your shirt and jacket. That might not be a big deal if its just an image but it will be a big deal if you have any wording like a name.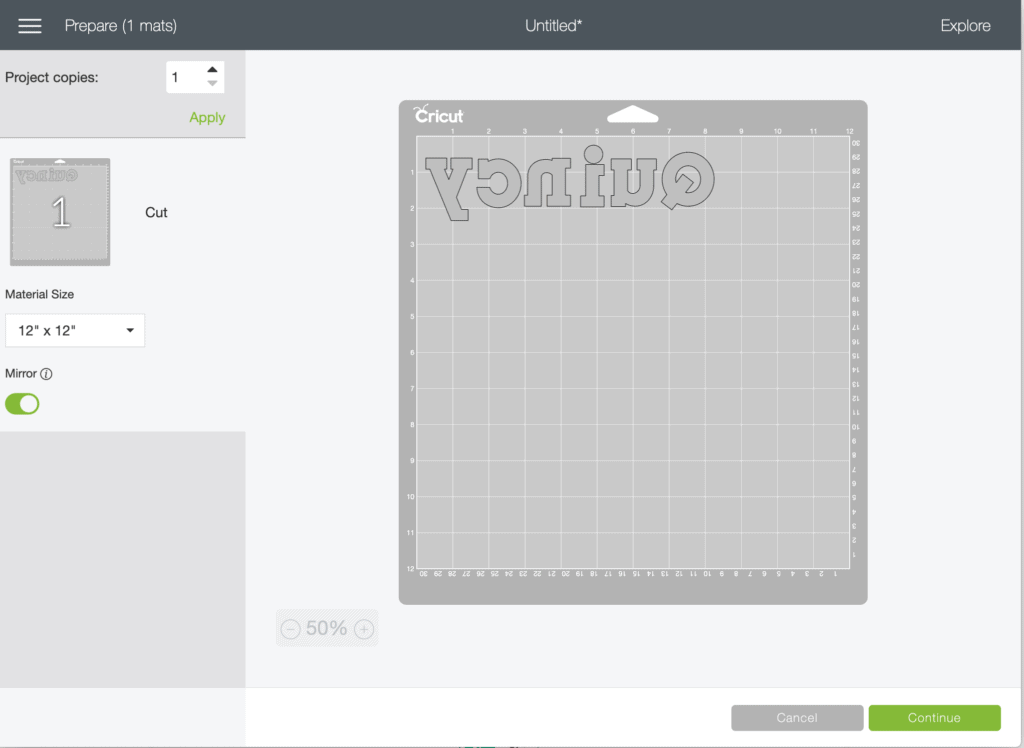 Load your Iron On onto your Green Standard Grip Cutting Mat with the shiny side down. Follow the directions on Cricut Design Space after you set the material to Iron On, again don't forget to mirror the image, I have done it the wrong way more times than I care to mention.
Load your mat and hit the Cricut button to begin your cuts. Cut away the access if you have any.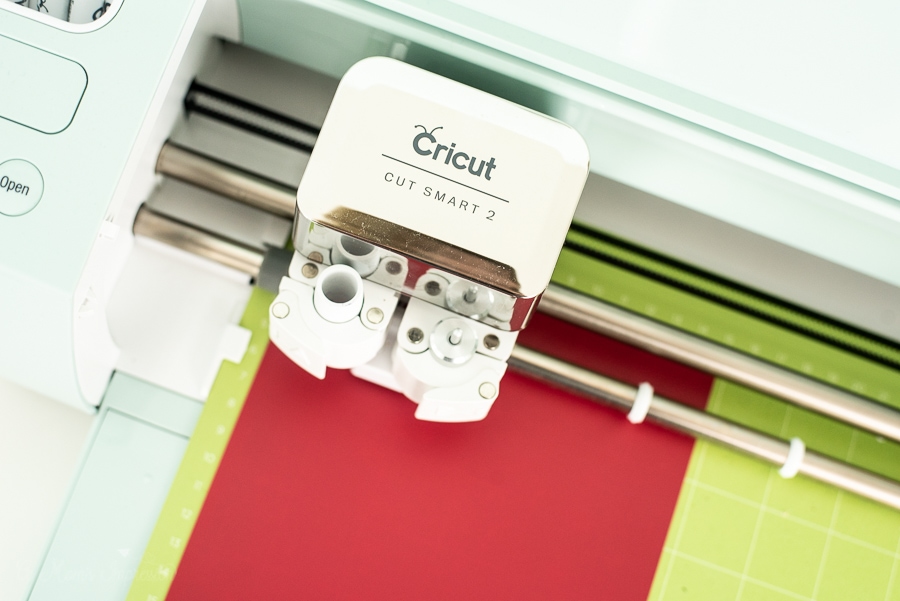 When you are done, use your hands to weed out all the access vinyl you can. If there is small words, like mine, you might need to use a weeding tool. I then trimmed some of the access clear backing away from my design so that it was easier to work with on the shirt and on the jacket.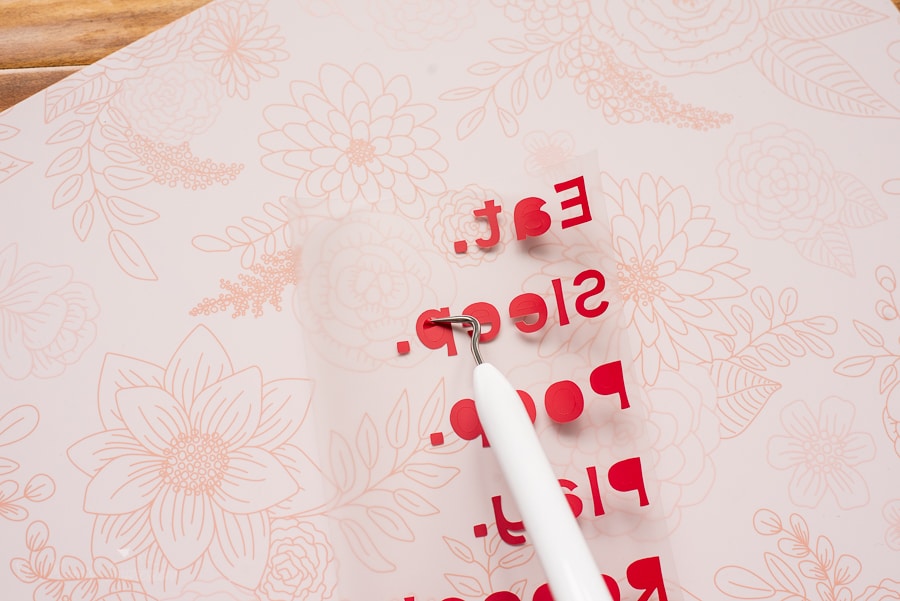 Plug in your EasyPress 2 and set temperature for 315 degrees. Set the timer for 30 seconds. I used the Cricut heat guide to find these settings, all you need to do is to tell it what material you are working with and what kind of material you are putting it on. While your EasyPress is heating place the EasyPress mat down on your work surface.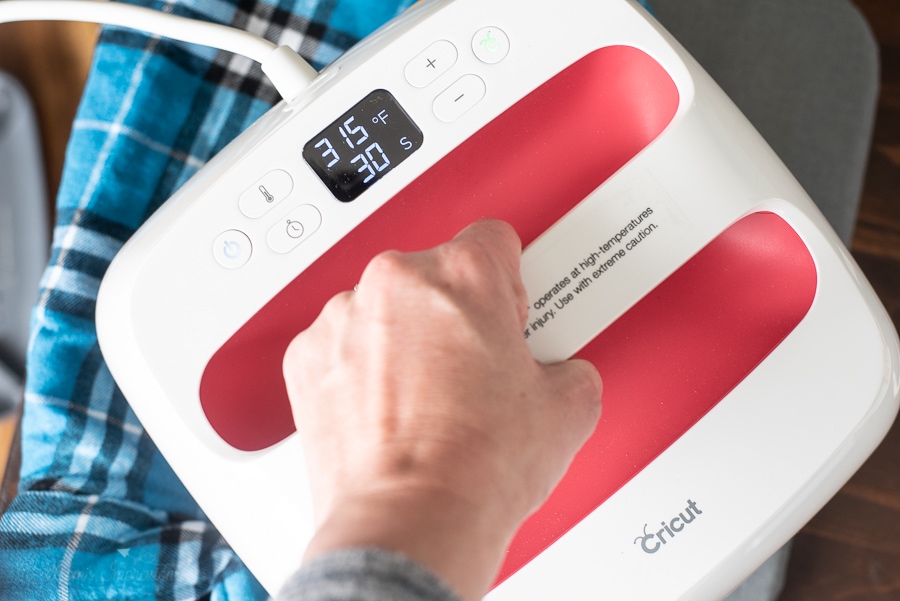 When the EasyPress has come to temperature, place the press on top of the area that you will put the decal. Preheat for 15 seconds. Next place the decal, shiny liner side up in the place you want the decal to go. Place the Easy Press on top and start the timer. Be sure to apply light pressure for the entire 30 seconds.
When the timer goes off, flip the jacket or shirt over and apply the EasyPress again for an additional 15 seconds.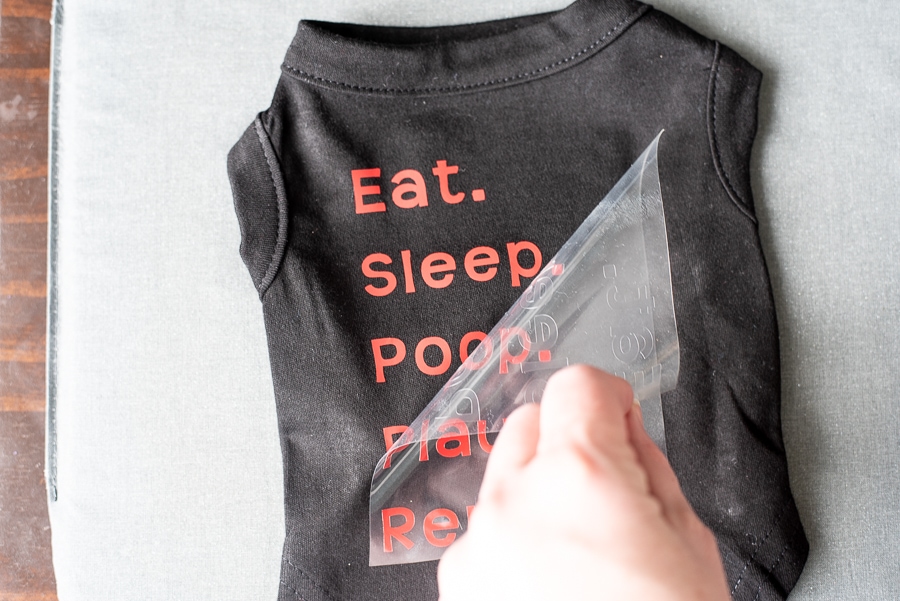 When the timer goes off, remove the EasyPress and allow the decal to cool before touching it, this takes just a few minutes. When the liner is cooled, gently peel the image off of the jacket.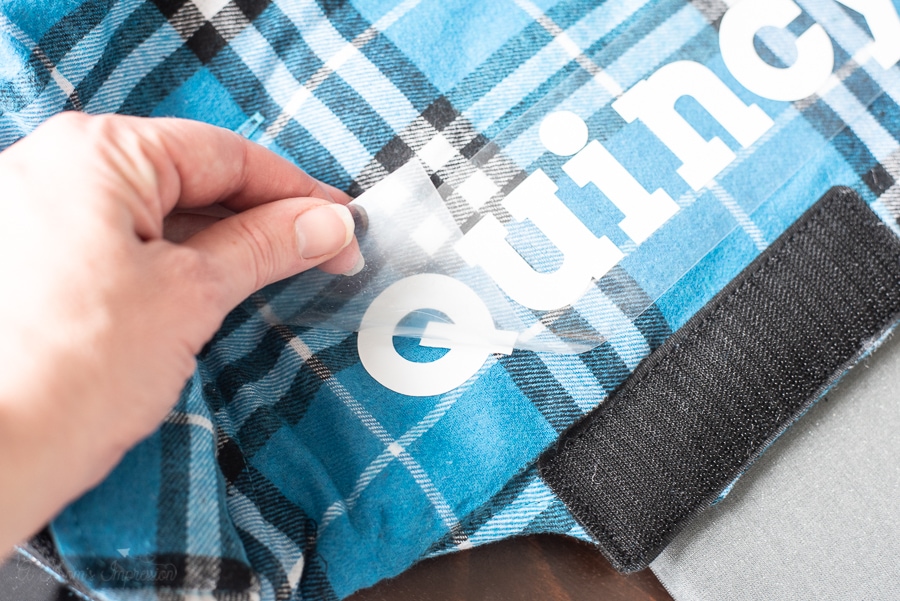 The result is a personalized shirt or jacket that will make your pup stand out during his/her walks in the neighborhood.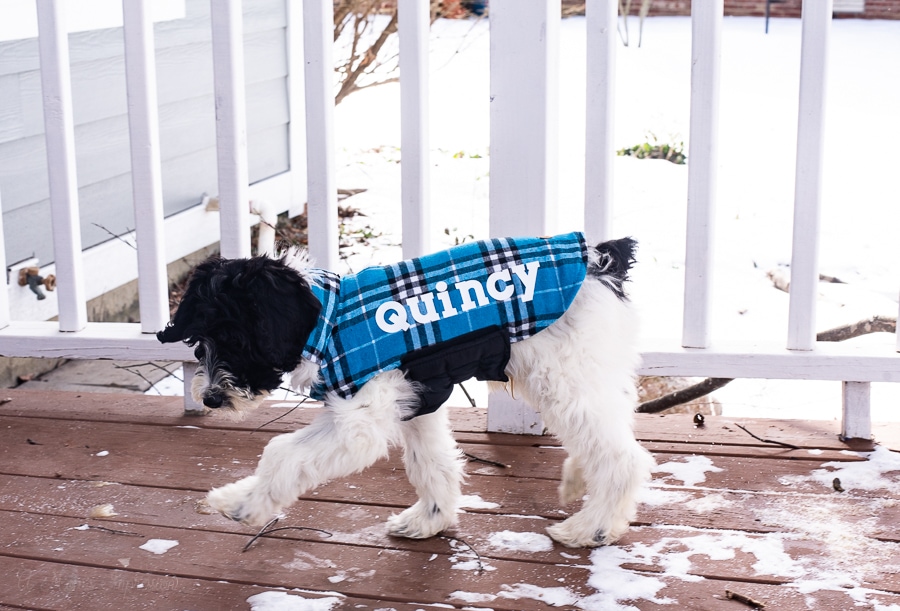 Quincy is going to be the star of the show when he cruises down the streets in his cozy custom jacket. I have plans to make a few more fun dog shirts for family and friends. All you need is a fun saying and a few minutes to create these fashionable pet clothing items that will really stand out!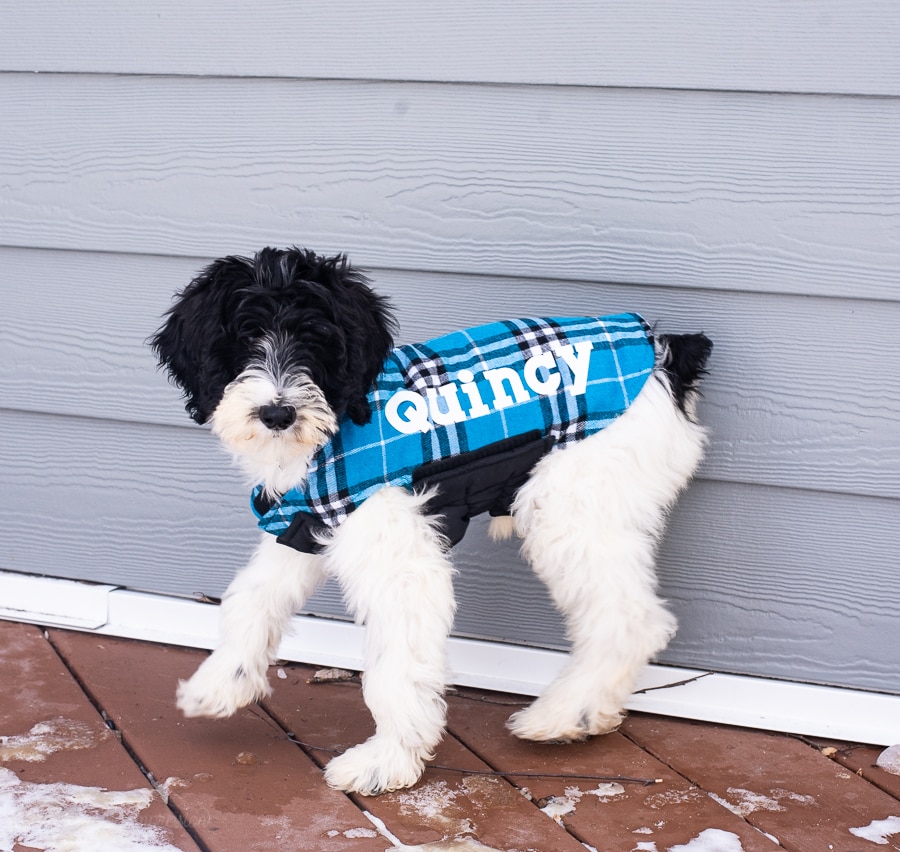 For more fun Cricut crafts be sure to check out: Cricut Infusible Ink Coasters with Mountain Quotes our Mini Farmhouse Rolling Pins or our American Girl Joss Inspired Girl and Doll Matching Outfits (Video Tutorial).