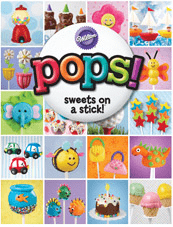 So many of you know about my love affair with Wilton.  I have gotten a kick out of learning how to decorate cakes, cookies and cupcakes over the past year.  I am not that great at it, but I love doing it.  When I heard that Wilton was launching their newest book, Pops! Sweets on a Stick.  I was very excited to try these Cake Pops out.  Now I am not a professional decorator, nor am I that experienced with it so please don't laugh at my creations, but I had a lot of fun with it and I think that my next few batches will turn out a lot better.  I learned a few tricks along the way, and I hope to share them with you.
So… some of you are probably wondering what a Cake Pop is.  A cake pop is a mixture of cake and icing rolled up into a shape (usually a ball) and dipped in melted chocolate and decorated.  It comes on a stick for easy eating!
The How: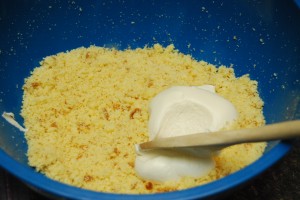 I baked a 9×13 cake and crumbled half of  it into a large bowl (I froze the other half).
I then added about a 1/2 cup of icing and combined it.  I than formed the mixture into small balls and stuck them into the freezer for about 15 minutes (or you can refrigerate for about 2 hours).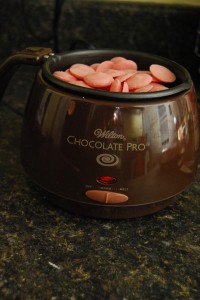 While the pops were in the freezer, I melted the chocolate using the Wilton Chocolate Pro Electric Chocolate Melter. If you are planing on making these yummy treats, I highly recommend this product.  You let it warm up for about 5 minutes and then pour your chocolate melts into it and it melts it perfectly.  This first time I used the Pink Chocolate melts and had a great experience with them.  In my second attempt I used the blue melts and it was a little goopy.  I thinned out the melts with a little veggie oil and that helped.  It might be because I added some extra blue dye to make it really blue.  I think next time I will stick with the white melts and color them with my food color gel.  The chocolate melts melted beautifully.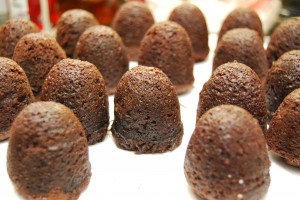 During this process, I decided that I was also going to try out the Brownie Silicone Pop Mold that came with my kit.  This is a really simple way to make brownie pops.  You simply follow the directions on your favorite brownie mix and fill the molds about 2/3 of the way and bake them.  They fall right out of the molds (don't forget the cooking spray) and are ready to cover in chocolate.  I loved having a mixture of cake pops and brownie pops for my bouquet.
Back to the Cake Pops… next I took the cake balls out of the freezer and dipped a stick into the chocolate and stuck them about half way into the cake balls.  I returned the balls to the freezer while I got my decorations ready.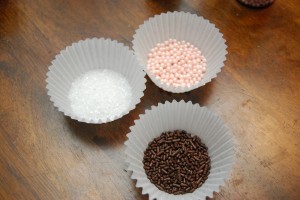 I used cupcake liners to put my decorations in.  This saved a lot of time and made the decorating phase a lot easier.  For these particular pops I wanted them to look feminine and sweet because I was bringing them to my hubby's grandmother's 90th birthday party.  I bought Wilton's pearlized pink balls, decorating sugar, and the brown sprinkles that also came in my kit.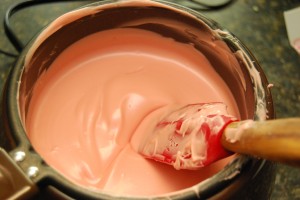 Next, I took the balls back out of the freezer and starting dipping.  I would dip on into the melted pink chocolate and then sprinkle one of the decorations over it.  I then put them on a Styrofoam block to dry.  (Wilton does have a stand that you can purchase that will also hold the pops while they dry, but I didn't read the directions correctly and it didn't work out well for me).
Here is how they turned out: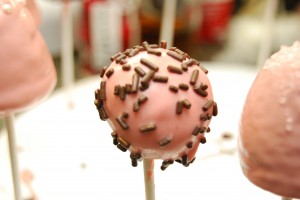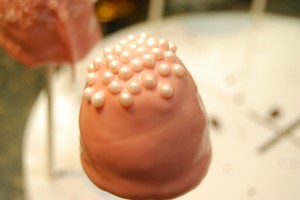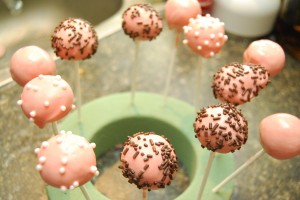 And they tasted as good as they looked: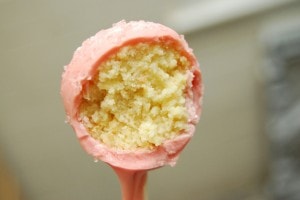 I was really impressed with how moist they were.  They were also very easy to transport.  We drove about 2 hours in the car to get the birthday party and they traveled fantastic.  I didn't have any break or fall off the stick.  I used my cake pops and brownie pops to make a little bouquet for a centerpiece at the party: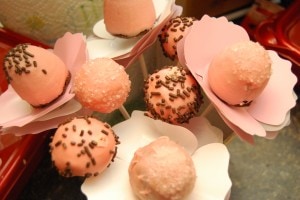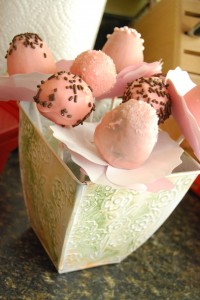 Those cute flower wrappers also came with the kit.  They made the brownie pops look so elegant. Not bad for my first time.
Well… I got a little pompous and thought I should try to get really creative and create some Colts themed pops for the playoffs this past weekend.  I took the second batch of cake out of the freezer and made these shapes:

My next mistake is that I didn't leave myself enough time to decorate these little guys.  My horseshoes fell apart when I tried to dip them.  Next time I will just pour the chocolate over them.  The first photo is supposed to be a horse shape.  I stuck some of the decorations into the cake pop to make ears and then I dipped them.  I added the eyes (also from Wilton) and thought that they looked kinda cute.  I wish I had some blue cotton candy to make the mane, I think they would have turned out better.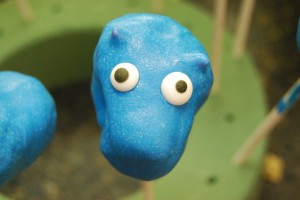 I also made little footballs for the occasion.  My son took one look at them and said "football" so that was all I needed to convince me that they actually did look a little like footballs.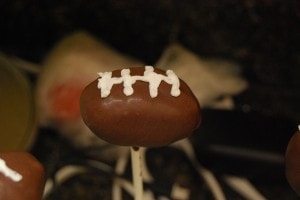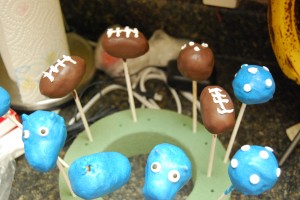 So while attempt number two didn't turn out exactly as I had planned, I learned a lot about the whole decorating process.  Unfortunately the Colts lost last night, but that does mean I have a whole 8 months to perfect them before our Colts Kickoff Party in September!
I hope you check out Wilton's website and the new Pops!  Sweets on a Stick book for yourself.  These are so child friendly and adult friendly sweets that are a lot of fun to make.  They would be a perfect party activity for children as well (and you know they would love to eat anything they make).  I will update everyone on my adventure to create adorable Cake Pops throughout the year.
I would like to thank Wilton who provide me with a Bloggers Cake Pops Kit in order to create this post and enter the "Pops in a Post" Contest.  The contest gives me a chance to win $500 or $100 prize from Wilton.