Kindergarten Graduation Treat Ideas
It's that time of year where we get to celebrate graduations!  I have a few friends and family who are getting some sort of diploma this year so I scouting around trying to find some fun kindergarten graduation treat ideas that could work for all kinds of graduations. I decided to create my own graduation cap candy treats using kid-friendly items that I know everyone will enjoy.

Graduation Cap Treats
Ingredients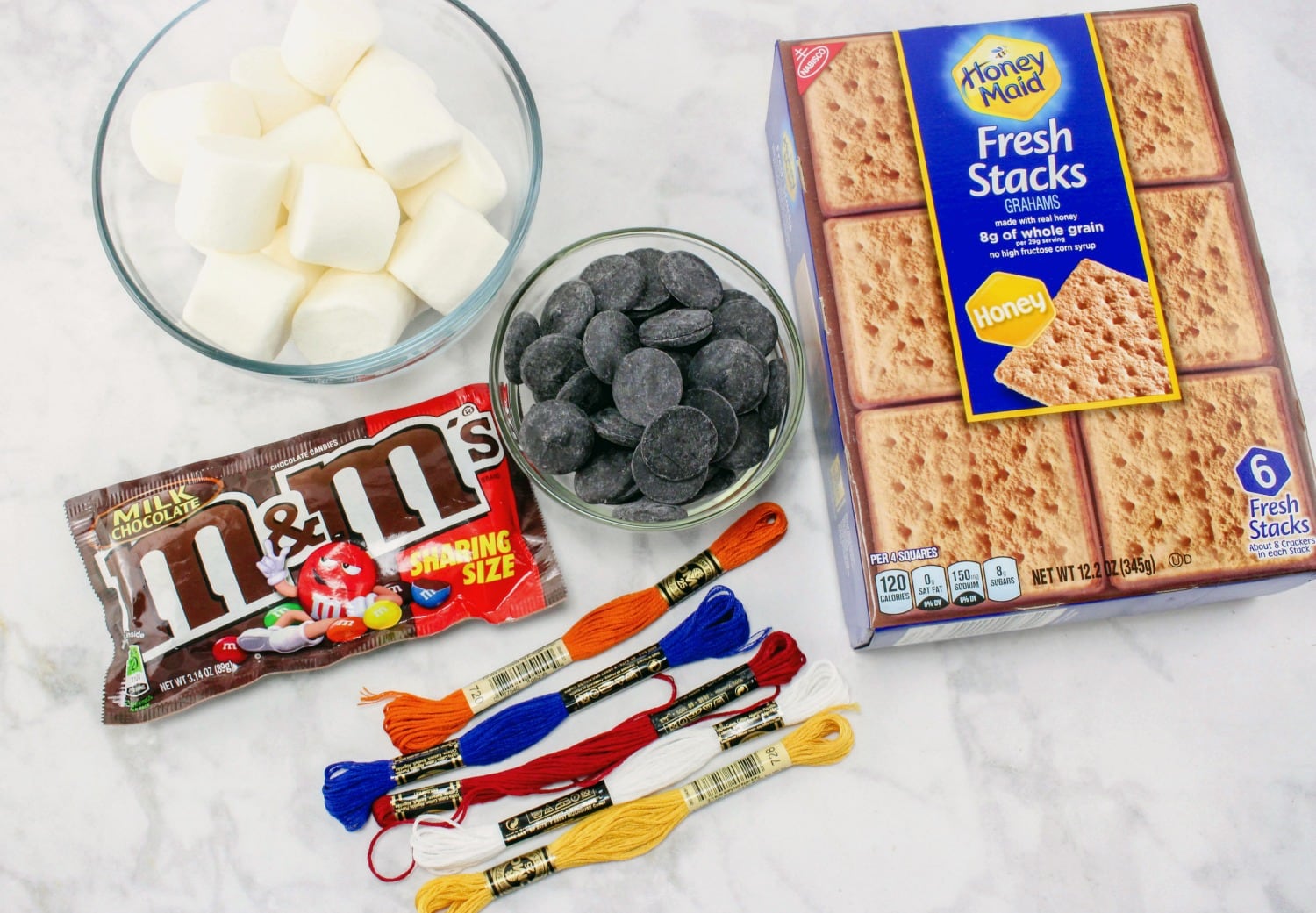 10 Large Marshmallows
10 Graham Cracker Squares
Wilton Chocolate Melting Discs, Black
1 pkg. M&M's Candy
5 pkg. Embroidery Thread, your choice of colors
Wilton Black Candy Melts, 10-Ounce
Soledi Cross Stitch Floss 50 Skeins Premium Rainbow Color Embroidery Floss Sewing Threads
M&M'S Milk Chocolate Candy Party Size 42-Ounce Bag
Honey Maid Graham Crackers – Low Fat – 14.40 Ounces
Directions
First, cut the graham cracker squares into 2 inch square pieces. You will need 10 pieces.
Take 10 marshmallows and cut about 1/3 off each one and discard. Keep the other piece to use for the hat.
Now take your Wilton discs and put in a microwave safe bowl. Microwave for 30 seconds, then stir. Continue to do this until all discs are melted. Coat each marshmallow in the melted chocolate and place on a parchment lined cookie sheet to dry.
Coat each graham cracker piece with the chocolate, and set each on top of a marshmallow. Place an M&M on each one. Let dry.
Take a package of the embroidery thread, and spread out to look like a circle. Cut about an inch of the bottom and cut down the fold line at the top. You should have 2 bundles of thread. Remove one thread from each bundle and set aside.
Divide each bundle into 2 equal bundles, so you now have 4 bundles of thread. Fold each bundle in half.
Take the threads you set aside earlier and tie around each folded bundle and knot it. Make sure you tie it about ½ inch from the top of the folded part, so there will be a lot of long threads hanging down to resemble a tassel.
With the excess thread attached to the knot you tied, tie these 2 pieces together to form about a 1 inch loop.
Attach your loop around the M&M on each hat. The tassel will hang down and now trim it to the length you would like.
A great fun treat for graduation parties!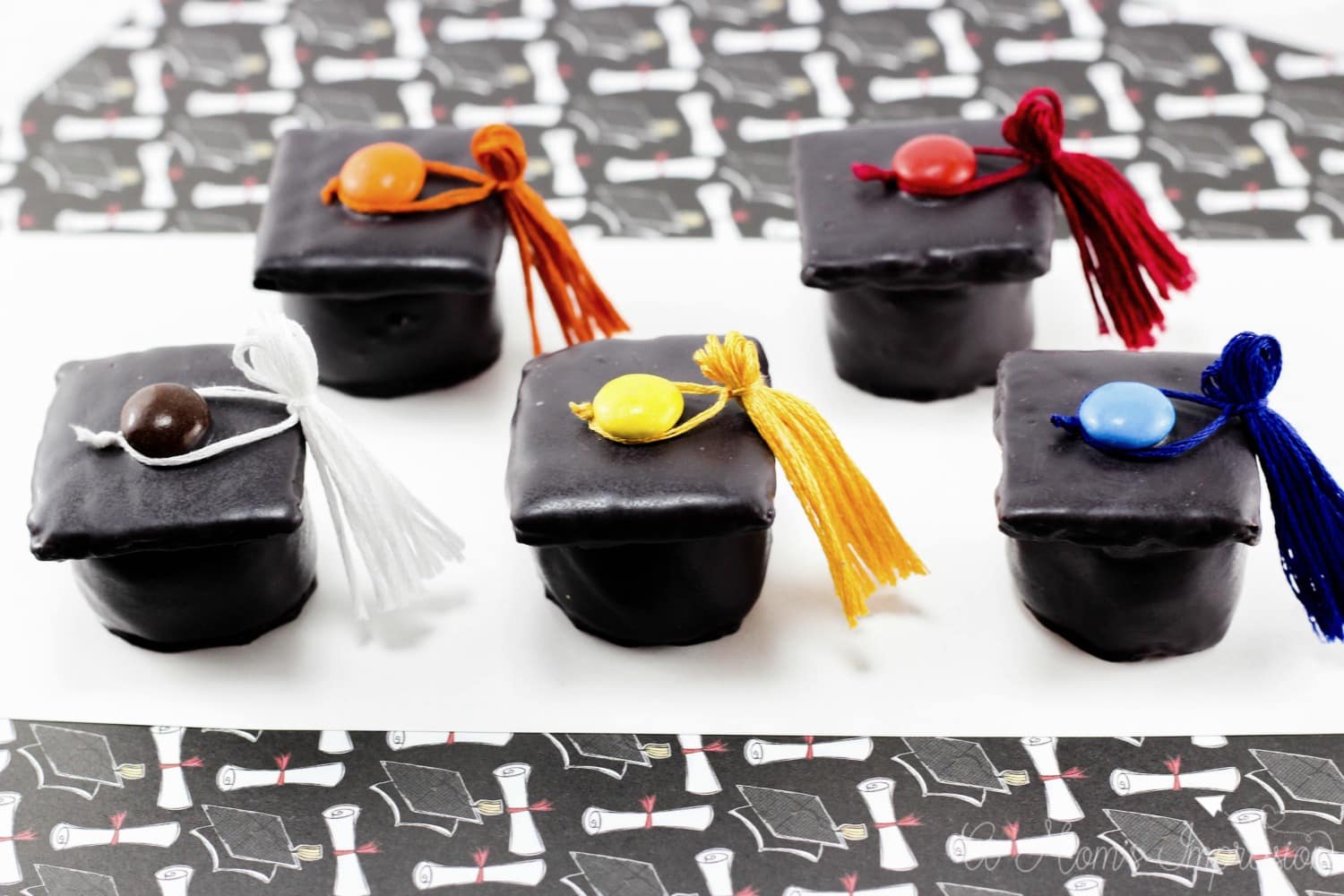 I thought these graduation cap candy treats turned out adorable and are perfect when thinking about kindergarten graduation treat ideas for your party.  The great thing is you can customize them for your school or college making them a great option for any aged graduate.
Do you have any cute graduation dessert ideas you like to make?  I would love to hear about them!
For more fun treat ideas be sure to check out these graduation cupcakes and these adorable summer butterflies and bees!