Being a blogger, one might think that I am all up to date with the latest technology.  Well, while it is partially true, the area that I have not been tech savvy in has been with smartphones.  I still have my old, trusty cell phone that makes and receives calls.  It has a camera (not a very good one) and will text, but I am extremely slow with it.  While even my dad and mom have moved into using a blackberry and a smartphone, I am still in ancient land.  So when Nokia asked if I would like to try out the all new Nokia Lumia Windows phone, I thought "Heck, why not!"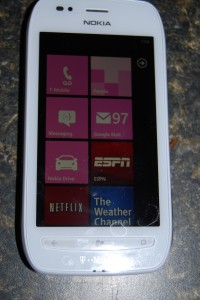 The first thing I noticed right out of the box was its sleek design.  I love the white color of this phone.  It also comes in black that my husband really likes.  All I had to do was put in my T-Mobile SIM card and all of my information transferred over.  I immediately started playing around with the settings and set the coloring to pink!  I love the pink and white combination.  For even more customization you can add a color cover.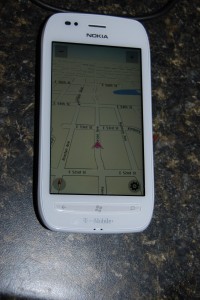 It took me just a couple of minutes to get my Gmail account set up with the phone.  The Nokia Drive app was already installed so I got to play around with that as well.
Features
Available in a black or white finish, with colored backs for customization, the Nokia Lumia 710 features a 3.7-inch ClearBlackWVGA scratch-resistant display (a must for those with curious children!) for outstanding outdoor viewing and a Qualcomm 1.4 GHz Snapdragon(TM) processor providing speedy access to entertainment and information on-the-go!
It also features a 5-megapixel camera with Nokia's leading camera technology, enabling you to take pictures in almost any light condition and then share on social networks and with friends and family in under five seconds.
The pricing of the Nokia Lumia 710 is unmatched. Starting as low as $49.99, it's the perfect phone for moms on a budget who need to stay connected!
The Nokia Lumia 710 features great tools like Office Notes for to-do and shopping lists, as well as apps such as Fandango, Groupon, CNNireport, and Nokia Drive.
Great apps for moms from Sesame Workshop, exclusive for Nokia Windows Phone users – available through the Windows Marketplace.
My Thoughts
It has been an easy transition into the smartphone market.  Since I use a lot of social media, I have enjoyed having a lot of my online tools right in the palm of my hand.  I have only used Mac products in the past, so getting to know Windows all over again was a little bit of a struggle, I just say that because I have an i-pad and an i-pod touch that I have been using for travel and on the go and I am very familiar with how they operate. I have used both facebook and Twitter successfully from this phone to stay in touch with my blogging buddies.
My old cell phone only had to be charged about once a week.  If this phone has a weakness for me it would be its battery life.  I found that I had to charge it at least once a day.  I hear that its pretty normal for a smartphone to have to charge that much, but I am not used to that and found it to be a burden.  I have had a lot of mommy brain lately and I have found that the phone has shut off a lot because I didn't charge the battery.
Downloading apps from the app store is really simple.  I found that the selection of apps is great with a little of everything for everyone in the family.  The camera on this phone is a 5 megapixel and is much better than the one I have currently.  Surfing the web is as simple as putting in the web address.  I love seeing my blog in miniature form!
Overall, I would absolutely recommend this phone to anyone looking for a smartphone that is easy to use and affordable.  I think this new Windows phone from Nokia is a great alternative to higher priced phones that do the exact same thing.
Want to win one for yourself?
Win It
One (1) lucky reader will win the new Nokia Lumia 710 Windows phone for themselves!

a Rafflecopter giveaway
This giveaway will end at midnight on May 4. Winner will be picked from Random.org. 
Open to US residents only. Good Luck!
A huge thank you to Nokia who provided the products featured in this post. This review is my honest opinion and is not influenced by any other source.