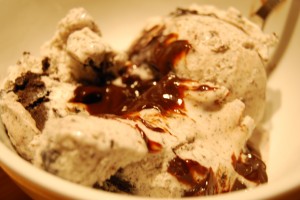 This pregnancy has been really tough on me.  I can't say that I will miss being pregnant.  In fact, I am very excited that this is my last month of ever being pregnant!  I have been under an immense amount of stress over the past few weeks.  Realizing that I only have a few more weeks to ensure that my students are ready for second grade has my blood pressure rising.  I hate that I have to leave them for the last few weeks of school, but my family has to come first.  This past weekend was even more stressful as I had to say goodbye to a student who bravely fought cancer for the past 14 months.  I grew very close to her and her family and it has been one of the hardest weeks of my life.
When I found out that April is Stress Awareness month, I knew I needed to do something little for myself.  Taking time to de-stress is important.  A lot of the time I let things build up inside me and then I just snap!  I wanted to make sure that I try to calm myself down and forget that last night we had water dripping from our ceiling and running down into the basement.  So what is a better way to de-stress then with a nice sundae?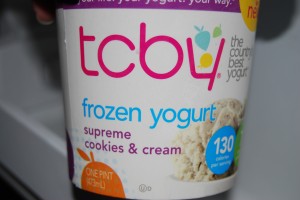 I recently went to Walmart to shop for everything I needed to make my family a great tasting sundae using TCBY frozen yogurt.  You can see pictures and read all about my trip on my Google+ page (I would love to add you as a friend while your there).  I knew that I would need supplies to make three different sundaes.  My son loves M&M's, I was craving Oreo cookies, and my husband is becoming a health nut and so he would want some fresh fruit.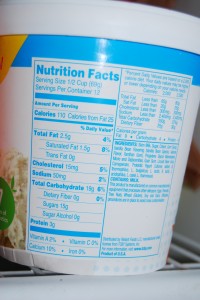 I remember TCBY when I was a child.  I was happy to see that they have gotten a facelift.  It took me by surprise at the grocery store, but after I tasted it, I knew it was the same as my childhood.  I also love that frozen yogurt is so much more healthy for you than ice cream.  After all, who can relax and de-stress thinking about how bad the ice cream is for you?
I made my son some vanilla bean with some M&M's after dinner.  The verdict: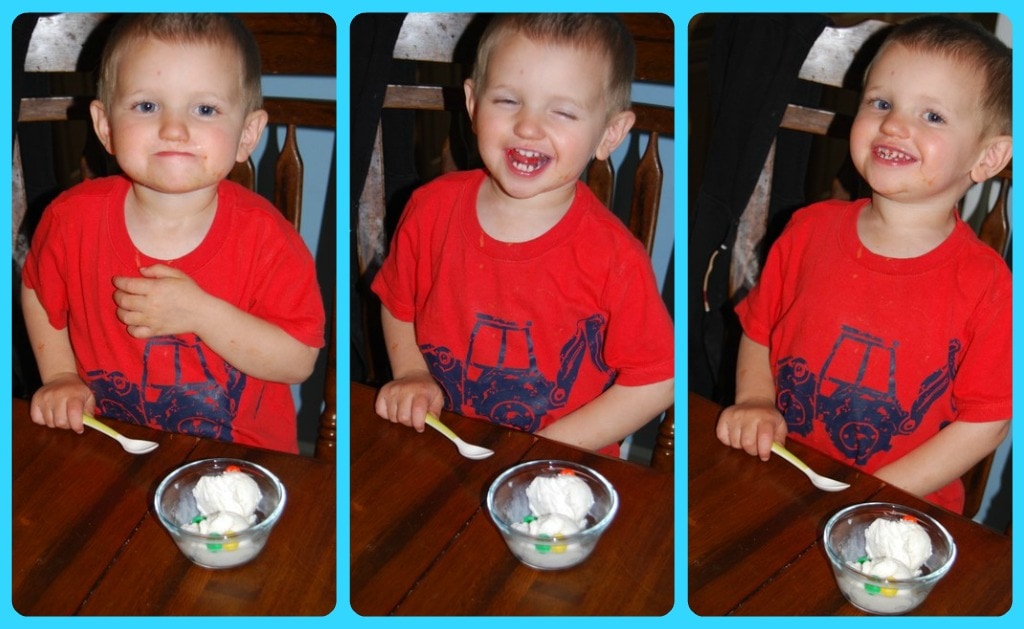 It was love at first bite… of course!
I love to relax in bed with my computer and a snack.  Here I am this week, 36 weeks pregnant: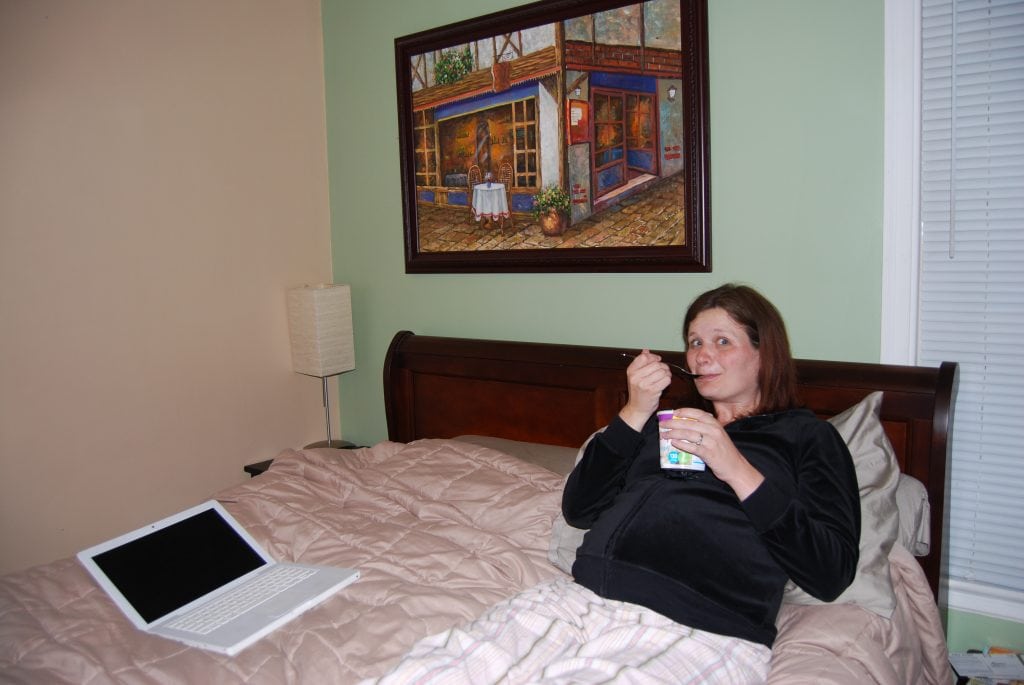 I love relaxing without makeup on, in my pajamas with my TCBY.  I can honestly say that this was the highlight of my weekend.  I wish I didn't have to go back to work tomorrow, but I do know that I have a little bit more frozen yogurt in the freezer to help relax after the long day!
Be sure to follow TCBY on facebook and Twitter for updates and more information on some fantastic frozen yogurt.  And be sure to take time to relax this month!
I am a member of the Collective Bias™ Social Fabric® Community.  This shop has been compensated as part of a social shopper insights study for Collective Bias™. #CBias #SocialFabric All opinions are 100% mine.