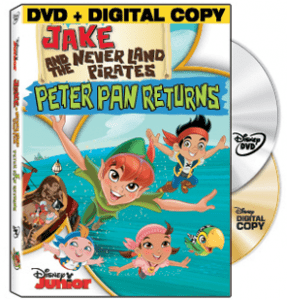 You probably know by now how much of a Disney fan we are in this house.  TJ absolutely loves the shows on Disney Jr. and when Jake and the Never Land Pirates came out last year he was hooked!  I was really excited when they started promoting that Peter Pan was going to be in an episode.  I grew up with Peter, but TJ only knew him by name.  We watched the episode and TJ loved it.  Now he finds Peter wherever he can (think peanut butter).  I was very excited when Disney decided to put this episode on DVD!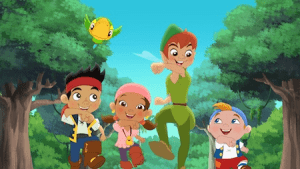 Peter Pan is back––but his shadow is missing! When Peter loses his shadow while playing a game of Catch-Me-If-You-Can, he returns to Never Land to seek help from his kid pirate friend Jake. Embarking on one of his most daring and exciting adventures ever, Jake and his kid pirate pals, Izzy and Cubby, along with lookout parrot Skully, must use teamwork to find Peter's shadow and return it to its rightful owner. However, their mission is nearly thwarted by the fiendish Captain Hook, and his bumbling first mate Mr. Smee. But bravery and justice win the day and Jake and his Never Land pirate crew once again reveal what it takes to become heroes, in Disney's "Jake and the Never Land Pirates: Peter Pan Returns."
Kids can set sail with Jake on Disney DVD April 3. Packed with more value than ever before, "Jake and the Never Land Pirates: Peter Pan Returns" comes with over two hours of content on DVD and features Jake's first digital copy.
The episodes that are included on this DVD are:
1 – Jake and the Never Land Pirates: Peter Pan Returns
                                         2 – The Elephant Surprise!/Jake's Jungle Groove
                                         3 – The Pirate Pup!/Pirate Rock!
                                         4 – The Sword and the Stone/Jake's Home Run
                                         5 – The Pirate Princess/The Rainbow Wand
                                         6 – Mama Hook Knows Best/Pixie Dust Away (Never-Before-Seen Episode)
I loved the never-before seen episode because, lets face it, kids love to watch the same shows over and over again.  Parents really get tired of listening to the same ones.  You can find the new Jake and the Never Land Pirates in stores nationwide for the MSRP of $19.99.
This product review was made possible by Disney and  Click Communications.  I was not compensated for this review other than a product sample provided by the company or PR firm. All opinions are 100% mine.