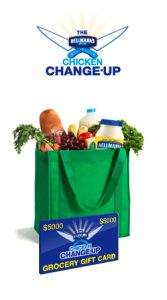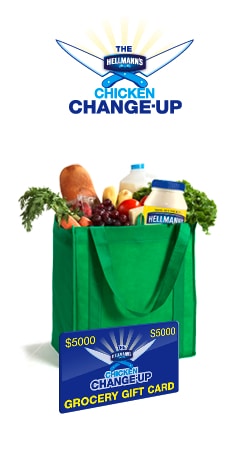 Do you have a picky eater in your family?  Well, let me tell you about mine.  He is almost three years old and cute as a button.  He sleeps great and is usually pretty well behaved.  Our troubles are all with food.  He doesn't want tot try anything new, and getting him to eat anything healthy is like pulling teeth.  It is a big source of frustration!
What is a mom to do? Well, I was challenged by Hellmann's to change up our chicken routine and create a recipe that the whole family will love.  I decided to try the Succulent Chicken Parmesan recipe off of Hellmann's website.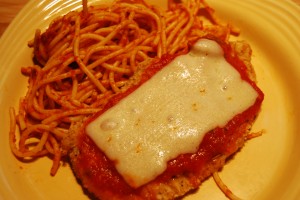 SUCCULENT CHICKEN PARMESAN
The juiciest & simplest chicken Parmesan recipe around
4 servings
Prep Time: 10 minutes     Cook Time: 23 minutes
1/4 cup Italian seasoned dry bread crumbs
1/4 cup grated Parmesan cheese
4 boneless, skinless chicken breast halves (about 1-1/4 lbs.)
1/4 cup Hellmann's® or Best Foods® Real Mayonnaise
1/2 cup Ragu® Old World Style® Pasta Sauce
1/2 cup shredded mozzarella cheese (about 2 oz.)
Preheat oven to 425°.
Combine bread crumbs with Parmesan cheese in shallow dish; set aside.
Add chicken and Hellmann's® or Best Foods® Real Mayonnaise to large plastic bag; shake to evenly coat. Remove chicken, then lightly coat in crumb mixture. Arrange chicken on baking sheet.
Bake 20 minutes. Evenly top chicken with Pasta Sauce, then mozzarella cheese. Bake an additional 3 minutes or until chicken is thoroughly cooked and cheese is melted.
Hellmann's has a lot of options for tasty chicken that the whole family will enjoy, even those picky eaters like my TJ. This recipe was a nice change from our normal baked chicken routine.  My husband and I really enjoyed it.  It was also so simple to make and didn't take much time at all.  I love that it was so easy and economical to make on a weekday after a long day at work.  You can pair it with vegetables or pasta like we did.
From now until April 30, 2012, parents across the country can participate in the Hellmann's® Chicken Change-up by trying one of the featured Hellmann's® chicken recipes, sharing their recipe reviews and providing their own advice for managing dinnertime obstacles.  After participating, consumers can enter into a sweepstakes for the chance to win a $5000 grocery store gift card and other daily prizes.
Visit Facebook.com/Hellmanns to participate in the Chicken Change-Up, where you can find ideas on managing dinner dilemmas and enter for a chance to win daily prizes.
Would you like to win a prize today?
Win It
Hellmann's is giving away a Picky Eater Prize Package to one (1) lucky reader!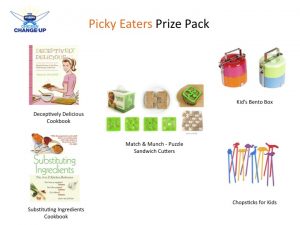 Hellmann's Picky Eater Prize Package includes:
Deceptively Delicious Cookbook
Substituting Ingredients Cookbook

Match & Munch Puzzle Sandwich Cutters

Kid's Bento Box

Kid's Chopsticks
This is a sponsored post.  Hellmann's product and additional incentives were provided to me.  All opinions stated are my own.