We absolutely love our Shimmer and Shine dolls in our house.  My daughter is a huge fan and whatever makes her happy, makes us happy.  Her beloved Shimmer and Shine Dolls have recently gotten a new addition.  I'll give you a hint.  It is magic and you usually lay it on the floor. Yep!  I want to tell you about the Shimmer and Shine Magic Carpet Ride.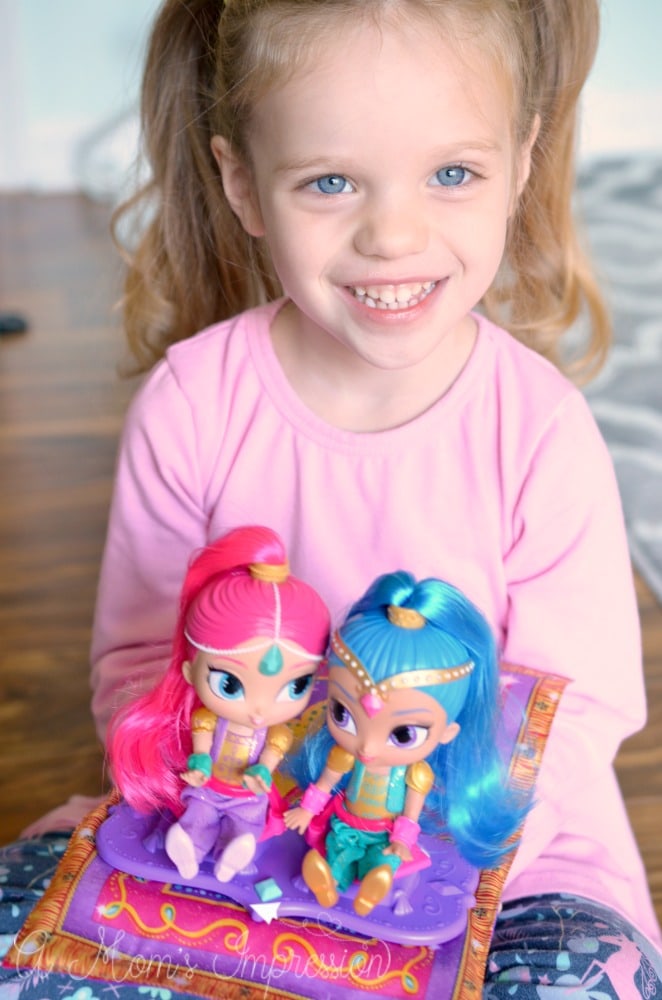 Shimmer and Shine Dolls
Whether you are buying presents for birthdays or Christmas, finding the right toy for your child can be overwhelming.  My son is actually pretty easy, we were lucky with him.  He finds one or two things that he really wants and sticks with it.  My daughter, not so much.  She wants EVERYTHING she sees!  And she cannot seem to narrow it down!  She just skips from one interest to another.  So by the time I buy her present and her birthday rolls around, she isn't even into anymore!  This is true except for one thing, she has always been a fan of her Shimmer and Shine dolls.
It can be tough to pick out the toy that will go the distance with your kid. No one wants those toys that they play with for a week and then toss aside to be put into a donation pile a few months later. I'm starting to figure out what toys can keep my daughter entertained and excited for longer periods of time.  This is one of the reasons that we love Shimmer and Shine Dolls.
The main feature we look for in a toy is that it is versatile. If a toy can be played with in several different ways, than it is a strong contender. This is why I am loving the Fisher-Price® Shimmer and Shine™ Magic Flying Carpet toy that we recently got her.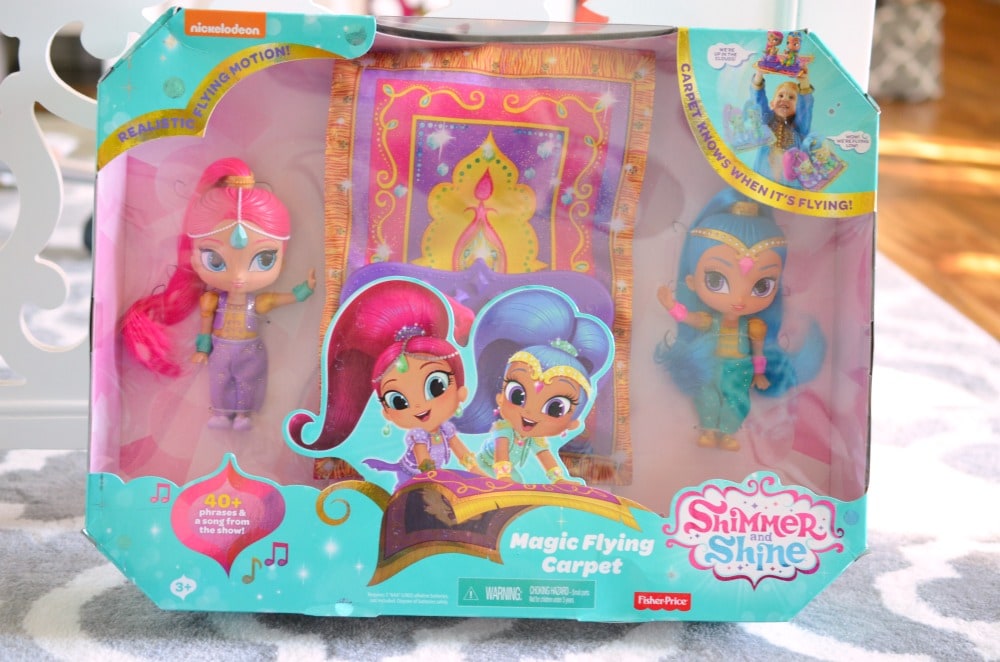 Shimmer and Shine on Nickelodeon
If you aren't familiar, Shimmer and Shine is an animated preschool series featuring the magical adventures of genie-in-training twin sisters Shimmer and Shine and their human best friend, Leah. Their intentions are noble, but Shimmer and Shine's naivete about the human world causes them to accidentally grant wishes Leah didn't mean to make! As you can imagine, this leads the trio on some pretty crazy adventures on their enchanted flying carpet with their genie gems. The message that the show aims to get across to preschoolers is that every mistake is an opportunity to learn to do things better the next time.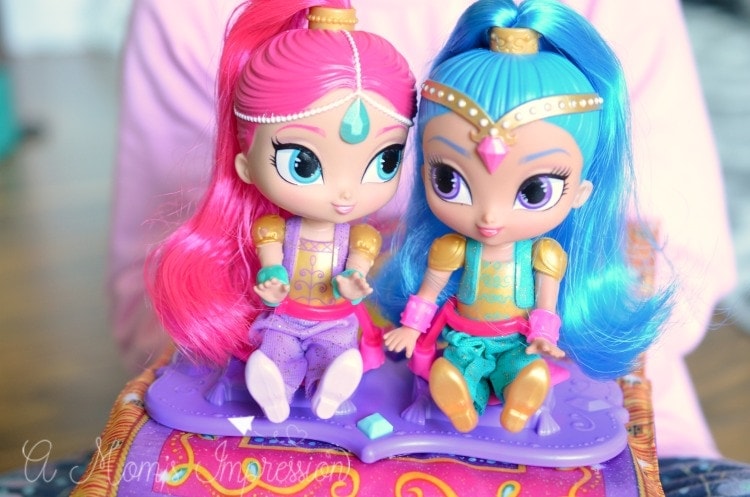 My preschooler loves Shimmer and Shine and thus, loves here Shimmer and Shine dolls.  I love the message that this show teaches her. She has seen quite a few Shimmer and Shine videos and thinks the girls are a little silly, but lots of fun. She loves their style! When we saw the new Shimmer and Shine dolls at our local toy store, I saw the little gleam in her eye that flashes whenever she gets excited.
Shimmer and Shine Magic Carpet Ride
There are several Shimmer and Shine toys available for your preschooler, but our favorites are the Shimmer and Shine dolls. Shimmer and Shine dolls have soft hair that's easy and fun to brush. The larger dolls have a genie bottle necklace that you can use to make a wish and see Shimmer or Shine's reaction. All you need to do is to press the button on the doll's chest to activate.
We purchased the Fisher-Price Nickelodeon Shimmer and Shine Magic Flying Carpet toy that actually has both dolls included in the package. These versions of Shimmer and Shine are much smaller than their larger counterparts (Fisher-Price® Shimmer and Shine™ Wish & Spin Shine and the Fisher-Price® Shimmer and Shine™ Wish & Spin Shimmer) and don't have the ability to talk.  They come with a Magic Flying Carpet toy that sings, talks and moves around on the floor. The carpet even reacts to my daughter's motion when she makes the carpet "fly" up and down by tilting the toy!
I love these Shimmer and Shine dolls for Caroline because of its versatility. The dolls can be played with together on the carpet or by themselves, and the storytelling options are endless. The dolls' clothes and shoes come on and off, too, which is great because Caroline loves to take her Shimmer and Shine dolls in the bathtub and these girls are able to go in the water with her.
She also gets to use her imagination when she does pretend play with Shimmer and Shine, and this mom appreciates that. Make-believe is very important and should be nurtured in our small children.
Make wishes come true with magical Shimmer & Shine toys. You can find these toys in stores nationwide and online.
For more toy reviews, check out my Best Beauty and the Beast Toys of 2017.
Also be sure to read about my Top 10 Must Have Zootopia Toys.
This post is sponsored by Megan Media and Mattel. The opinions and ideas expressed here are my own.