There are so many things about having a second child that I never thought about before I gave birth.  Sure, there were plenty of things I saw coming:  I knew there would be some sleep-deprived nights.  I knew I would have lug that awkward car seat everywhere.   I knew I would have to walk around the house with a burp cloth hanging over my shoulder again.  But all that has to do with having "another" child.  What I didn't see coming was the aspects of having a "second" child.  The mathematical reality of actually having two instead of one.
What has struck me much more than I ever thought it would was this huge sense of "family" that has come along with my second child.  We absolutely felt like a family with Jonah before, but with Caroline, we really do feel complete.  We feel like a unit.  We feel like a pack.  It is this wonderful feeling.  It is something I thought that I already had but now I realize I didn't, at least not completely.  But I feel like it was always there just waiting to be discovered.  It is this very peaceful feeling that makes me certain that life does have meaning.  That is does have a purpose.
Thinking of this sense of "the pack" brought another unexpected aspect of having two young children.  Logistics.  While, at age 3 and a half, Jonah can obviously walk (actually he skips and hops around most of the time these days), there are still times that he needs a stroller.  We love to go to the Zoo during the summer.  We also have a wonderful Children's Museum here in Indianapolis.  We have a great jogging trail just blocks from our house.  I have written a lot about my efforts to get back in shape in the past few weeks and I have spent a lot of time on that trail.
Well, it struck my husband and I soon after Caroline was born that we were going to need a double stroller.  This was honestly something that we had not seen coming.  We held off getting a new double stroller but found more and more instances were we needed one.  So when I got the opportunity to use and review the Joovy Caboose Ultralight Stand-On Tandem Stroller, I completely jumped on it.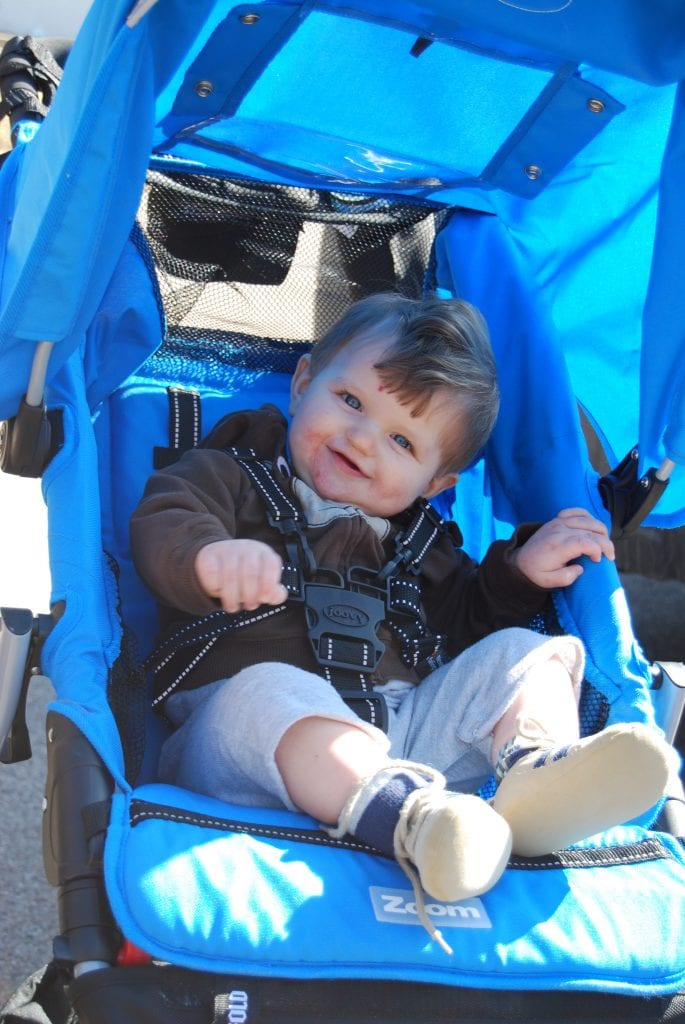 We love our first Joovy stroller.  You can read my review of the Joovy Zoom 360 Jogging Stroller here. Look how little Jonah was in this picture! Its hard to believe that he is the bigger kid in our new Caboose Ultralight: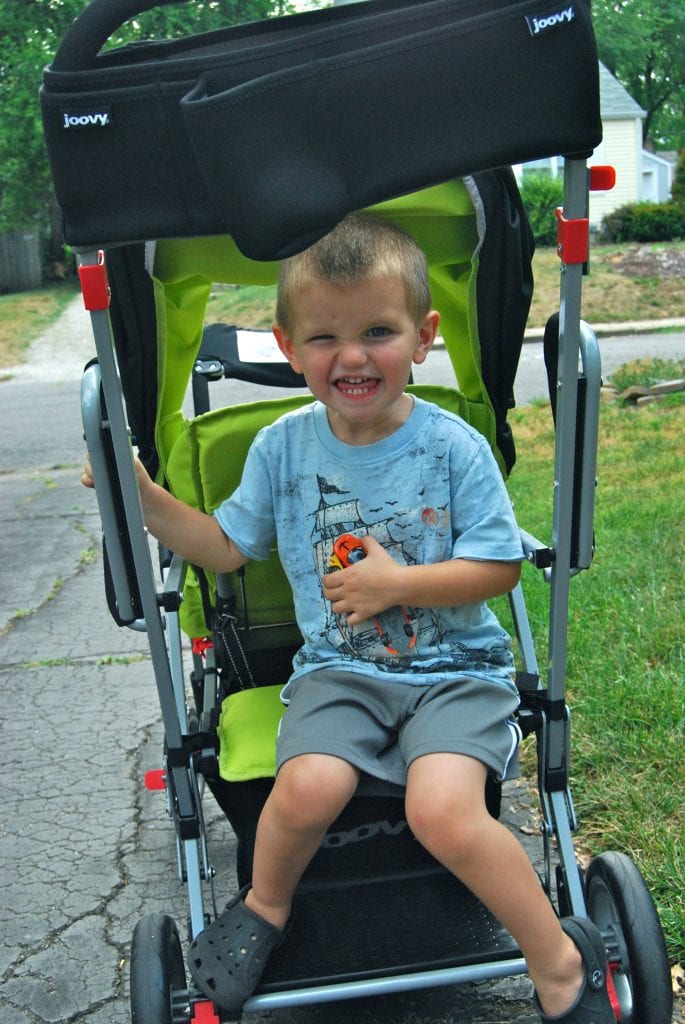 After it came in the mail, I had my husband put it together, with Jonah's help of course.  They found it incredibly easy to set up.  He has put together several strollers in his day and told me this was the easiest one he has ever worked with.  It took him about 5 minutes total to get it from the box to being ready to use.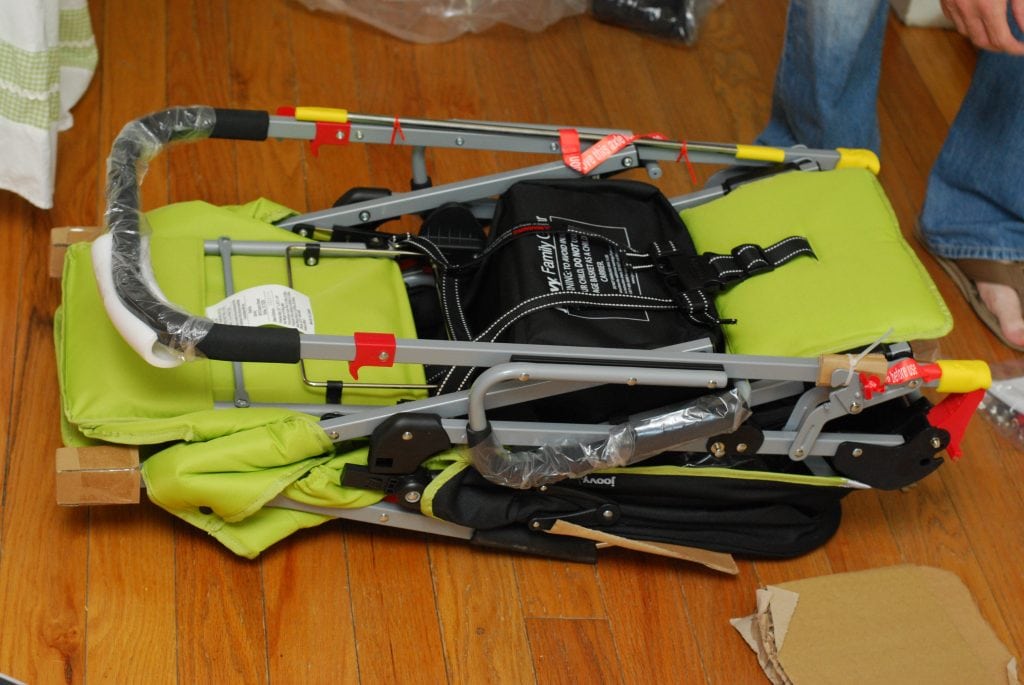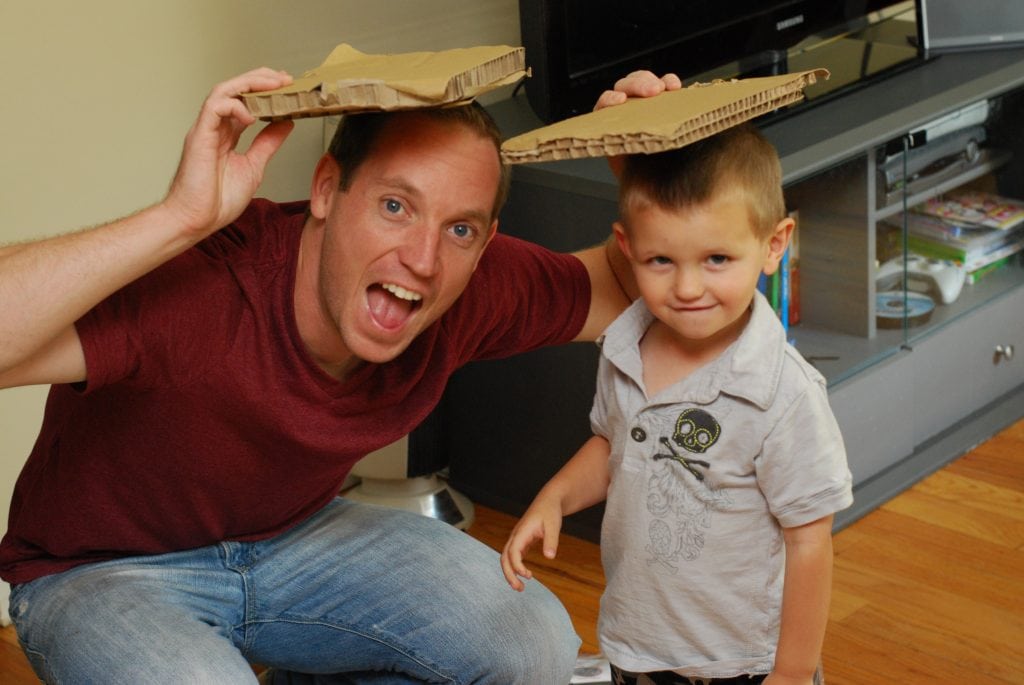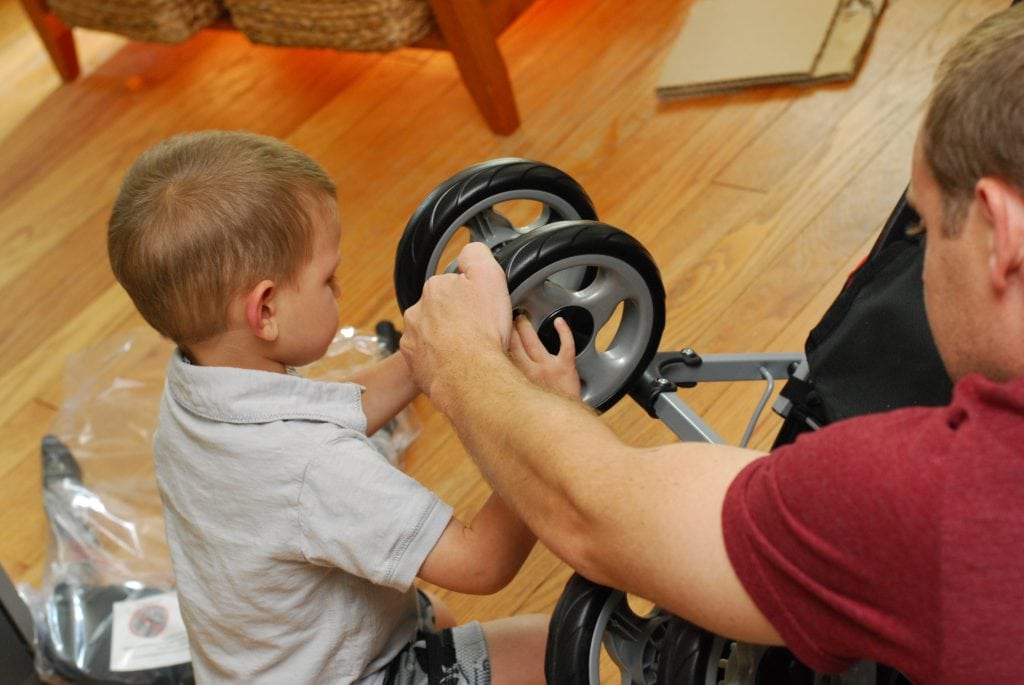 We have seen some other double strollers (and also reviewed one)on the market and were struck with how much smaller and lighter this stroller was.  A lot of the other ones are bigger and bulkier.  I couldn't imagine trying to navigate some of those through the crowds at the Zoo or the Children's Museum (I have seen a lot of this particular stroller at the museum).  The Joovy stroller is smaller more sleek and modern looking than any of the others that I have seen.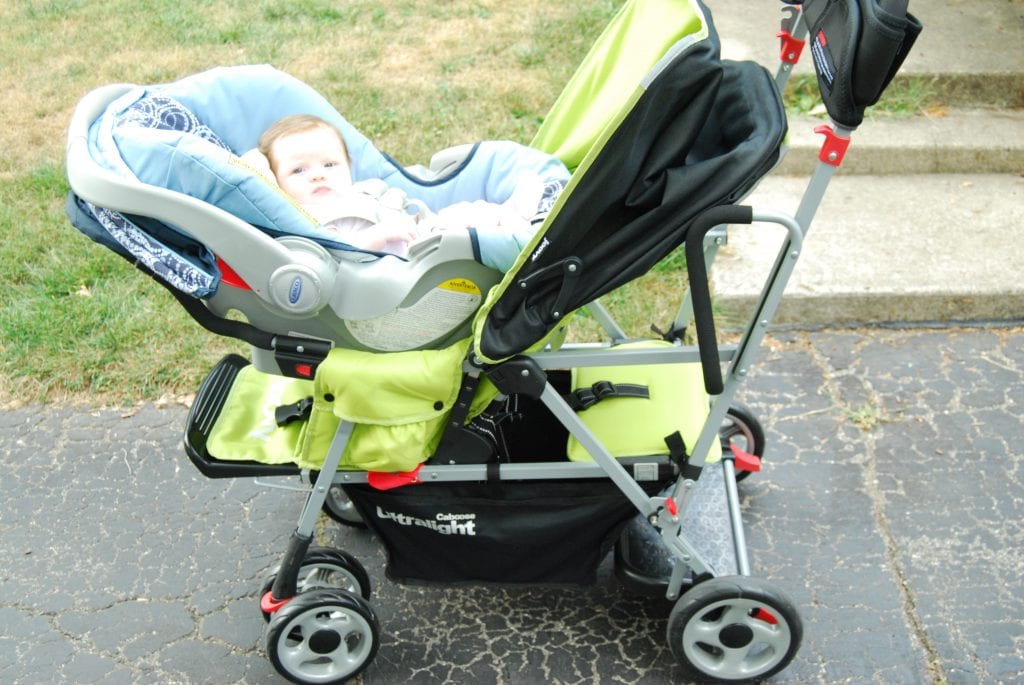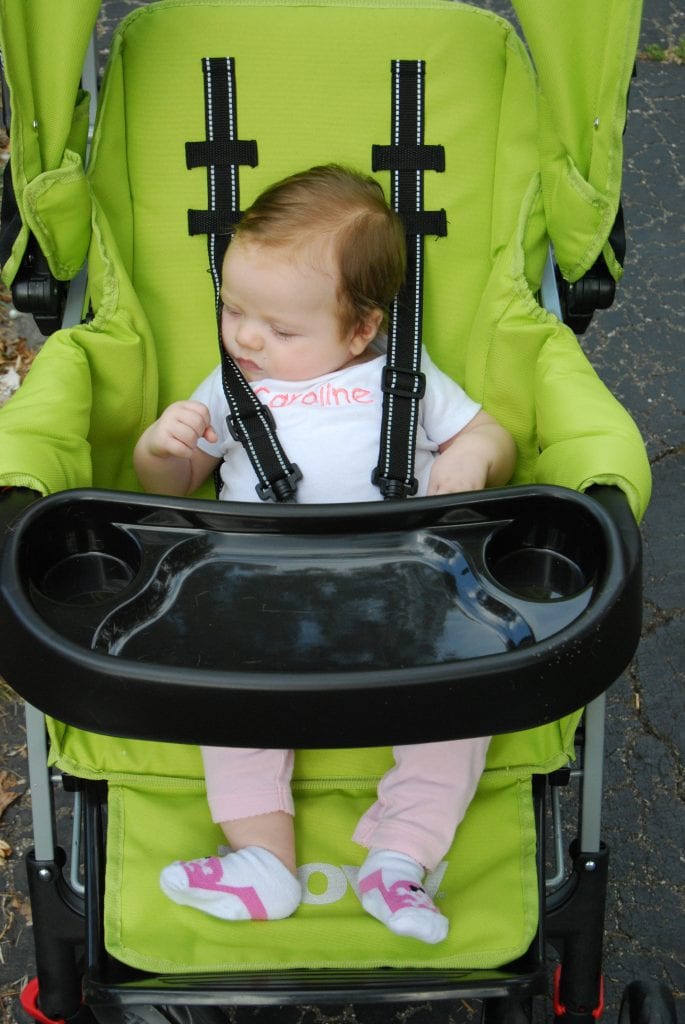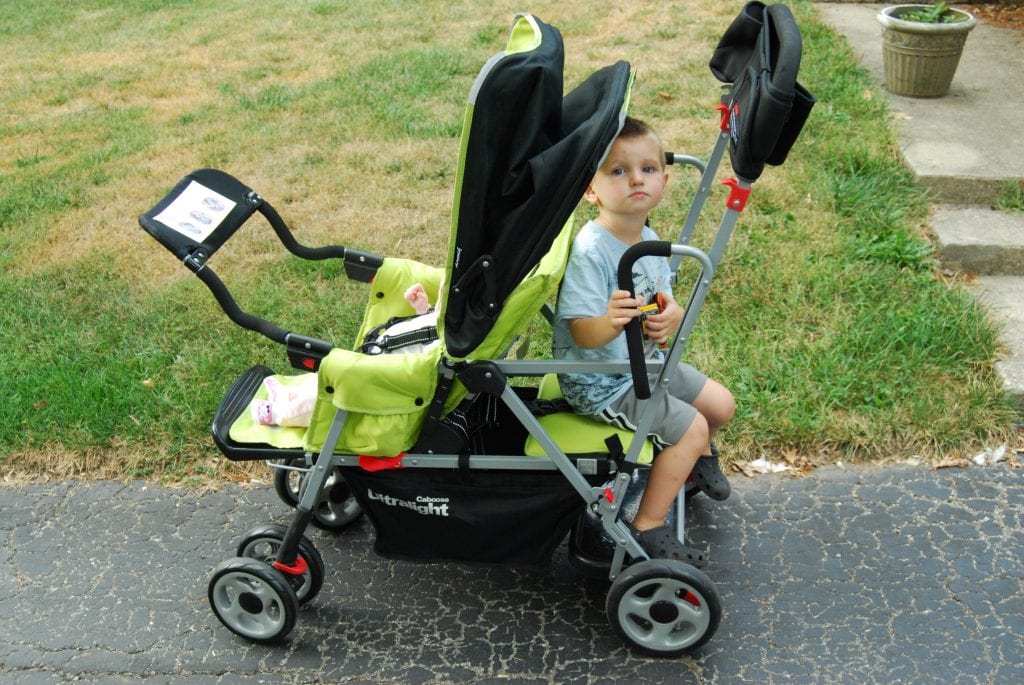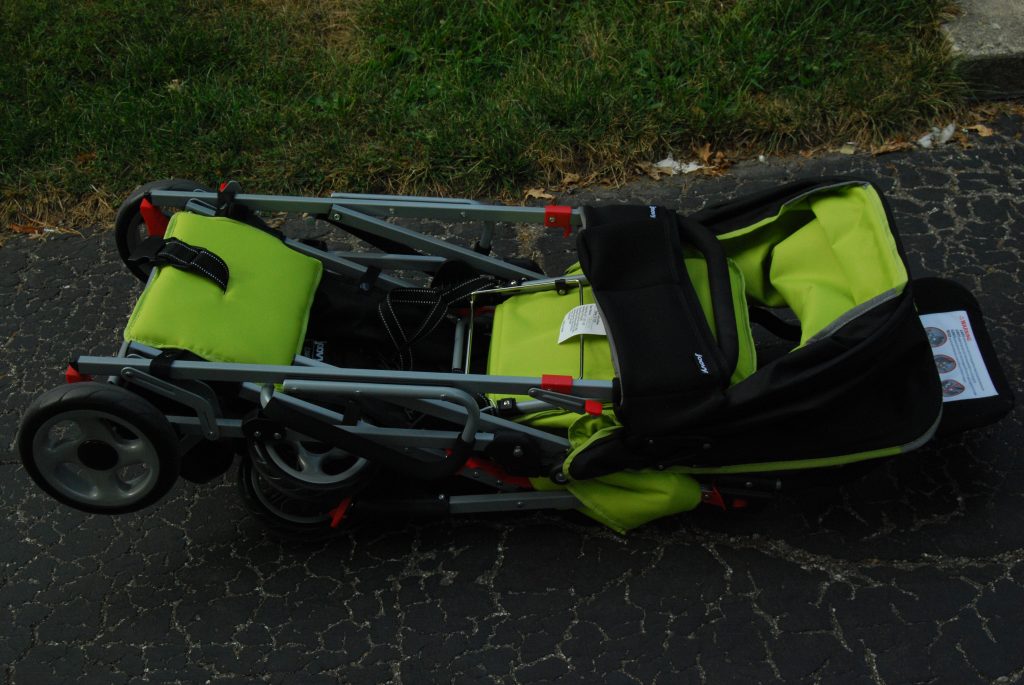 The only disappointment is related to the smaller size of the stroller.  While we were initially pleased with it's smaller size, once we put Jonah in his spot, it seemed rather cramped and uncomfortable for him.  This, I suppose, is a fair price to pay for the smaller size of the stroller.  You can't have your cake and eat it too!  Although, you can purchase the Too Seat which converts the back seat into a full size forward facing seat. What I did like about this was that Jonah's spot is kind of set up in a way that he can hop on and hop off generally as he pleases.  This makes it a perfect stroller for things like the Zoo and the museum where he may want to walk on his own to see the sights, while he may get tired and need to hitch a ride sometimes.  I'm sure we will use this on the trail to go for walks as well.  There is truly nothing more satisfying that walking with my husband, my two children and my dog along the trail on a nice summer day.  We really are a true pack now!
For those of you who love to look at the specs of the stroller, here they are for you!
Folded Dimensions 10.5″H x 21.5″W x 41.5″L

Folded without front canopy/tray 14″H x 21.5″W x 38″

Full Dimensions 41.50″H x 21.5″W x 37″L

Stroller Weight: 21 lbs.

Front Seats Min Age: 3 months+

Front SeatsMin Age: Birth+ using car seat adapter

Front Seat Max Weight: 45 lbs and 40″ Max Height

Rear Seat Max Weight: 45 lbs and 44″ Max Height

Rear Seat Min Age: 2.5 yrs
You can visit Joovy to find out what car seats that the Caboose Ultralight is compatible with!
Be sure to check out all the products from Joovy.  Since we have reviewed our first stroller, they have develop some amazing products!  Take a look at this: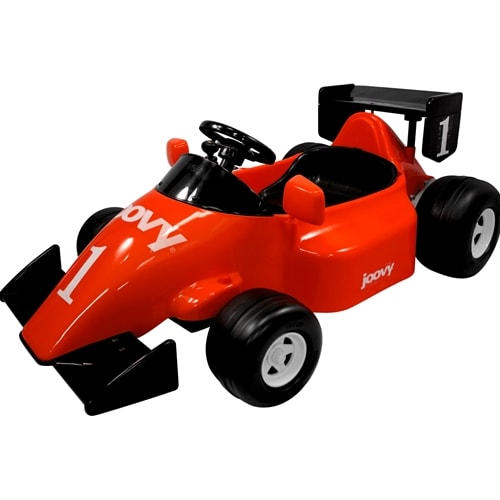 You can purchase Joovy products right on their website!
So go and enjoy your family!
I was not compensated for this review other than a product sample provided by Joovy. All opinions are 100% mine.