I have been wearing Jambu footwear for a long time now. Here is a full Jambu shoes review with recommendations on styles for you and your family.

Discovering Jambu Shoes
Many of you may already know about my small slightly large obsession with shoes. This shopaholic's pleasure of choice is a fantastic pair of shoes.  I am often dragging my kids and my husband through the shoe department of my favorite stores in search of that perfect pair of shoes. What is the perfect pair of shoes?  Well, I obviously want them to be cute and stylish and also comfortable.  In the past, that is really all that I ever cared about.  It never occurred to me to consider HOW they were made and what materials they were made with.  Then, I was introduced to Jambu shoes.
JAMBU™ uses only 100% recycled, recyclable and re-usable packaging. Jambu™ outsoles are made with partially recycled and re-usable compressed rubber. In this small way we hope to preserve our great outdoors for future generations. Renew with Jambu™.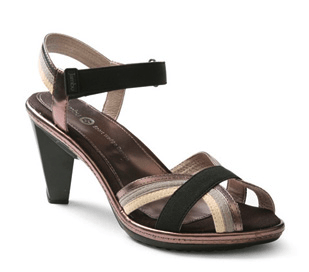 I know what you may be thinking… A shoe company that uses the recycled rubber?  They have to be lacking in the style department!  That is what I thought before I began this Jambu shoes review.  Well, you will be pleasantly surprised.  Jambu footwear has many different styles of shoes to choose from.  From "bare feet" designs to a stylish dressy shoe, Jambu has a little of everything.  They even offer a vegan line of shoes where the entire line is 100% animal-friendly. These styles also all come with an eco-friendly rubber outsole and a memory foam footbed. The vegan styles come in women's wedges, flats, mary janes, and sandals. Jambu Kid Designs™ also went vegan this season offering two animal-friendly styles.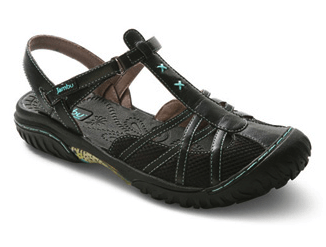 Jambu Shoes Review
I order to start my Jambe shoes review, I had a hard decision-making process; which one should I try out?  I decided to try out The Himalaya.  The Himalaya is an adorable sneaker that features a breathable mesh and leather upper.  It comes in several different colors.  I choose navy blue. They are simple to get on, and there is no need to worry about Velcro or shoelaces with the bungee closure and a flexible opening.  This is a perfect feature for an on-the-go mom.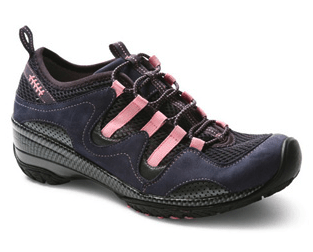 The Navy style also incorporates a little pink to feminize the shoe to my liking!  Everyone knows that I love my pink.  The partially recycled rubber outsole allows for outstanding traction. The Himalaya is available in many colors such as charcoal, taupe, black, navy and brown.
With their memory foam footbeds, they are very comfortable and I can wear them all day long.  Yet they are stylish enough to feed my shoe fetish. These shoes look great with a pair of khakis or slacks as well as a pair of jeans.  They will go with almost anything!  Style and comfort paired together, a dream come true!
I love my Himalaya shoes and am so happy I had the opportunity to do this Jambu shoes review.  I have gotten countless comments from my co-workers and friends and family about them.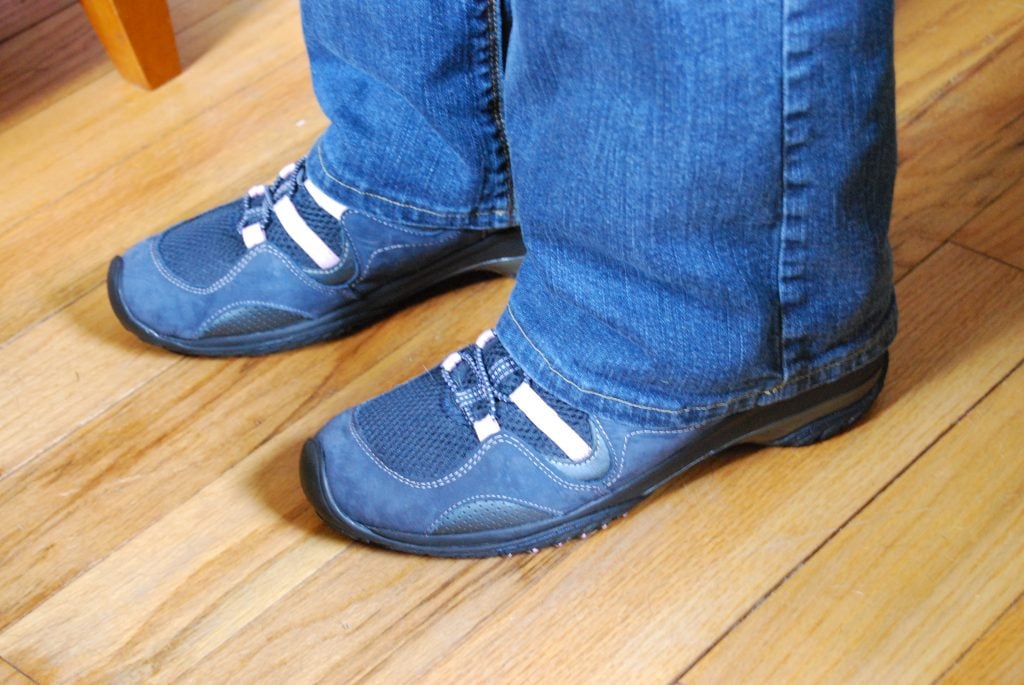 There is nothing better than finding an adorable pair of shoes that are also eco-friendly.  Jambu has many different styles to choose from.  Not only are there Jambu woman's shoes, there are lots of fun styles of Jambu kids shoes as well.
Jump into your next favorite pair of shoes, with Jambu Shoes for woman and kids!
Shop here to find lots of options of great Jambu shoes.
You can read our Jambu Sugar Wedge review here!
This product review was made possible by Jambu.  I was not compensated for this review other than a product sample.  All opinions are 100% mine.