These adorable Oh, The Places You'll Go Dr. Seuss Cupcakes have a hidden surprise in the middle that your kids will go crazy over!
This post, Dr. Seuss Oh the Places You'll Go Cupcakes may contain affiliate links. Thank you for supporting our website.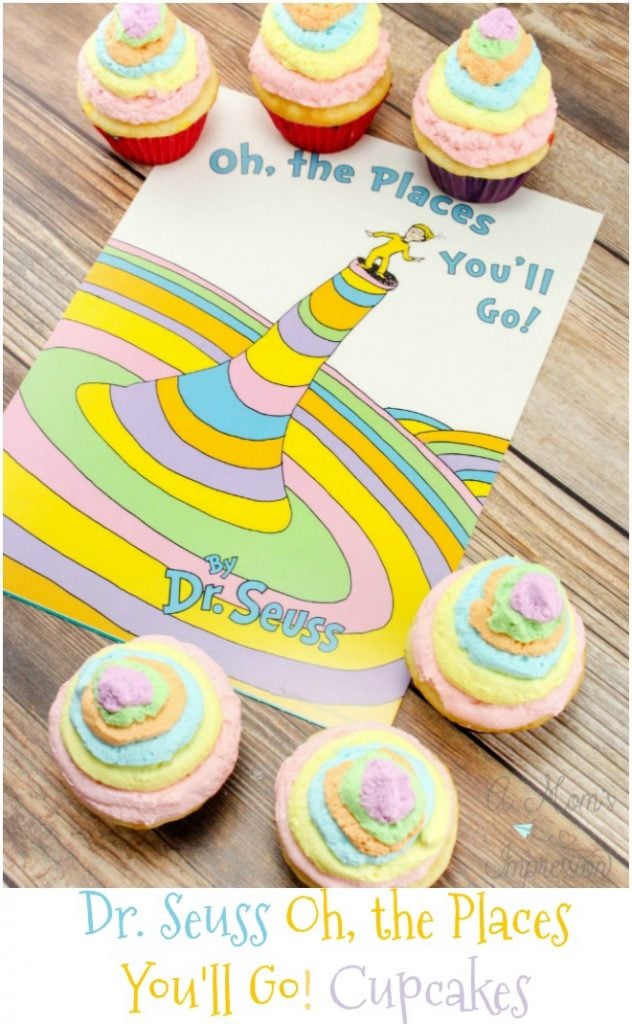 You might have noticed by now that I have a slight obsession with Dr. Seuss. I have so many wonderful memories reading his books.  This passion has turned into many different ideas for Dr. Seuss party ideas and Dr. Seuss recipes.
Read Across America (Dr. Seuss' birthday) is on March 2nd and I have been pulling out some of my favorite Dr. Seuss  activities, crafts, and recipes to commemorate this creative author.  These Dr. Seuss Cupcakes have a wonderful surprise hidden inside that I think Dr. Seuss would love.  These would make the perfect thing for a Dr. Seuss baby shower or a Dr. Seuss Birthday Party.
The cupcake itself is the Funfetti box mix
from Pillsbury but if you wanted to you could make your own from scratch.   I also made mini-cupcakes but you could also adapt these for regular sized cupcakes as well.  The frosting is light and fluffy because we are using whipped topping instead of frosting since the middle is full of colorful sprinkles.
Oh the Places You'll Go Dr. Seuss Cupcakes
Ingredients
Pillsbury Funfetti Cake Mix, 15.25 oz
OliveNation Pastel Candy Quins – Colorful Toppings for All Kinds of Confections – Size of 1/2 lb
McCormick Food Colors & Egg Dye, 4 Assorted Colors, 0.25 oz
Wilton 415-5171 150 Count Rainbow Mini Cupcake Liners
Wilton Disposable 16-Inch Decorating Bags, 12 Pack
1 box Funfetti Cake Mix, baked to package directions in mini cupcake form
1—16 oz. Container Whipped Topping
Sprinkles
Food Coloring—Pink, Blue, Purple, Yellow, Orange, and Green
Mini Cupcake Liners
Piping Bags
Directions
Make mini cupcakes according to package directions.
After prepared mini cupcakes are completely cooled, cut out a small hole in the middle of each one.
Fill each hole with the sprinkles.
Divide the whipped topping into 6 separate bowls, and mix in each food coloring color.
Spoon into 6 piping bags.
Starting with your bottom color, fill the top of the cupcake in a thin, circular pattern. Using next color, pipe a little bit smaller circle on top of the bottom color leaving the edges of the first color showing.
Continue on with all your colors. You should have a tall, cone shape pattern on your cupcake.
Enjoy!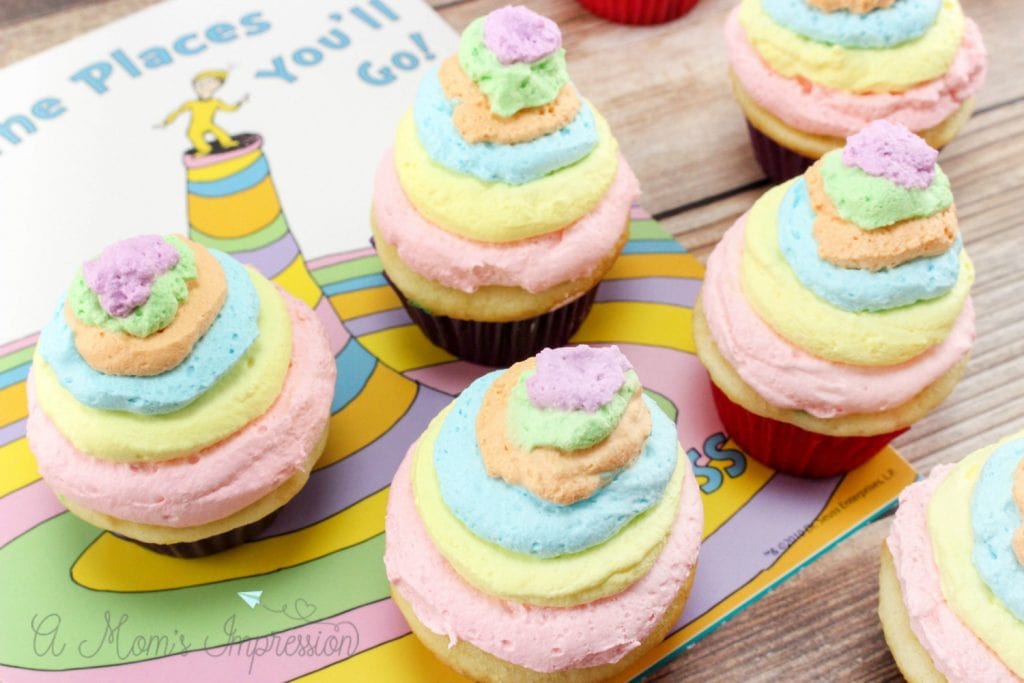 Read Across America Day
I love that my son's teacher is doing a week-long celebration of Dr. Seuss' birthday next week.  I hope I can share in some of the fun and get even more ideas to share with you next week.
If you missed some of my previous Dr. Seuss activities check out this 1 Fish 2 Fish Red Fish Blue Fish Craft, this fun The Cat in the Hat Treats as well as these inspirational Dr. Seuss Quotes.  If you are looking for some good recommendations for Dr. Seuss Books for Preschoolers be sure to check this post out as well.
I would love to hear about any fun ideas or activities your family may do to celebrate Dr. Seuss.  Share them in the comments below!
Pin for Later