This is a sponsored post written by me on behalf of Jimmy Dean®. All opinions are entirely my own.
I am constantly looking to change up our dinner routines when it comes to flavors. Sometimes I can get in a rut and dinners can get a bit boring. I love finding new ways to add flavor to some of my family's favorite meals. That is why when I was doing my weekly shopping at Meijer I turned and looked and saw the selection of Jimmy Dean® Roll Sausage and knew that I could make something spectacular for dinner with it. You may not think of sausage as a dinner option, but I find that it is the perfect addition to any meal. Adding Jimmy Dean® Roll Sausage to a dish is a great way to spice up the typical weekday dinner routine.
Jimmy Dean® Roll Sausage comes in three different flavors; Regular/Original, Country Mild and Hot. There is a flavor that perfect for any family. Jimmy Dean® Roll Sausage is a great-tasting versatile ingredient made with a unique, savory blend of seasonings. This added punch of flavor makes meal time a bit more exciting. Take this Sausage Smash Burger recipe we tried the other night! It's not just an everyday hamburger this brings up the flavor profile and packs a punch.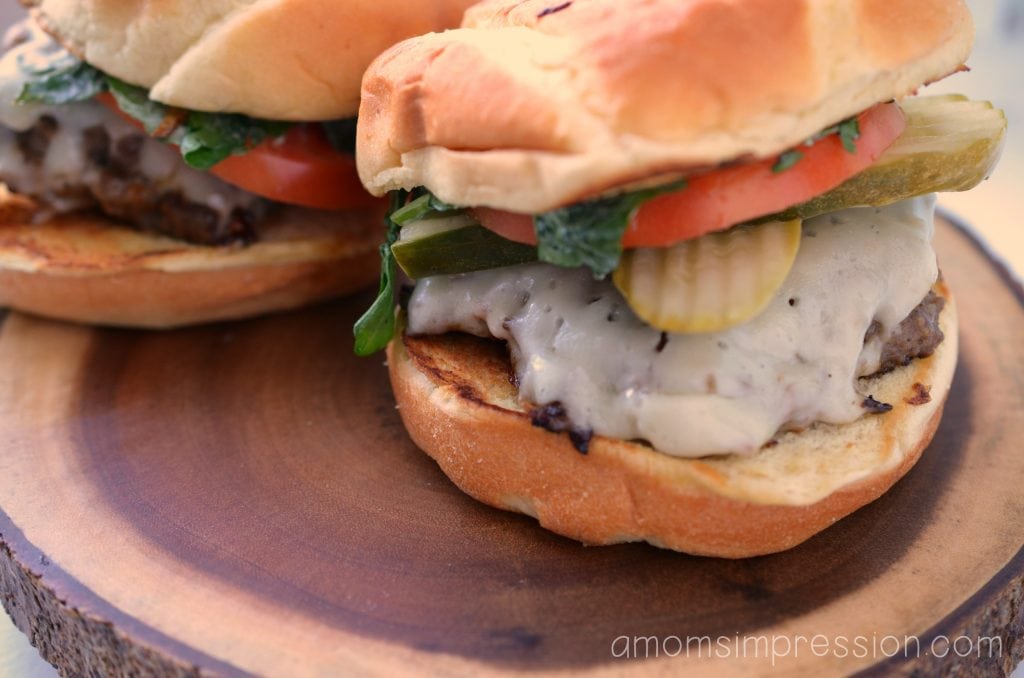 Sausage Smashed Burger Recipe
"Recipe courtesy of Jimmy Dean® This restaurant trending burger is coming to your home. Use Jimmy Dean® Roll Sausage with caramelized onions smashed together in a skillet or char-grill and topped with jarlsberg cheese. Layered between brioche bread, charred tomato, pickled cucumbers, shaved Brussel sprouts with garlic mayonnaise. Serving size: 4 Prep time: 25 minutes Inactive time: 1 hour Cook time: 45 minutes Ingredients 1 pound Jimmy Dean® Original Sausage ½ cup Homemade Pickles, see recipe below 1 cup Sprout Slaw, see recipe below 4 cups diced onions 2 tablespoons oil ¼ cup unsalted butter 8 slices brioche bread (I used brioche buns) 2 tomatoes, sliced 1 cup shredded jarlsberg cheese Homemade Pickles ¼ cup sugar ¼ cup apple cider vinegar ¼ cup water ½ cucumber, seeded and sliced Sprout Slaw 2 cups shaved Brussels sprouts ¼ cup mayonnaise 1 tablespoon garlic paste Instructions
Combine sugar, vinegar and water in a sauce pot and bring to a boil. Remove from heat and add cucumber slices. Refrigerate for an hour before use, the cucumbers will be tender yet still have texture.
Combine Brussels sprouts, mayonnaise and garlic paste in a mixing bowl; keep refrigerated until use.
Heat oil in a large skillet over medium. Add onions, butter and cook on medium-low heat for 30 minutes, stirring often until onions are tender. Drain and reserve excess butter to toast bread slices, refrigerate onions until cooled.
Heat 1 tablespoon of reserved onion butter in the same skillet over medium. Toast 2 slices of bread at a time until desired doneness, repeat with remaining ingredients and set aside.
In the same skillet, heat the tomato slices until a slight charring occurs, set aside.
Combine the sausage and caramelized onions together in a mixing bowl. Divide the sausage mix into 4 equal parts and roll into individual ball-shapes. Using the same skillet, smash the sausage into the skillet with a flat spatula until you have your desired thickness. Cook over medium heat for 12-15 minutes or until the natural juices run clear. Finish with the shredded cheese and let melt before removing from the skillet. You can cook them all in the same skillet or two at a time. Layer the burger between toasted bread with tomatoes, pickles and slaw. Enjoy!"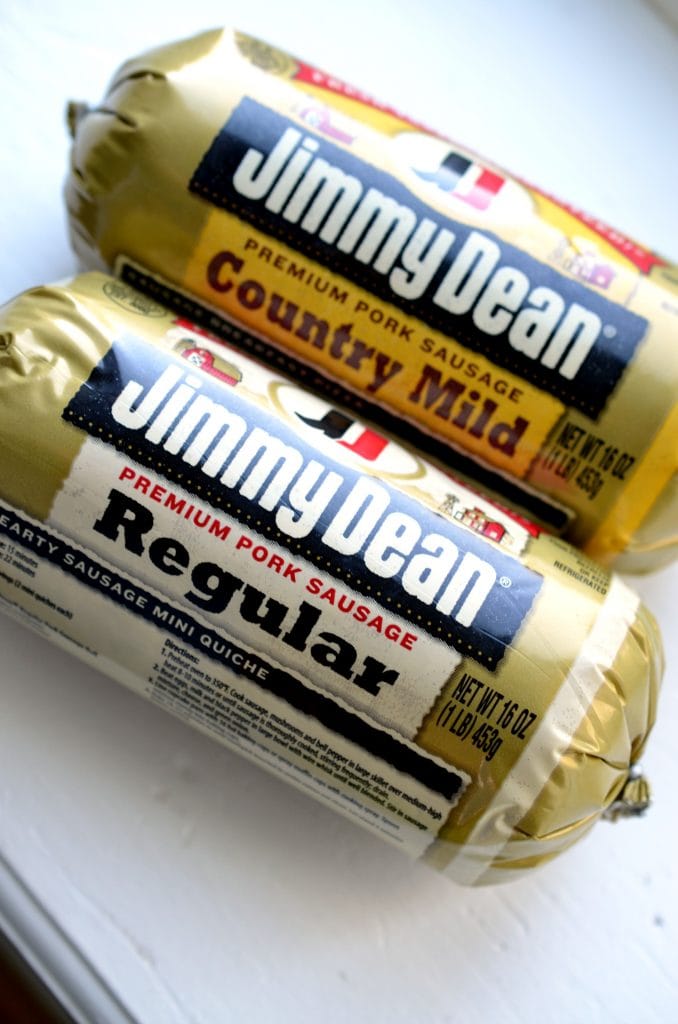 While we absolutely loved the Sausage Smashed Burger, I wanted to create a recipe that I could easily take to school in my lunchbox as well as have for dinner. I decided to do a play on a breakfast sandwich by topping a sausage patty with my homemade egg salad. The result was one of the best sausage sandwiches I have had in a very long time.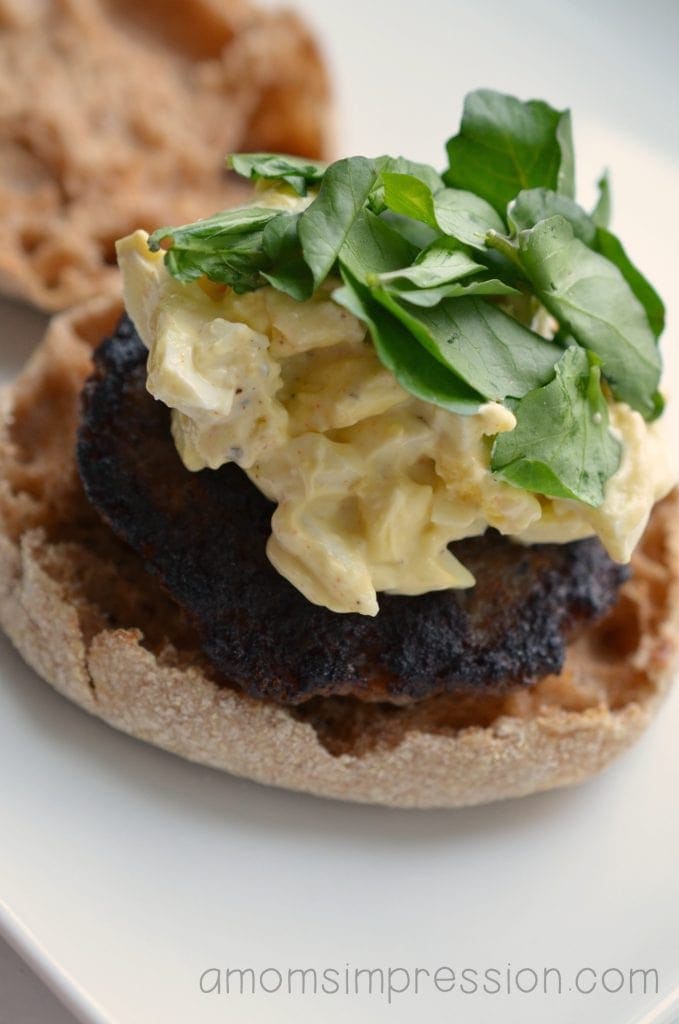 Egg Salad Sausage Sandwich
Makes 4 Ingredients 1 pound Jimmy Dean® Country Mild Sausage Egg Salad English Muffins Watercress Vegetable oil or olive oil Egg Salad 8 hard boiled eggs diced 1/4 cup mayo 1/2 teaspoon garlic powder 1/2 teaspoon onion powder pinch of paprika 1 tablespoon dill relish 1 tablespoon mustard Combine all ingredients in a small bowl. Instructions Heat oil in a large skillet over medium. Create 4 sausage patties and cook over medium heat, turning once, until cooked through (about 12 minutes). Top toasted English Muffins with the sausage patty. Top sausage patty with egg salad and watercress. Enjoy! However you decide to incorporate Jimmy Dean® Roll Sausage into your dinner routine, know that your meals will be bursting with flavor. It's time to think outside the breakfast arena with this one. How can you make your dinner's even more flavorful? You can find Jimmy Dean® Roll Sausage at Meijer in the refrigeration area next to the meat department!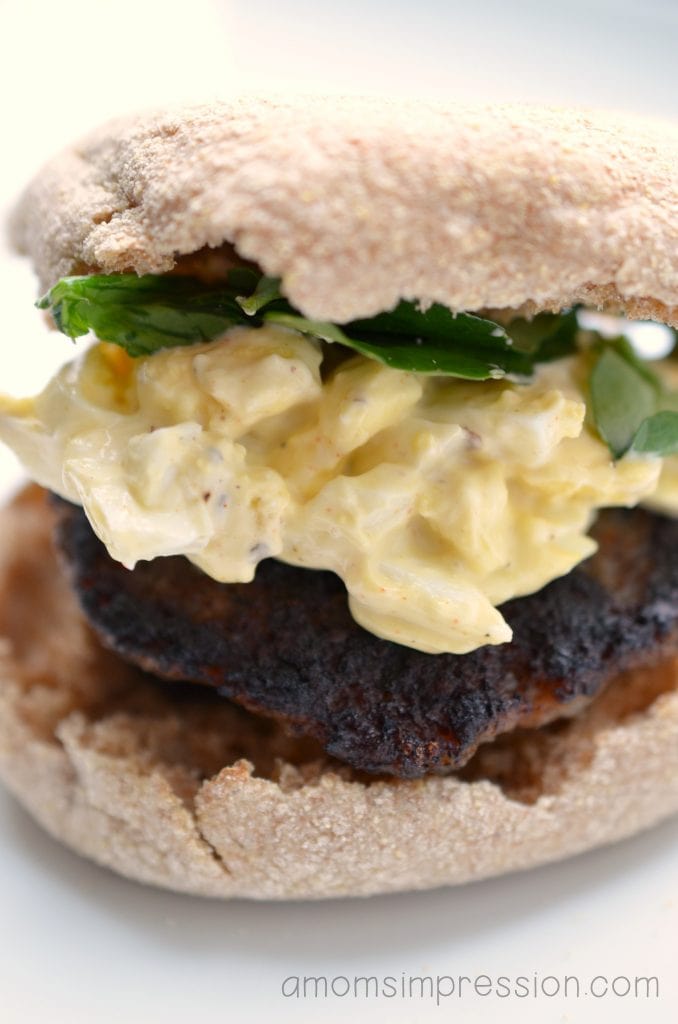 This is a sponsored post written by me on behalf of Jimmy Dean®. All opinions are entirely my own.