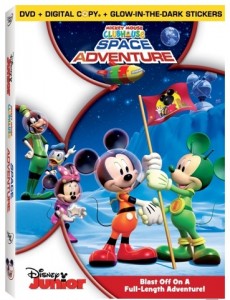 Move over Cars2  TJ has a new favorite movie in the house!  Our favorite friend is back in an all new 45 minute special, Mickey Mouse Clubhouse Space Adventure.  This DVD came out on November 8 and is a perfect stocking stuffer for any Mickey Mouse fan.  The story combines all of TJ's favorites; Mickey Mouse, Space, Rockets, and the rest of the Clubhouse Gang. He was so excited that there was two Mickeys and two Plutos in this movie.  Mom enjoyed that it was longer than a typical Mickey Mouse Clubhouse episode.  I also enjoyed that additional never before seen episode "Goofy's Thinking Cap."  I think we have seen just about every episode of Mickey Mouse Clubhouse, so the new episode was a welcome change.  Here is a little of the press release:
Mickey Mouse Clubhouse: Space Adventure is a 45 minute, full-length space-themed escapade, geared
for kids 2 to 5 years of age, that invites young viewers to discover outer space and use their problem-
solving skills while they watch. In this specific adventure, Mickey and pals head to space where they tour
the Moon, Mars and the Rings of Saturn as well as meet new alien friends while on the hunt for a unique
space treasure. This exciting release will be available for purchase as a 2-Disc (DVD + Digital Copy)
Combo Pack (the ultimate "2-for-1" value) for the suggested retail price of $19.99 U.S./$24.99 Canada.
It's an out-of-this-world package the kids won't want to miss!

Here is a fun clip:
Thanks to this fun movie, TJ now thinks that we are going to take a space ship to Idaho for Christmas!  I hated to burst his bubble, but he said he wants to go on an airplane too so he wasn't too disappointed.
We are huge fans of Disney in our household.  I can not wait to take TJ to Disney World one of these days.  I would love for him to meet the mouse someday.  In the meantime we are looking forward to Disney to air Disney Jr. 24 hours a day in 2012.  The programing on Disney Jr. is amazing and I don't feel guilty about letting TJ watch it.
Be sure to check out this new DVD as it would make a wonderful gift this Christmas for any Mickey Mouse fan!
This product review was made possible by Disney and  Click Communications.  I was not compensated for this review other than a product sample provided by the company or PR firm. All opinions are 100% mine.