This is a sponsored post written by me on behalf of Cricut. All opinions are 100% mine.
Have you been dreaming about making your own DIY Coffee Station like you see on Pinterest? Check out my easy tutorial to make some custom coffee signs and personalized coffee coasters to create the coffee station of your dreams! I will be using my Cricut cutting machine to make my coffee bar extra special and unique.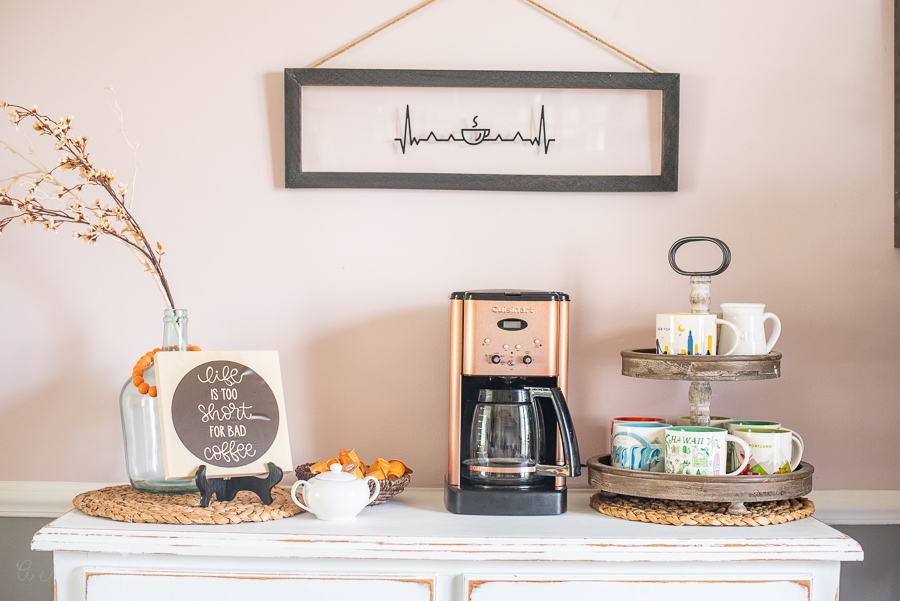 I have been a coffee lover for as long as I can remember. It has always been a big part of entertaining as well as my personal enjoyment in the morning. I have seen all the beautiful coffee stations people have put together on Pinterest or on Instagram and I have been wanting to do something similar for a very long time.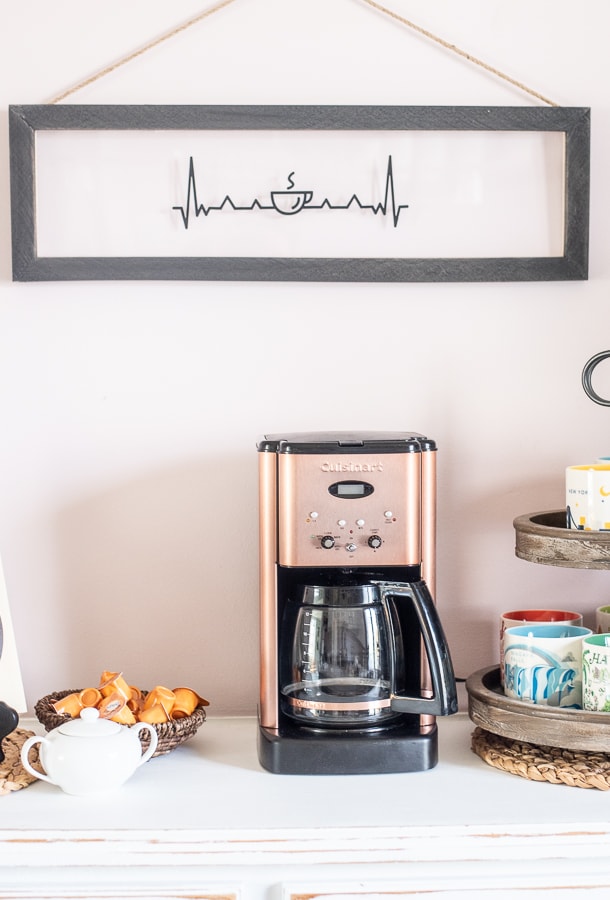 But of course, I have to use my Cricut cutting machine to make it personal and extra special. I love using my Cricut for projects like this coffee bar because I can create custom decor that makes my home uniquely mine.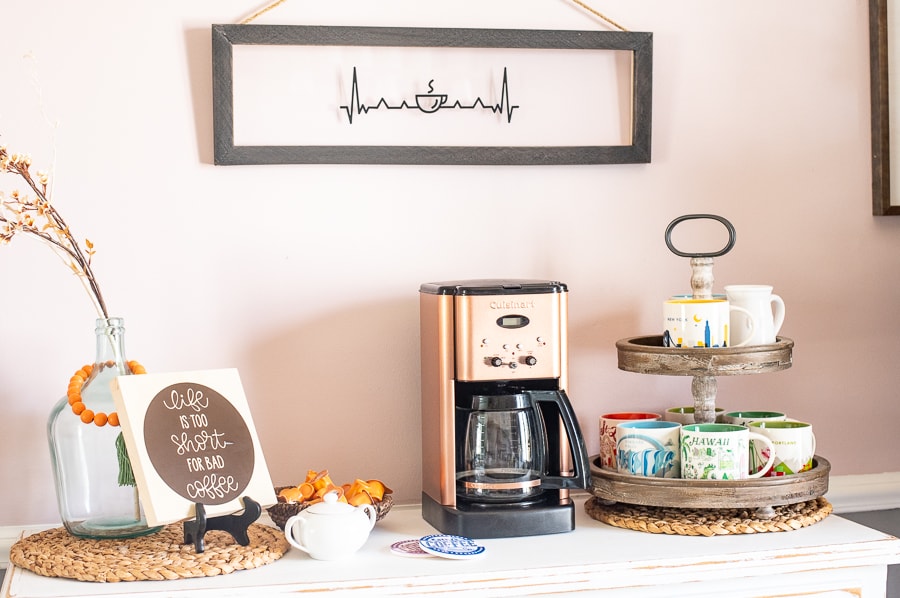 For my new coffee station, I made a super cute coffee sign using a wooden block and my Cricut vinyl. I also made a fun "coffee is life" heartbeat decal for my window pane that I hung over the bar. To top it all off, I created some personalized coasters using Cricut Infusible Ink. They look amazing and are the finishing touch to my custom coffee bar.
Custom Coffee Station Signs
It is super easy to make these Coffee Station signs. For the windowpane sign I simply searched Design space for a coffee design that I liked. I found this one and measured my sign to see how big I needed to make my decal. Then I printed it on some permanent black vinyl and attached it. It looks amazing and took about 5 minutes to make!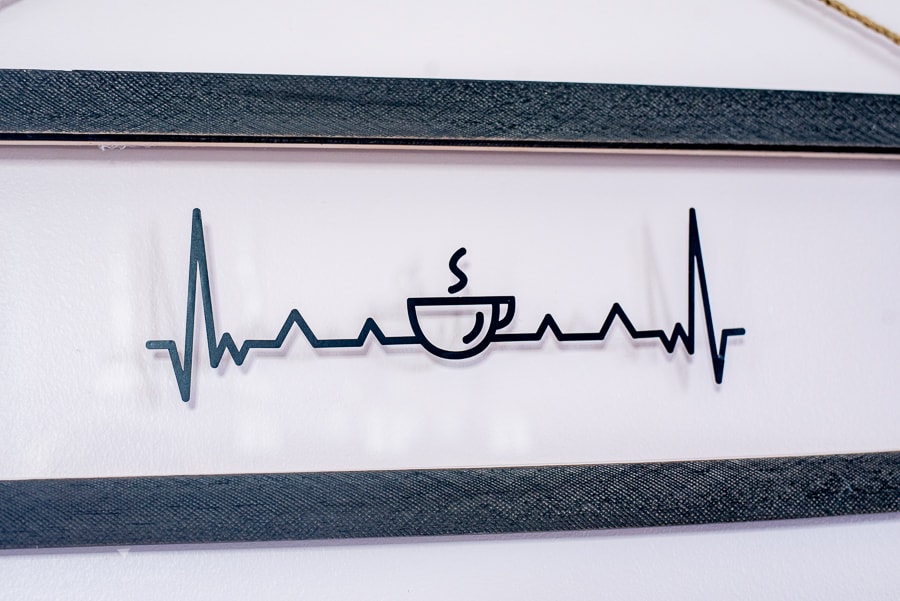 For the "Life is too short for bad Coffee" sign, you can use my custom coffee sign design and resize it to fit on your canvas or wooden block. I used Premium Vinyl in Cocoa for my coffee bar but you can change it up to match your decor.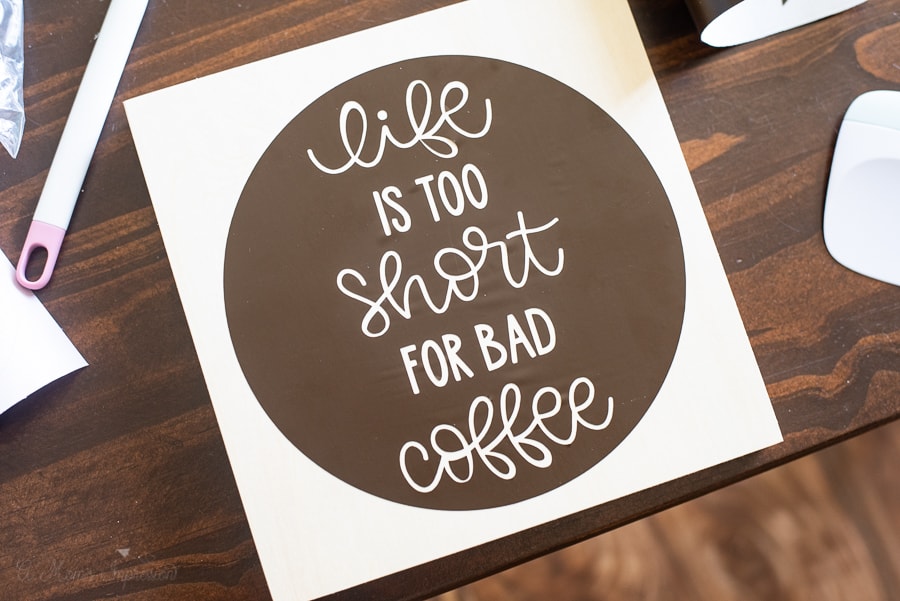 After I loaded the vinyl onto my Standard Grip Cutting Mat, My Cricut Explore Air 2 cut out my design. Next I used Cricut Transfer Tape and my XL Scraper tool to transfer the decal to my wooden block.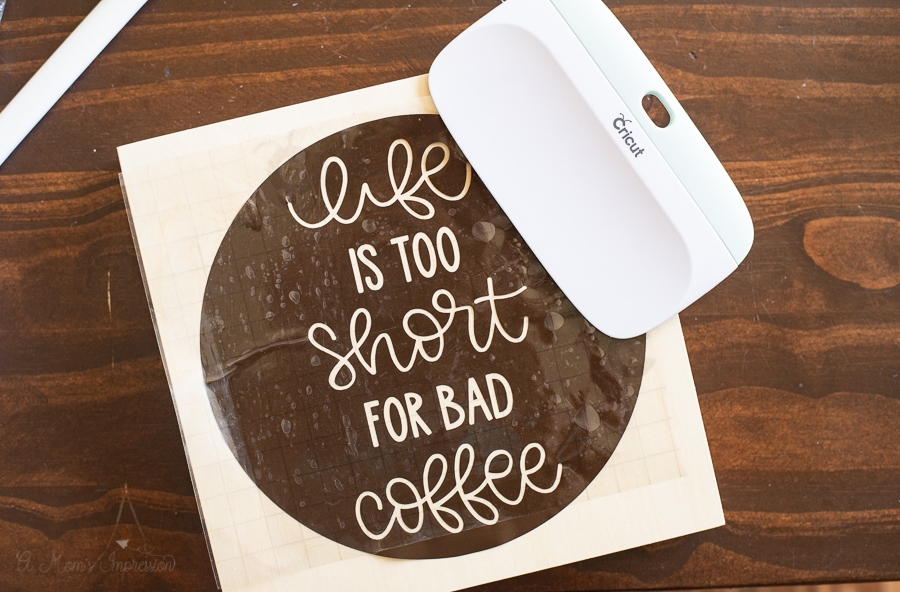 The result is another easy to make sign that is perfect for a coffee station.
Custom Coffee Station Coasters
Materials:
Directions
I found this Custom Coffee Coaster project on Design Space. I modified the name to my own. Since there are there are 4 coasters in a package of Cricut Coasters and four different colors of ink transfer papers in my package, I cut out four, one of each color.
After you finish customizing the coaster, click on Make It and then be sure to mirror the image! Don't forget this step or your coasters will be backwards.
Load your Infusible Ink paper onto your  green Standard Grip Cutting Mat.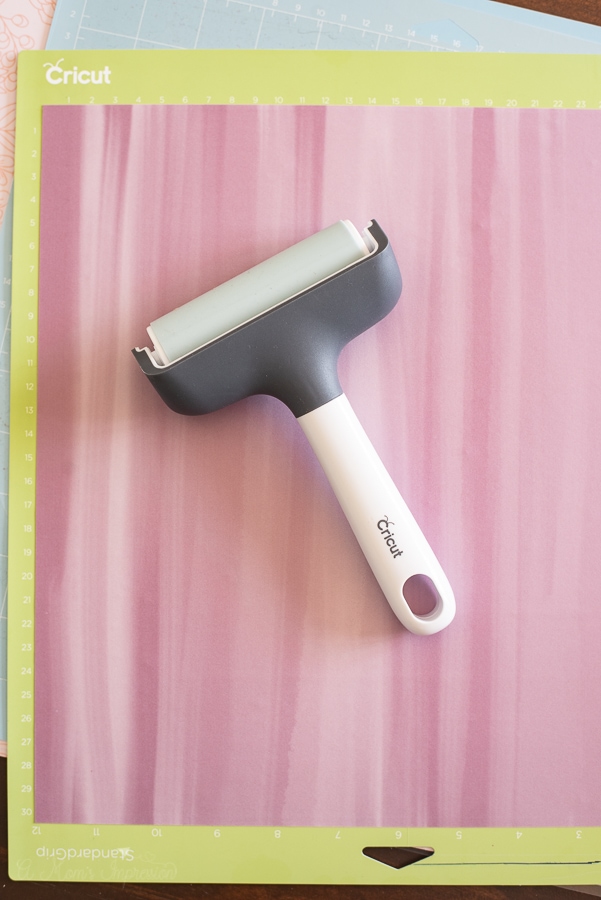 Be sure to select Infusible Ink as your cutting material. You do this by turning your dial to custom on the Cricut Explore Air 2 and then selecting the material on Design Space.
Load your mat and hit the Cricut button.  The machine goes to work and creates your decal.
When you are done, use your hands to weed out all the transfer paper you can. If there is small words, like mine, you might need to use a weeding too. Then cut around your design carefully so it fits on top of the coaster.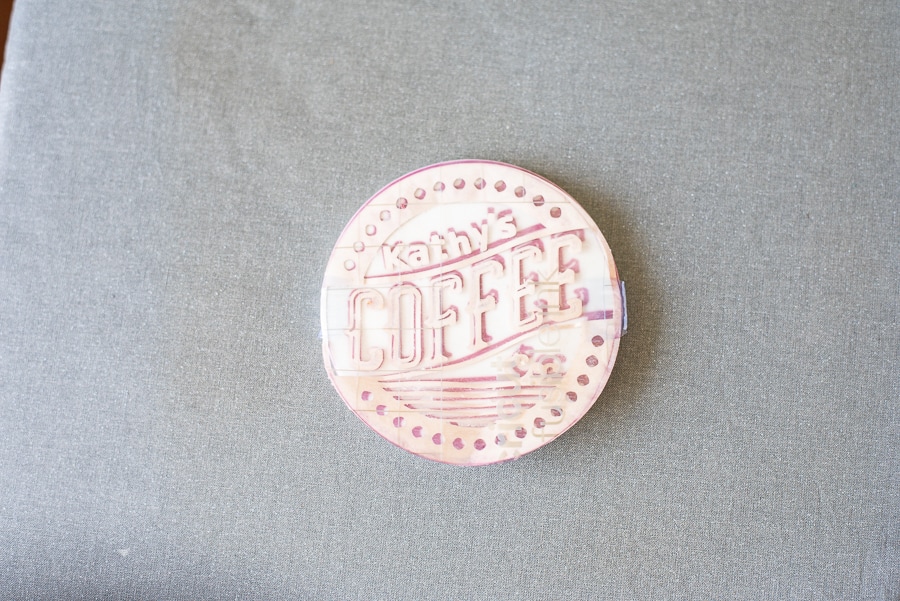 I like using a little heat resistant tape to tape the sides down around the coaster. I find that this really helps ensure that the decal doesn't move around when it is being heated.
Use the Cricut heat guide to find the right settings for your Easy Press 2.  It will walk you through how to set up your press and your coasters to get the perfect transfer. For coasters it is 400 degrees for 240 seconds. Be careful when you take off the decal, the coaster is extremely hot.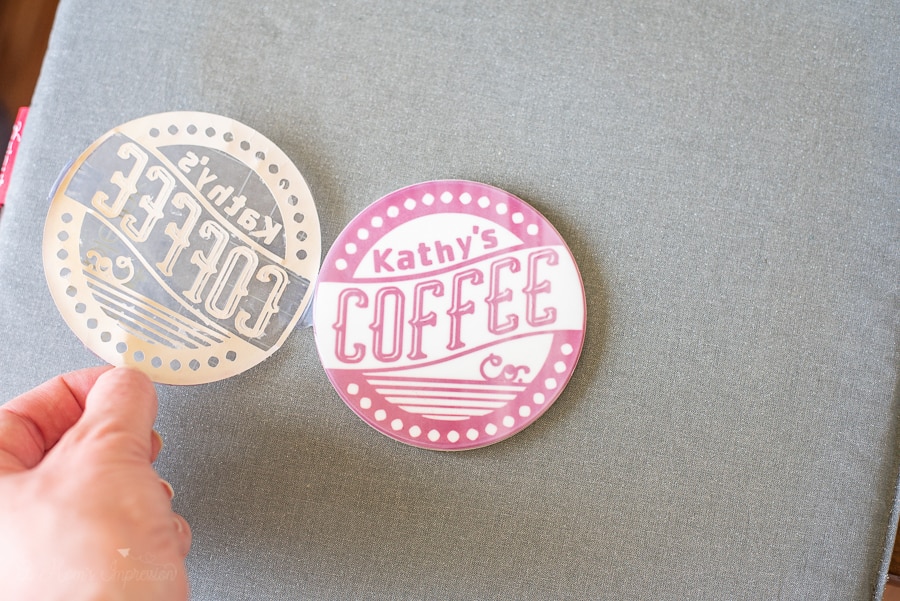 These custom coffee coasters are the perfect touch to my coffee bar. It makes it very personable and all my guests are going to love them!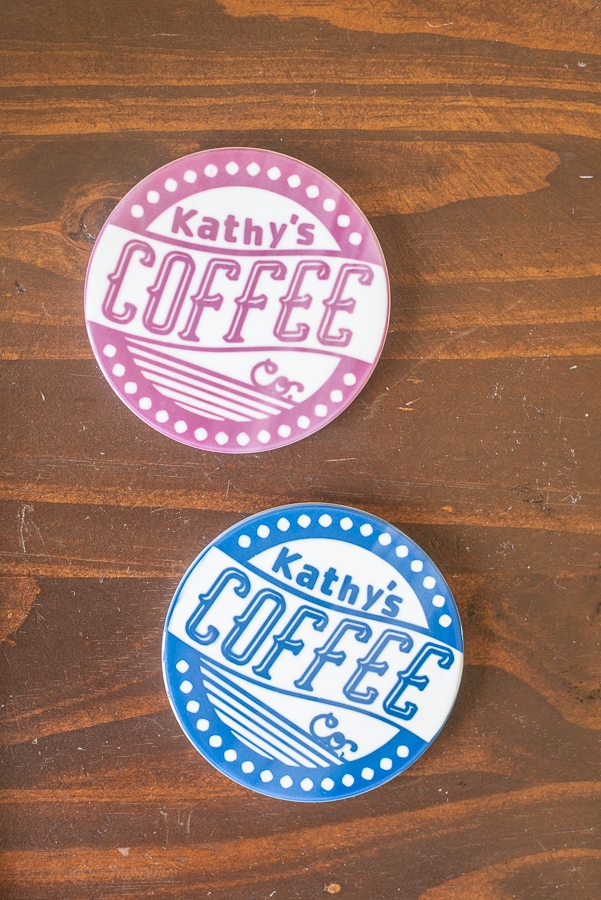 Now that I put everything together, I am loving my new coffee station. It makes me smile every morning when I go to make my morning cup of coffee.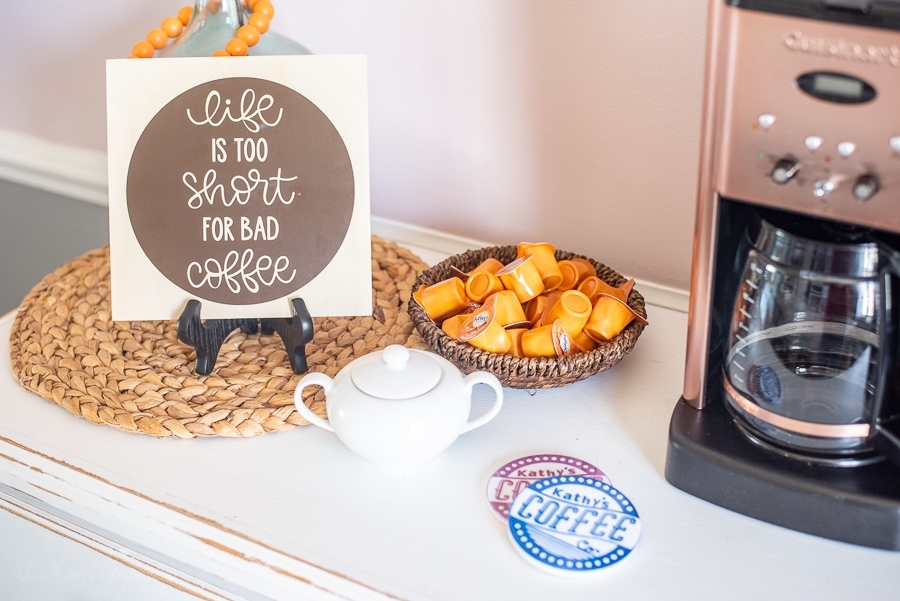 Now you too can make a beautiful coffee station just like the ones on Pinterest.
Next up, I think I am going to need to check out the all new Cricut Mug Press to make some custom mugs for my new coffee bar! I can think of a billion different mugs I can make for any occasion!