I have been loving American Girl since I first laid my eyes on one of their catalogs. I have several of their books on my shelves at school that the entire class loves to read. It has always been my dream to have an American Girl doll.  When they first came out, I was too old for one.  Now, I am living vicariously through my daughter.  In fact, one of the first things I said to myself when I found out that Caroline was a girl was that I could buy her American Girl dolls. Living up to that promise, a few weeks ago Saige arrived!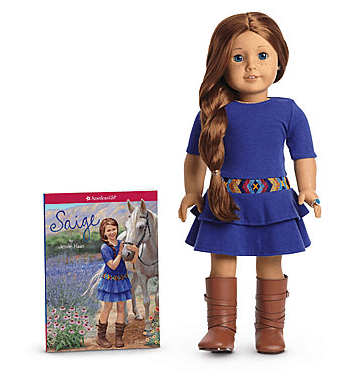 I love how there is a story behind all of the American Girl Dolls of the year.  Here is Saige's story.
Meet Saige

Saige Copeland™ loves the arts and her horses. But when both of her passions are threatened, she turns to her creative side. With imaginative solutions, she proves that one girl can make a difference. Saige is a spirited and imaginative young girl who loves painting and horseback riding at her grandma's ranch in Albuquerque, New Mexico—the hot-air balloon capital of the world. When budget cuts take away art class at school and a horse she loves might be sold, Saige draws on her talents, mobilizes others, and takes action to improve the world around her.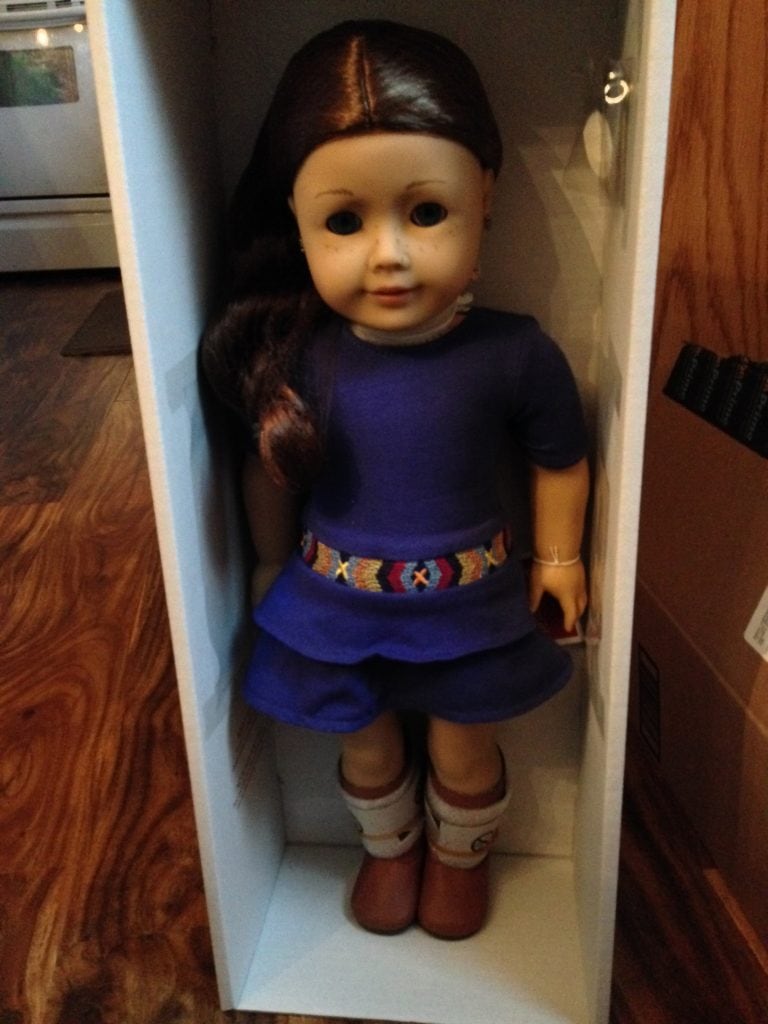 It didn't take long for us to take her out of the box!  Caroline was very excited when she saw it was a doll!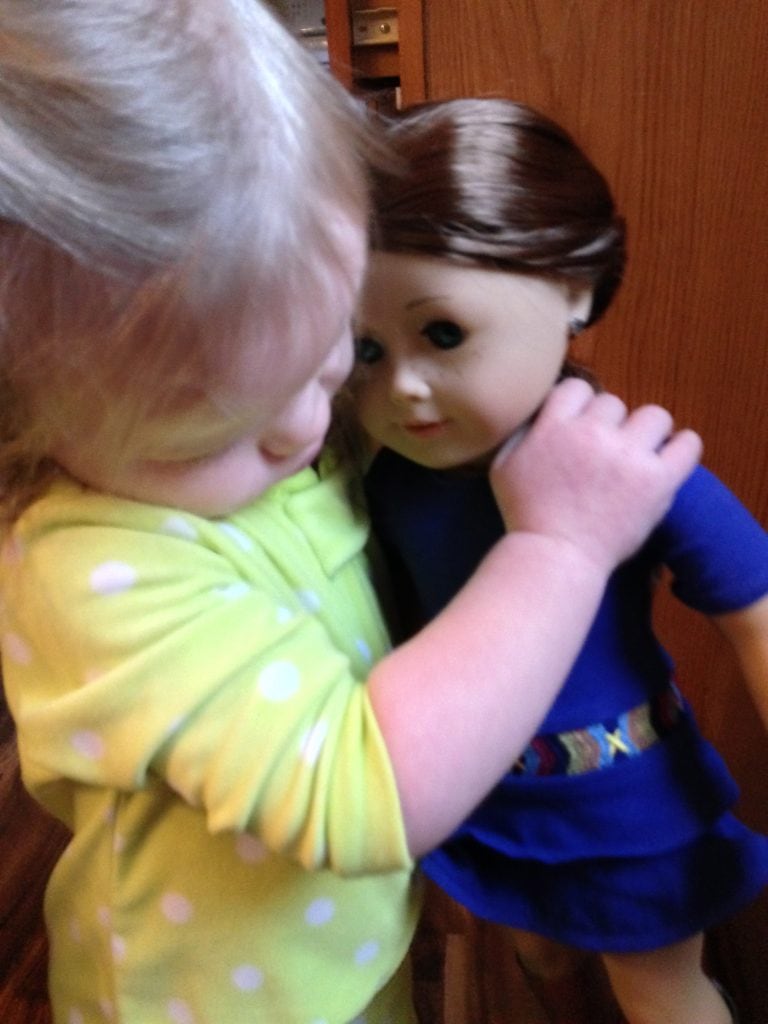 After I was finally granted access, I took some better photos of this beautiful doll!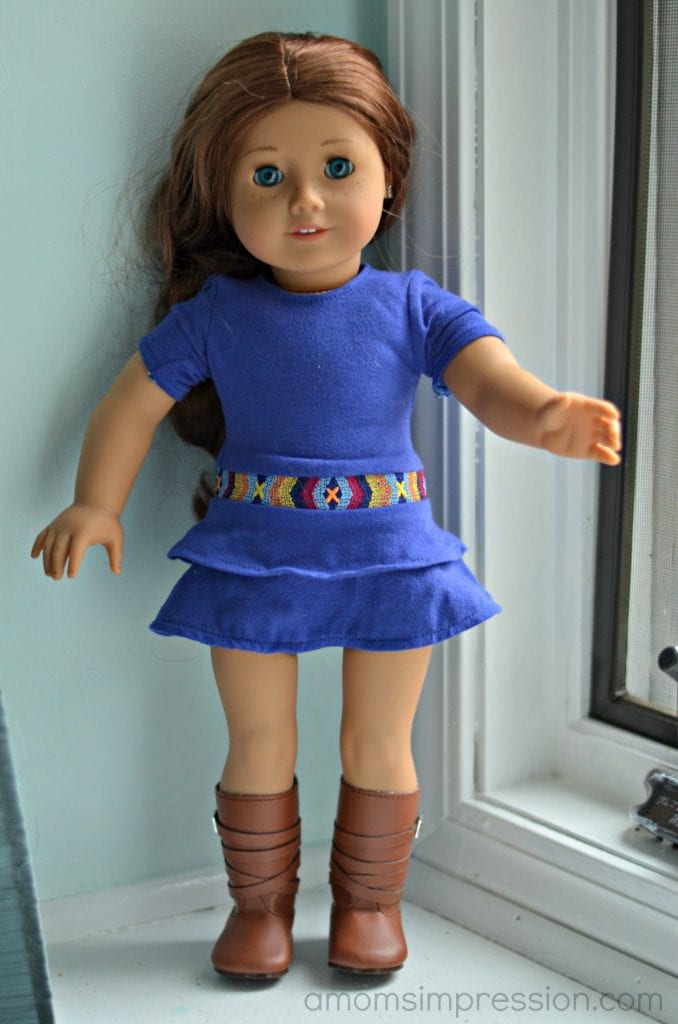 Saige is wearing a gorgeous Indigo knit dress with a southwestern inspired embroidery.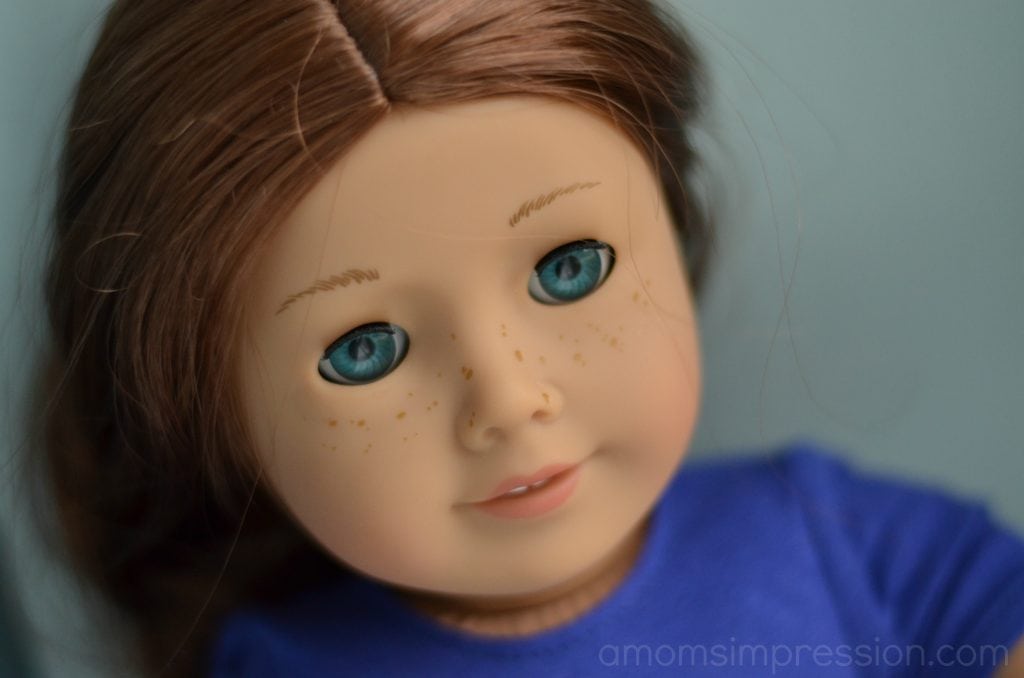 Check out all the details like the freckles on her face.  This is what separates American Girl dolls with all the rest on the market.  They are high quality and full of details that make the dolls very special.  Not to mention they have amazing accessories.  Take a look at these boots: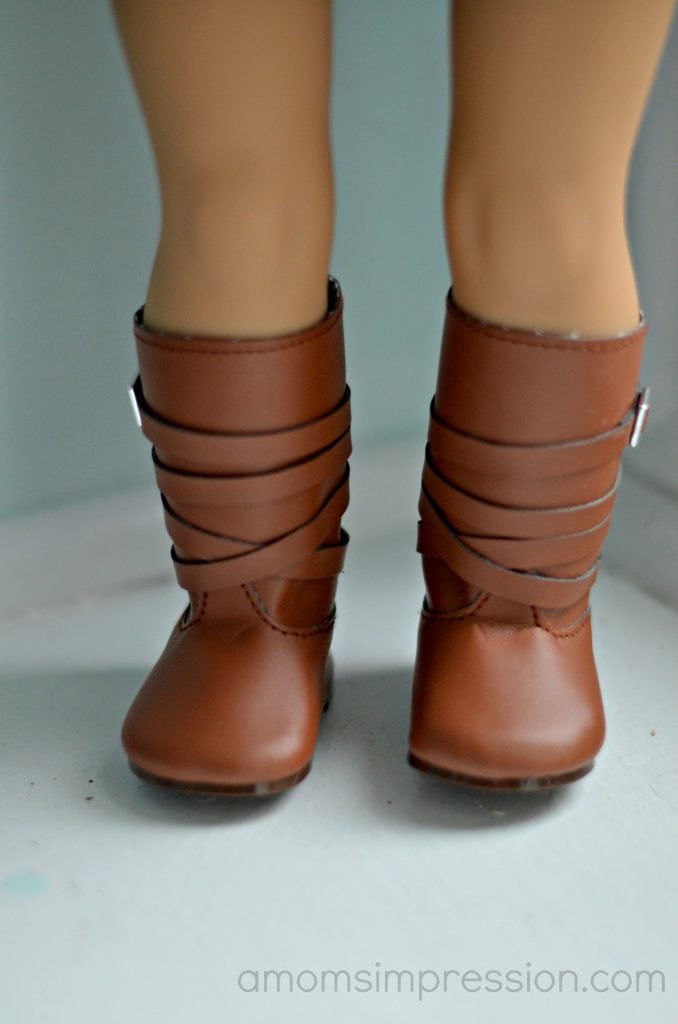 I am in love with them and want them in my size!  Speaking of details.  Look at the stitching on her dress: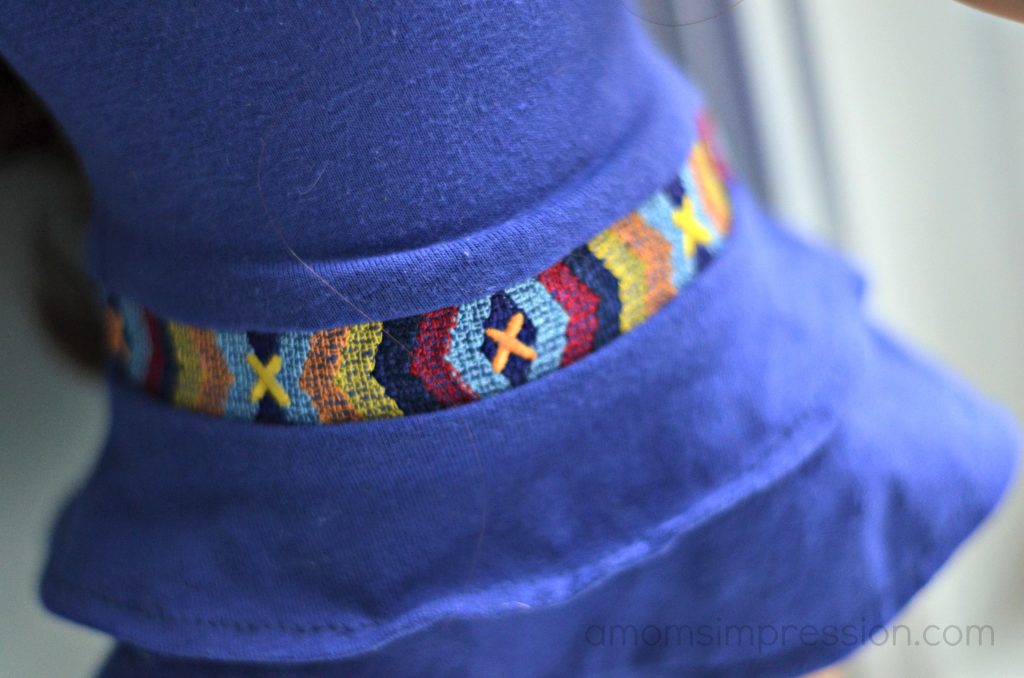 I have not found another doll that has such high quality clothing and accessories.
  Saige has small earrings to match her outfit.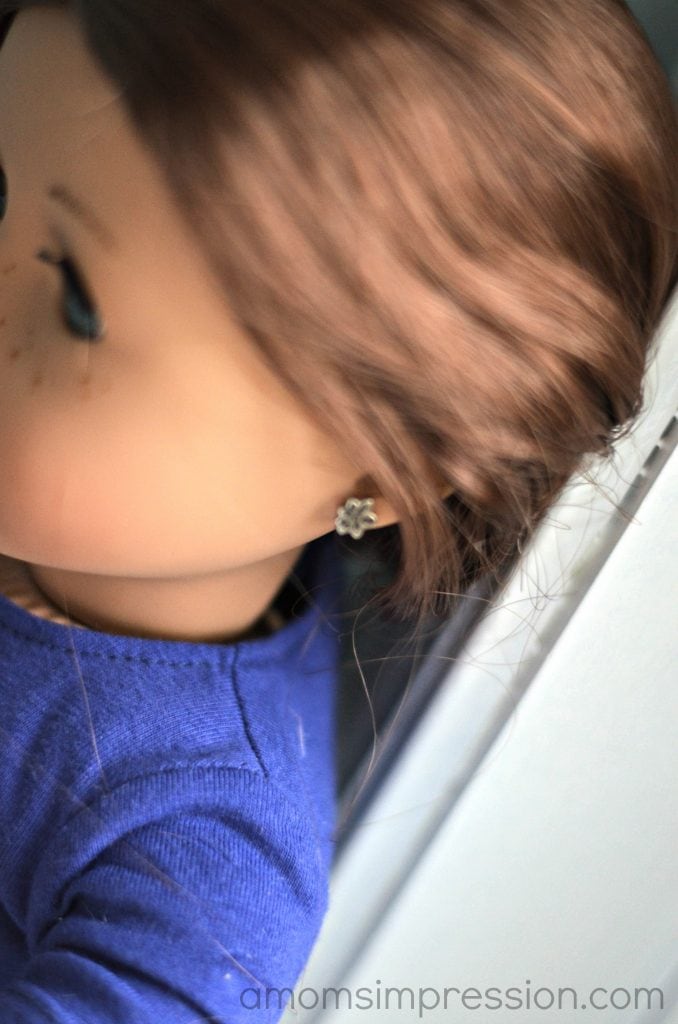 She even has a turquoise ring.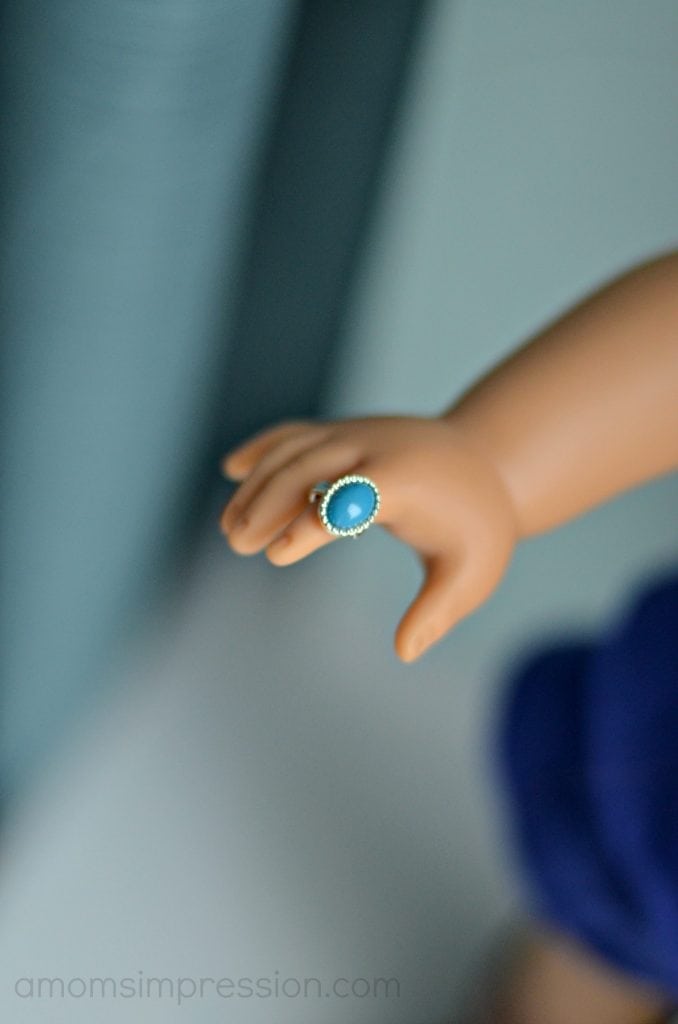 If your little girl isn't quite old enough for a big 18″ doll, there is the Bitty Baby!
Designed for girls ages 3 and up, Bitty Baby is a 15-inch soft-bodied doll available in 11 different combinations of skin tone, eye-, and hair-color, allowing girls to create a one-of-a-kind companion that's just right for them. Each Bitty Baby doll comes dressed in her signature sleeper, along with a special "wishing star" keepsake toy and a beautifully illustrated Bitty Baby and Me hardcover picture book.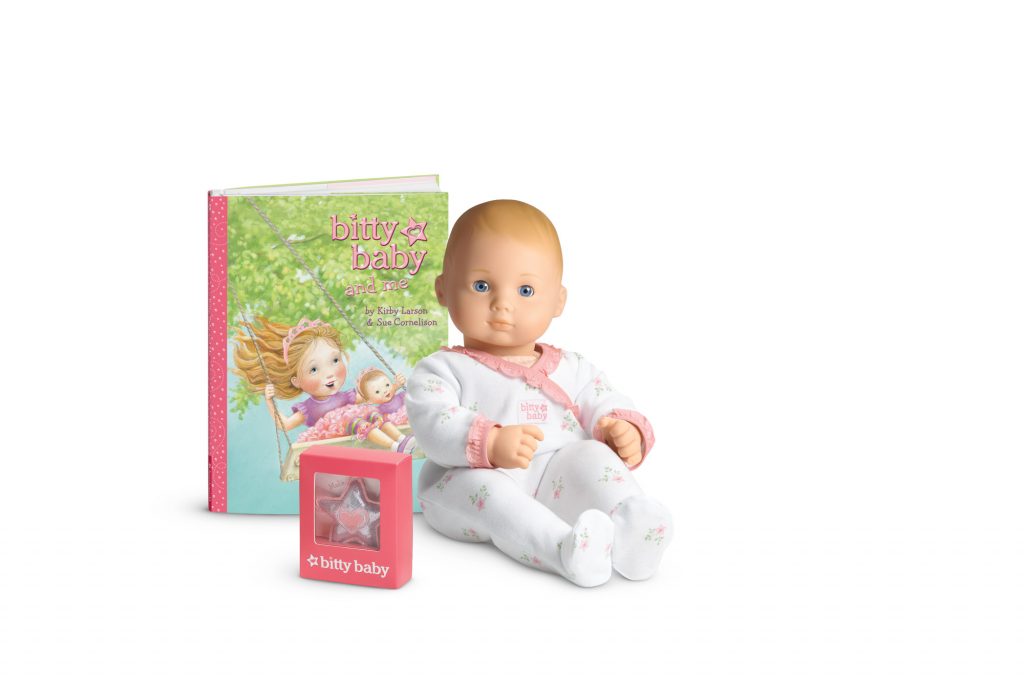 I know a lot of moms who have a Bitty Baby and absolutely love it!  I was on the fence about getting one for Caroline this year, but I think one of my friends talked me into it.  She says that her daughter (now 6) still plays with her Bitty Baby.  Can you imagine the delight as your little one opens this Christmas morning? Check out this photo: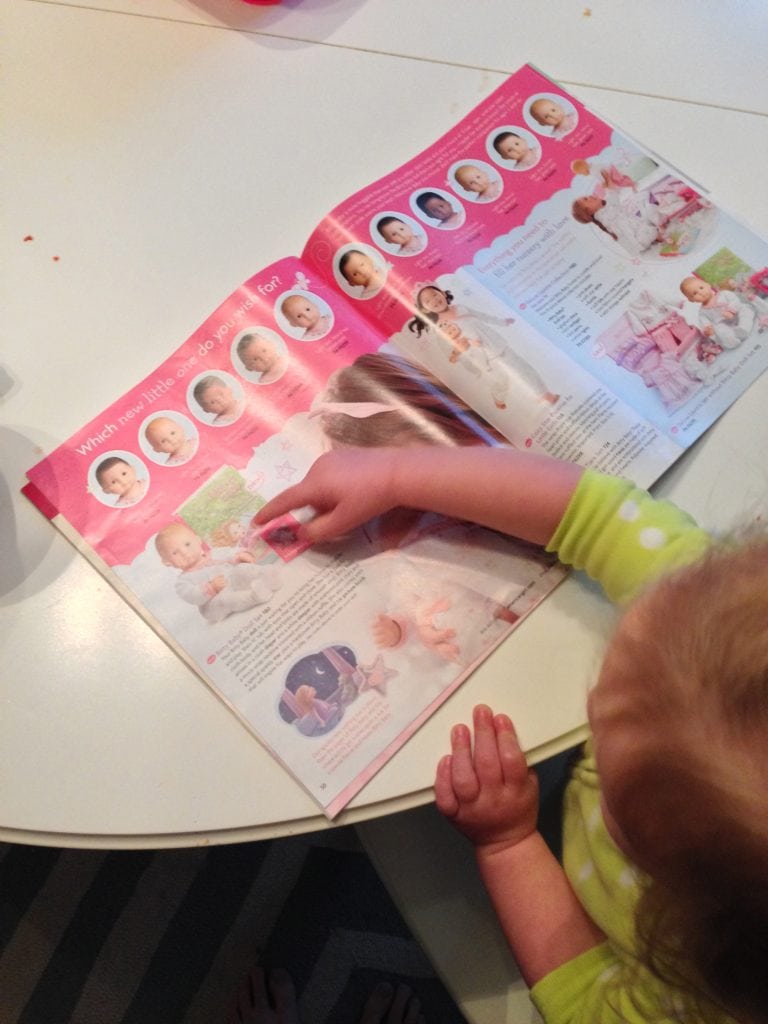 That's Caroline finding a Bity Baby in our AmericanGirl catalog and wanting it!  LOL!
For the little girls on your list here are some gift ideas from American Girl:
Molly and Emily (they will be retiring at the end of the year, now is the time to get them)
Bitty Baby Dolls (for the younger girls)
American Girl books!
American Girl Doll activity sets
Any accessory would make a great stocking stuffer!
Don't forget about Saige!
Right now get an even sweeter deal!  From October 14 to December 31, 2013, customers who make a purchase with American Girl in store or online will receive a thank you gift–a promo code for a free 20-page, American Girl-themed hardcover photo book (valued at $29.99), redeemable at Shutterfly.com.
Saige is the 2013 American Girl of the Year which means that you only have until December 31st to get her before she goes away! You can purchase her and any of the Bitty Baby dolls online or at any American Girl Store.