This post is sponsored by Perdue Farms, all opinions are mine. 
Making breakfast sausage links in an Airfryer is quick, easy and so delicious. We used Niman Ranch Uncured Pork Breakfast Sausage that we got from our Perdue Farms Family Bundle Pack. I thought sausage couldn't get any better, I was wrong! Perfectly crispy on the outside and tender and juicy on the inside. Yes please!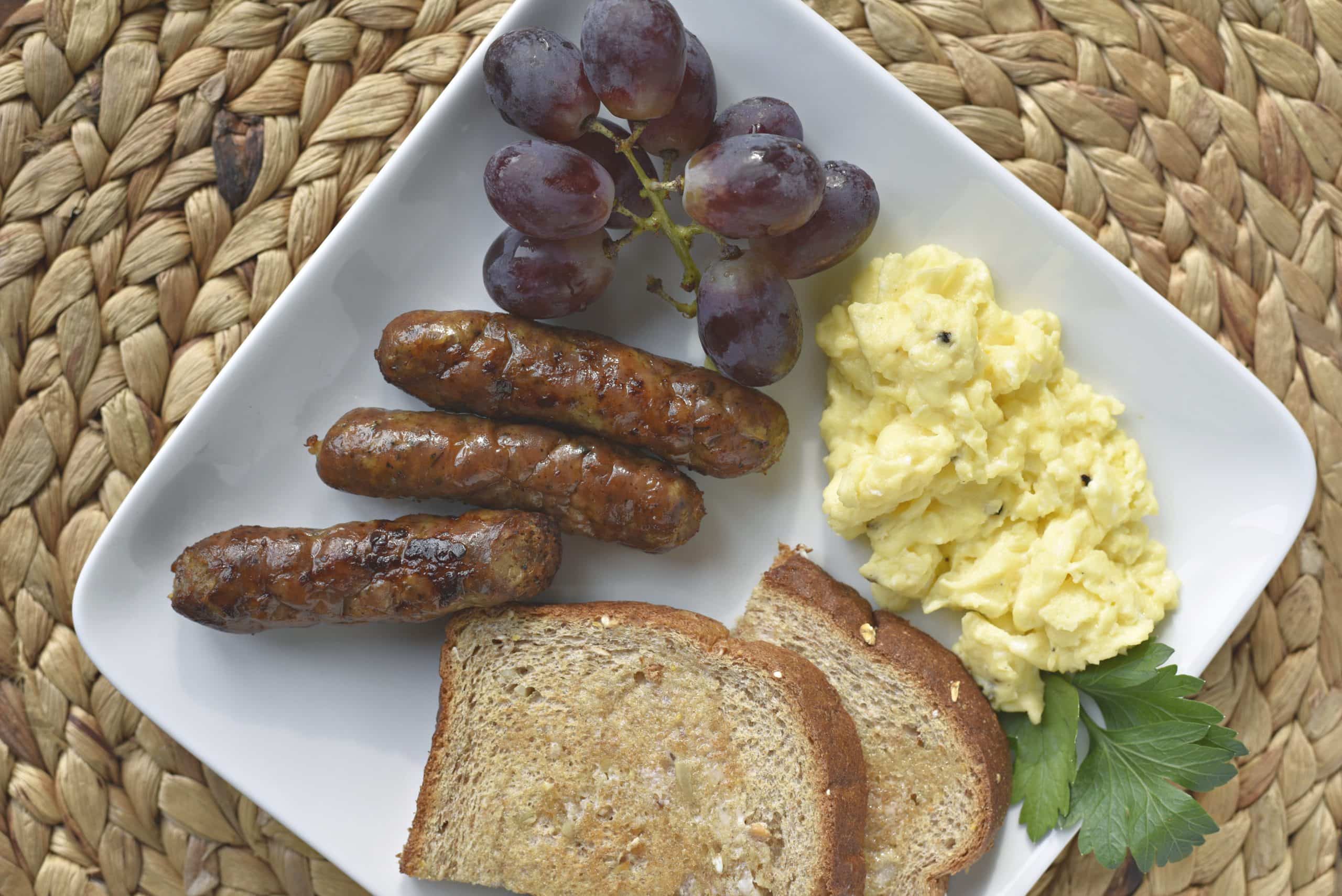 In our home, we LOVE breakfast. We love it so much that we often have it for lunch and dinner! My husband is the KING of egg sandwiches for lunch (usually with bacon or sausage on them) and, about once a week, we have "breakfast for dinner". We never make anything too fancy, just eggs, toast, hash browns and a breakfast meat. It's a cheap, easy and fun dinner that everyone in the family will eat.
Recently, I've found a new, awesome way to cook our sausages and they turned out fantastic! My husband got an Air Fryer a couple of years ago and he has been air frying EVERYTHING. Well, it recently occurred to me to learn how to cook sausage links in the Air Fryer. It was so easy and they were so delicious, I just had to post the recipe on here.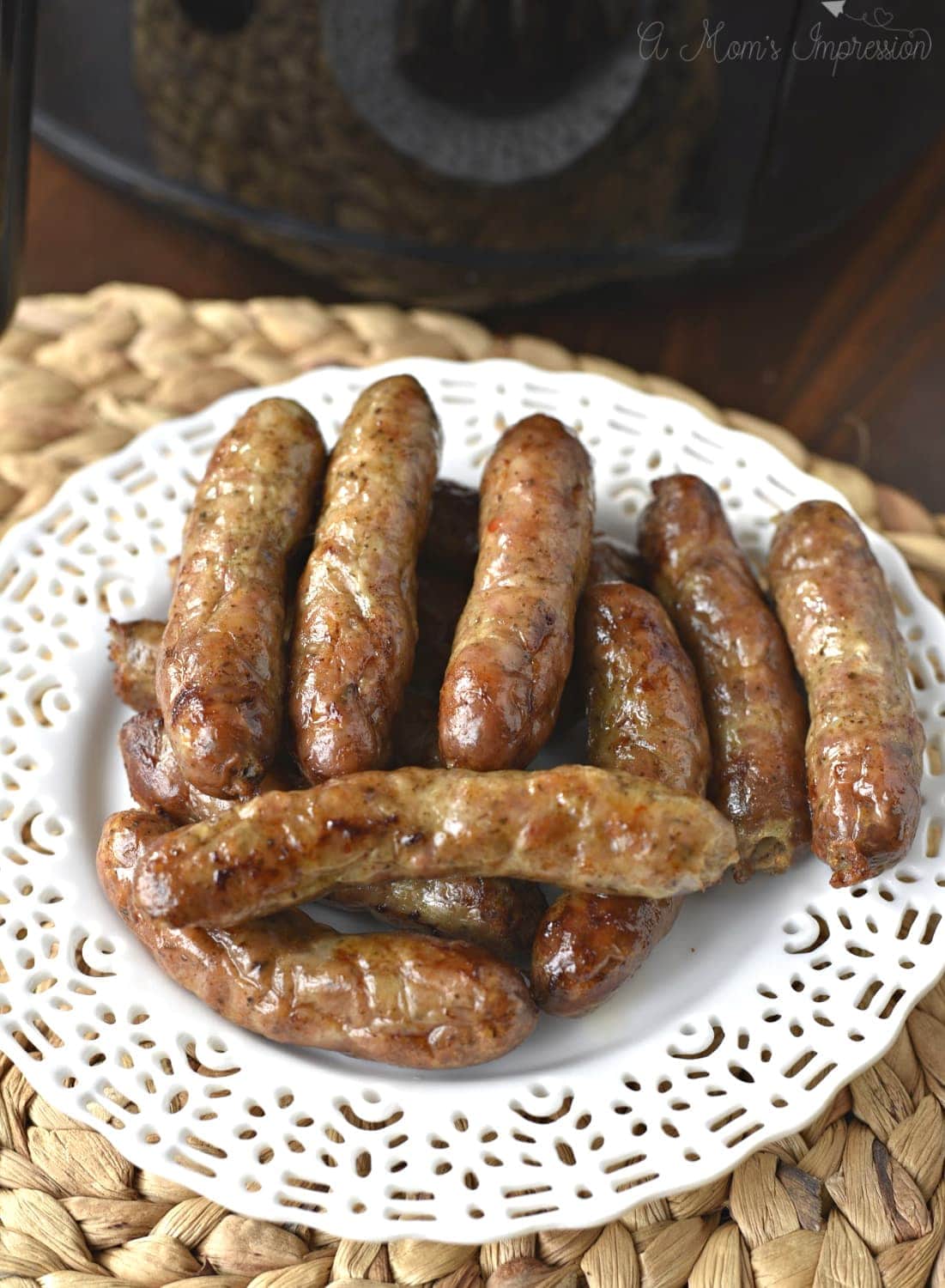 What Is An Air Fryer?
What is an Air Fryer? It is a small electrical kitchen appliance that uses rapidly moving hot air to cook your food.  They are pretty small, easy to store and can fit on just about any countertop. Using very little (if any) oil, you can "fry" your food with the hot air and get a crispy outside and a tender, juicy inside. It's like have a deep fried treat without all of the fat and the calories! It's a wonderful device.

Air Fryer Sausage
So, about every couple of weeks, my husband or I will get inspired to try to Air Fry something we haven't tried yet. This time, it was my turn to have the light bulb above my head turn on. I love breakfast, why not start Air Frying breakfast foods? We decided to start with these Air Fryer Sausage links!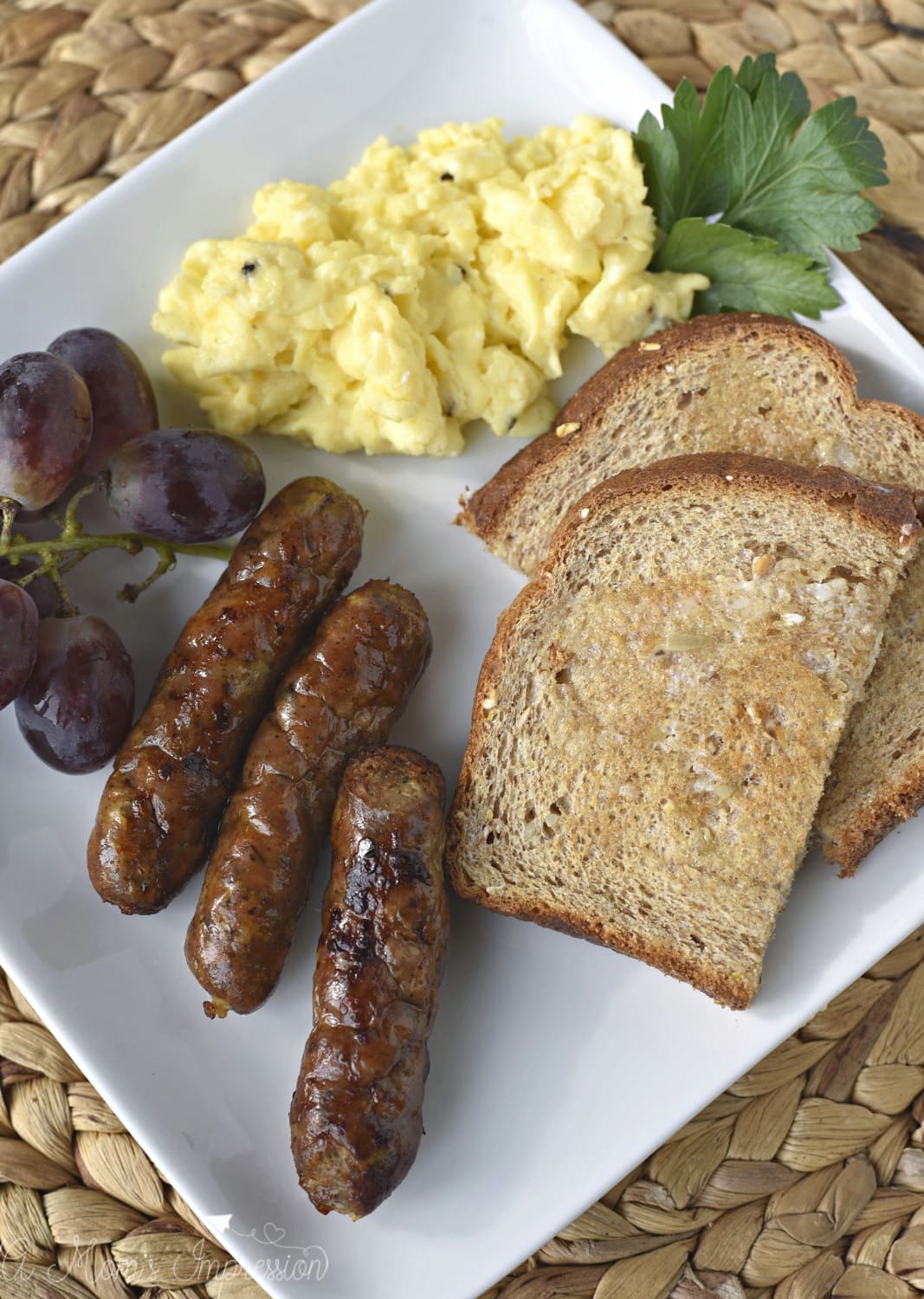 The ingredients were pretty easy! Just some high quality sausage links and some cooking spray! For our sausage, we used Niman Ranch Breakfast Sausage that we got from our Perdue Farms Family Bundle Pack.
Perdue Farms Curated Bundles
Did you know that Perdue Farms is more than just a chicken provider? They actually have a huge line of other protein products and brands, including Niman Ranch, Coleman Natural, Perdue Harvestland, Panorama Meats, Spot Farms, Full Moon and more. This means they offer a ton of high quality protein products from chicken and turkey to beef, pork and lamb.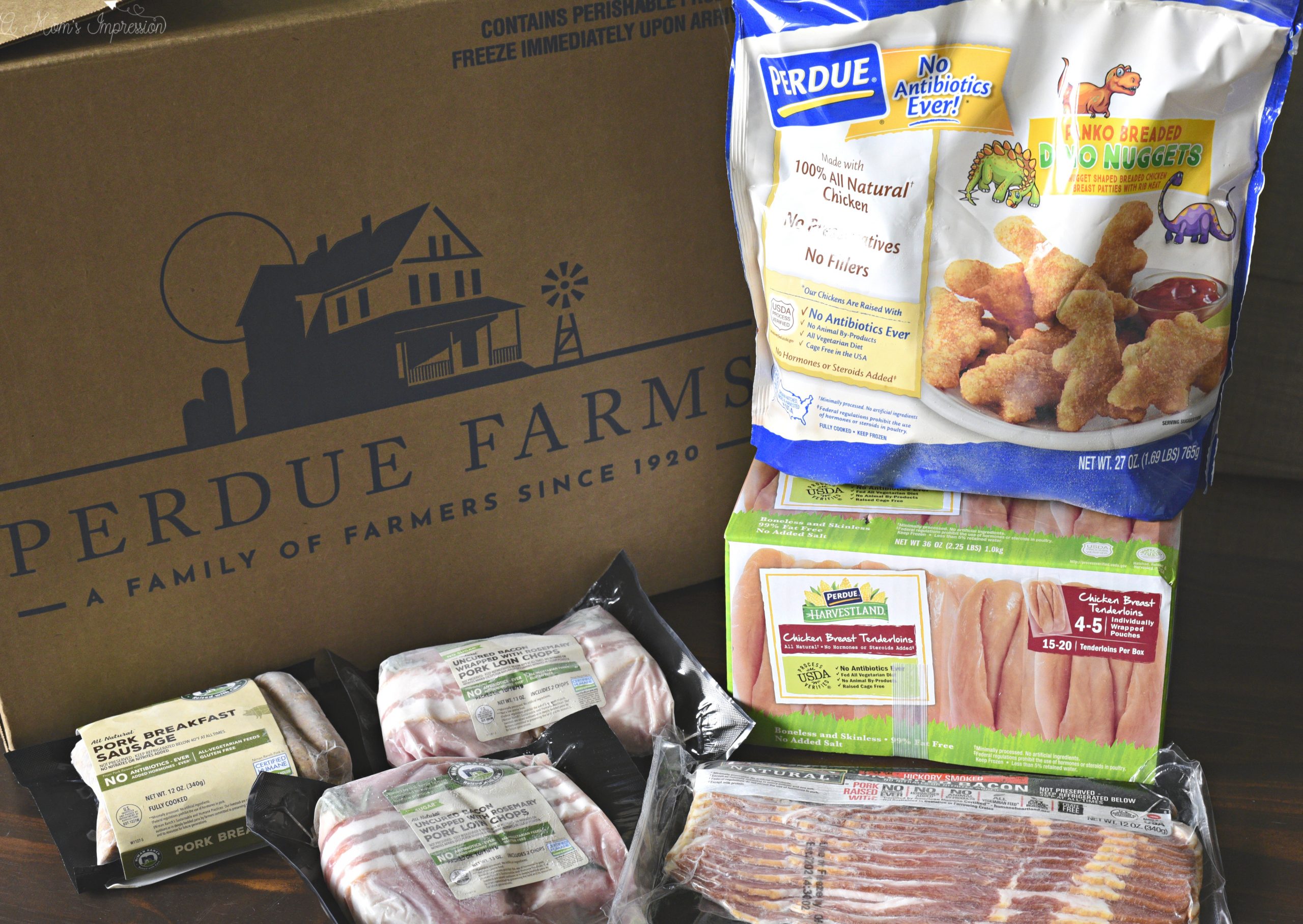 Not only that, but Perdue is working with these farms to make our lives as parents easier too. Now they have a direct-to-consumer option with their curated bundles. You can order straight from their website and have their premier protein products delivered straight to your home. All shipping is free on bundles above $119! You get a 17% discount by buying all of these products at once versus purchasing them individually! In our Family Bundle pack (priced at $64.99), we got:
COLEMAN NATURAL® Uncured Hickory Smoked Bacon
PERDUE ® Panko Breaded Dino Nuggets
PERDUE ® Harvestland ® Boneless Skinless Chicken Breast Tenderloins
Niman Ranch Uncured Bacon Wrapped With Rosemary Pork Chops
Every package is delivered to your home in 100% recyclable cardboard. And Perdue's efforts at sustainability don't end there. For every order, they donate to the Arbor Day Foundation.  Also, in your bundle, you'll receive a reusable grocery bag and a pollinator seed packet!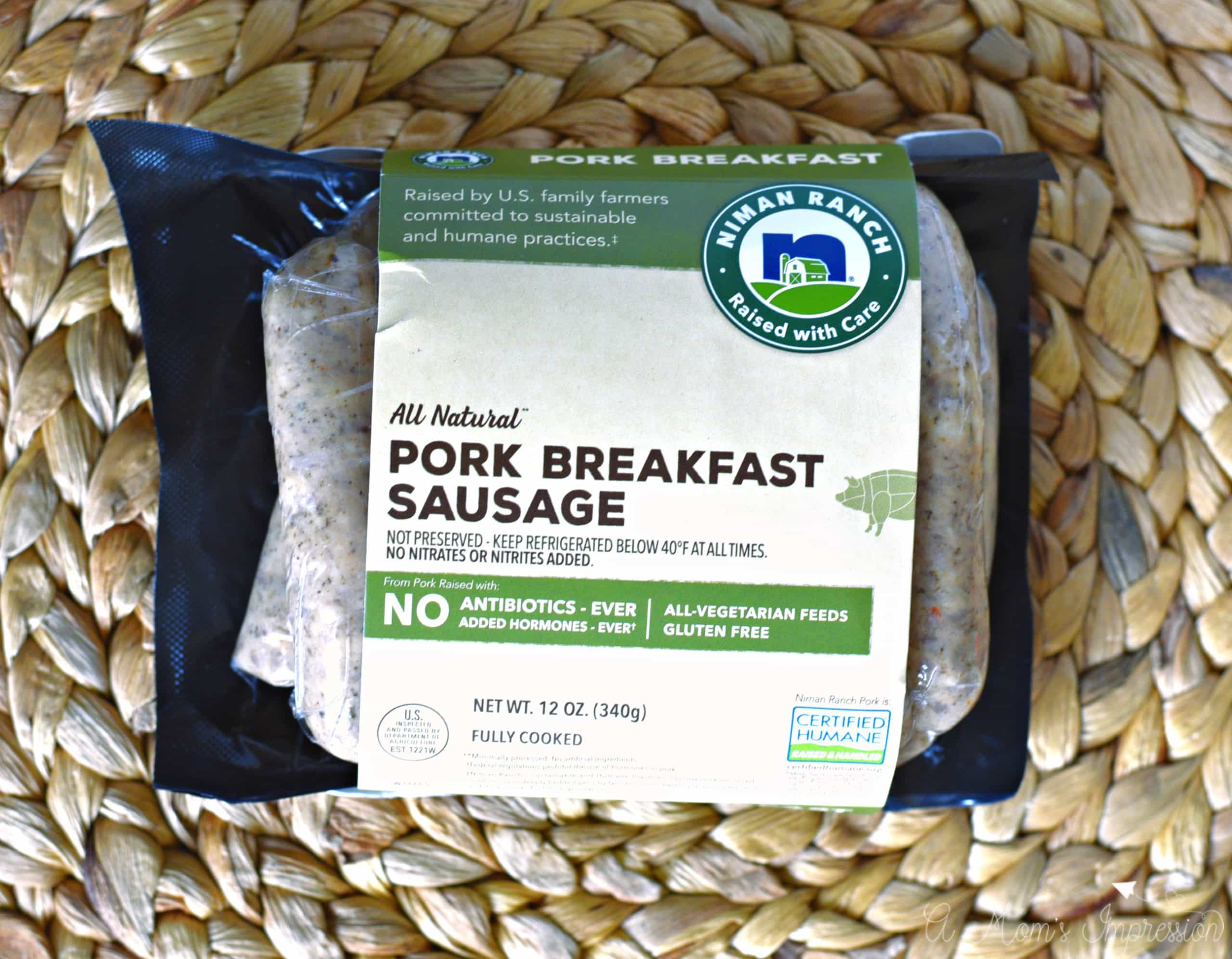 How to Make Breakfast Sausage Links in an Airfryer
It was so easy! Just make sure preheat your Air Fryer to 350 degrees. Open up the Air Fryer and spray the cooking spray into the basket. Put your sausages in and close it up to cook them.  I cooked mine for about 12 minutes. About halfway through, I shook them up a bit to make sure they all were cooked equally.
They turned out amazing! The Niman Ranch Pork Breakfast Sausage was delicious and they skin on the outside got nice and crispy but not over cooked. We served them with some eggs and toast for dinner last night and the whole family loved them.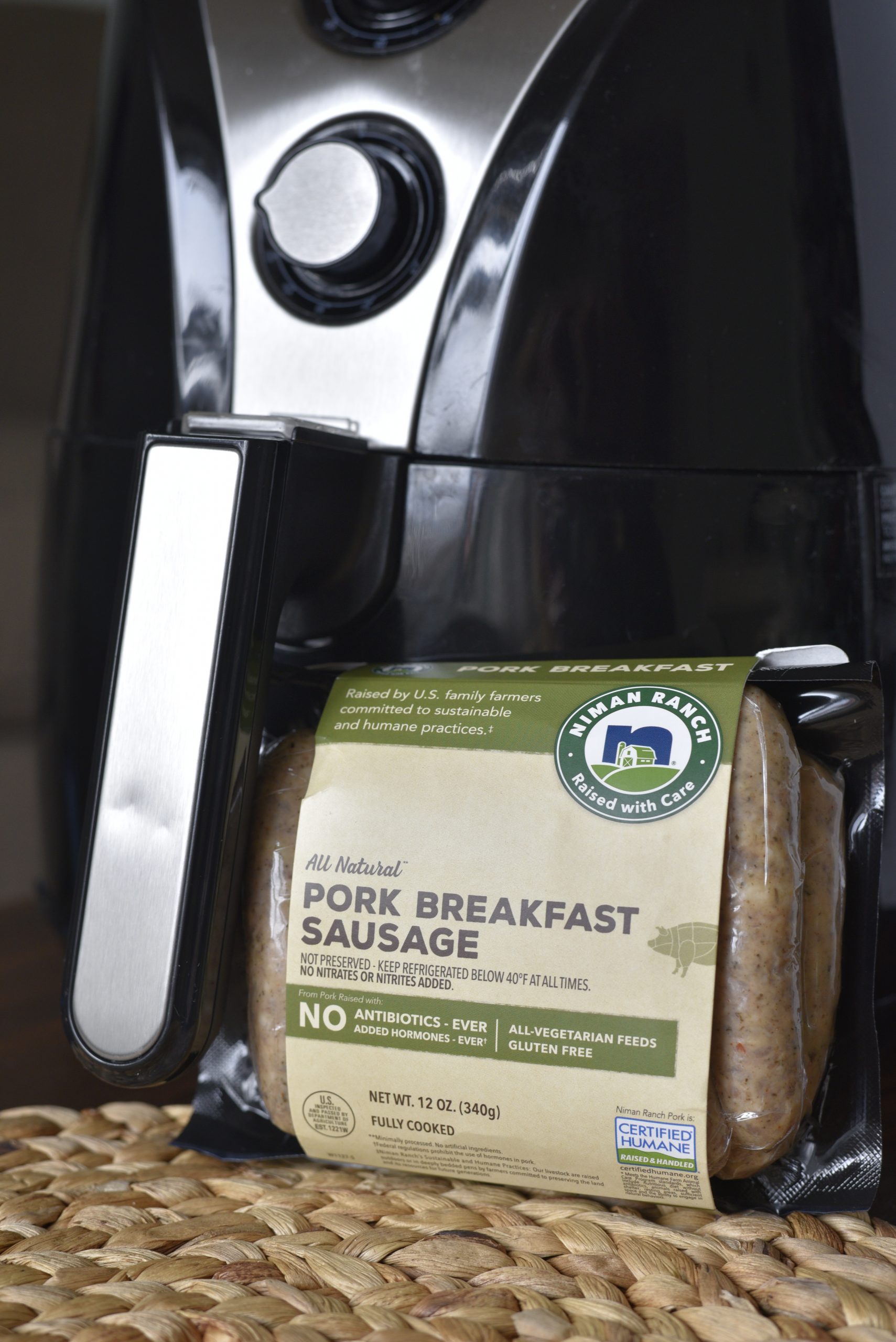 We will certainly be doing this again! Try out this recipe for Air Fryer Sausage and let me know what you think! Are there any other recipes you love to try in your Air Fryer? Let me know in the comments! Enjoy!