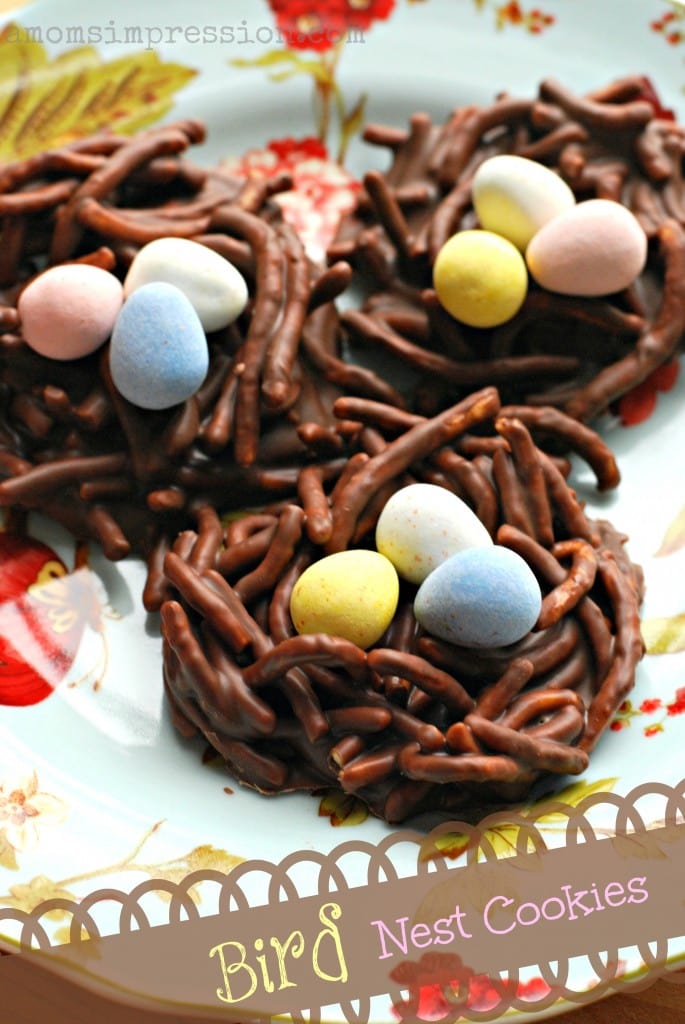 Its hard to believe that Spring Break started today with the 8 inches of snow in my yard, but it did.  I love having the break to spend time with the kids.  This week is going to be full of organizing and getting the house ready to go on the market, so I wanted to find an easy recipe that Jonah and I could do in a short amount of time.  With the Easter holiday coming up (the egg hunt could be interesting with all this snow) I wanted to make some bird nest cookies that would be perfect for the holiday or an outdoor garden party.  I had seen some Chow Mein bird nest cookies in the past and thought this would be a great opportunity to make them.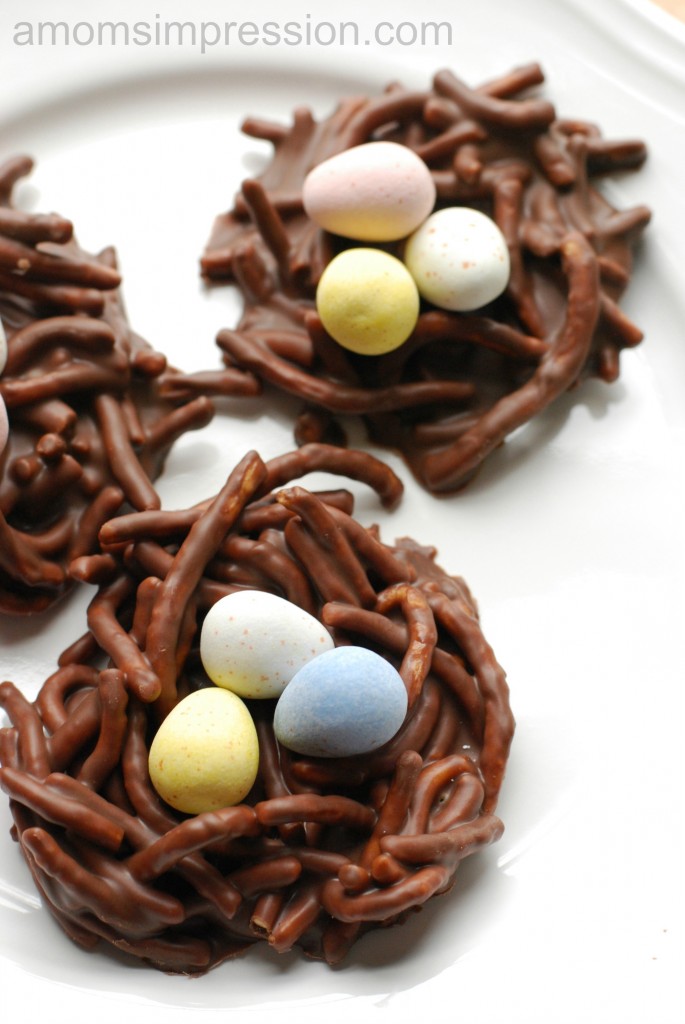 Jonah and I got our creative cooking caps on and got to work. The reason these cookies look so cute is the candy that we used for the eggs.  The best candy to use is Cadbury Mini-Eggs. I have found them to be the most realistic looking candy eggs, these are what makes these cookies stand out from the rest!
Cadbury Easter Candy Coated Mini Eggs, 10-Ounce (Pack of 4)
&
 This recipe only takes about 20 minutes start to finish if you let the cookies harden in the freezer!
Bird Nest Cookies
Author:
Kathy @amomsimpression (adapted from CandiQuick)
A quick and easy recipe to create bird nest cookies for Easter or an Outdoor Garden Party
Ingredients
1 package (16 oz.) Chocolate Candy (I used CandiQuick, but you could use Wilton Candy Melts or your favorite Chocolate Candy.
¼ cup peanut butter
3 cups chow mein noodles
Cadbury Mini Eggs
Instructions
Melt chocolate and peanut butter in microwave. Heat for 1 minute and stir to see if you need any additional time. Heat for 15 second intervals if not fully melted.
Combine all ingredients (except eggs) in a mixing bowl.
Stir well to coat all of the noodles.
Drop by spoonful onto wax paper. Wait about a minute or two and form into nests. The dip in the middle doesn't need to be too big, but make sure there isn't a hole through the nest.
Let harden.
Add eggs into your nests.
Enjoy!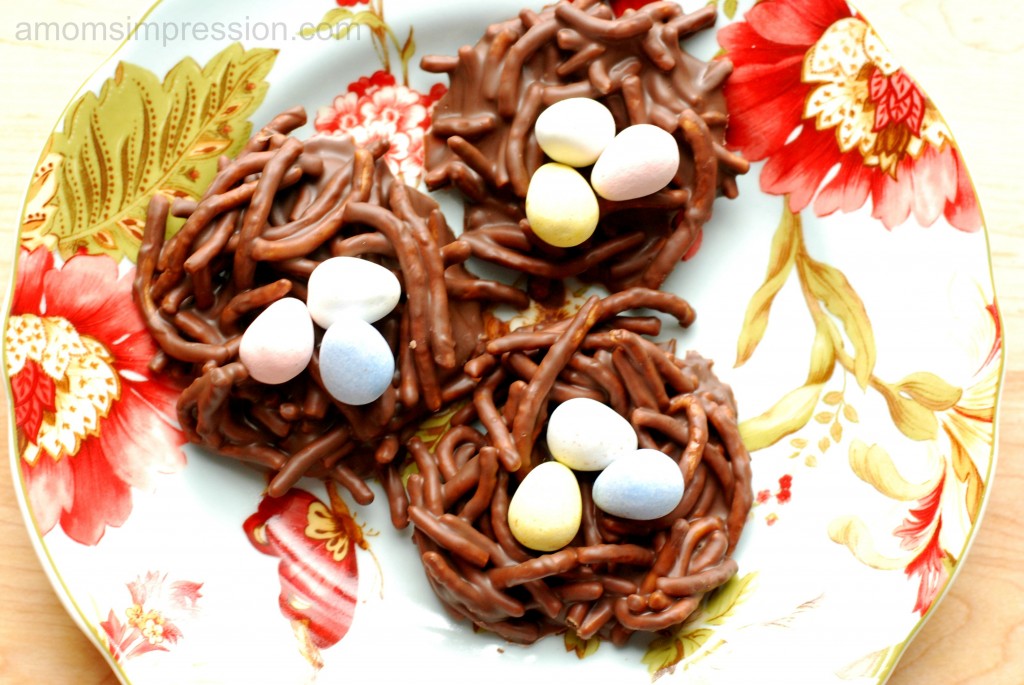 Jonah wanted to test them out after lunch…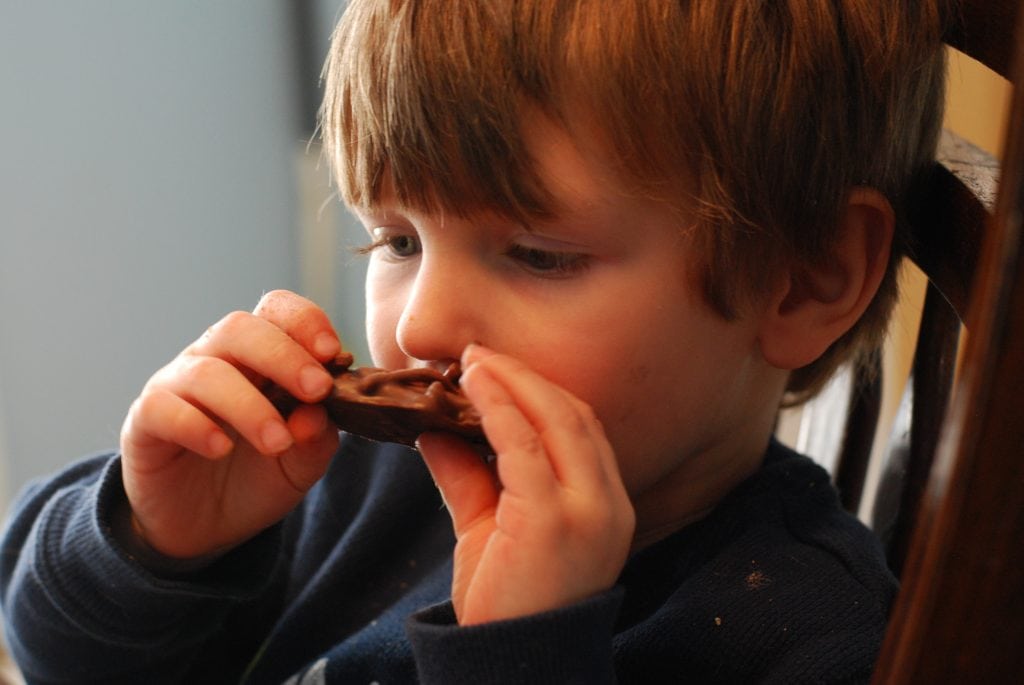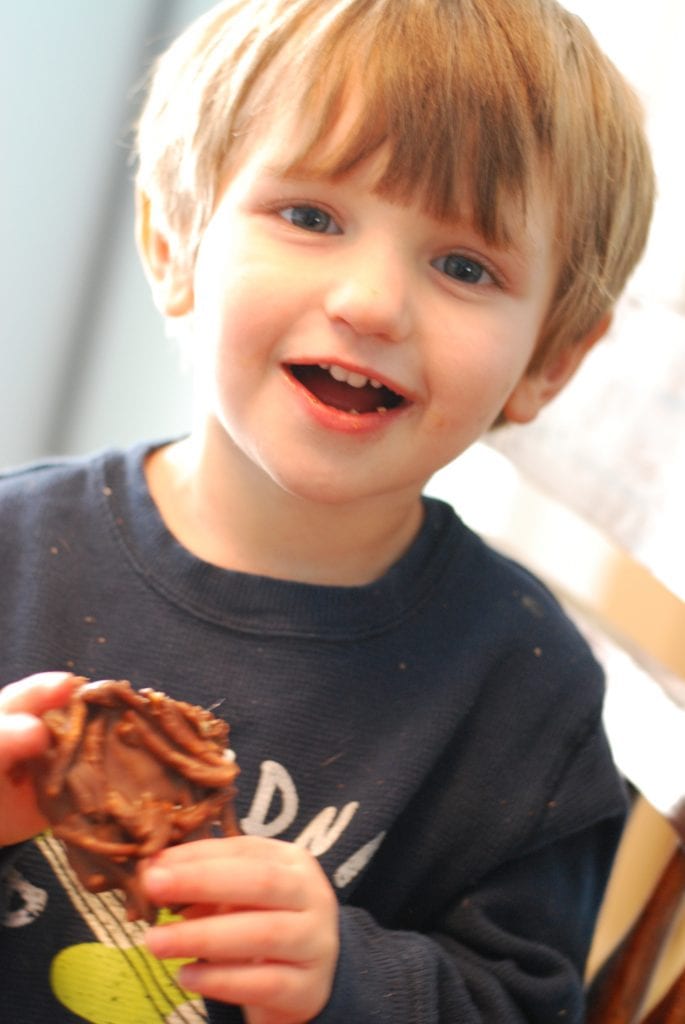 … success!
He got a little messy, but he is one happy little helper!
Here are a few of the products we used that helped make these Chow Mein Bird Nest Cookies a huge success!
CADBURY MINI EGGS Candy (31-Ounce Bags)
AmazonBasics Silicone Baking Mat – 2 Pack
La Choy CHOW MEIN NOODLES Asian Cuisine 5oz (2 pack)
Log House Candiquick Coating Choc
&
This post contains affiliate links.  Thank you for your support!