These baked chocolate chip donuts are a crowd favorite breakfast recipe that grown ups and littles love alike.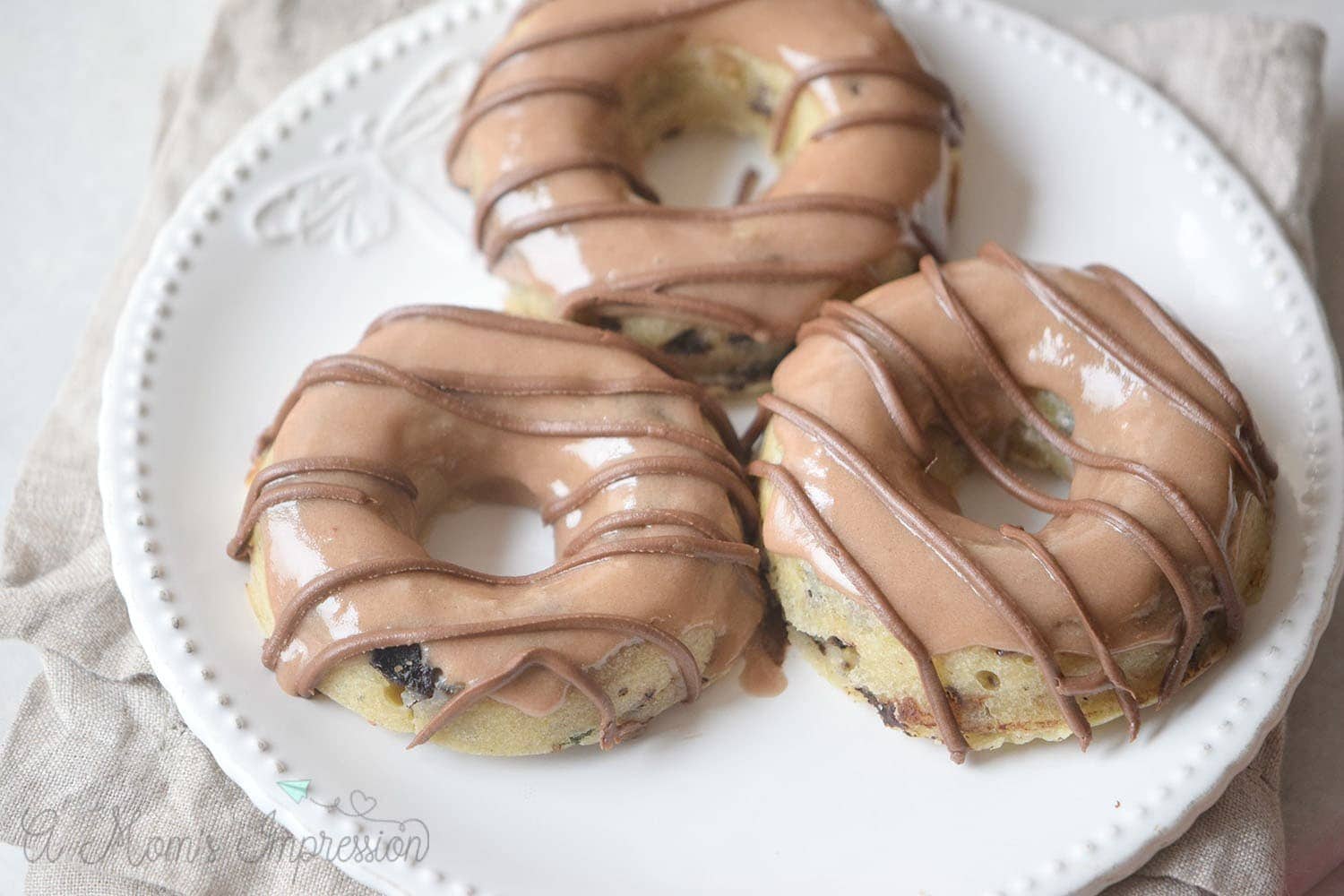 Can we just agree that sometimes is really hard to find a recipe that all the members of our family like? I mean usually if the little ones like it, for us it's kind of meh (I mean one can only eat so many chicken nuggets in a lifetime) and if it's something that we love (think a garden salad with a delicious drizzle) the little ones are not going to be too cheery about it.
So I always find myself looking for recipes that work for both of us, the little and the big ones 😉
And while I feel that we have dinners and lunches conquered I still felt that we needed a little bit of help in the breakfast department and that's when a friend told me about her chocolate chip donuts. Baked chocolate chip donuts.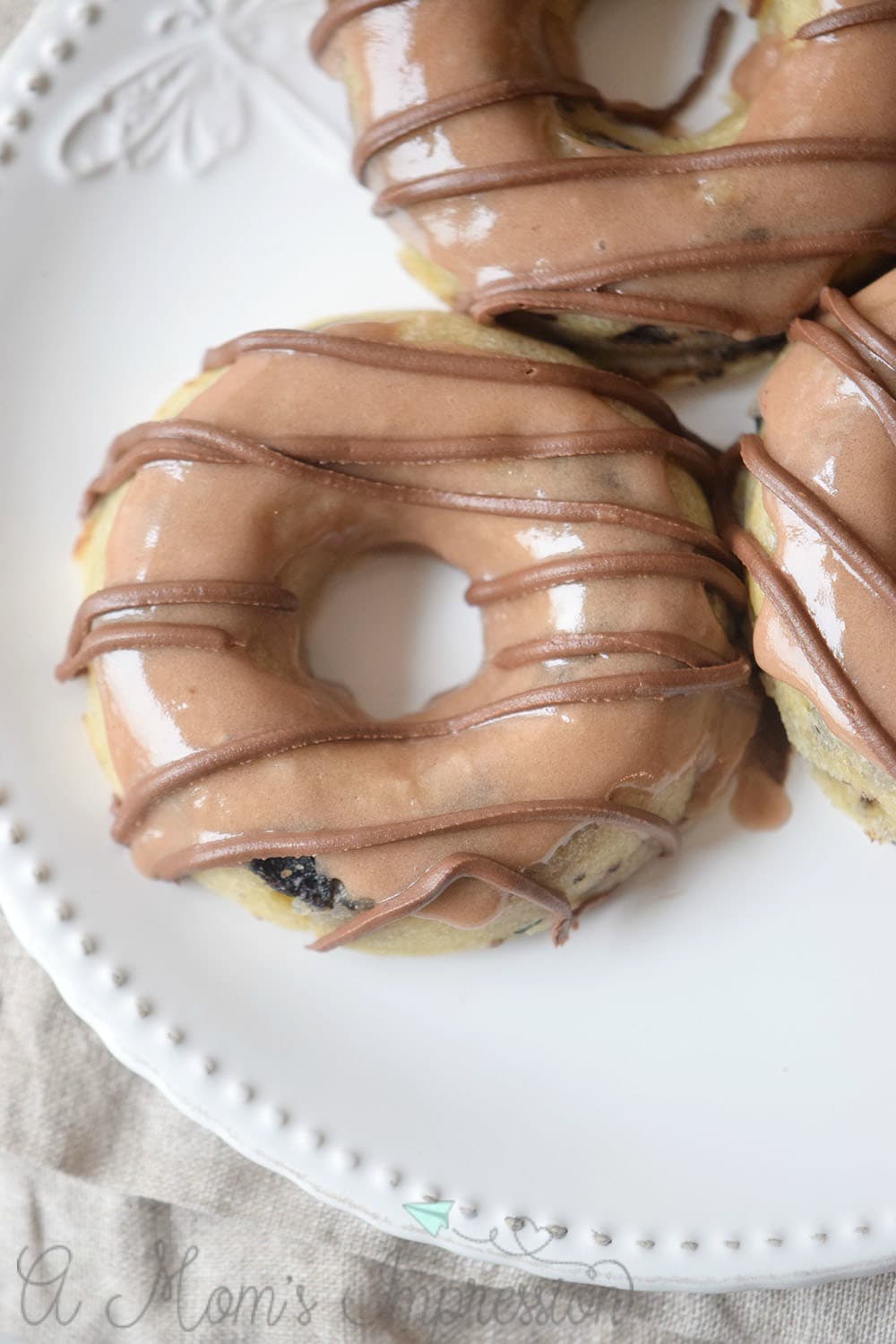 These donuts are healthier than the fried counterparts which makes them even better in my opinion. The other great thing about this recipe is that it is chockful of chocolate chips, so you really get a lot of chocolate with every bite that you give. For me, when something says that it has chocolate chips I really want it to be incredibly jam packed with all the chocolate chips it can possibly stuff. This recipe? Yes my friend, it's loaded with chocolate chips.

Wilton Nonstick 6-Cavity Donut Pan
The key to making any baked donut is a good donut pan. I love this 6-cavity donut pan by Wilton. I have been using it for years and my donuts have turned out great each time. Wilton also has a mini-donut pan that would be cute for some smaller versions of this baked chocolate chip donut recipe.
I like to serve them fresh out of the oven when they are fresh, warm and soft (trust me when I say that the house smells amazing while you are baking them!) but if I'm honest with you, they are also really good the next day as a quick grab and go breakfast for those crazy hectic Mondays.

Baked Chocolate Chip Donuts
Ingredients
Donuts
2 Cups all purpose flour
2 Tsps dry yeast
1 Tsp salt
1 Cup chocolate chips
2 Eggs
¼ Cup sugar
¼ Cup butter
1 Cup buttermilk
1 Tsp vanilla extract
2 Tbsps melted butter
Topping
Chocolate syrup
Chocolate glaze
Directions
Preheat oven to 350F and brush a donut pan with the melted butter.
In a bowl mix the flour, yeast, salt, sugar, and chocolate chips.
In another bowl beat in the eggs, buttermilk, vanilla, and butter.
Gradually incorporate the dry ingredients (first bowl) into the bowl with the wet ingredients (second bowl).
Mix until no lumps are left.
Cover with plastic coated paper and let it rest for 10 minutes
Fill the donut pan with the batter.
Bake for 16 minutes or until golden and raised.
Dip one side of the donuts into the chocolate glaze.
Garnish with the syrup.
Serve and enjoy.

For more delicious breakfast recipes check out our Breakfast Kabobs!