These 4th of July Strawberries are a delicious, patriotic way to celebrate our country! Whether it's Independence Day, Memorial Day or Labor Day, this easy treat is perfect for cookouts, BBQs or Pitch Ins!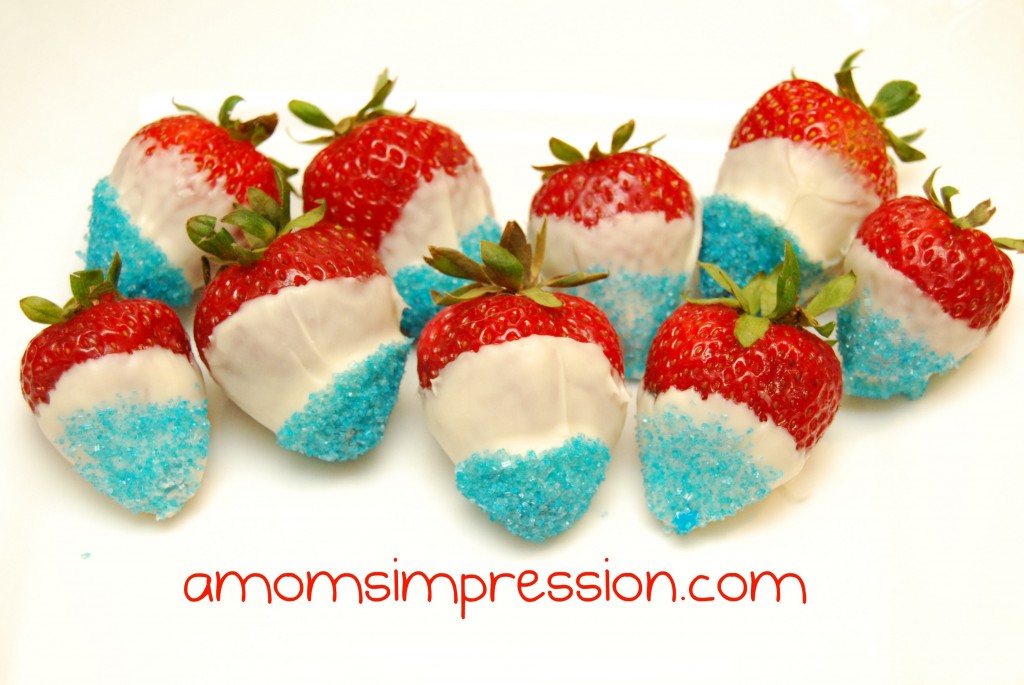 Why You Will Love This Recipe
EASY – Using only 3 ingredients and a couple minutes of preparation, you can make these delicious strawberries that look absolutely adorable!
MAKE AHEAD OF TIME – This is a great dessert recipe to make ahead of time and just let them chill in the refrigerator or cooler! So you can just enjoy the festivities and not worry about baking dessert!
LIGHT AND FRESH – For the summer holidays, you don't really want to eat a heavy piece of chocolate cake. These patriotic strawberries lean on the healthy side (for a dessert anyways) and taste delicious on a hot, summer day.
4th Of July Strawberries
It's so easy to make this treat! Check out below for step-by-step instructions. But here is what you'll need to get started.
How To Make 4th of July Strawberries
Melt white chocolate in a heat proof bowl.  I love my chocolate melter, I use it for cake pops and cookie dipping and it works perfectly for dipping strawberries. But you can also heat it up in 30 second intervals in the microwave in a microwave-safe bowl.
Wash and dry your strawberries (make sure your berries are completely dry).
Dip strawberries a little over half way into the melted white chocolate.
Dip the strawberry into blue sugar.  Set on wax paper or parchment paper on a baking sheet. place strawberries on paper to dry.  That's it!  You have a fantastic dessert that was super simple to make perfect for your 4th of July.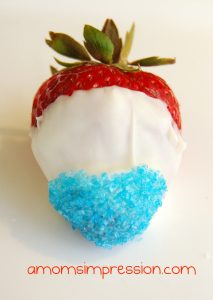 We hope you enjoy these 4th of July Strawberries. Please leave us a comment below to let us know how they worked out for you!