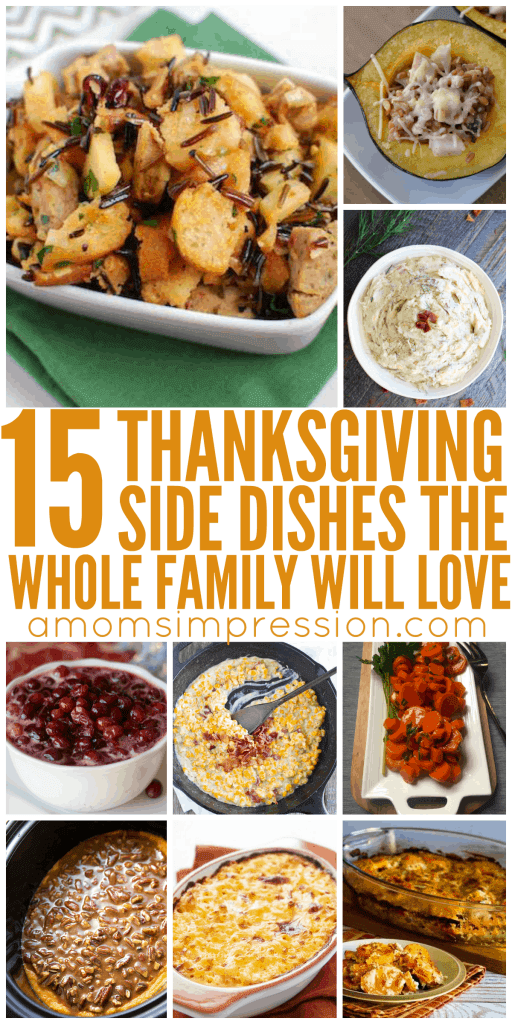 It's November and the time has come to start thinking about the big feast.  Sometimes Thanksgiving Side Dishes can be a little tricky.  There are the traditional sides like rolls, mashed potatoes, cranberry sauce, and sweet potatoes.  These are all delicious and makes Thanksgiving feel like Thanksgiving, but why not try another side dish to impress your guest this year.  I have found some amazing and delicious Thanksgiving side dishes from all over the Internet that will be sure to leave a lasting impact on your dinner party guests.
15 Thanksgiving Side Dishes
Crockpot Green Bean Casserole | Bubba Pie
Pear and Walnut Stuffed Acorn Squash | A Mom's Impression
Sausage and Wild Rice Stuffing | The Lean Green Bean
Maple Roasted Acorn Squash | Bubba Pie
Macaroni and Cheese Bake | I Save A to Z
7-UP Biscuits | Bubba Pie
Honey Glazed Carrots | A Cedar Spoon
Crockpot Green Bean Casserole | Bubba Pie
Cream Cheese, Bacon and Sour Cream Mashed Potatoes | The Gold Lining Girl
Easy Green Bean Casserole | BubbaPie
Sweet Potato Gratin | Kalyn's Kitchen
Homemade Cranberry Sauce | All She Cooks
Sweet Potato Bites | Bubba Pie
Slow Cooker Sweet Potato Casserole | Chelsea's Messy Apron
Brussels Sprout Salad | Bubba Pie
Creamed Corn | Pics and Pastries
Roasted Brussels Sprouts and Sweet Potatoes | Bubba Pie
Roasted Red Potatoes with Rosemary and Thyme | Glue Sticks and Gumdrops
Sweet Potato Salad | Bubba Pie
Spicy Green Beans | BubbaPie
Rosemary and Lemon Roasted Vegetables | A Cedar Spoon
Maple Whipped Sweet Potatoes with Orange Zest | The Lemon Bowl
Bacon Wrapped Green Beans | Bubba Pie
Corn Pudding Casserole | Bubba Pie
Oven Roasted Green Beans | Bubba Pie
Thanksgiving and Christmas are my favorite times of the year.  I love all the family gathering and cool weather with fires burning in the fireplace.  I hope you come back and visit this month and next for some fun holiday food, crafts, and activities that you can enjoy with your family.
Do you love the holidays as much as I do?  I would love to hear more about your family traditions.  Be sure to connect with me on Facebook where we can chat about everything surrounding the holidays!